With a solid price-to-performance quotient, Sig's entry level low power variable optic is a good bet for diversifying your AR's mission
by Rob Reaser
Good optics aren't cheap, and cheap optics aren't worth the low price. This is a truth that holds not only for optics but just about everything in the consumer space. There are, though, the occasional outliers on both ends—pricey items that fall short of their delivered value and low-priced goods that exceed quality and performance expectations.
Consider Sig Sauer's Tango-MSR 1-6×24 LPVO among the latter. With a $337.99 MSRP (street price is around $300), the Tango-MSR 1-6×24 is a prime candidate for glassing-up your home defense or general-purpose truck AR without suffering buyer's guilt.
In our comprehensive two-part "Build Your Own AR NOW!" series, we put together an Anderson Manufacturing-sourced AR from scratch with just that mission in mind. The gun was destined for a buddy's farm, where it would serve first as a home defender and second as something to ride side saddle on the tractor and in the truck to put the opportune drop on wayward coyotes and other varmints.
Such a broad broad mission demands an equally broad-application optic, and that is where the LPVO shines.
If you're unfamiliar with the acronym, LPVO stands for "low power variable optic." Its purpose is quite simple and exceedingly practical—especially for AR platform rifles that must serve a primary task of close-quarter defense and occasionally be called upon to engage targets at greater distances.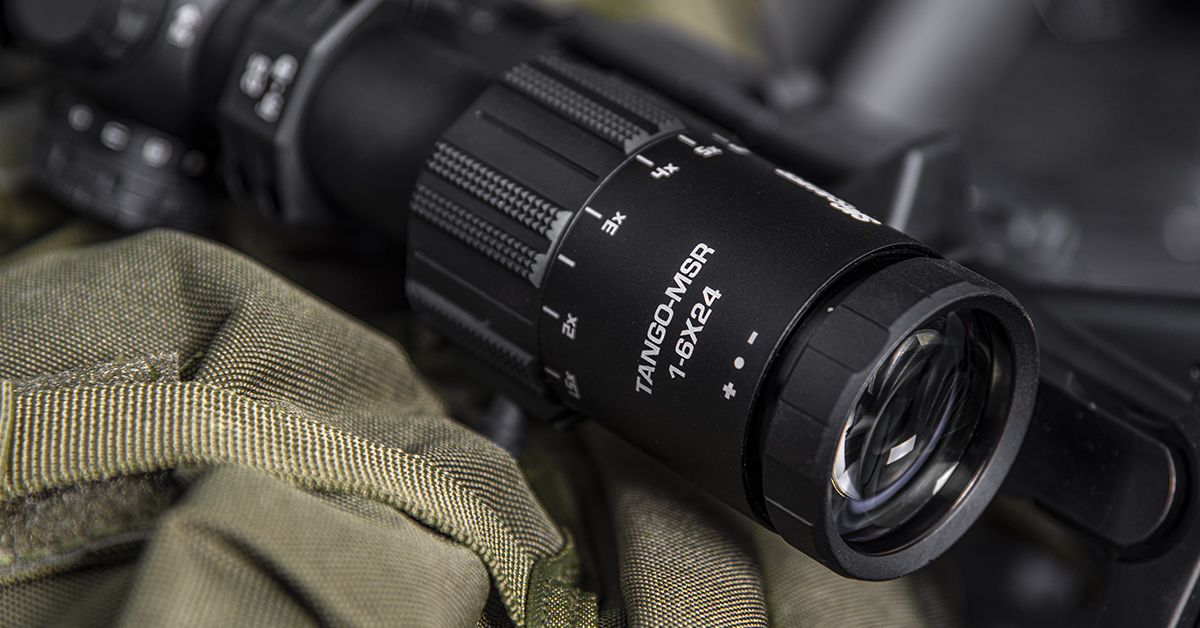 LPVOs vary in their magnification range (typically 4x or 6x maximum magnification) but all start at 1x on the bottom end. The 1x setting translates to zero magnification. It is like looking through a flat piece of glass. This is essential for engaging close targets because it allows the shooter to shoulder the rifle and instantly obtain a sight picture. Any magnification of an optic at close range, such as in or around a home or within most legally justifiable personal defense shooting distances, can increase the difficulty and time needed to obtain a sight picture.
If you have ever hunted with a scoped rifle in, say, a wooded environment and tried to get on a target inside of 50 or 75 yards with your scope set to 5x or higher magnification, you understand the problem. Too much magnification makes it tough to find your target at closer distances because the field of view is decreased, visual references are obliterated, the eye relief is shortened, the exit pupil narrows…everything you DON'T want in a high-stress, close-quarter defensive situation. A magnified optic at close range also degrades your situational awareness and your ability to observe what's going on around you.
These are the key reasons why many folks opt for a red dot optic for dedicated defensive rifles. Should said rifle need to fulfill multiple roles, like home defense plus recreational target shooting, hunting, or keeping predators at bay, the red dot begins to lose its advantage because they do not offer as precise an aiming point at longer distances as does a refined reticle optic with magnification.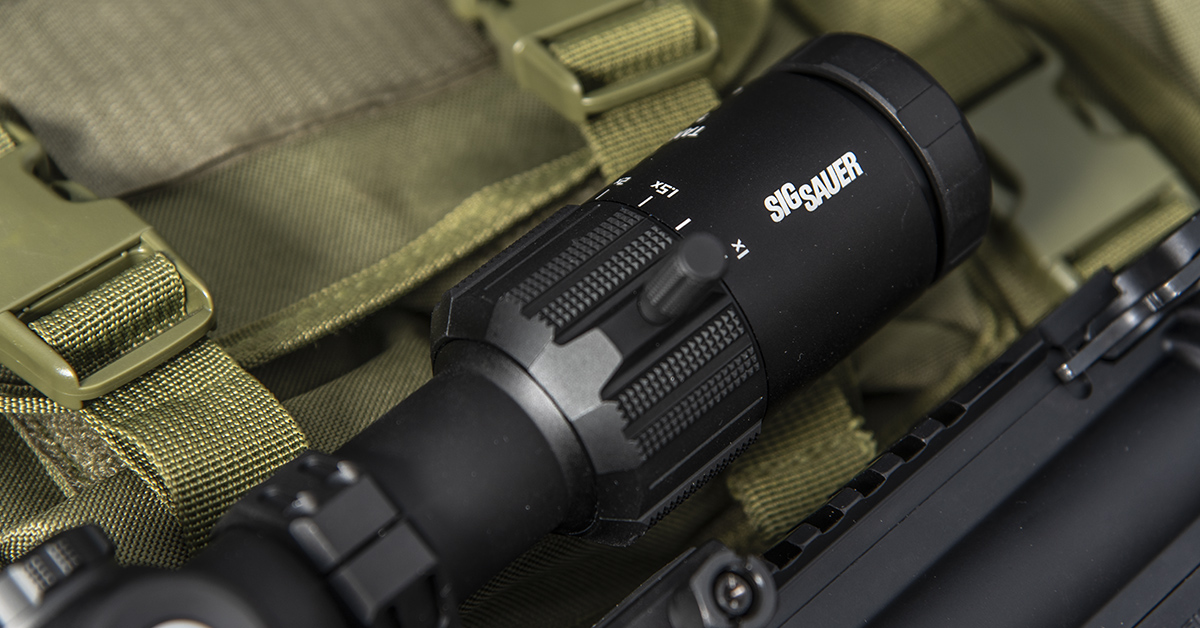 Hence, the LPVO. With a single optic, the shooter can eliminate magnification and essentially have a "red dot" for close quarter engagements or dial up the magnification when precise shot placement is needed at longer distances.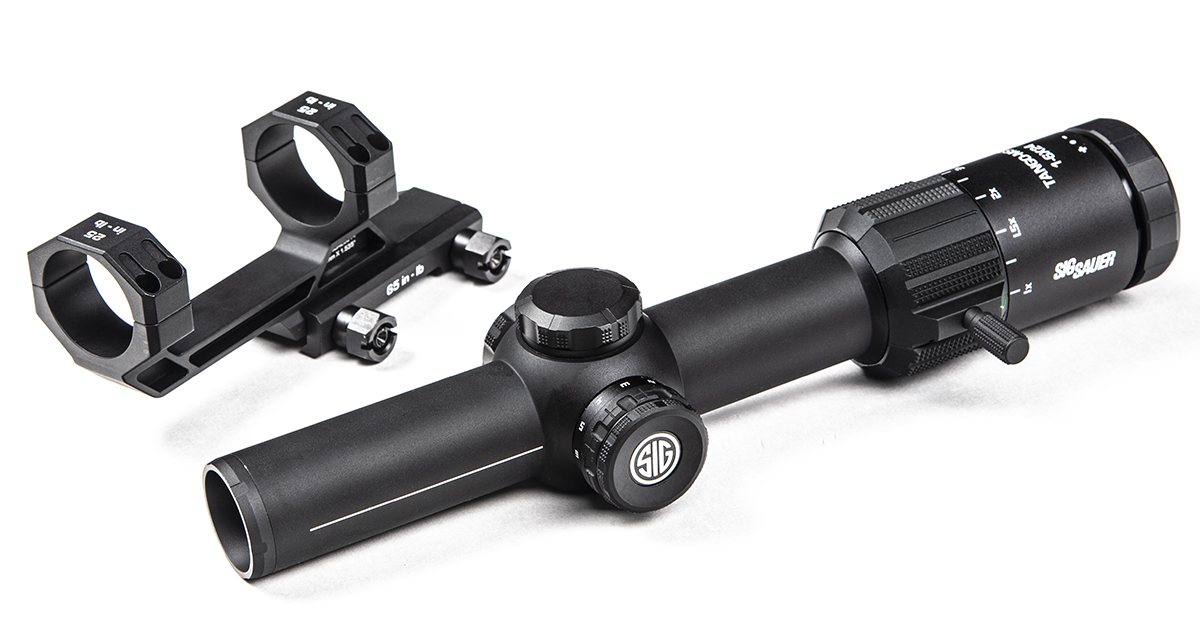 The Tango-MSR 1-6×24 from Sig Sauer is among the growing crop of LPVOs being offered by optics manufacturers and it is one of three produced by Sig. Their top-end offering is the TANGO6T, a commercial variant of the Sig model adopted by the U.S. Army for the Squad Designated Marksman Rifle System and for SF use. At $1,473.99, the TANGO6T sits at the far end of the LPVO spectrum. Even though the Tango-MSR 1-6×24 is a quarter of that price, it retains the essential DNA of its big brother and we have found it to be a solid performer for the coin.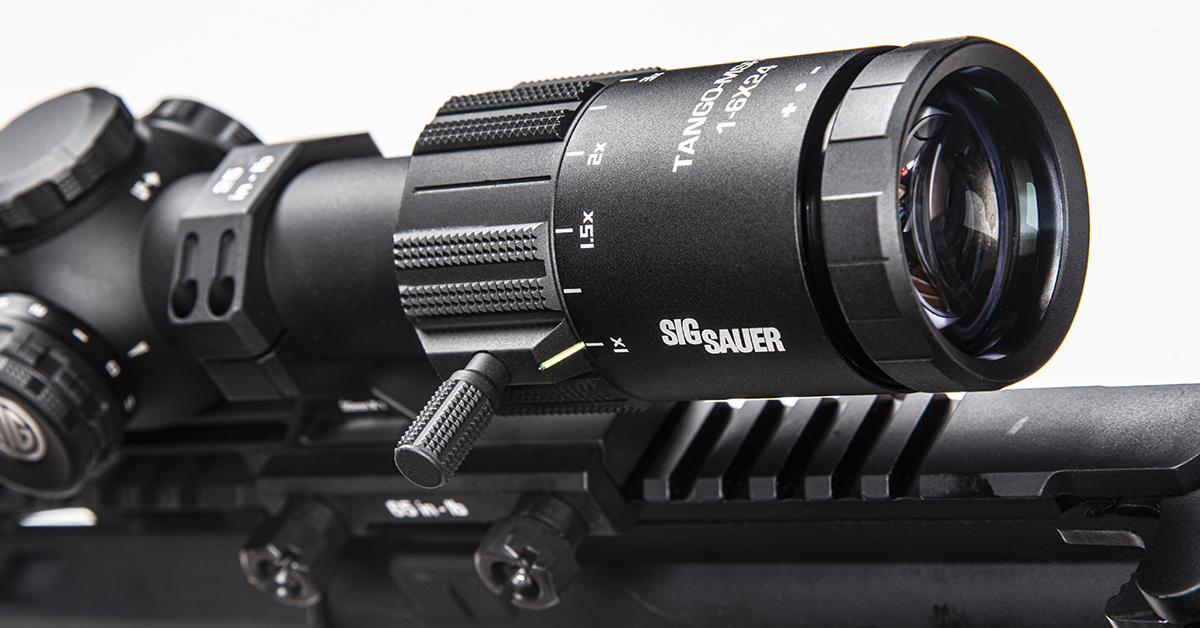 The Tango-MSR 1-6×24 is built around a 30mm main tube with a robust magnification adjustment ring that offers excellent grip. The included throw lever makes turning the relatively high friction ring easy enough between high and low magnification. If you don't want the throw lever, it unscrews to provide a clean focus ring.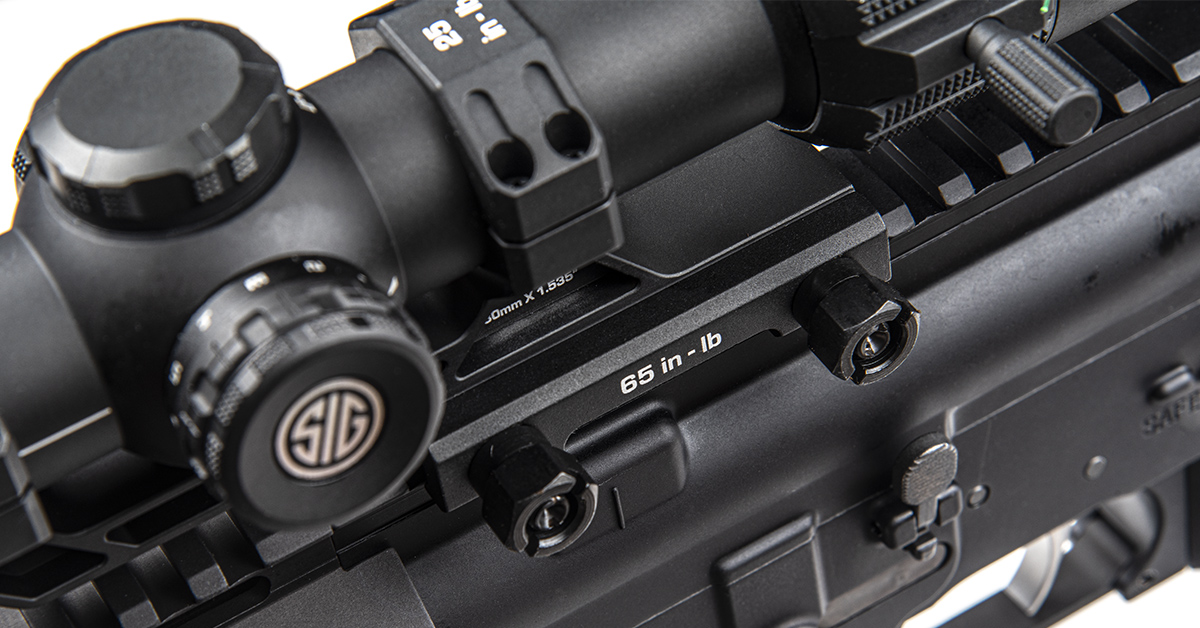 Also included is a one-piece machined aluminum cantilever mount. We give this high marks for a kit mount. The one-piece is always welcome, and the rings are generously sized to ensure a solid hold on the optic. A nice touch is the ring and mounting plate torque specs. No guessing as to how much "grunt" you need to apply.
Another slick feature is the alignment line on the left side of the tube. It wasn't until we had already installed the scope that we even noticed it. The line is to help, theoretically, establish the reticle perpendicular to the barrel's bore line (all things being equal) by indexing the scope line to the scope mount. This isn't precision alignment for long-range shooting purposes, but for quick scope alignment that is perfectly suitable for an LPVO, it's a great idea.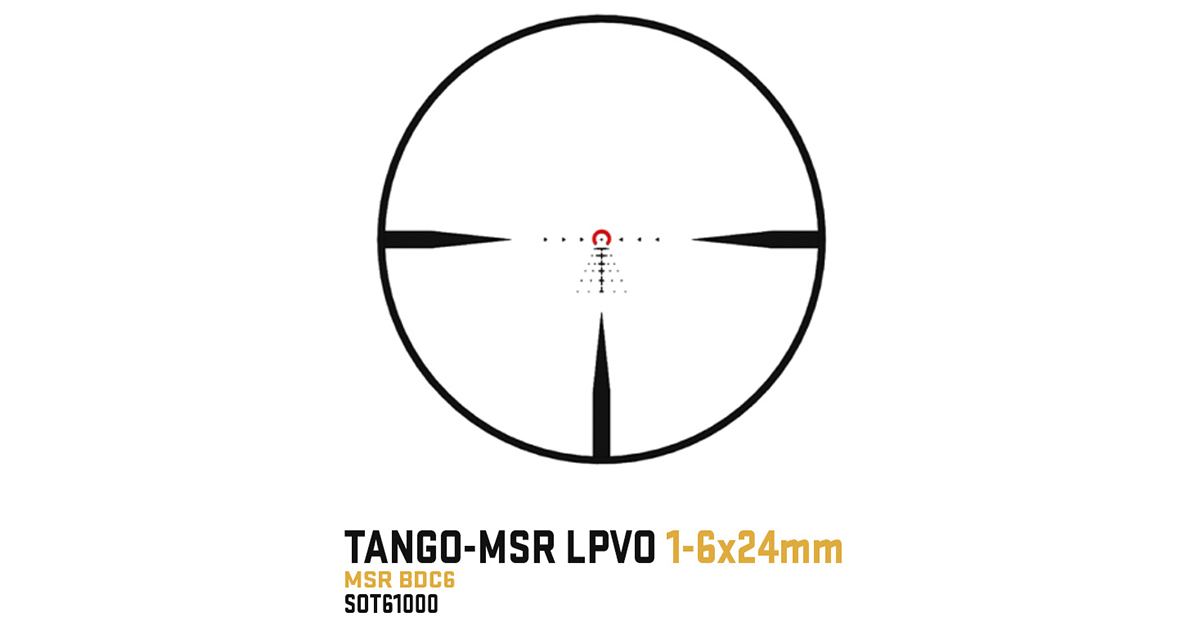 The Tango-MSR 1-6×24 uses Sig's BDC6 reticle. This is a center dot (vs. crosshair) reticle with bullet drop and wind drift compensation suited to longer-range target engagement. For close quarter engagement, there is a focus ring. At the 1x (zero) magnification setting, the ring quickly aligns to your focus point (target) in the spirit of a peep sight or ghost ring. Sight acquisition is even faster when the ring is illuminated.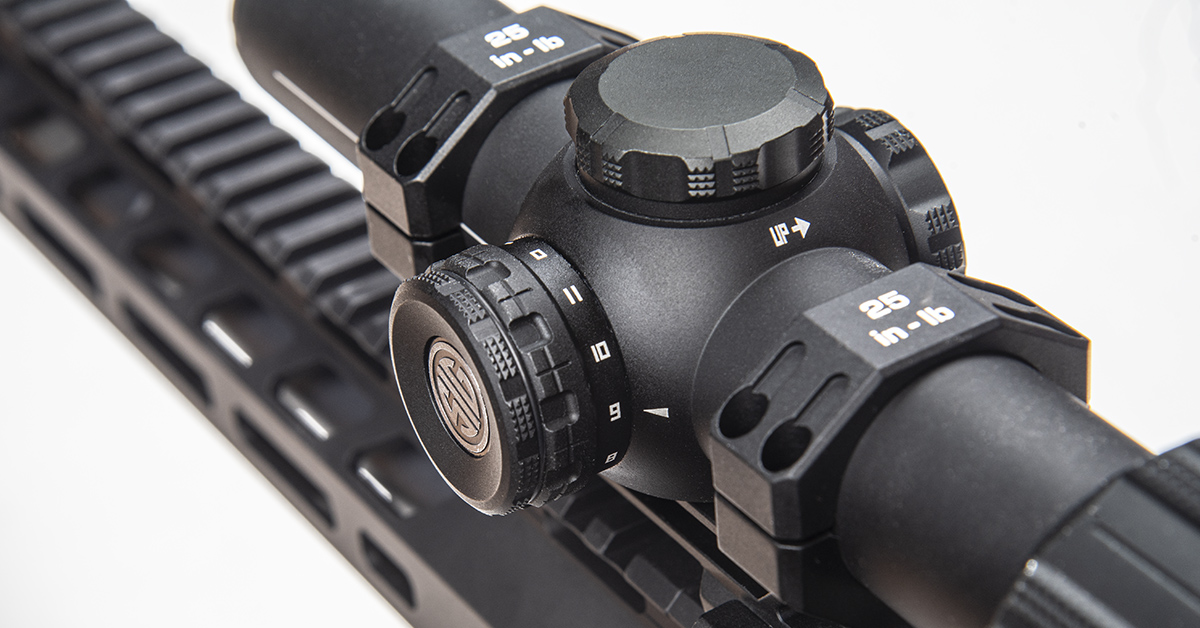 The reticle's focus ring illumination is controlled by a left-side illumination dial. There are 11 brightness settings to choose from. Simply rotate the dial to the setting best suited for the ambient light and target conditions. The rotation is smooth yet firm, with positive detents to keep the knob in the desired position. A single CR 2032 battery powers the unit.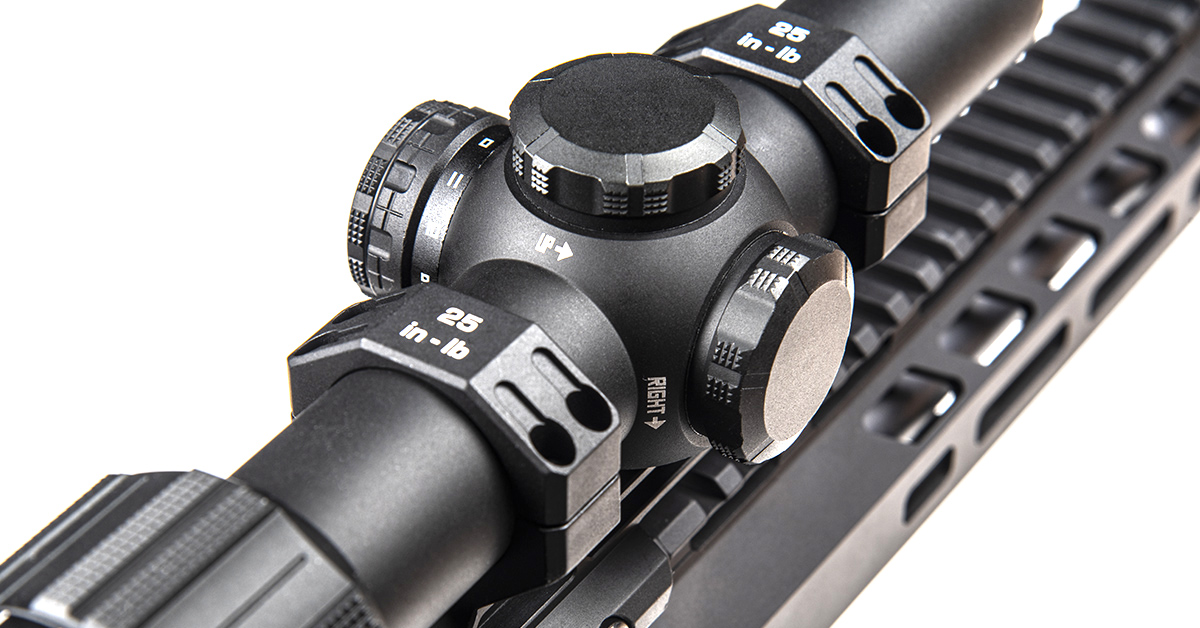 Reticle adjustment for elevation and windage is 1/2 MOA per click—a bit gross for long-range precision but perfectly fine for typical LPVO distances. The adjustment knobs are somewhat "indecisive" in their operation. There isn't the sharp position detent that we're used to. The dials present a clear, audible "click" but the rotational feel is quite mushy.
As for optic quality, the Tango-MSR 1-6×24 checks the boxes for a $300 optic. No significant reduction in light transmission is observed. There is some annular distortion at 1x, depending on the shooter's eye alignment, but it is nothing that diminishes the sight picture at CQB distances. With both eyes open (as they should be when operating in a close-quarter defense engagement), the Tango-MSR 1-6×24 offers a generous field of view at low power, making it easy to move about while maintaining that critical sight picture.
For a multi-purpose AR-platform optic that falls in line with most budgets, the Tango-MSR 1-6×24 from Sig Sauer is a solid buy. Aiding that decision for many is the outstanding warranty. This model receives Sig's Infinite Guarantee. This is an unlimited lifetime guarantee that is fully transferable, meaning it stays with the optic, not just the original optic purchaser—no warranty card or receipt required, no time limit on the guarantee, and no charge.
So, if you have been wanting to diversify your AR for home defense and beyond, an LPVO is an excellent solution, and the Sig Tango-MSR 1-6×24 is certainly worth a hard look.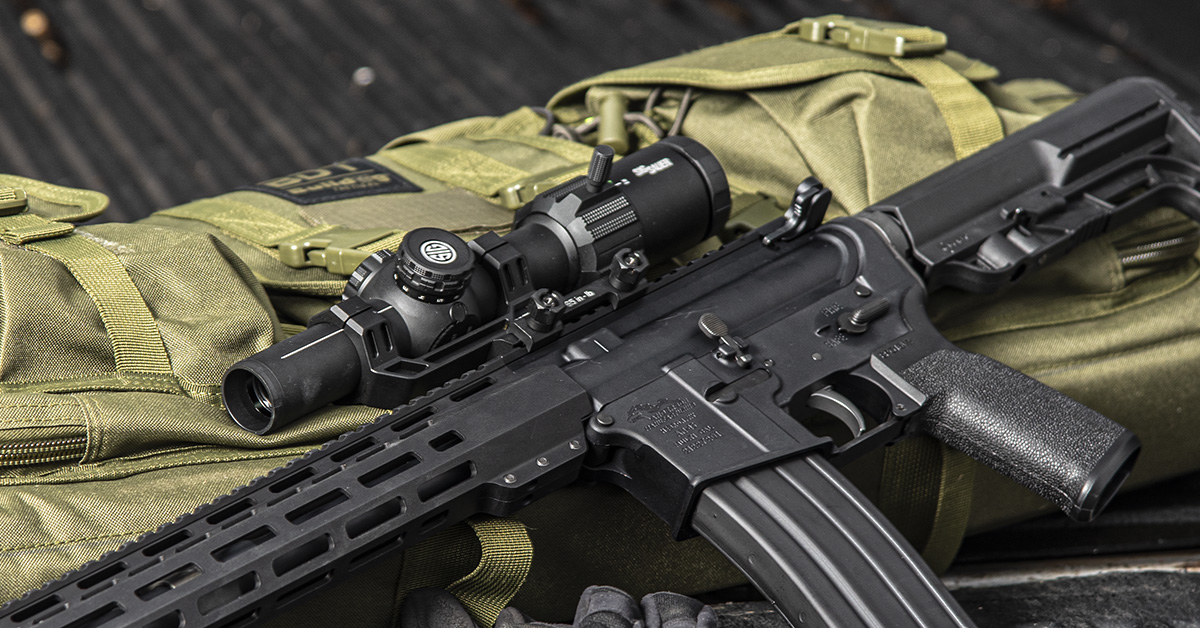 Sig Sauer Tango-MSR 1-6×24 LPVO Specifications
PRICE: $337.99
FOCAL PLANE: Second
RETICLE: Illuminated BDC6
ADJUSTMENT INCREMENTS: 5 MOA
WEIGHT: 5
MAINTUBE DIAMETER: 30 mm
TRAVEL PER ROTATION: 44 MOA
FIELD OF VIEW LOW (FT @ 100 YARDS): 8
FIELD OF VIEW HIGH (FT @ 100 YARDS): 6
EYE RELIEF LOW (IN): 93
EYE RELIEF HIGH (IN): 74
EXIT PUPIL LOW (MM): 5
EXIT PUPIL HIGH (MM): 5
DIOPTER ADJUSTMENT RANGE: +/- 2.5
WATERPROOFING: IPX 7
OBJECTIVE OUTER DIAMETER: 30 mm
ILLUMINATION SETTINGS: 11
TOTAL ELEVATION TRAVEL: > 100 MOA
TOTAL WINDAGE TRAVEL: > 100 MOA
BATTERY: (1) CR2032
OBJECTIVE LENS DIAMETER (MM): 24 mm
COLOR: Black
MAGNIFICATION: 1-6x
ILLUMINATION: Yes