Browning takes lessons learned from the original Maxus autoloading shotgun and ups the ante with the new Maxus II
by Rob Reaser
The day didn't start out with the greatest of prospects. Plunging temps and sideways-driven snow contrasted sharply with the bluebird skies and near T-shirt weather of the day before.
Such is South Dakota in April.
The offset is that turkey hunting is insanely hot on the rolling, broken, and cedar-spotted prairie no matter the ambient temperatures. If you're willing to cover some ground, the birds are there to be called, tricked (hopefully), and turned into the centerpiece of a wild game meal.
We bounced around a few of our go-to spots that frigid morning. The gobblers were there, but it seemed as if the cold snap and the in-and-out whiteouts had tempered their usually amorous moods. After a couple failed stalks, we headed for higher elevations, hoping that the breaking skies and steadily elevating temperatures might put the gobblers in a more randy mindset.
The fluffy snow cover ultimately proved to be a bonus. Broad mountainside views with open land disrupted by cedar stands offered good visibility for us and cover from the wind for the turkeys, respectively. Spotting a few birds tentatively poking their heads out from among the evergreens, my buddy and I elbowed our way up a bank and got into position. Our third companion hit the slate, to be answered immediately by two gobblers. After a morning spent hunkered down due to the weather, the bright sun and the longing call of a willing hen was all it took to bring the longbeards trotting right toward us.
With Toby on my right, we followed a familiar strategy—each shooter takes the bird on his side at the sound of, "GO!"
From a prone position, I hauled up my Browning Maxus II and leveled the fiber optic sight along the tawny grass. A minute had not passed before the thundering gobbles were upon us, followed by two red and blue heads floating excitedly above the weeds.
Toby whispered the call to fire and our guns went off almost simultaneously. The visual chaos off flapping wings, flying feathers, and splashing snow was quickly replaced with high-fives and backslaps as we dusted off the white stuff and closed the 15 yards to claim our prizes.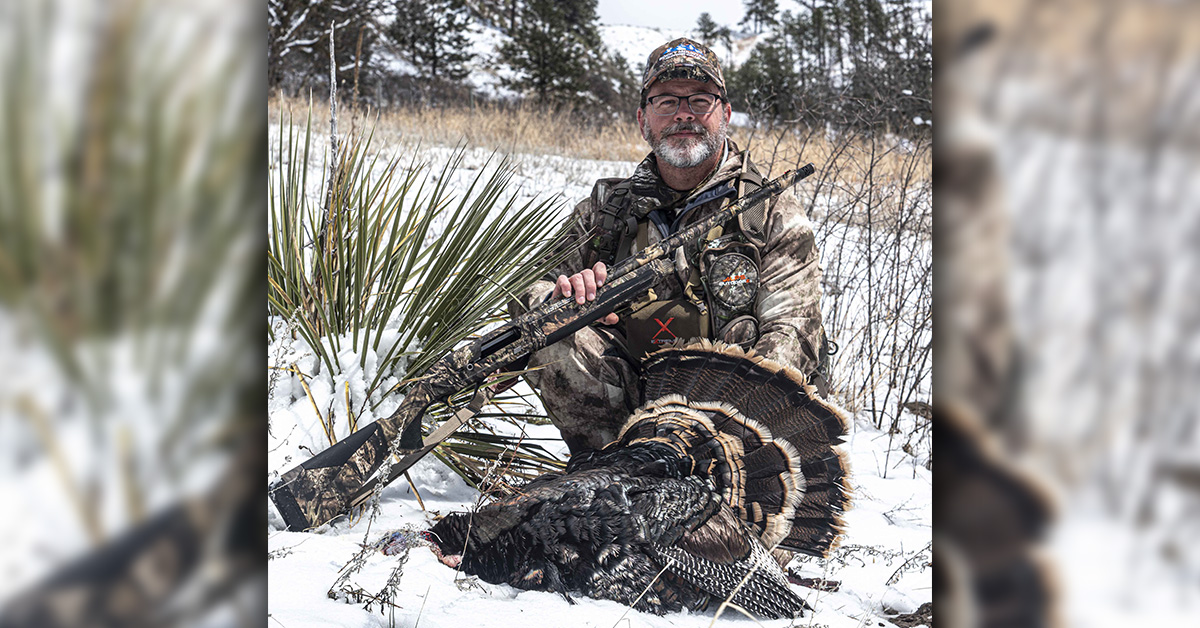 Browning introduced the Maxus II last year, just shortly before our spring turkey blowout, so we naturally had to bring one to South Dakota for a proper shakedown. Immediately, I was impressed with the gun. Our style of turkey hunting is almost exclusively run-and-gun, with a whole lot of crawling on knees and elbows. This demands a gun that is easily managed with one hand while slithering across ground that likes to poke, bash, and rip you to shreds. In this, the Maxus II scores high marks.
The forend boasts rubber overmold panels, as does the grip. The panels are sticky, even when wet or when wearing gloves, making it a platform you can keep hold of as you scramble through the brush or crawl across the prairies.
Speaking of cushioning, the Maxus II includes what Browning calls a SoftFlex cheek pad. It not only is a good index point for head and eye alignment, it also takes away some of the recoil "whump" against your face and is a lot more comfortable on cold mornings than sliding your cheek against a bare polymer or wood stock.
Another nod to recoil reduction is the plush 1 ½-inch thick Inflex rubber recoil pad. This pad has an internal structure that, instead of only compressing laterally against the shoulder, redirects the deflection downward and away from the shooter's face. Combine that with the generally softer push of the semi-automatic action and it's easy to see why the Maxus II is a gentle shooter that promotes quick target reacquisition.
Another hallmark of a solid hunting shotgun is, of course, its ability to perform in a variety of hunting/field conditions. The Maxus II proved itself as a certified turkey killer, but it also showed its mettle as a wing shooter. We spent time last summer running the gun on our clays course and was surprisingly pleased. The gun shoulders easily and intuitively, putting the eye directly behind the rib.
Also important is cycling reliability. We smoked a lot of short brass hulls on the clays range with no hiccups. Credit that to Browning's Power Drive gas system. This setup utilizes large exhaust ports to quickly shed gas when shooting heavy loads while the longer-stroke piston ensures reliable cycling of lighter loads. From light 2 ¾-inch low brass to robust 3 ½ turkey loads, our Maxus II swallowed them, spit them out, and asked for more.
This shotgun rightly comes with a fiber optic front bead—something we now demand in a turkey gun and that is beneficial regardless of what you're trying to bring down.
As for chokes, the Maxus II comes with Browning's Invector-Plus units. These extended chokes feature a long choke taper that minimizes shot deformation and thereby promotes denser shot patterns with reduced "fliers." The chokes vary by model, but ours came with full, modified, and improved cylinder.
For those familiar with the Maxus, you'll note that the Maxus II has returned to the conventional screw-on magazine cap design. The original Maxus utilized Browning's Speed Lock system—basically a lever that displaced the traditional screw cap for securing the forend and barrel assembly. It was a design that didn't go over quite as well as anticipated, so the company wisely ditched that innovation for the more comfortable tried-and-true screw-on cap.
Additional upgrades found on the Maxus II include a ramped trigger guard to assist loading, an oversized and more ergonomic bolt handle, and a larger release button.
As astute observers will note, our Maxus II sports Mossy Oak Breakup. That pattern is not offered this year, but Browning has added a pile of new patterns for 2022, including Realtree Max-7, Mossy Oak Bottomland, Original Bottomland, Realtree Timber, and the coolest of all, Vintage Tan. There are several other new models offered sans camo, so if the Maxus II piques your interest, check out the full range of models offered this year.
What We Like
Reliable function across cartridge loads
Rubber overmold panels on the grip and forend
Easy mounting with spot-on eye alignment
What We Would Change
Increase relief on the release button for easier use with gloved hands
Compare To
Browning Maxus II Specifications
Gauge: 12
Chamber Length: 3 1/2 in.
Barrel Length: 26 in.
Overall Length: 47 3/8 in
Length of Pull: 14 3/8 in.
Drop at Comb: 1 3/4 in.
Drop at Heel: 2 in.
Weight: 7 lbs.
Magazine Capacity: 4x 2 3/4 in.
Finish: multiple options
Chokes: F, M, IC
Front Sight: fiber optic
MSRP: $1,659.99 – $2,159.99
Remington's New TSS Turkey Load
We had the good fortune to have a couple of the boys from Remington in camp with us on our South Dakota turkey bash. As often happens when factory folks come out to play, the Remington guys snuck out a few samples of their up-and-coming turkey ammo for us to try out. Obviously, that was what we decided to load in our Maxus II. Equally obvious, we had to keep a lid on it until now.
Remington officially announced their new Premiere TSS turkey loads at the 2022 SHOT show a few weeks ago. Available in .410, 20-, and 12-gauge, these loads add to the growing list of companies offering tungsten shot for the dedicated turkey hunter.
With an MSRP of $13.79 per round (they come in 5-round boxes), you certainly want to make your patterning shots count, but for dropping uncooperative toms with confidence at way-out-there distances, it may be worth the price of admission. The ammo comes in #7 and #9 shot for 12- and 20-gauge, and #9 in .410.