Premium components combined with an attractive price and Trijicon's reputation for field durability make the Huron an ideal optic choice for hunters
Brad Fitzpatrick
Long-range shooting has become quite popular recently, and many of the new and more interesting scope releases in the last few years have been built for thousand-yard shooters. These scopes generally have exposed turrets with zero stops and magnification ranging to 18x or even higher. And while many hunters use long-range tactical optics on their hunting rifles, they aren't necessarily the best option. For starters, they tend to be heavy and large, and that doesn't always make sense on a field gun — especially a handy lever-action or a lightweight mountain rifle.
Trijicon released the Huron as part of a new suite of Trijicon rifle scopes introduced in 2020. But unlike other optics Trijicon launched that year (like the Tenmile HX — a purpose-built long-range target scope), the Huron was built with hunters in mind, and that's clear when you examine the features that this scope offers…and those it doesn't.
The Hunter's Optic
Trijicon product manager John Fink told me that the Huron is the first Trijicon scope designed specifically for deer hunters. It's built to the same exacting standards as Trijicon's military scopes but lacks a few of the features that are found on Trijicon optics designed for dedicated long-range shooting or tactical applications. By doing so, Trijicon keeps the Huron's price very competitive (from $650 to $699) while still maintaining superb optical quality and unmatched durability.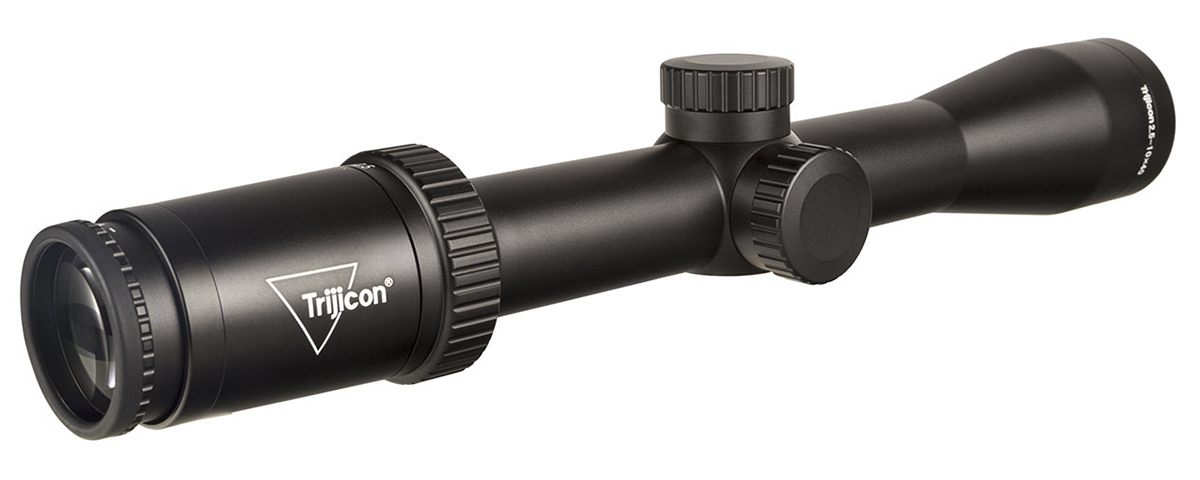 Some of the features that tactical scopes offer can get in the way of the hunter that needs a light optic for shots out to moderate ranges. Long-range reticles, for instance, are beneficial when shooting at long distances where the reticle serves as a tool for ranging targets and making rapid windage/holdover adjustments. But for shots at moderate ranges — and especially if shots are close and fast — a clear, uncluttered reticle is a major advantage. You don't need a bunch of holdover points when you're trying to hit a pig moving through thick cover or to knock a mule deer before it crests a hill at 200 yards.

All four Huron scopes (1-4×24, 3-9×40, 2.5-10×40, and 3-12×40) are available with Trijicon's BDC Hunter Holds reticle, which offers a simple yet efficient layout. It's a duplex design with two stadia lines on each horizontal arm of the crosshair and three holdover points on the lower vertical arm. The top vertical arm of the crosshair is thin like a German 4 reticle to allow an unobstructed field of view. You can actually opt for a German 4 reticle on the 3-9×40 model, which is an underrated reticle design that's perfect for fast shots, and a standard duplex.
The 1-4×24, 2.5-10×40, and 3-12×40 models all come with 30mm main tubes that offer 70 MOA of travel while the 3-9x40s with their 1-inch main tubes offer 40 MOA travel. It's rare that a modern scope doesn't offer a single objective lens larger than 40mm, but the Huron is the exception.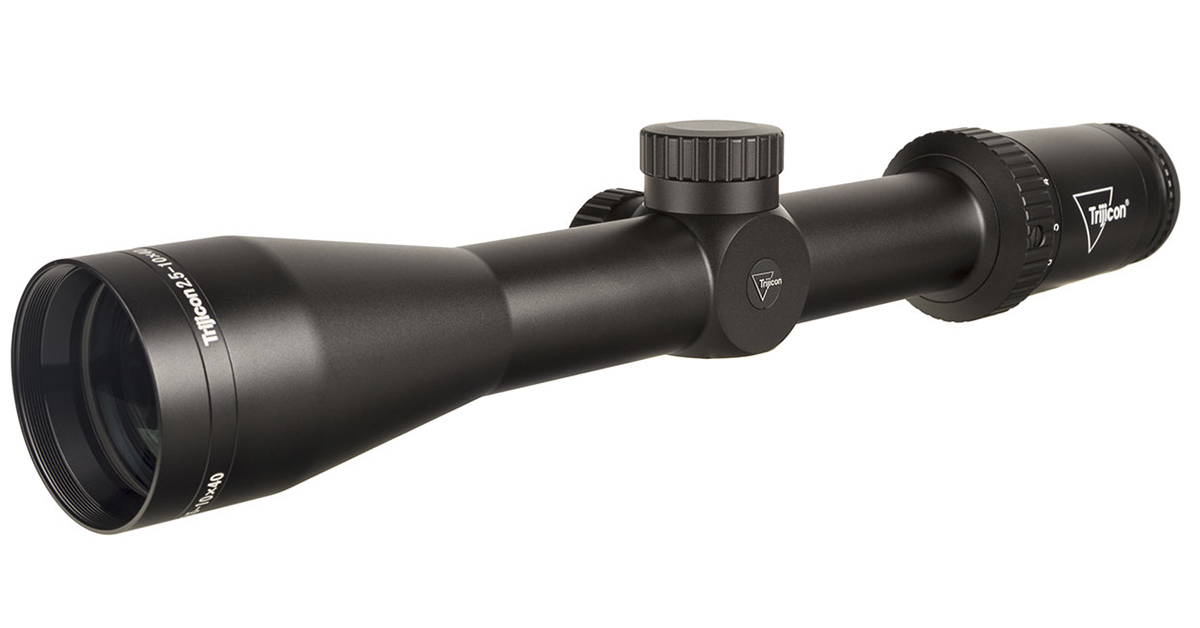 If you're worried that smaller objective lenses "don't gather enough light," don't be — the notion that larger objectives scoop in more light is a long-held falsehood. Smaller objectives, though, do reduce weight and allow you to mount the scope lower on the rifle. That, in turn, reduces the distance between the bore axis and line-of-sight (a good thing!) and promotes a solid cheek weld on the gun. The Huron also lacks a side parallax adjustment (though it does come with an easy-focus eyepiece), and the capped turrets are smaller and lighter than target turrets. These deletions won't be noticed by most hunters, but they do cut down on the scope's mass. Unbelievably, Huron scopes weigh between 15.9 and 18.2 ounces. It's rare to find a quality variable optic that only adds about a pound to your rifle.
What's Inside Counts
Trijicon has been making military optics for thirty years, so the company has a grasp on why scopes fail. The American-made Huron is really more durable than it has to be for hunting, and to prove that point, Trijicon subjects this scope to the same five torture tests to which all of its products (including military optics) are subjected. These include an immersion test to three meters, vibration and shock testing, drop testing, solid zero testing, and the "Africa to Alaska" test where the optic is heated to 140 degrees and then plunged into a -20 freezer.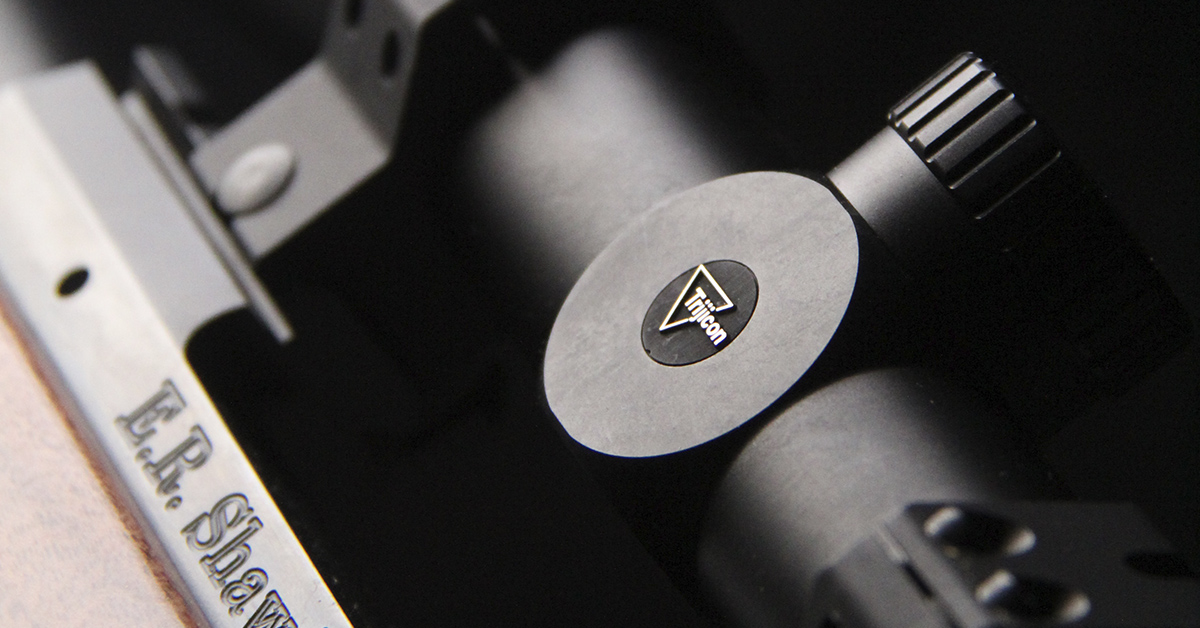 A few of these tests stand out to me. First, the drop test mimics the impact of dropping a scope on hard ground, which is the most common way that lens adjustments (and subsequent zero shifts) occur. By dropping the scope, Trijicon stresses the lenses to determine whether or not they'll shift, and that can save hunters a lot of heartache (and missed shots) in the field. The solid zero test is another particularly brutal evaluation that requires the scope to endure 5,000 rounds with point-of-impact verification at 1,000, 3,000, and 5,000 rounds. Any shift and the scope fails.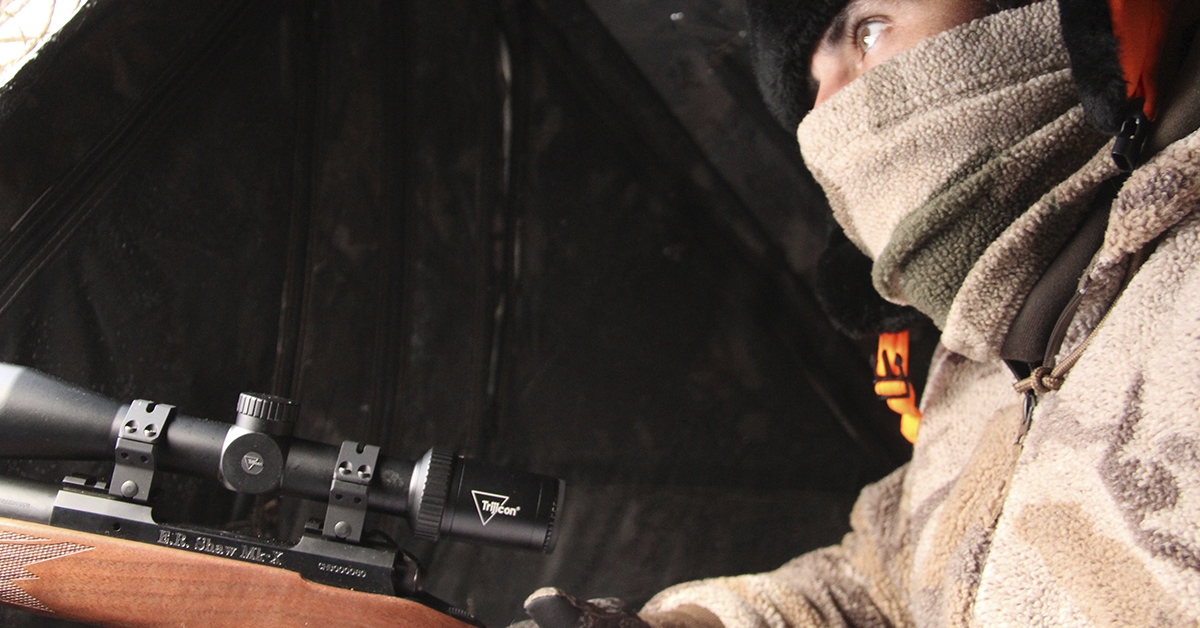 Do you need a scope that is this robust for hunting? I say, "Yes!" My hours in the field are limited and I look forward to being in a treestand or glassing for game all year. I want to know that every bump or ding isn't going to require a re-zero, and I certainly don't want to miss or wound game because my scope isn't well-built.
Trijicon's attention to detail guarantees that these scopes track accurately. If I want to increase my point of impact one inch at 100 yards, I know that three clicks of the Huron's elevation knob will do that (all the scopes in the line feature ¼ MOA adjustments. There's nothing more frustrating than making the proper adjustment to a scope only to find that the point of impact hasn't shifted at all or, worse yet, is going the wrong direction. Believe me when I say there are more scopes that don't track properly than you'd imagine.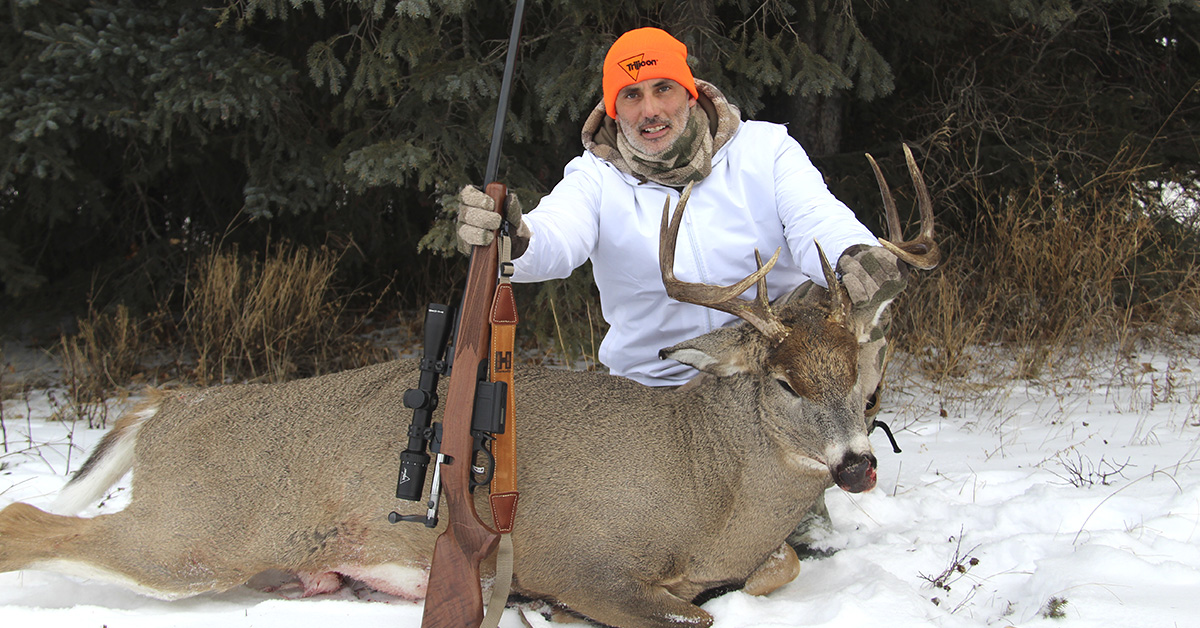 The Huron's rugged 6061-T6 aluminum body has a nice anodized black finish that holds up very well. I carried this scope to Saskatchewan to hunt whitetails in -15-degree weather, and the scope took a great deal of abuse on that hunt. Amazingly, it looked out-of-the-box new when I returned home after a successful trip.
What Am I Giving Up?
The Huron lacks an illuminated reticle, which may or may not be important to you. To my mind, illumination is certainly a nicety, but I don't recall ever missing a shot because I didn't have an illuminated reticle. Some states don't allow electronic sights, and illuminated reticles may or may not fall under that distinction. There's no issue when you're carrying a Huron.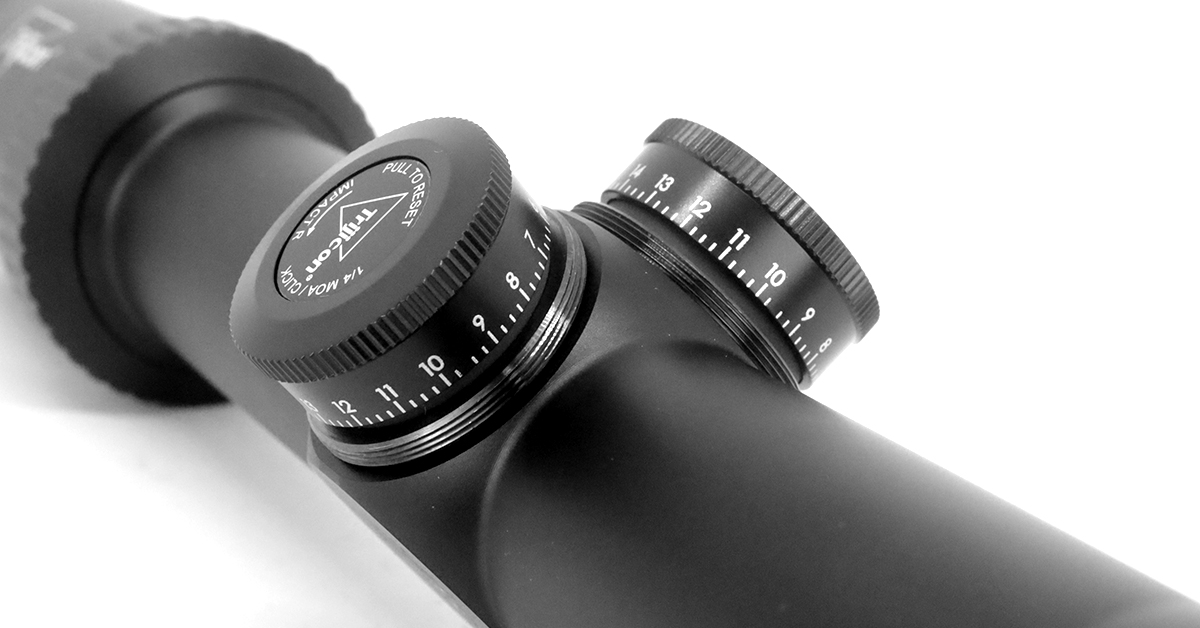 Many shooters think that parallax adjustment is a must, but John Fink told me that with scopes with 12x or less magnification fired to moderate ranges, parallax does not create a substantial impact on shot placement. Capped turrets don't allow for quick, dramatic impact adjustments, but it is easy to reset zero on the Huron scopes (simply lift the dial, turn to zero, and drop it) because they lack a zero stop. What's more, capped turrets prevent accidental adjustments or forgetting to return the scope to zero.
In short, you aren't giving up much with these optics, and what you are is nothing that most hunters can't live without. If you want a tactical scope with all the features long-range shooters love, Trijicon offers plenty of those, but if you want a tough, reliable, and versatile hunting scope that's competitively priced, the Huron is an outstanding option.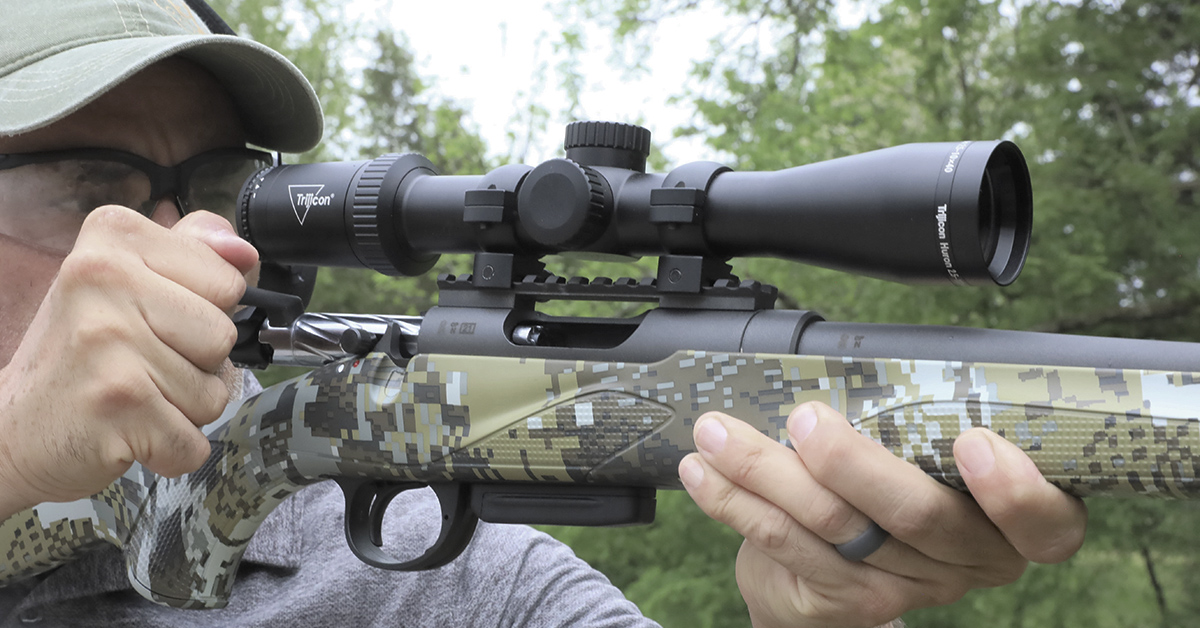 Trijicon Huron 2.5-10 Specifications
Dimensions: 12.55 in x 2.26 in x 2.26 in
Weight: 18.2 oz.
Magnification: 2.5-10x
Objective Size: 40mm
Tube Size: 30mm
Reticle Pattern: BDC Hunter Holds
Day Reticle Color: Black
Focal Plane: Second
Bullet Drop Compensating (BDC): Yes
Adjustment: 1/4 MOA per click
Adjustment Range: 70 MOA Total Travel
Eye Relief: 2.4 in. – 3.3 in.
Exit Pupil: 0.58 in. – 0.16 in.
Field of View (degrees): 7.66° – 1.92°
Field of View (feet): 40.2 ft. – 10 ft. @ 100 yds. (13.4 – 3.33m @ 100m)
Housing Material: 6061 Aircraft Grade Aluminum
Finish: Satin Black
MSRP: $699.00
Latest posts by Brad Fitzpatrick
(see all)