The hunt for a bucket list bird puts this waterfowler in the company of an old friend
by Brad Fenson
Hopefully, a late-season trip to Oregon would take a goose species off my bucket list with a successful cackling goose hunt. The Oregon coast on the Pacific Flyway is one of the best places to encounter the small goose, which is about the size of a mallard. The cackler is a diminutive honker with a narrow migration route and is often misidentified with other similarly colored geese.
My good buddy Mario Friendy invited me to hunt some local wetlands and run the Columbia River with Final Approach. There was no way I could turn down the offer and so I booked flights for my wife Stefanie and me.
It was hard to contain our excitement. We had spent an hour on our computer taking the required online course and test to obtain a permit to hunt geese in the area. The average time to take the test is 30-35 minutes. You need your Oregon Department of Fish & Wildlife hunter/angler ID number to take it, and when you pass the exam, you have three days to buy your permit. The test can be tricky and is designed to protect the dusky Canada goose, which is protected. The test ensures hunters can identify the different subspecies of Canada geese.
With licenses in hand, we headed for the gun safe, where Mario opened the door and pointed to a selection of smoothbores. A weathered, old beauty stood out amongst the synthetic stocks and camouflaged barrels. The Franchi Variomax 912 may have been older than my kids, but I knew it was the shotgun to collect my cackler.
Experience is the best teacher in life. The previous year, I had hunted in a duck camp that provided the firepower. Arriving at camp, I was surprised to find a modern assortment of Franchi shotguns. I took one from the rack and hunted three full days, harvesting limits of ducks and geese. The shotgun fit like a glove. Shooting the Franchi was like an extension of my arm and imprinted positive memories in my brain.
One look at the old-school Franchi in Oregon gave me flashbacks of the specklebellies, honkers, snows, mallards, and pintails I had shot the previous year in Alberta. Grabbing the 912 was like shaking hands with an old friend.
We constructed a blind on the edge of a wetland Mario had been watching for days. Wigeon, pintails, and cacklers were regular visitors, and I couldn't wait to hear the whistle of an old cottontop soaring into the decoys. Mario had an impressive spread of decoys, and we strategically placed them where we had seen birds the previous day. Wigeon must be one of the most underrated ducks, and getting the opportunity to harvest one in full plumage was a dream.
The action wasn't fast and furious, but it did keep our eyes glued to the sky. A nice bull pintail charged the decoys and was the first to be put in the daily bag. Wigeon showed up in groups, and the gang sent a barrage of steel shot into the air. Stef shot a beautiful drake and couldn't stop smiling. With birds in hand, it was hard not to stare at every detail.
The geese had been flying by, but none had committed to our setup. I observed the different colors, sizes, features, and a distinctive white ring on the bird's neck to ensure it was a cackler.
I saw the excitement in Mario's face and could hear it in his voice when he scolded us to get down, as a single cackler was coming at us. I could feel a touch of buck fever settle in and had to focus on the opportunity. Mario worked his call, and the bird swung directly over our blind at less than 40 yards. I stood up and fired a shot behind the target. Quickly refocusing, I centered the bird on the second shot and watched it splash into the water. The old Franchi had helped fulfill a long-time dream for a dedicated waterfowler.
Franchi Instinct SLX

Franchi introduced the newest member of its Instinct shotgun line, the Instinct SLX, earlier this year. The name is fitting, as the company has been manufacturing shotguns that allow hunters and shooters to shoot and fall in love with the products instinctively.
The Instinct SLX over/under shotgun features the signature lightweight receiver of the Instinct SL but takes things up a notch with traditional floral engravings, gold inlays, and an exquisite AA-grade, oiled-walnut Prince of Wales stock and Schnabel forend. The shotgun is a work of art, with the fit, feel, and smooth execution to get on a target quickly. The heirloom-quality firearm is fitted with a gold trigger, and five extended nickel chokes round out the package.
The gun features rich floral engravings with an inlaid gold "Franchi" logo and a polished trigger guard with a gold Franchi "F" logo. The detailed engravings are eye-catching and run across the side and underside of the receiver. The aluminum receiver keeps the double gun lightweight and easy to handle.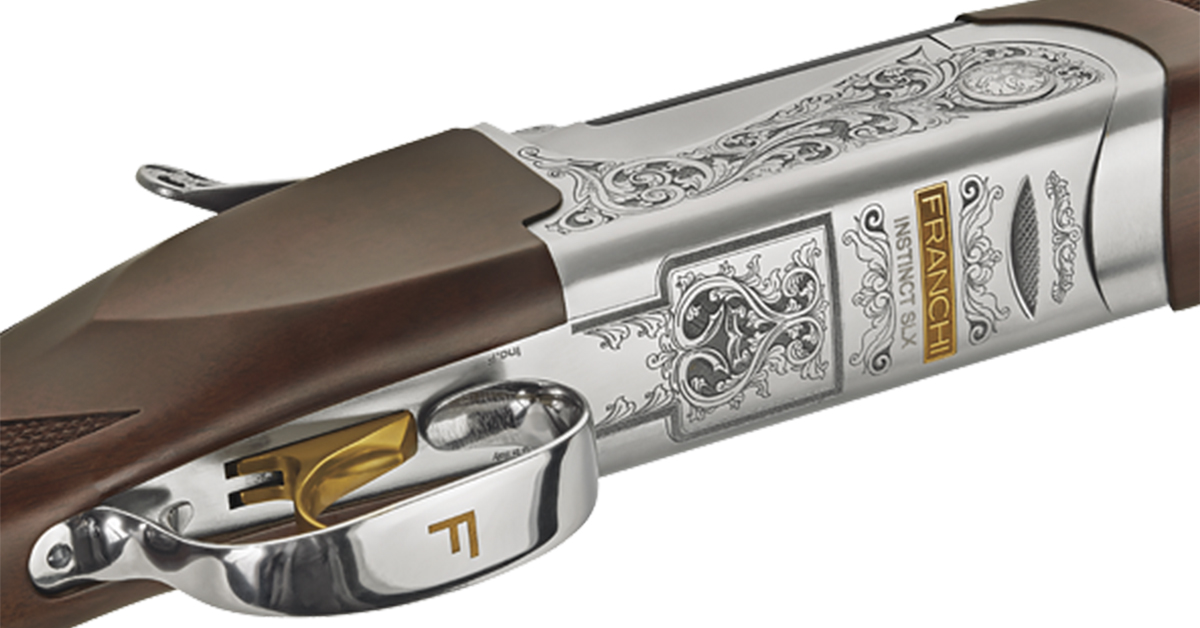 A "Prince of Wales" grip with cut checkering combines ergonomics and shooting grip comfort with traditional style. The pistol grip is typical and has a curve of relatively tight radius, while the Prince of Wales grip has a much more open curve.
The elite stock design continues on the front end with an ergonomic Schnabel forend. The slim and tapered Schnabel features cut checkering and combines old-world styling with modern ergonomics, performance, and comfort.
A recoil pad, vent rib, auto ejectors, auto safety, and barrel selector round out this over/under offering that could pass as a classic. The shotgun comes with a hard case and five extended choke tubes. There are ported and flush tubes available. The Instinct SLX is available in 12-, 16-, and 20-gauge.
HIVIZ Shooting Systems
Shotgun enthusiasts who want to up their game need to look into a HIVIZ Shooting System sight. The company's products are more than sights; they offer clear advantages and easy solutions for serious shotgunners.
HIVIZ Shooting Systems has been around since 1996 and has a strong following amongst hunters and competitive shooters. The company has become a leader in innovative sights to see better, acquire targets with ease, and to shoot more instinctively.
Easy to install, the HIVIZ sights build on the light-gathering benefits of fiber-optic. The newest models take it to the next level with light-emitting tritium for 24-hour illumination. Do you have trouble seeing in low light conditions? Problem solved. Do you have problems focusing on a target and keeping track of the shotgun bead? Problem solved. Are you unsatisfied with the bead on your shotgun? HIVIZ has your ticket.
HIVIZ sights have a steel frame and are made to endure harsh hunting conditions. The frame of the sight allows maximum light gathering and transmission. There are many styles and mounting options to choose from, and the Shotgun Application Chart can help you find the correct model for your shotgun.
ALPS OutdoorZ Upland Game Vest X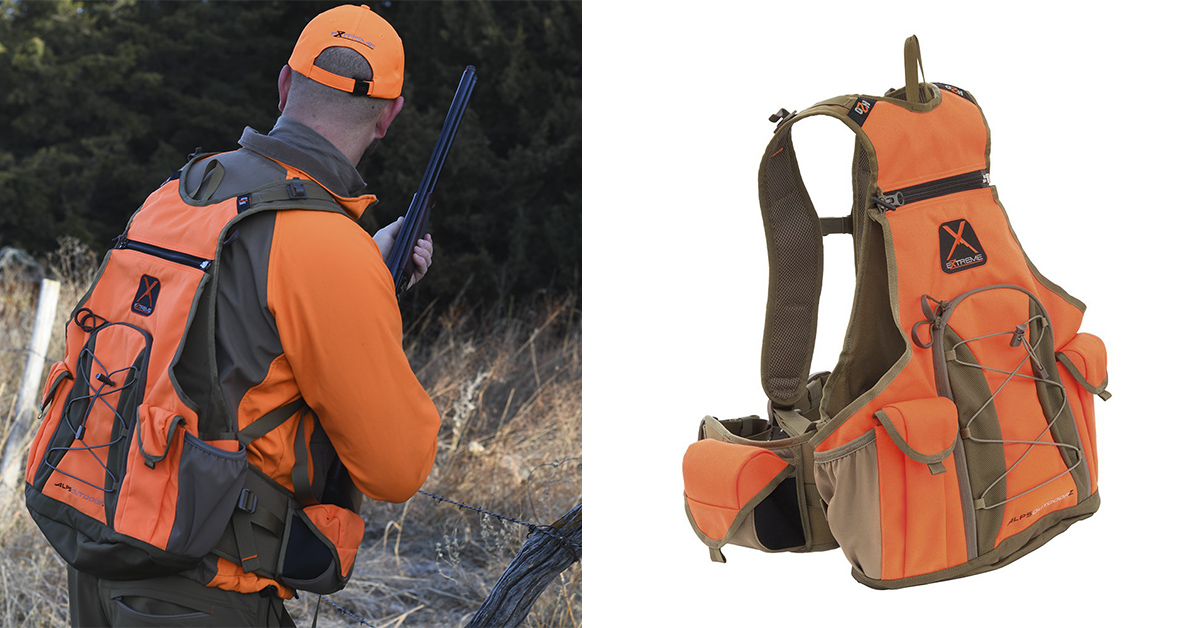 A new over/under shotgun means you need to comfortably carry different chokes, shotshells, and pack out harvested birds. The Upland Game Vest X from ALPS OutdoorZ has plenty of room for water, snacks, and a limit of birds. The large game pocket in the back unzips for easy cleaning. Two front shell pockets fit an entire box of shells each. The adjustable waist belt features two flip-down gun rests when you need to use both hands for admiring a downed bird. A vented back and H2O port is fantastic on warmer days or long hikes.
Fiocchi Golden Pheasant
A classic-looking over/under shotgun deserves Fiocchi Golden Pheasant when hitting the field. The Golden Pheasant loads offer hard-hitting pellets delivered on target with consistent patterns. The nickel-plated lead shot provides knockdown power on long-range birds, and innovative wads deliver patterns for making the most of every flush. At 1,350 fps, Golden Pheasant provides what you need to stay ahead of the target. The Fiocchi Field Dynamics Upland Game loads deliver exceptional downrange performance traveling at 1,330 fps. This extensive line offers plenty of options to ensure you have the right shotshell for any upland game bird conditions.