Forget about driving tacks. CZ's 457 Pro Varmint is all about capping critters with confidence.
by Rob Reaser
Daylight was quickly flaming out on the southern Wyoming prairie and the white-tailed dogs still wanted to play. A scratchy alarm bark pulsated across the sage, but I couldn't locate the messenger. Grabbing the Bushnell Fusion X 10x42s next to me, I soon found the little bugger, standing with only the upper half of his body poking above the rolling horizon.
At 100 yards and with a storm front pushing a steady breeze from the north, it would be a challenging shot.
If you've spent much time ventilating prairie dogs and gophers, you know they present a small target that is subject to change without notice. Compound that with a 100-yard shot starring CCI's 40-grain standard velocity lead round nose bullets and a good wind, and you can appreciate the difficulty.
Funny thing was, I had little doubt that I could pull it off. That's not chest-puffing on my part, but credit to the rifle/optic/ammo performance I had come to expect from dog drops at similar distances and wind conditions throughout the day.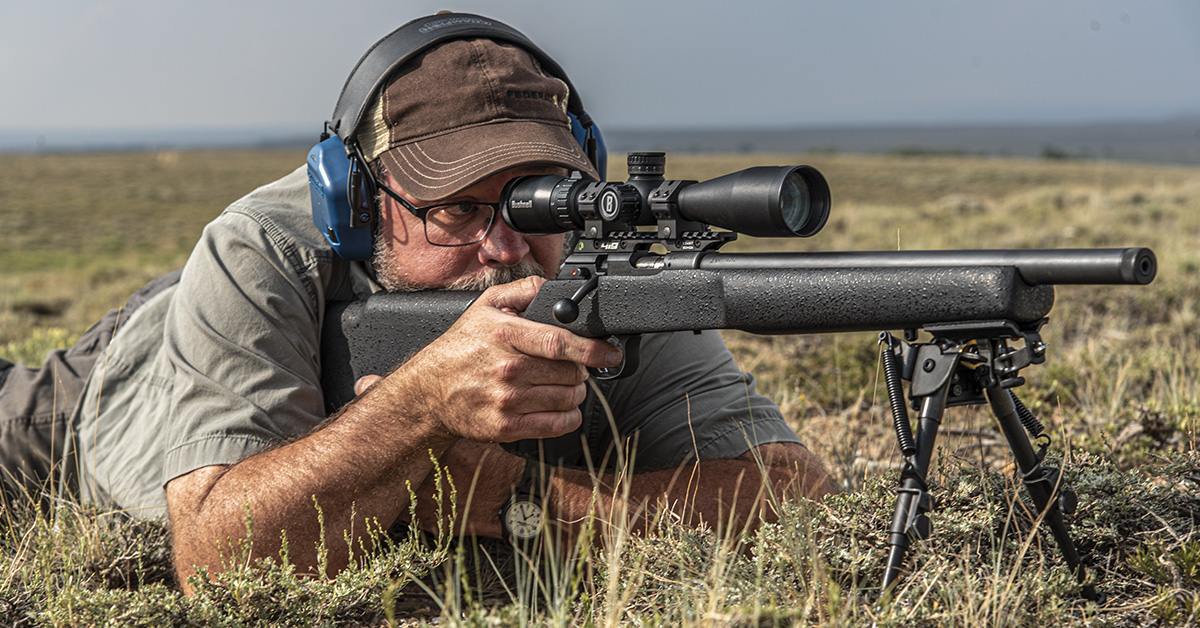 I was on some particularly rocky and dry grazing lands a short throw from Encampment, Wyoming, giving CZ's relatively new 457 Pro Varmint .22 LR and Bushnell's Prime 3-12×40 Multi-Turret scope a thorough shakedown under conditions only a true rimfire devotee can appreciate.
Experience with the wind over the last few hours suggested a hold about 3-4 inches left of my target, which, on a skinny prairie dog, meant an inch or two off the edge of its body. I settled in for the shot, held a couple inches off the side of the dog, extended my exhale, and pulled the trigger.
The rifle answered the varmint with a bark of its own. Prairie dog eliminated.

At first glance, the 457 Pro Varmint looks a tad out of proportion. The barrel is of the heavy flavor, but the abbreviated 16.5-inch length seems somewhat "underdeveloped" nestled in the barrel channel of a target-grade stock. A mismatch? On the contrary—it's an ideal pairing for a rifle designed for field carry yet requiring stabilizing mass to encourage pinpoint accuracy in tough conditions…such as a stiff prairie wind.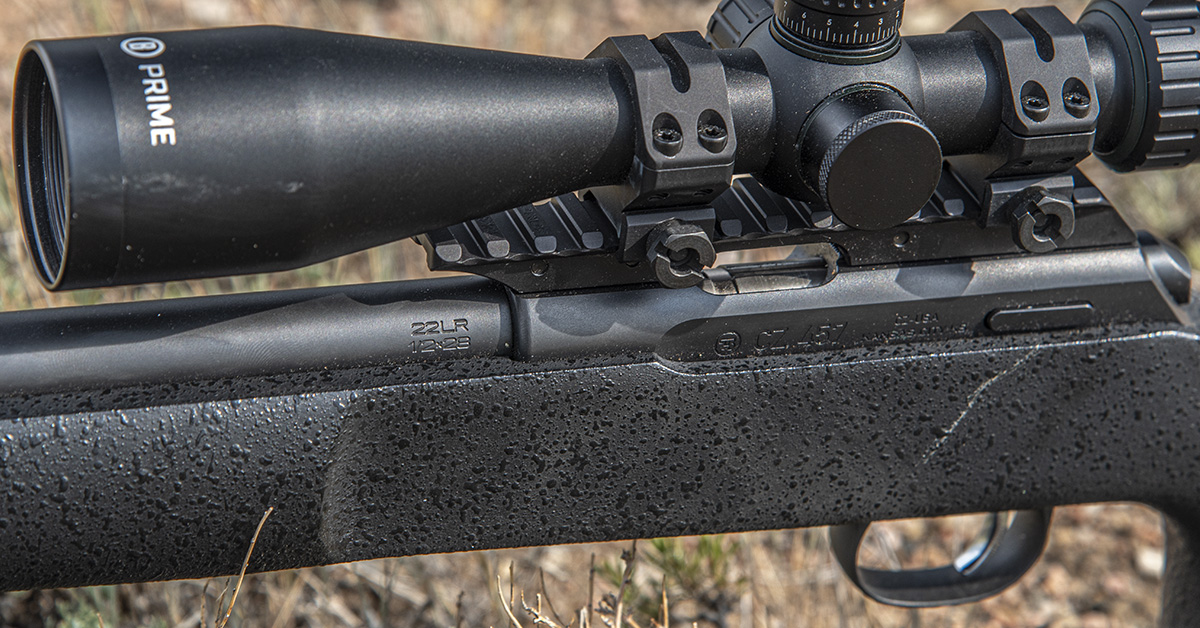 Fitted to the barrel is a redesigned action that CZ says is an inch shorter than their standard profile and that features "slab sides" to minimize weight. It's a sleek cut that blends well with the stock.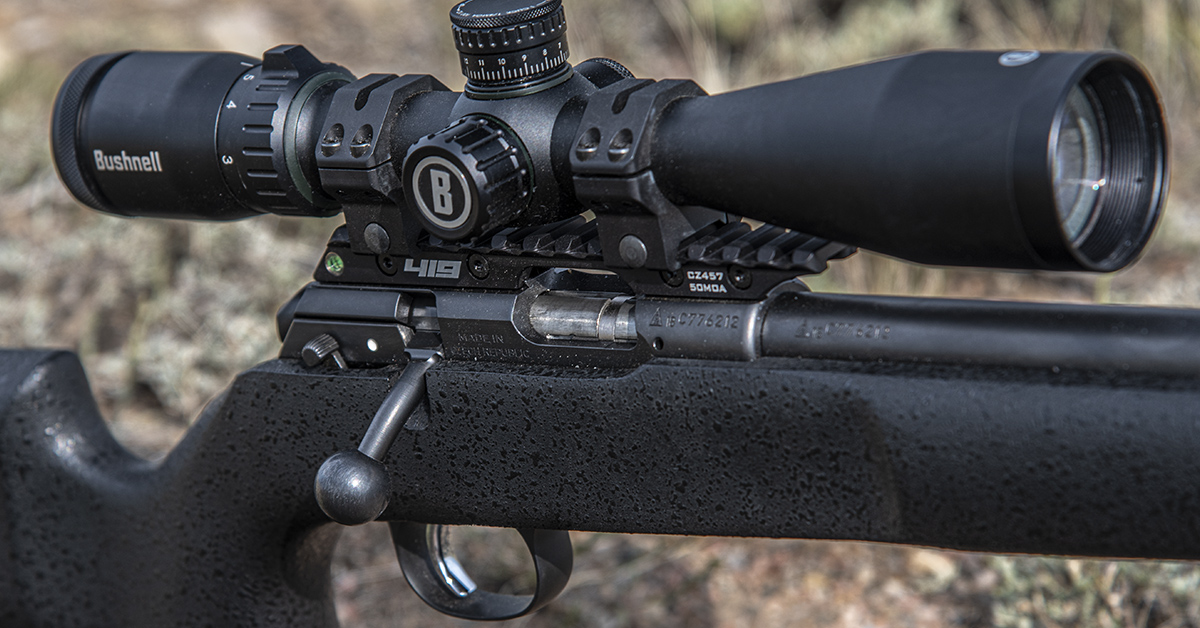 Since the barreled action and hefty stock (more on that in a moment) are intended to induce long-distance shooting action (for a rimfire), CZ's engineers acknowledged the likelihood that robust scopes would be employed to maximize the 457 Pro Varmint's accuracy potential. So, CZ reduced the standard 90-degree bolt rotation to 60 degrees, eliminating possible interference when cycling the action in the presence of a scope boasting a large ocular bell diameter and mounted low to the bore line. Although my Bushnell Prime 3-12×40 scope couldn't exactly crowd the action during cycling, the abbreviated bolt rotation did hasten ejection and recharging—welcome performance when you're playing in a target-rich environment.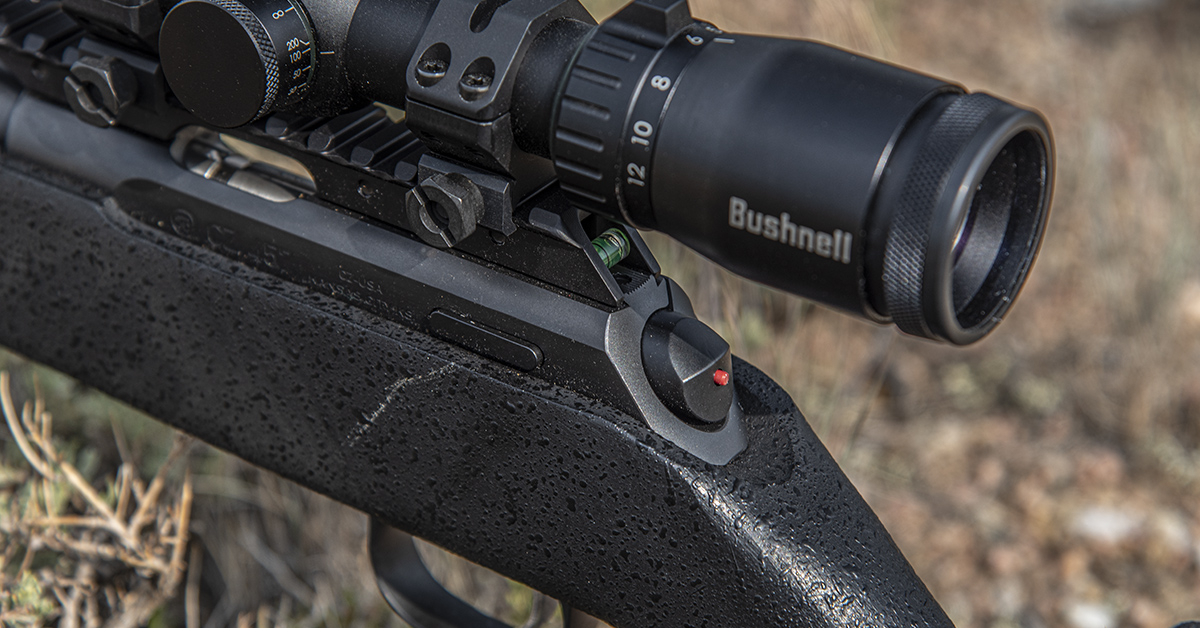 Another conforming upgrade (conforming to U.S. firearm owner expectations) is the two-position, push-to-fire safety system. The safety lever is located just behind the bolt. Pull the safety lever back to place the action in safe mode; push the lever forward when you're ready to fire. That's just the way we like it. The prominent, deeply serrated safety lever thumb knob offers good traction to move between safe and fire modes without fumbling—a great feature when you need to keep your eye on your target.
One aspect of the 457 Pro Varmint that quickly won my approval was the trigger. In the spirit of aftermarket upgrade triggers, the factory trigger is adjustable for pull weight, creep, and overtravel. As adjusted on my test model, creep was practically undetectable and the break exquisitely crisp. Although I was not able to check it on a scale, the pull weight felt to be around 3 pounds—heavy enough for field safety and light enough to not disturb sight alignment during the squeeze. It certainly wasn't the performance I was expecting from a factory rimfire trigger.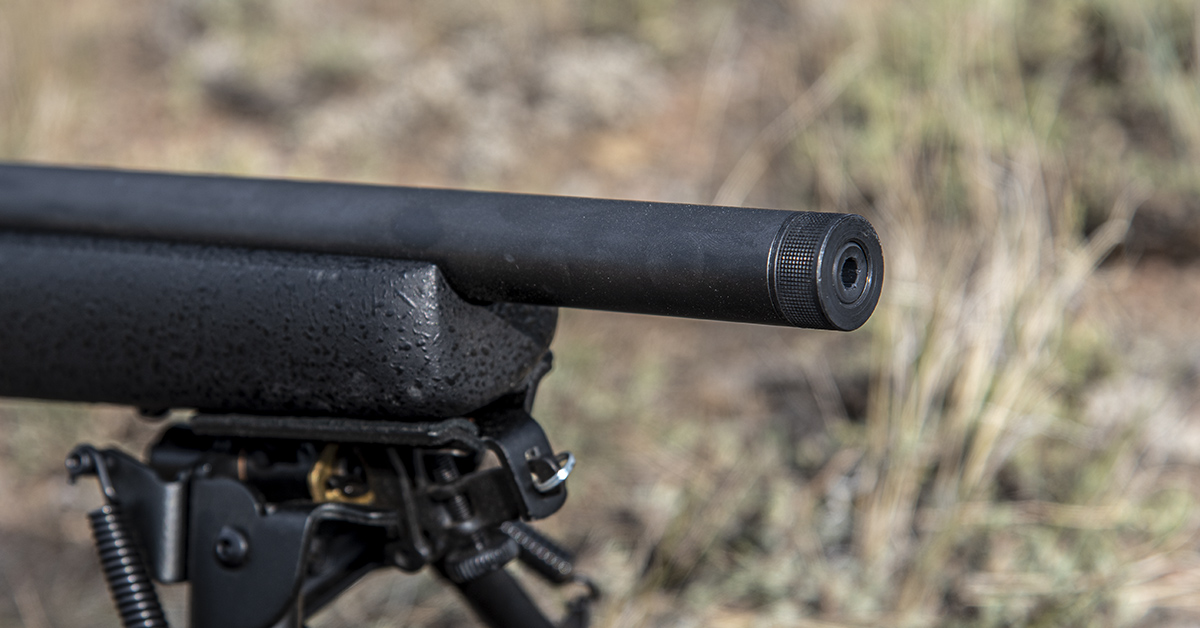 Before we move off the barreled action, note must be made of the 457 Pro Varmint's muzzle. It comes threaded 1/2×28 so that you can install a suppressor right out of the box. Should you need to wait on the paperwork, a knurled thread protector is included.
If you think the 457 Pro Varmint's stock would look right at home on a tactical-style precision shooter, you'd be correct. My first impression was, "That stock looks familiar." Then I glanced at the butt pad. Mystery solved.
This stock is a variant of Boyds' Pro Varmint laminated hardwood stock and developed specifically for precision rimfire rifles. The buttstock features a just-right Monte Carlo comb for optimal head positioning behind large scopes and a near-vertical grip with generous palm swells for ideal hand positioning and the promotion of a straight trigger pull. A butt hook allows you to control positioning with your non-firing hand or to ride a bag when shooting from a bench. Not that you need it on a rimfire, but the rubber recoil pad is plush and offers a no-slip grip against the shoulder.
Up front, the stock includes a svelte beavertail forend. This is great for rotational stability when shooting off a bag on the bench or when employing a field rest on, say, a daypack. A sling swivel stud and bipod mounting stud come installed from the factory. You can also have the stock in any color and finish you like, so long as it is black and textured (thank you, Henry Ford).
In addition to the 457 Pro Varmint's heavy 1:16 twist barrel, the tactical stock delivers the other side of the weight equation to give this rifle excellent stability in such a diminutive platform—essential stuff when staring down small critters in the 100-yard zone.
CZ 457 Pro Varmint Suppressor-Ready Specifications
Chamber: .22 LR
Action: bolt
Bolt Rotation: 60°
Magazine Capacity: 5
Magazine Type: detachable
Barrel: cold hammer-forged
Barrel Length:5 in.
Muzzle Thread: 1/2×28
Rate of Twist: 1:16
Trigger: adjustable
Safety: two-position, push-to-fire
Stock: hardwood laminate, textured black paint
Weight:3 lbs.
MSRP: $615.00
Bushnell Prime 3-12×40 Multi-Turret Rifle Scope
Speaking of staring down critters, good glass is a must not only to ensure point-of-impact matches point-of-aim but also to allow you to comfortably stay on the gun for the long stretches typical of varmint hunting. The Bushnell Prime 3-12×40 provided both.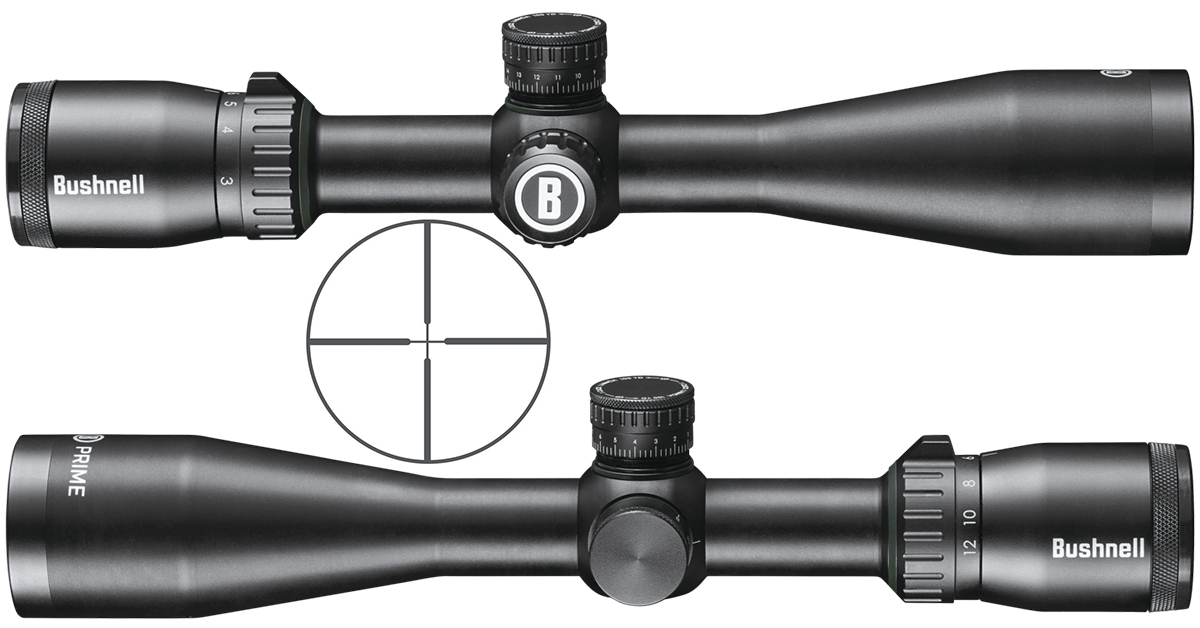 Although well-suited for centerfire rifles, I found the Prime 3-12×40 to be the perfect solution for a rimfire varmint gun. Its one-inch tube and 40mm objective provides a generous and crisp sight picture and the fully multi-coated glass with wide band coatings does an excellent job of boosting clarity and light transmission.
The second focal plane reticle is a must for dialing in small targets at distance, and I had no issues with the MULT-X reticle obscuring those way-out-there dogs. This scope also comes with parallax adjustment from ten yards to infinity, making for a sharp, well-focused image across the 457's functional range. For most of my shots, even those beyond 60 or 70 yards, 5X and 6X magnification proved to be the sweet spot, offering ample magnification and comfortable field of view.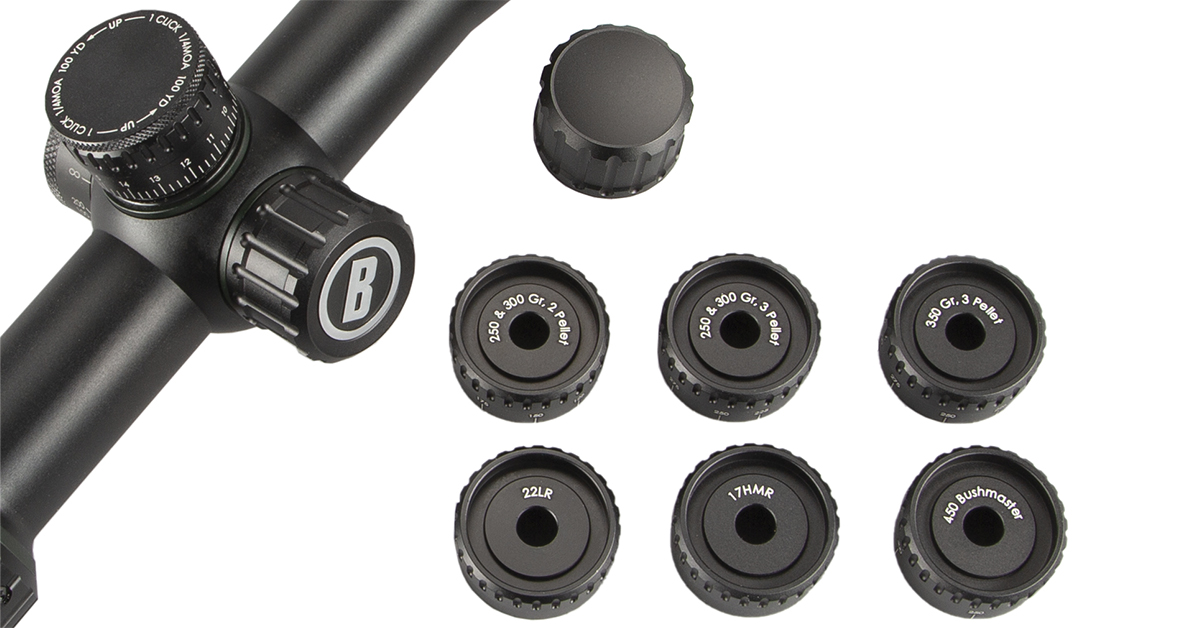 An interesting feature of the Prime 3-12×40 is that it comes with seven capped and exposed elevation turrets that allow you to quickly dial in bullet drop compensation for MOA and six different bullet profiles. The bullet profiles include:
.17 HMR (250 yd. max)
.22 LR (125 yd. max)
250- and 300-gr. 2-pellet muzzleloader, and 20-ga. (250 yd. max)
250- and 300-gr. 3 pellet muzzleloader, and 12-ga. (300 yd. max)
350-gr. 3 pellet muzzleloader (300 yd. max)
.450 Bushmaster (300 yd. max)
Bushnell Prime 3-12×40 Multi-Turret Riflescope Specifications
Eye Relief (in.): 3.5 in. / 88.9mm
FOV (ft @ 100 yds): 29ft @ 3X to 7.5ft @ 12X
Length (in.): 12.0 in. / 304.8mm
Magnification x Objective Lens: 3-12x40mm
Parallax Adjustment: Side Focus, 10 Yards to Infinity
Reticle: Multi-X (SFP)
Tube Diameter: 1″
Water Resistant: Yes, IPX7
Waterproof/Fogproof: Yes, IPX7
Weight (g): 17 oz / 482g
Focal Plane: Second
Elevation Adjustment: 50 MOA / 13.8 MIL
Windage Adjustment: 50 MOA / 13.8 MIL
Travel Per Rotation: 15 MOA
Elevation Turret: MOA-Based & BDC-Based, Exposed, Non-Locking
Windage Turret: MOA-Based, Capped, Non-Locking
Coatings: Fully Multi-Coated
UltraWide Band Coatings: Yes
EXO Barrier: Yes
MSRP: $229.99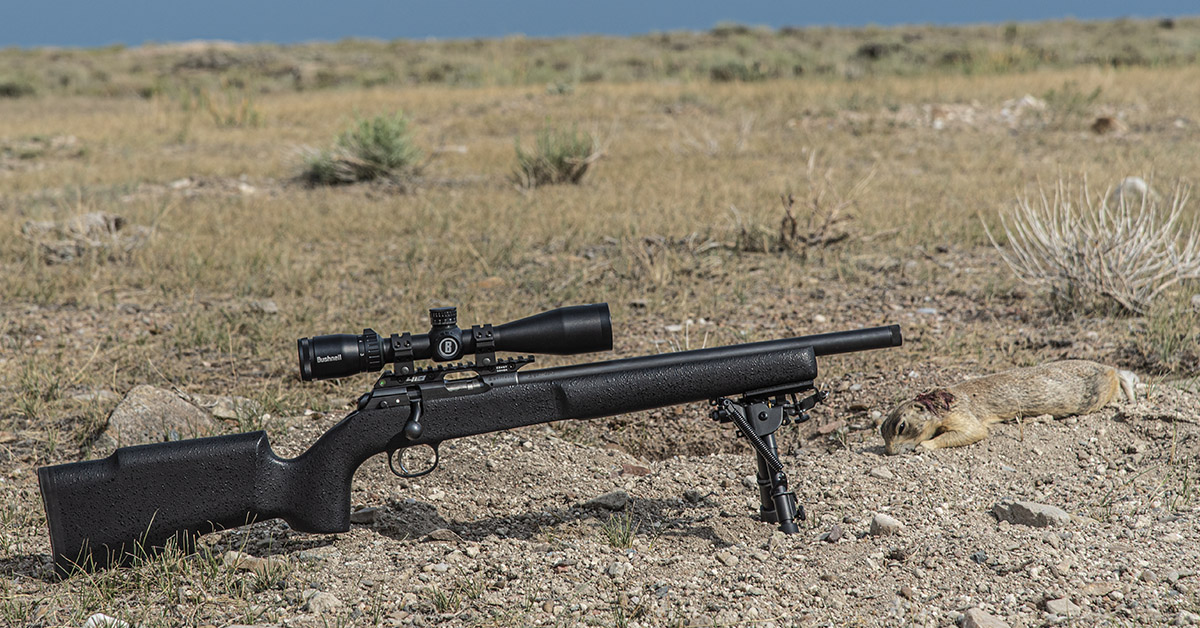 The CZ 457 Pro Varmint matched with Bushnell's Prime 3-12×40 optic certainly earned our respect on the prairie dog fields of Wyoming. While this solid combo wouldn't be the most comfortable carry for, say, a day in the squirrel woods, it is a potent pill for set-hunting varmints like prairie dogs, gophers, and groundhogs, not to mention bench shooting. With MSRPs of the rifle and scope running $615 and $229.99, respectively, this duo is a sound investment for anyone looking to take their rimfire fun and performance to the next level.