Franchi's latest semi-auto sets poetry to motion on the bird fields
by Brad Fenson
Walking the vast, open stretches of the Nebraska Sandhills can seem daunting. The chore of locating prairie chickens in a sea of grass is like looking for the proverbial needle in a haystack. Staying focused and watching for flushing birds, or listening for beating wings, can be difficult.
Thundering wingbeats generate fast-pounding heartbeats, and the split-second of chaos can often be disorientating. Trying to shoulder a shotgun, take the safety off, locate the bird, swing in front of the target, and get a shot before the bird wings out of range provides a burst of adrenaline and excitement. When all goes well, a bird crumples to the ground and provides the prize for miles of walking and determination.
A big, mature male prairie chicken is a prize for an upland game bird enthusiast. The keen-eyed bird is hard to approach, can fly at breakneck speed, and uses geographical features to its advantage. The element of surprise is always a benefit. As I popped over a rise, a prairie chicken exploded from the far side of the sandy bowl. The bird was at 40 yards before I got my shotgun to my shoulder. A calm and calculated approach, though, allowed me to shoulder my shotgun and knock the bird down within seconds. It was like poetry in motion, allowing the entire world to slow down to do my part as a hunter and shooter for positive action.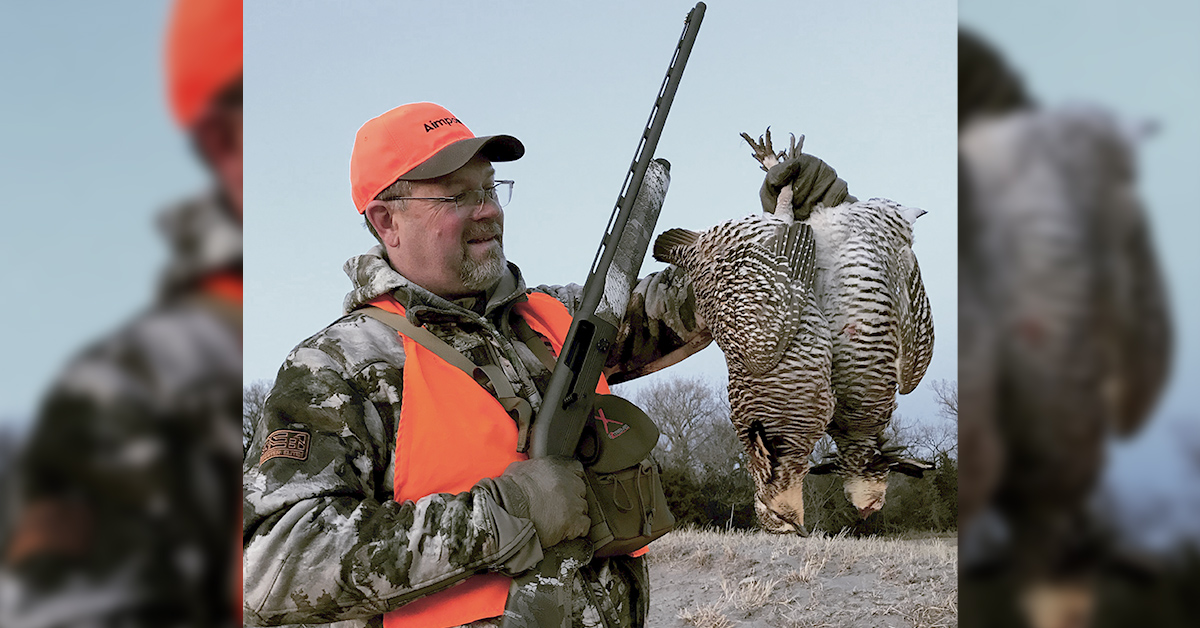 Earlier in the day, I had put a modified choke in the Franchi Affinity 3.5 to provide a shot pattern on mid- to long-range flushing birds. The choice was perfect. The prairie chicken I shot was dead the instant my pattern connected, meaning no tracking or chasing was required. As many birds can flush at 60 or more yards, it is always a gamble where a full choke would be advantageous. The Franchi upgraded chokes plus a lengthened forcing cone improve performance.
There are several reasons for my success. The biggest was being familiar with my shotgun. Shouldering a shotgun correctly and consistently means the shot pattern always goes where you want. My Franchi Affinity 3.5 had a vented rib and improved ergonomics for faster handling and target acquisition.
Adapting to different targets is not easy, but the same shotgun proved its versatility to harvest ring-necked pheasants, mallard ducks, and a brace of beautiful fall turkeys. Changing chokes and using different shotshells allowed me to round out a Sandhills' grand slam.
A versatile shotgun that fits correctly can lead to a lot of fun and success. Franchi Affinity shotguns handle and perform intuitively. The fit, feel, and balance is noticeable, and when hunting fast-flying birds, timing and well-placed patterns are critical. The Sandhills are tough on firearms, where sand can affect the action and working parts, and the elements can test even the best-maintained shotgun. The inertia-driven action operates smoothly and consistently, without failure. The Cerakote finish protects the metal parts from rugged use and the environment.
The newest model in the Franchi Affinity lineup is the Affinity Elite 3, available in a 12-gauge 28-inch barrel in either a 3 or 3-½ inch chamber and 20-gauge with a 26-inch barrel. All models are available in OPTIFADE Marsh with burnt bronze Cerakote and OPTIFADE Timber with cobalt Cerakote.

Franchi's Affinity Elite series maintains the features found in the Affinity line. Features important to hunters include an oversized and textured bolt handle, offering consistent operation where it is easy to keep your fingers away from the action.  Specialized recoil pads allow for length-of-pull adjustment and take the bite out of magnum shotshells. Adjustments can also be made with the shim kit to customize the fit for any user. The semi-auto shotguns also have sling attachment points, an oversized loading port, an ambidextrous safety, and a ventilated and chrome-lined barrel. The receiver comes drilled and tapped for the quick and easy mounting of optics and accessories.
Franchi uses a twin shock absorber (TSA) recoil pad that reduces felt recoil for shooters. At the same time, the TSA allows length-of-pull adjustments to give shooters a near-custom fit and feel. An included shim kit allows for drop and cast adjustments for increased customization and a precision fit. An ergonomic pistol grip and streamlined forend deliver balance and superior pointability. Taking the time to fit this shotgun properly means consistent patterning. Shooting this new shotgun will be like picking up an old favorite and being on target immediately.
If you prefer to spend more time hunting and less time cleaning, the inertia-driven action will be a highlight. The proven and reliable semi-auto action requires fewer parts, less cleaning, and less maintenance. The trigger and action are easy to remove, clean, and reassemble. The bonus to the inertia system is less felt recoil. The Affinity Elite 3 comes with a seven-year warranty and has an MSRP of $1,249 for 12 or 20 gauge.
For more information on the Franchi Affinity Elite Series, visit franchiusa.com.
ALPS OutdoorZ Upland Game Vest X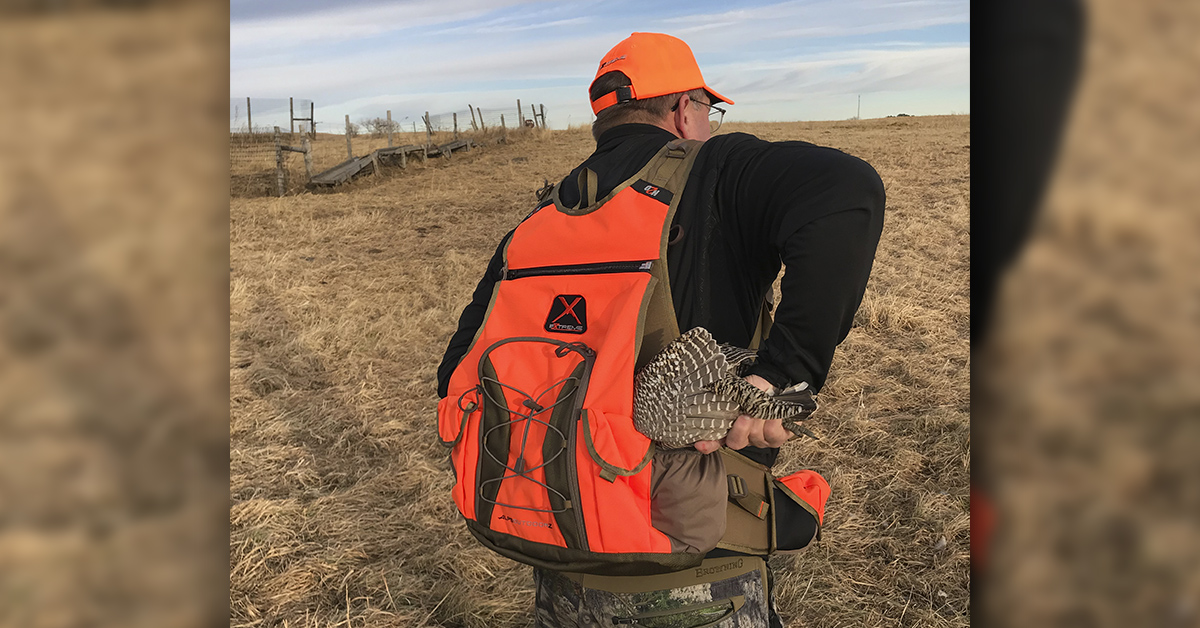 A versatile hunting vest is essential when covering miles of open country. The ability to comfortably carry different chokes, shotshells, and pack out harvested birds keeps you focused on the hunt. The ALPS OutdoorZ Upland Game Vest X has plenty of room for water and snacks and proved it could transport everything from chickens and pheasants to turkeys. The large game pocket in the back unzips for easy cleaning. Two front shell pockets fit an entire box of shells each. The adjustable waist belt features two flip-down gun rests when you need to use both hands for admiring a downed bird. A vented back and H2O port is fantastic on warmer days or long hikes.
Smoothbore Aimpoint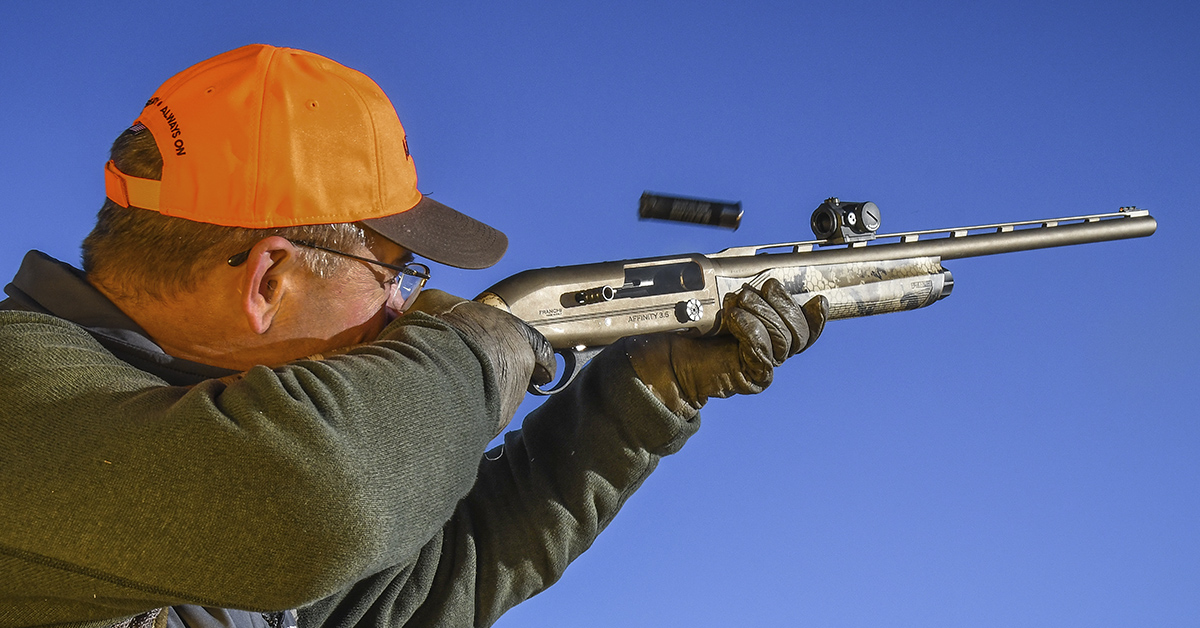 Bird hunters often overlook the advantages of using a sight. The Aimpoint Micro S-1 offers a quick reference point to ensure your pattern is delivered where it is most effective. The sight features a 6 MOA red dot, and if it is obvious, it represents where your pattern will be delivered. The sight can be placed at different points on the ventilated rib. Trying a few attachment points will show where it is easy to reference the dot while pointing the shotgun. The Micro S-1 is simple to pattern with a shotgun to ensure the payload is on target every time.
The Aimpoint Micro S-1 could be the tool to increase your success while wing shooting. Seeing is believing, so try one on the trap range and decide if you want to up your game.
Fiocchi Golden Pheasant

Fiocchi Golden Pheasant offers hard-hitting pellets delivered on target with consistent patterns. The nickel-plated lead shot provides knockdown power on long-range birds, and innovative wads deliver patterns for making the most of every flush. At 1,350 fps, Golden Pheasant delivers an advantage on fast-flying prairie chicken. The Fiocchi Field Dynamics Upland Game loads cycle reliable and present exceptional downrange performance, traveling at 1,330 fps. This extensive line provides plenty of options to ensure you have the right shotshell for any upland game bird condition.
Flyway Series

Whether shooting mallards over decoys or pass-shooting geese at ultra-long range, Fiocchi Flyway steel shotshells come in a wide variety of loads to suit your specific needs. Flyway Series shotshells combine treated steel shot, protective wads, and matched powders to deliver reliably dense patterns and confident terminal performance from a load that is easy on your gun barrel but hard on your target. When you must use steel shot, there is a Fiocchi Flyway shotshell you can depend on. Fiocchi offers 20-gauge in number 2, 3, or 4 shot. Twelve-gauge loads are available in 3-inch, 1-1/15 oz, numbers 1, 2, 3, and 4 zinc-plated steel shot, traveling at 1,550 fps. The 20-gauge loads are offered in 3-inch, 7/8 oz, numbers 2, 3, and 4 zinc-plated steel, traveling at 1,500 fps.