DIY Giveaway Product Descriptions
Rock River Arms RRAGE 2G Rifle
Rock River Arms, the leader in specialized Modern Sporting Rifles, has developed a 5.56mm semi-auto that advances the clean, trim look and performance of the monolithic-style upper receiver/handguard design but at a price point more in line with a conventional upper receiver and free-float handguard assembly.
The RRAGE 2G builds on Rock River Arms' new extruded flat top upper receiver. Made of 6061T aluminum, this receiver exhibits the clean lines and defined angles commonly associated with more expensive billet uppers while delivering comparable strength and precision dimensions.
Matched to the receiver is a similarly constructed 6061T aluminum free-float handguard that blends almost seamlessly with the upper to provide an elegant, unitized profile and balanced strength and rigidity across the optics platform. The M-LOK™ system along the side and bottom surfaces lets shooters run a clean handguard or add only the rail accessories needed to help maintain a sleek, snag-free signature.
Combined, the RRAGE upper receiver and handguard set a new standard in MSR design and performance.
CALIBER: 5.56MM NATO CHAMBER FOR 5.56MM AND .223 CALIBER

LOWER RECEIVER: FORGED RRA LAR-15M

UPPER RECEIVER: EXTRUDED ALUMINUM A4 WITH PORT DOOR/NO FORWARD ASSIST

BARREL: 16-INCH CHROME MOLY

MUZZLE: A2 FLASH HIDER / 1/2–28 THREAD

GAS SYSTEM: CAR LENGTH, WITH LOW PROFILE GAS BLOCK

TRIGGER: RRA SINGLE STAGE TRIGGER
HANDGUARD: 9.5 INCH RRAGE 2G FREE FLOAT RAIL HANDGUARD, M-LOK® COMPATIBLE

BUTTSTOCK: RRA SIX-POSITION TACTICAL CAR STOCK

PISTOL GRIP: A2 GRIP

WEIGHT: 6.7 POUNDS

LENGTH: 36 INCHES STOCK EXTENDED
Real Avid Armorer's Master Kit – AR15 PRO
This upgraded kit is the most complete set of Master Grade® AR15 tools ever assembled to build, repair or customize your gun, housed in a convenient professional case. A Perfect fit for any DIY Giveaway.  Featuring an extensive set of task-specific crowfoot wrenches for the most common AR15 assembly nuts and a heavy-duty armorer's torque wrench. Kit includes both upper and lower vise blocks to confidently secure your gun parts for superior control. A comprehensive set of AR15 pin punches and armorer's hammer pair with the 11-function bench block. To get you started, included is a step-by-step instructional book to guide you through the top 18 modifications made to AR15's. Upgrade to Master Grade!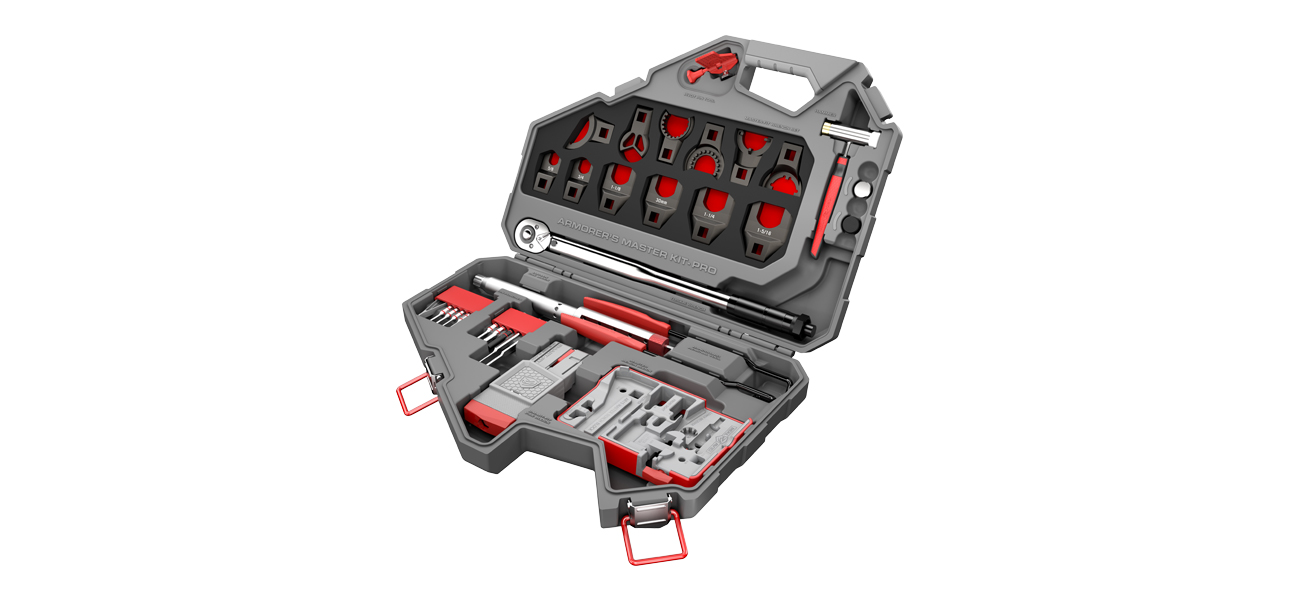 Timney Triggers AR Targa
This Timney set the standard for aftermarket trigger upgrades for the AR/M4 rifle
A drop in, complete assembly trigger
The trigger is factory tuned for a long first stage set at 2 pounds with a 2 pound second stage
The trigger makes use of your rifle's original hammer/trigger pins
Available in straight or curved triggers shoes
2-stage trigger pull designed specifically for those who prefer long-pull, two-stage triggers in their AR rifles
Trigger allows you to become more accurate with your rifle
No gunsmith needed, easy to install
Ready for the range, no adjustments needed
No additional parts needed to install trigger
Trigger shoe options to fit your feel/style
Burris RT-6 Tactical Kit
The RT-6 Tactical Kit is an RT-6 scope, FastFire 3 and P.E.P.R.™ mount. It makes for an outstanding kit for people just getting into 3-Gun or tactical shooting. The RT-6 is tearing up 3-Gun competitions everywhere, thanks to a great feature set: forgiving eye-box, compact scope length, true 1x, built-in throw levers, and great competition reticle. This DIY Giveaway kit gets you what you need to be competitive all in one box.

Latest posts by Shoot On Staff
(see all)