Don't let the supply chain chaos crimp your holiday season on these Black Friday sales. Fortune favors the brave…and the early shoppers!
by the Shoot On Staff
Suffice to say, there hasn't been much "normal" about the retail marketplace for some time. Now, with consumer goods logistics in total disarray, simply being able to find desired products and having any assurance of them being shipped and received in a timely manner are also questionable as we survey the 2021 holiday shopping landscape.
But don't fret. We've identified several companies that not only have some top-shelf product, but also have those products on hand and ready to ship. And that sure beats rummaging through near-empty shelves or crossing your fingers that you'll get your goods in your hands before the big day!
Optics Planet
At OpticsPlanet.com, you can find much more than just top selling glass.  They have been in business for two decades and offer a huge variety of firearm parts, accessories, ammunition and survival gear.  Optics Planet is offering huge savings site-wide.  While the website has deals running through December 2nd – some products are only available for a limited duration or while supplies last.  Save up to 60% during Black Friday sales!
Taurus
The official website for Taurus® magazines, parts, accessories and more, ShopTaurus.com is offering an exclusive Black Friday sales each day of the week from November 22-26, 2021. Deals include huge savings on holsters, lasers, parts and accessories for some of the most popular Taurus® firearms—and FREE SHIPPING on all orders over $49.99. Check out ShopTaurus.com/promos daily to take advantage of these savings while supplies last.
SEVR Broadheads
Heavy Blood Trails & Light on Your Wallet. The All Purpose 1.7 Broadhead – Now 40% Off.  The AP 1.7 features a balanced cut diameter for large wounds and a steeper blade angle to add penetration. Machined alloy ferrule and stainless-steel tip, this broadhead was made for both compound and crossbow hunters.
MyMedic
Being prepared is one of the core values that pushes our Shoot On Staff.  Usually, we are talking about training with a firearm or situational awareness.  Life can throw an unexpected curveball your way at any time and that's where MyMedic comes in.  They offer med packs and first aid kits for all scenarios.  Enjoy up to 50% savings and feel more confident in your daily adventures.
Goat Guns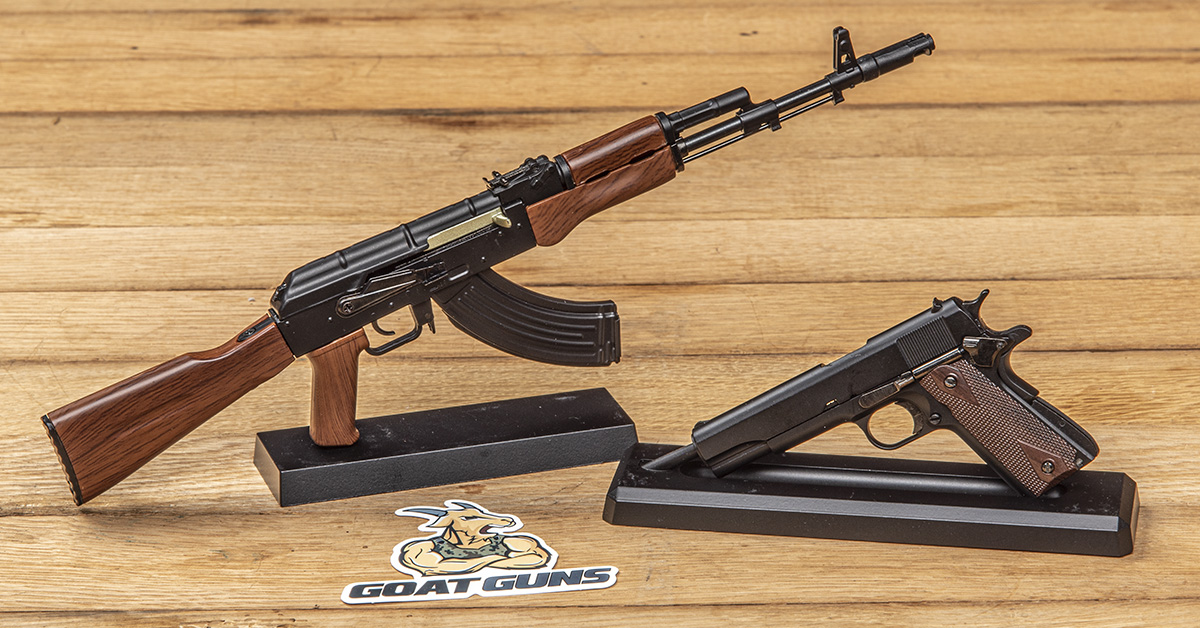 Goat Guns are a great gift for the collector in the family.  The designers of these die cast models kept the focus on authenticity as they created these diminutive wonders. In the simplest terms, these model guns are broken down to a "field strip" condition, meaning they can be assembled and disassemble in a way that accurately mimics the real thing.
Anderson Manufacturing
Anderson Manufacturing—one of the nation's largest and most trusted manufacturers of AR-15 parts and accessories—is excited to announce that from today through Cyber Monday, consumers and dealers can take 10% off the company's entire inventory of 100% American Made parts and accessories.* From lower and upper receivers to Build Your Own kits, retail packaged parts and more, this exclusive offer won't last long! Visit www.AndersonManufacturing.com today to shop Black Friday Sales and save. *Excludes complete rifles.
Delta McKenzie
Get MORE from your FOAM layered archery target block.  The Mo'Foam Target features our patented High Density Mo' Foam,  which is the most dense and durable foam on the market.  Our proprietary weld-bonded process eliminates the need for bands to hold the target together.  Having no bands or straps allows for shooting on all sides, therefore extending the life of your archery target block. When compared to other layered targets, the weld-bonded, high-density layers of the Mo' Foam create less chunking and slivering from broadheads.  Get 45% OFF!
Burris
PINPOINT ACCURACY – The FastFire III puts an unmistakable red dot at the point of impact within your field of view, giving you an immediate advantage in speed and accuracy.

LIGHTWEIGHT OPTICS – With lightweight construction and durable design, the FastFire III can be used as a primary sight or paired on top of an existing sight.

VERSATILITY DEFINED – Rely on the automatic brightness sensor to adjust to match the environmental conditions or choose one of the three manual brightness settings.

RED DOT SIGHT – Choose a 3 MOA dot, popular on rifles or with anyone wanting more pinpoint accuracy, or choose the 8 MOA dot, which is ideal for short range shooters and fast acquisition. Windage adjustment: 86 MOA

MUST-HAVE COMPETITION GEAR – The FastFire III will work with virtually all optics-ready handguns, making it a convenient part of your competitive shooting system. Shockproof design stands up to years of punishing recoil

3 MOA Dot Reticle

Sale starts 11/26 at 8am MTN
Latest posts by Reese Cahalan
(see all)