MTM Case-Gard's Divided Ammo Crate is the best ammo tote I've tested; however, don't limit this bulletproof box to just ammo. Take advantage of its design and get creative.
by Jace Bauserman
All ammo crates, boxes, whatever you want to call them, are not created equal. It's a fact. My first ammo boxes were military-style cans purchased at an Army surplus store. You'd of thought I hit the lottery. 
I was 16 years old, obsessed with waterfowl hunting, and spent my summer months busting as much trap and skeet as I could afford. 
When you're young and broke, you keep a clean count on your ammo, and one of my favorite things to do when I got my weekly paycheck was going to Walmart and dropping half of my hard-earned greenbacks on #7 1/2 Federal lead and the other half on the cheapest #2 and BBB shot I could find. Then, I would hurry home, pull all my existing ammo out of the green army cans, recount, and reorganize. I loved doing it. 
The problem with those army cans was they were heavy, clunky, and some wouldn't even close. Before being released to the public, most cans are stacked on pallets and stored outside. Most of my cans leaked, and durability was always an issue. 
Things, thank goodness, have changed. My crates of choice today from MTM Case-Gard are a far cry from those old army cans, and I've found unlimited uses for them. Let's start, however, with ammo. 
A popular crate is the new Divided Ammo Crate. This Dark Earth colored crate sports a bulletproof build. Adding a water-resistant O-ring seal keeps water out; trust me, it works. I accidentally left a pair of ACDC30 Divided Ammo Crates outside during a prairie monsoon overnight. The total accumulation was 2 inches, and the rain was blowing sideways. The following day, the inner contents of the box were dry as a bone. Few things ruin ammo and other gear like moisture; these boxes were designed to keep the wet stuff out.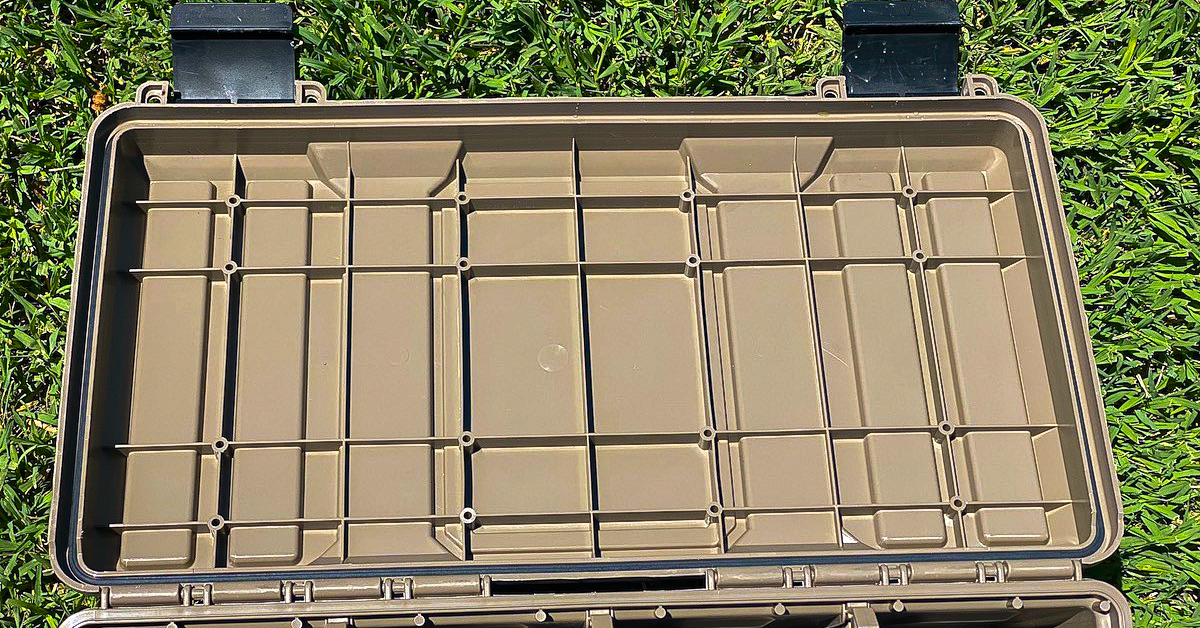 A duo of durable snap latches locks the O-ring seal, and the high-impact polypropylene makes this tote as tough as they come. I also cheer the stackable design — you can carry one crate on top of the other — and the side handles are profoundly recessed and comfortable. If you keep the weight at 75 pounds or under, the totes carry like a dream, and as mentioned, you can stack multiple cases on top of one another. The build of the crates is such that they will not warp or buckle under the weight of a heavier tote on top. 
When it comes to ammo storage, this box will work for shotgun ammo, rimfire, and centerfire. The crate has a trio of sliders that click in and out, allowing you to customize the inner 17.7″ x 8.6″ x 6.6″ dimension of the tote however you wish. Of course, if you prefer, you can remove all the slides and create an open floor plan. The case will hold up to 75 pounds of ammo.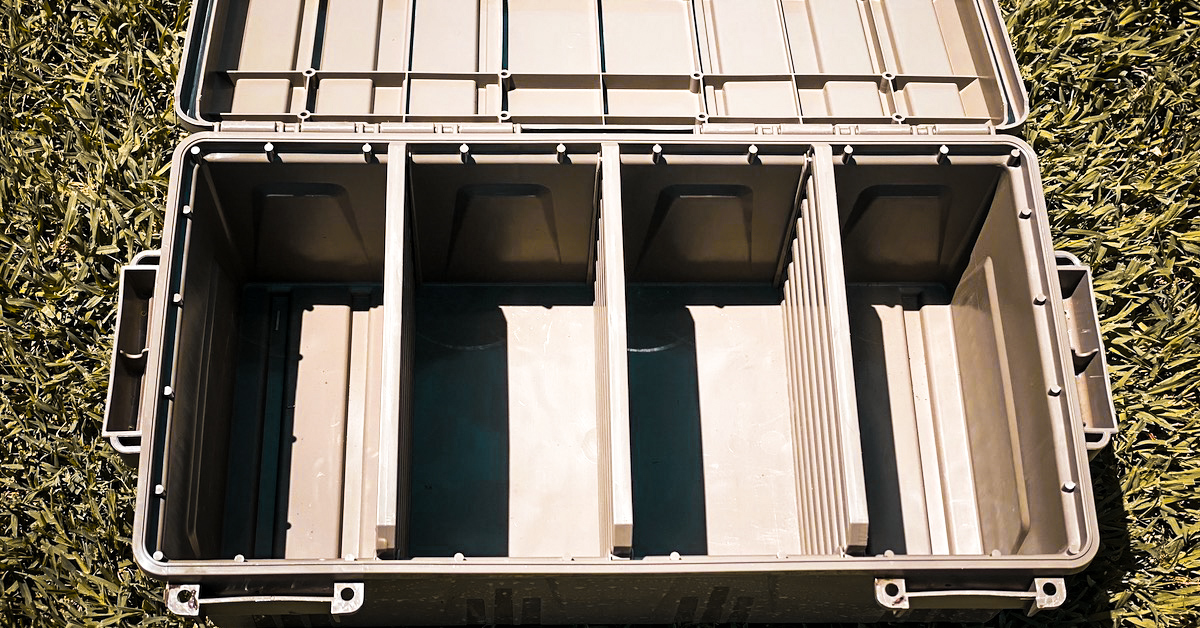 Other Uses
As much as I love storing ammo in my MTM Case-Gard, these storage boxes' uses are limitless. For instance, because the Divided Ammo Crate is water and dust proof and has a pair of slots in the lid perfect for ratchet straps, I latch a pair to my ATV and fill them with game cameras. I can bounce along the prairie for miles across dusty pronghorn country with multiple trail cams and know that when I stop and pop the lid, the cams won't have dust on them.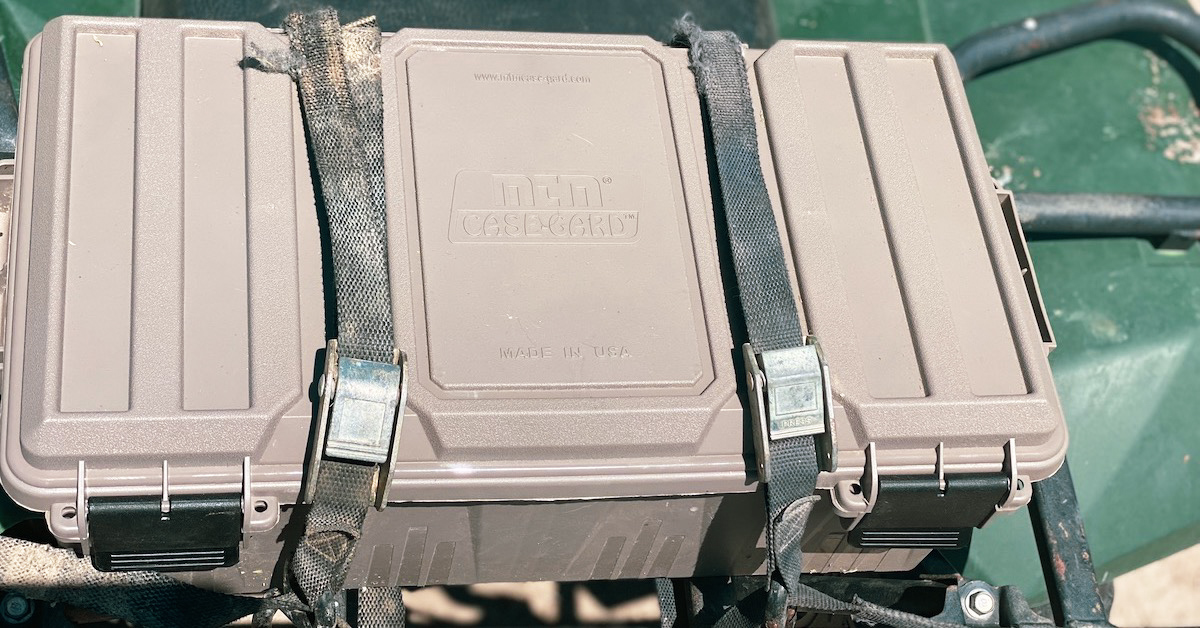 When I head out for a backcountry elk hunt, I remove all the dividers and store all my extra Mountain House and Backpacker's Pantry meals inside. The crate will hold a pile of them, and when we head back to basecamp after being in the mountains for a few days, it's awesome to know all my extra food is dry and organized inside of a sturdy tote. Over time, my hunting companions and I have developed a system, and each crate is labeled with magic marker tags of food, drink mix, toiletries, etc. 
Wait, there's more, a lot more. Because MTM Case-Gard cans's are so durable and keep gear safe and organized, I carry extra socks, shirts, stocking caps, and the list goes on in them on my hunts. Under my truck seat, I have a pair used exclusively for first-aid, batteries, headlamps, and a tire inflator. In my camper, I carry a pair and use them for tools, bungee cords, and the like. 
Don't think that MTM Case-Gard created these crates just for ammo storage. Use your imagination. Cases like the Divided Ammo Crate are perfect for many uses because they are slim, stackable, and durable. The more of them you accumulate, the quicker you'll develop new uses for them. These totes are a must-have from your truck to your camper to your ammo room.