Taurus expands its revolver line with a new big-bore thumper
by Rob Reaser
While pistols continue to rule the handgun marketplace, American shooters' interest in and, dare we say, nostalgic fascination with bread-and-butter revolvers continues unabated. In fact, there seems to be a subtle stirring on the breeze hinting that revolvers are making a notable comeback—particularly in the personal defense arena and in hunting circles.
The latter is certainly validated as more hunters are reaching for handguns to inject new fun and challenge into their big game hunting. Deer and hog hunters, especially, are increasingly taking to wheel guns to add excitement to what has become for many a well-trod routine. You just know you can sit in your stand and drop that deer at 150 yards with a good rifle. Pursue whitetails with a revolver, though, and you turn what would otherwise be a slam dunk event into a close game of wits, strategy, and higher skills with no such guarantee of a positive outcome.
That's the appeal of hunting big game with a handgun. It's also quite refreshing to carry a hog leg strapped across your chest instead of lugging a rifle into the field.
Taurus, long a contender and now a leader in the special-purpose revolver scene, fully committed to the growing hunting handgun movement when it debuted its Raging Hunter line of revolvers in 2019. Initially offered in .44 Magnum, the Raging Hunter stable grew over the last couple years to include chambering in .357 Magnum and .454 Casull along with three different barrel lengths for each caliber: 5.12, 6.75, and 8.37 inches.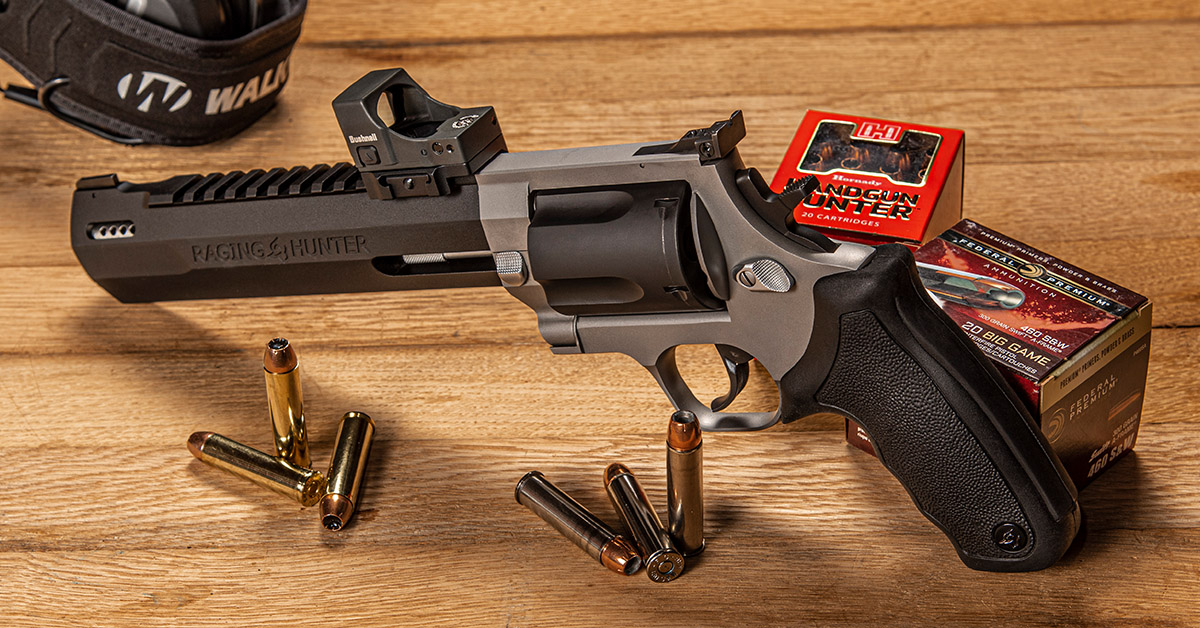 For 2021, Taurus continues to ride the hunting revolver wave with the newest entry into the Raging Hunter portfolio—the Raging Hunter 460 S&W.
While not the first "super magnum" to carry the Raging Hunter name, the Raging Hunter 460 certainly bounds ahead of the .454 Casull model given the .460 S&W's increased power. How much of a power boost is the .460 S&W? Let's do an apples-to-apples comparison of two Hornady loads featuring the company's 200-grain MonoFlex tip bullet as fired from an 8-inch barrel:
Hornady .460 S&W
Muzzle velocity/energy: 2150 fps / 2053 ft/lbs
@ 100 yards: 1701 fps / 1632 ft/lbs
Hornady .454 Casull
Muzzle velocity/energy: 1950 fps / 1689 ft/lbs
@ 100 yards: 1533 fps / 1044 ft/lbs
As you can see, that's a notable jump in terminal performance—particularly in the category hunters care about most…impact energy. That extra 588 ft/lbs of SMACK at 100 yards illustrates why a super magnum cartridge doesn't shy away from a fight with the biggest and toughest game animals.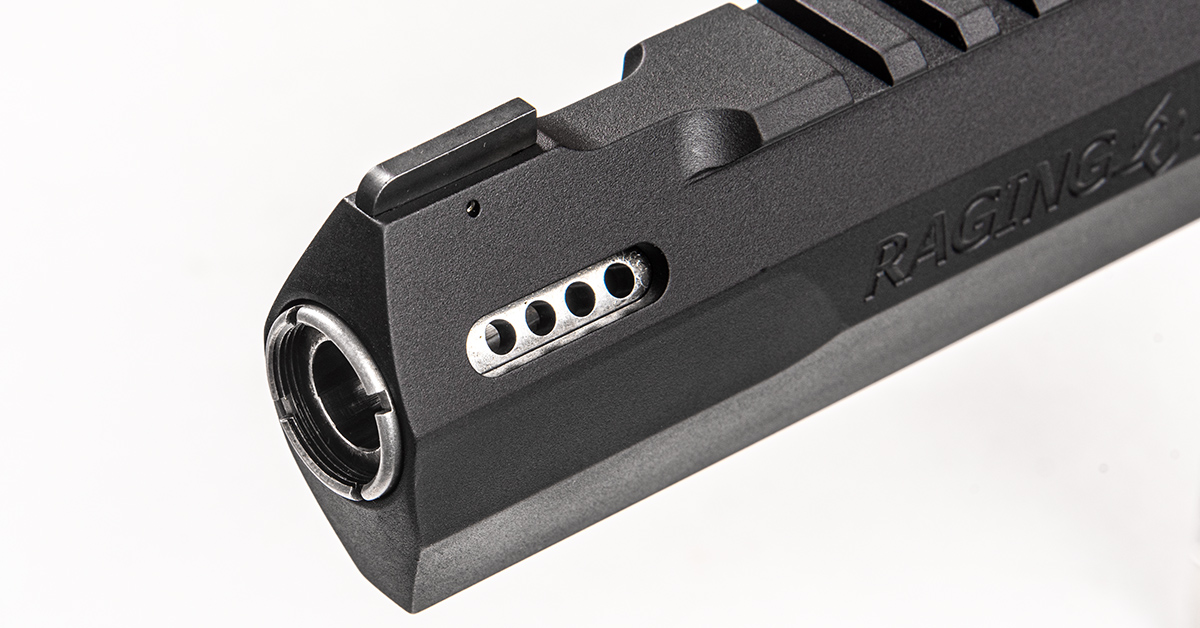 The new Raging Hunter 460 S&W is the spitting image of its predecessors. That DNA is most evident in the barrel design. The barrel proper is made of stainless steel sleeved with an angular aluminum shroud. The barrel is ported and the shroud vented to reduce muzzle rise, although when propelling loads of the .460 S&W magnitude, I suspect muzzle rise is quite a subjective measure. Integrated into the shroud is a front sight post and a Picatinny rail ready to accommodate a red dot or magnified optic. Out of the gate, Taurus is offering the Raging Hunter 460 S&W in the three standard Raging Hunter barrel lengths of 5.12, 6.75, and 8.37 inches.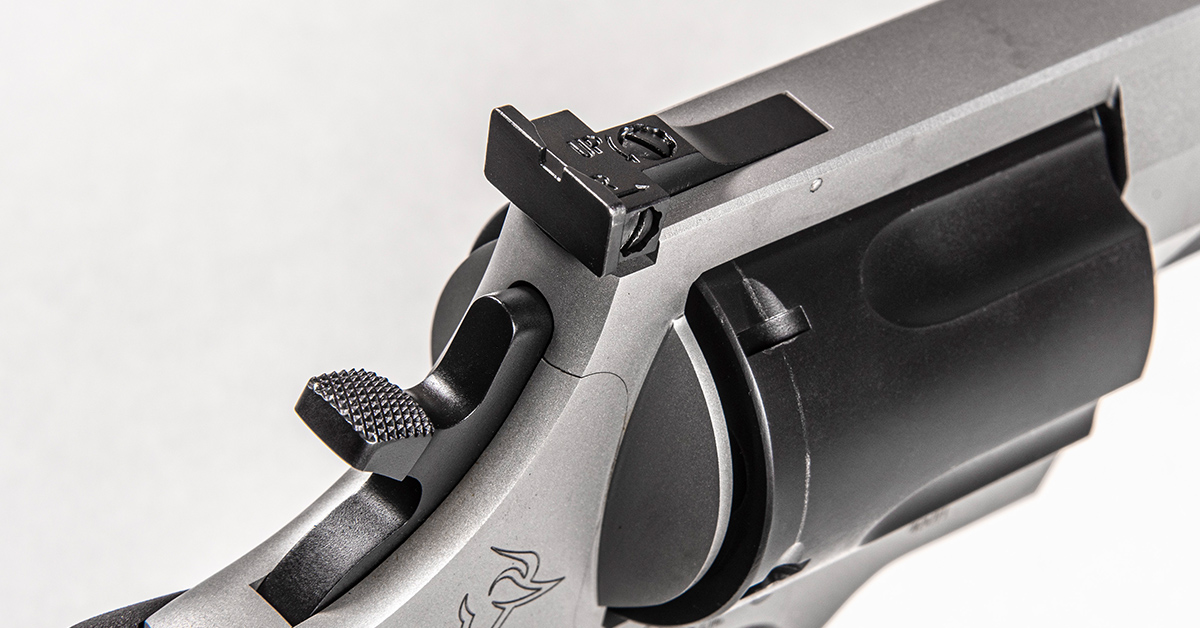 The foundation for the Raging Hunter 460 S&W is a stainless-steel frame offered in matte or matte black oxide finish. Hunters may favor the all-black color scheme for maximum concealment, but there's just something sexy about the two-tone version that begs for form over function.
The rear sight is fully adjustable for windage and elevation, of course. It features a square notch design that works well with the squared front sight post. I've used a Raging Hunter .44 Magnum for hunting both hogs and deer in close environments with open sights and really appreciate the fast sight alignment this setup offers for aging eyes.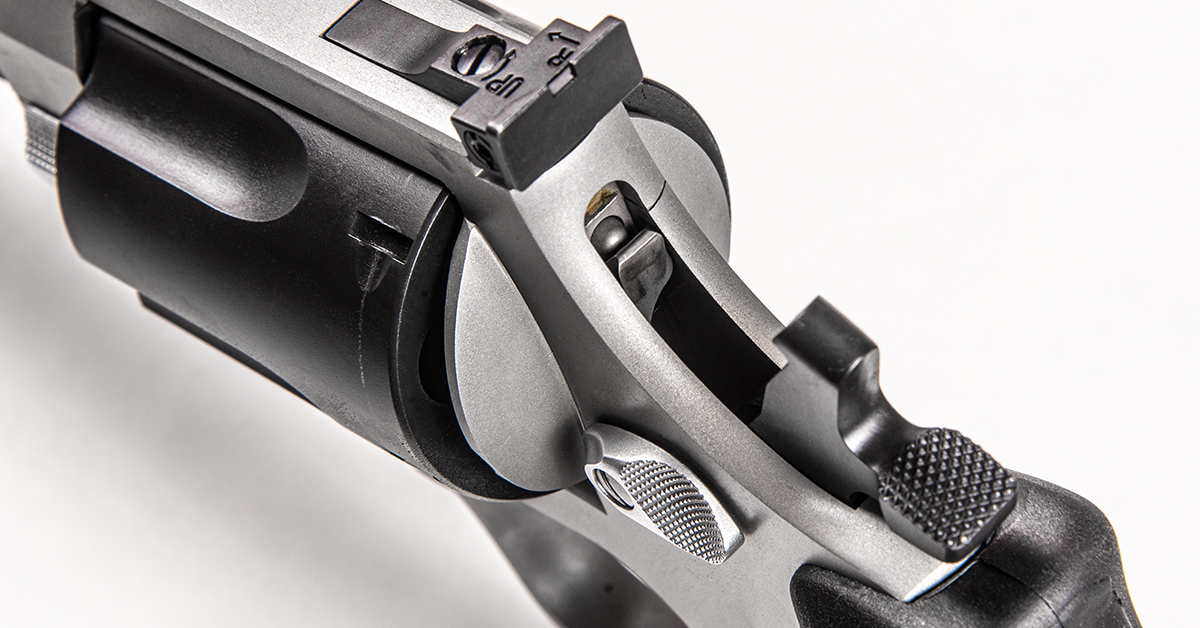 Naturally, the Raging Hunter 460 S&W is of the double-action/single-action design and utilizes a transfer bar safety system. The hammer spur is pleasingly robust, with a large footprint (thumbprint?) and aggressive knurling that provides a positive, no-slip engagement even when wearing gloves.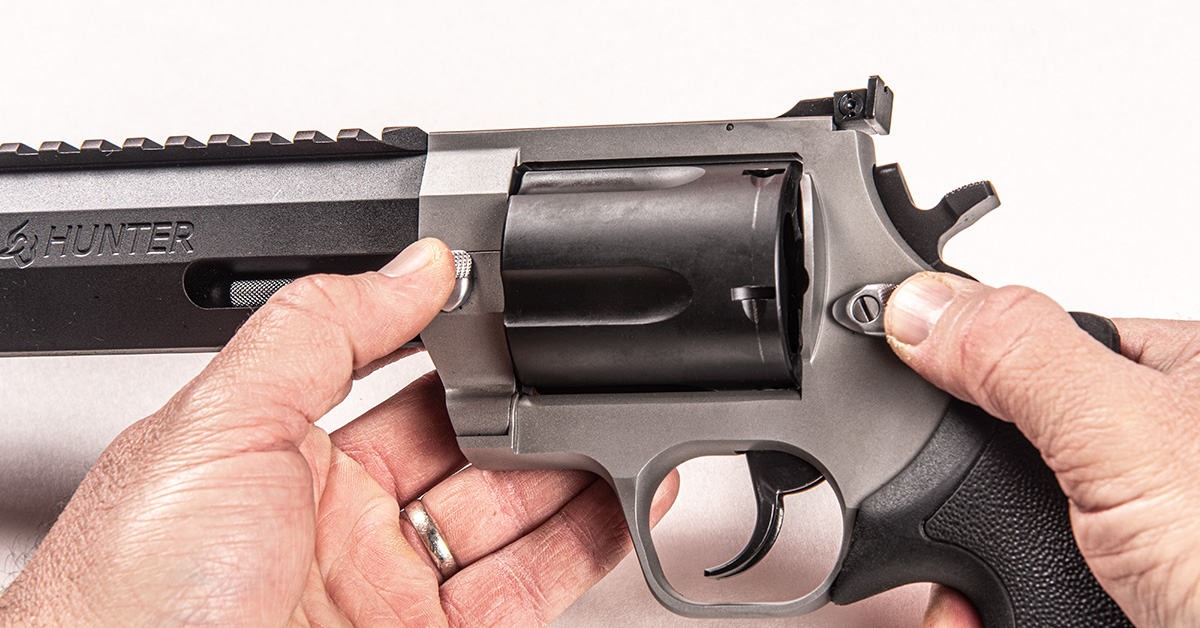 As with all Raging Hunters, the .460 S&W model boasts twin cylinder lockup—a safety-oriented system we certainly appreciate in a handgun built to manage the SAAMI max average pressure of 65,000 psi for this load. To open, simultaneously push forward on the thumb piece and down on the front latch. The cylinder can now be rotated out of the frame.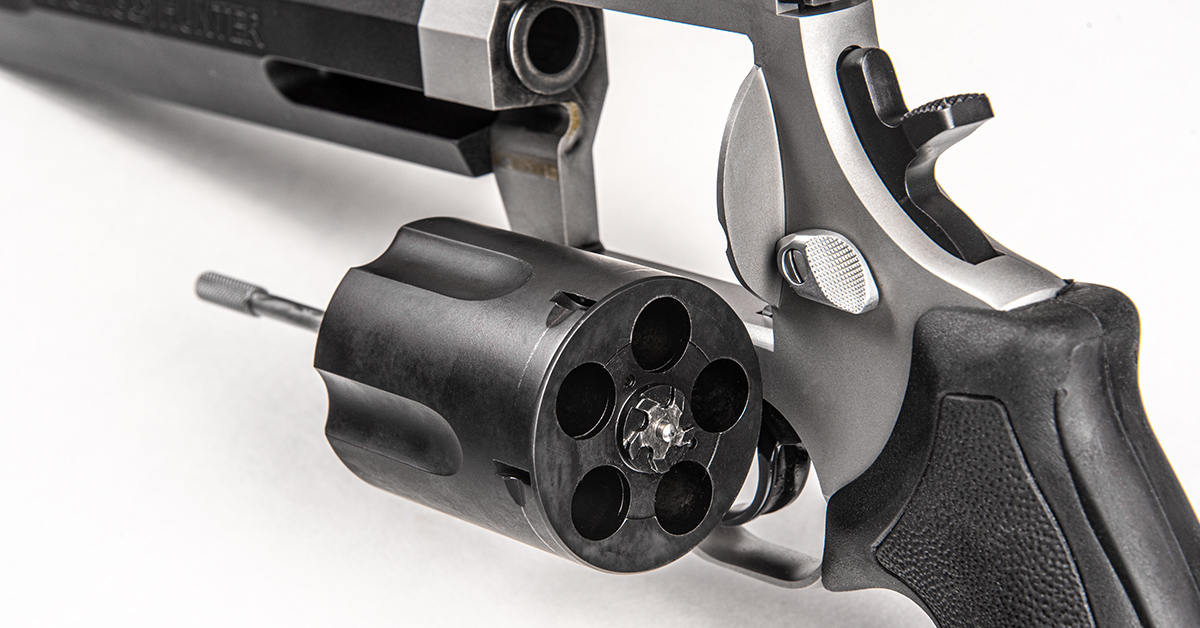 During testing, I found no issues with the cylinder timing or action. The cylinder operation is smooth and exhibits a precision feel characteristic of well-executed machining and tolerance fitment.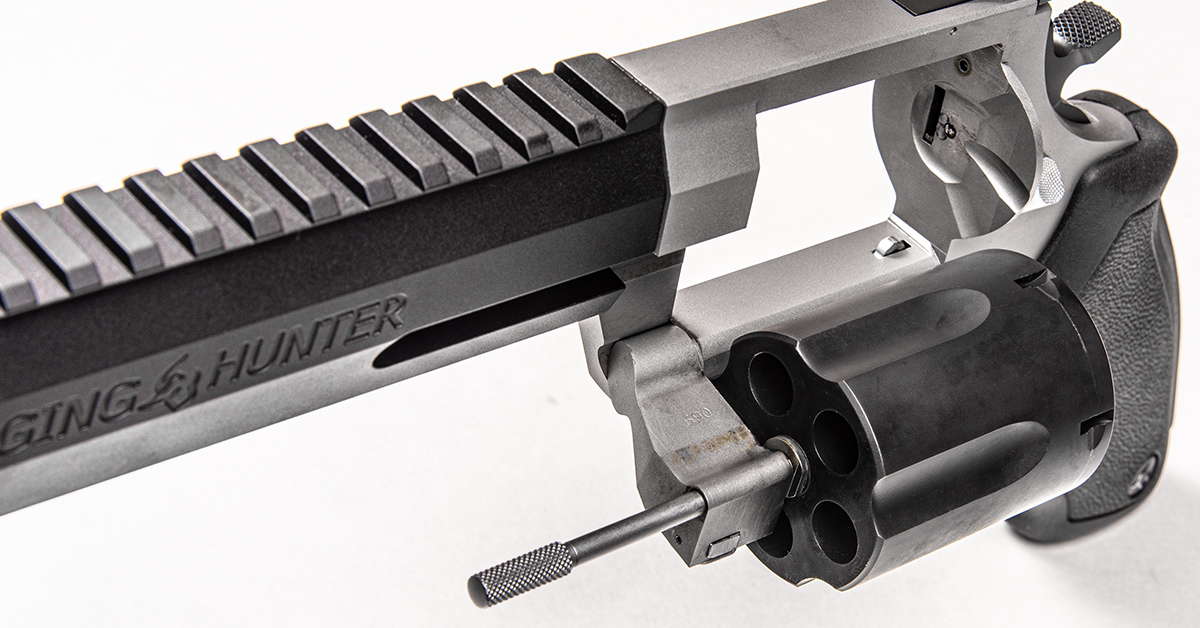 The extractor rod and crane assembly likewise reveal precise engineering and machining. Nothing loose here! Note the forward cylinder lock at the top of the crane, which engages a recess in the frame.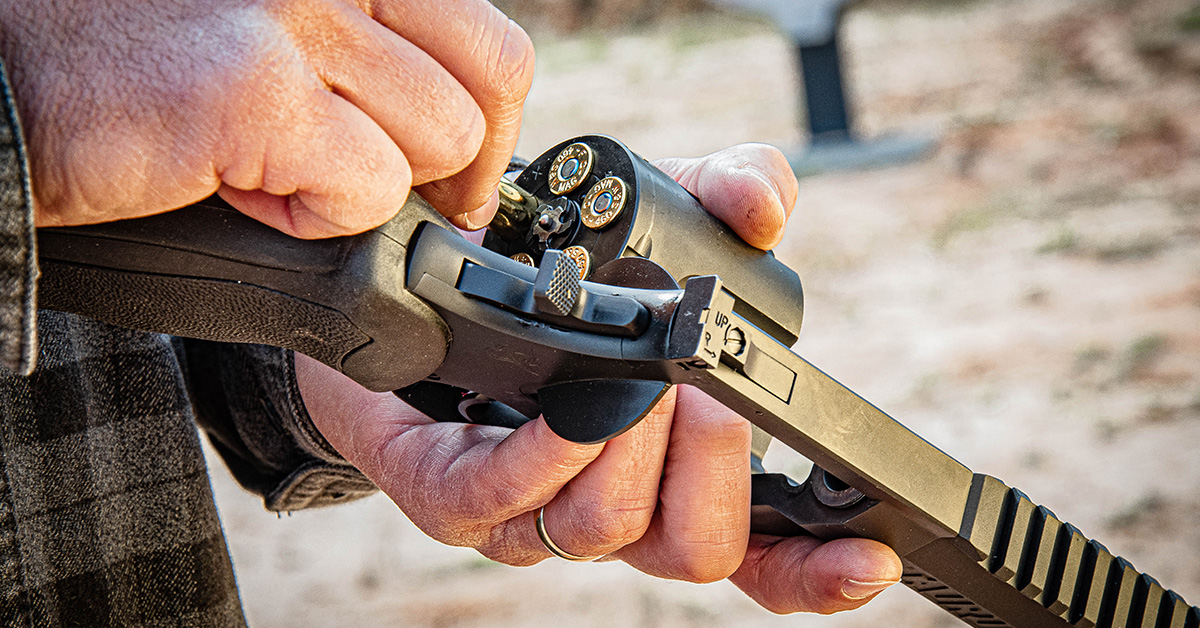 As with the .454 Casull version, the Raging Hunter 460 S&W utilizes a 5-cartridge cylinder. If you want more on tap, look to the 6-shot .44 Magnum or the 7-shot .357 Magnum Raging Hunters.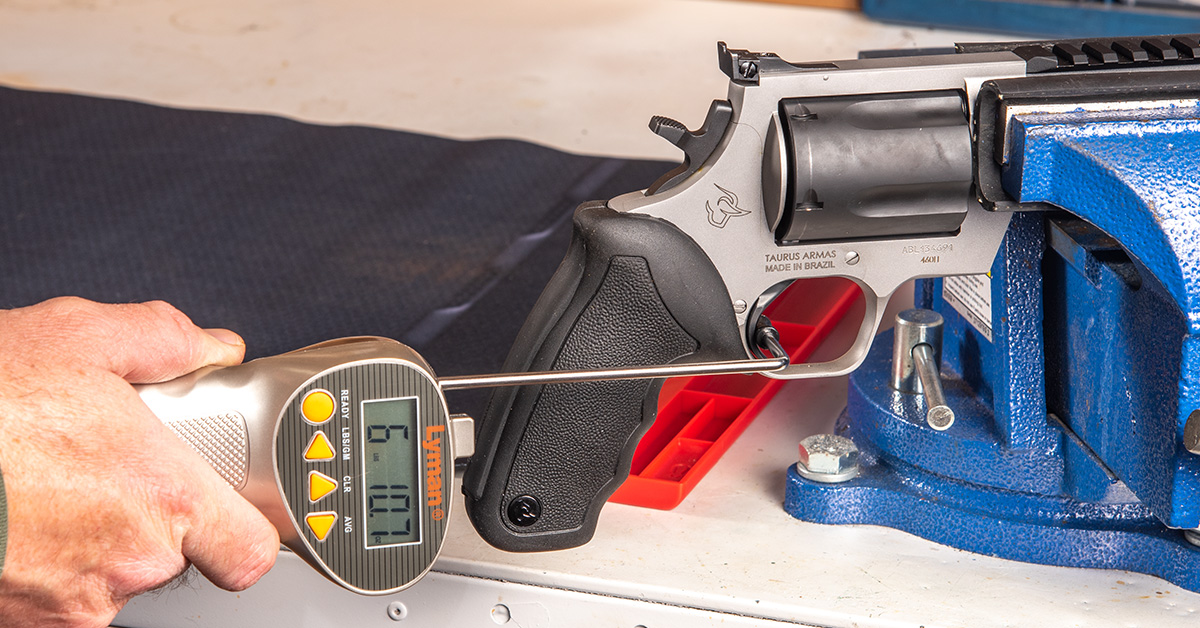 Taurus does not provide factory trigger pull weight for its Raging Hunter, so I put it to the test. In double-action mode, the pull weight exceeded the Lyman scale's 12-pound maximum, as expected. Moving on to single-action, I conducted three ten-pull tests to get a solid average. The first 10-pull string averaged 7 lbs., 1.5 oz; the second pull registered 6 lbs., 14.4 oz.; the third pull netted 7 lbs. 1.8 oz. We'll give this Raging Hunter a 7 lb. trigger pull weight.
As for trigger performance, I won't call it stellar.  It is not what you would call super smooth or exactly crisp. I could feel the travel of the sear across the hammer engagement surface throughout the length of pull, with enough friction present that I could stop mid-pull. A light polishing courtesy of a qualified gunsmith would go a long way toward smoother performance. I would also recommend a lighter spring upgrade if plans are to drop on a magnified optic to take advantage of the .460 S&W's reach potential. That's a fairly simple job on a Raging Hunter, as you can see from this project we performed on a .44 Magnum model.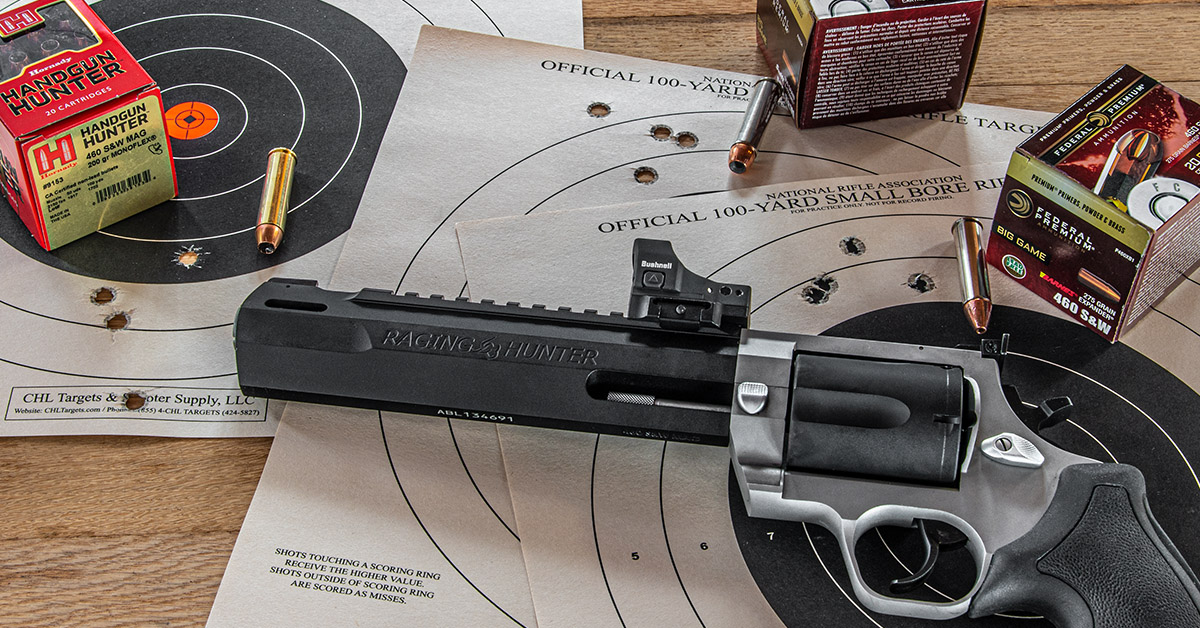 If you've never shot a "super magnum" handgun, prepare for a handful because it's going to THUMP! The Raging Hunter mitigates some of the recoil courtesy of a cushioned grip insert along the backstrap. Still… My test day saw temps in the low 20s and I left my shooting gloves at home, so between the cold, bare skin, and the generous recoil inherent to the .460 S&W, I enjoyed some sting with each shot.
The test ammo came courtesy of Federal Premium and Hornady. Delivering four-shot strings with each, the results were:
I'm going to blame a good bit of that grouping on the bitterly cold wind that kept my eyes watering as I tried to align the red dot with an orange dot on the target…lots of blur! With only .038 inches difference between the Federal Premium Barnes Expander (275-grain) and the Federal Premium Swift A-Frame (300-grain), we'll call that a draw. Obviously, the Raging Hunter 460 S&W prefers a heavier bullet weight—at least this 8.37-inch barrel does.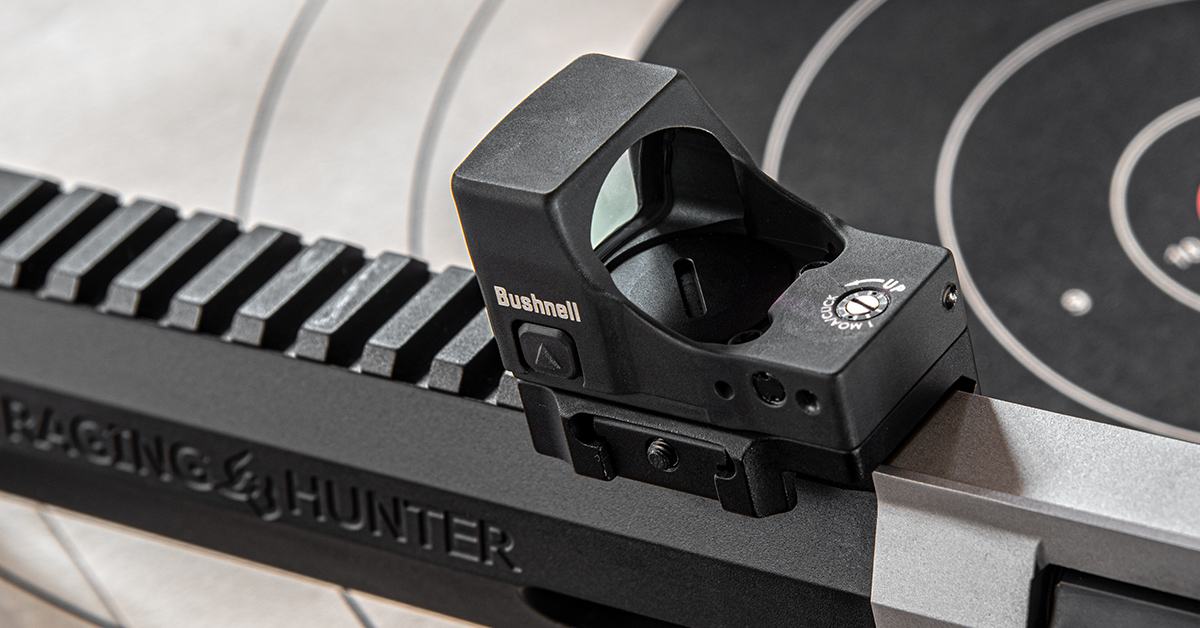 For our test, I wanted to give the RXS 250 Reflex from Bushnell a go, and I must say, "I like."
The RXS 250 uses a 4 MOA dot that is just right for a hunting handgun—big enough to acquire a sight picture in a fast-paced, close encounter such as in the hog swamps yet small enough to get the job done on a whitetail 150 yards out in a bean field. The unit features a machined aluminum housing and is IP67-rated against dust and water intrusion. It is also impact-tested to MIL-STD-810H specifications.
While squarish in profile, the form and feel of the RXS 250 exudes utilitarian sturdiness and simplicity. The ten illumination settings are controlled via left- and right-side push buttons, which I much prefer over buttons placed side-by-side on a micro red dot platform. Windage and elevation adjustment are also conveniently placed on the top and side of the housing. This is intelligent positioning when compared to some red dots that have the zero adjustments on the housing facing the rear sight because it provides all the room necessary for the adjustment tool. Speaking of adjustment, one click equals 1 MOA.
Something else I appreciate is the battery location. The battery cover is on the top side of the housing, allowing you to remove and replace the battery without taking the sight off the gun to access the battery and potentially losing your zero (as with some red dot models on the market). Then again, the RXS 250 circuit is designed to deliver 50,000 hours of battery life at mid-level brightness, making battery swaps an uncommon event.
The RXS 250 comes with a Picatinny/Weaver-style mount base, which made it ready-to-go on the Raging Hunter. For direct mounting without the base, this optic uses the Deltapoint Pro mount pattern.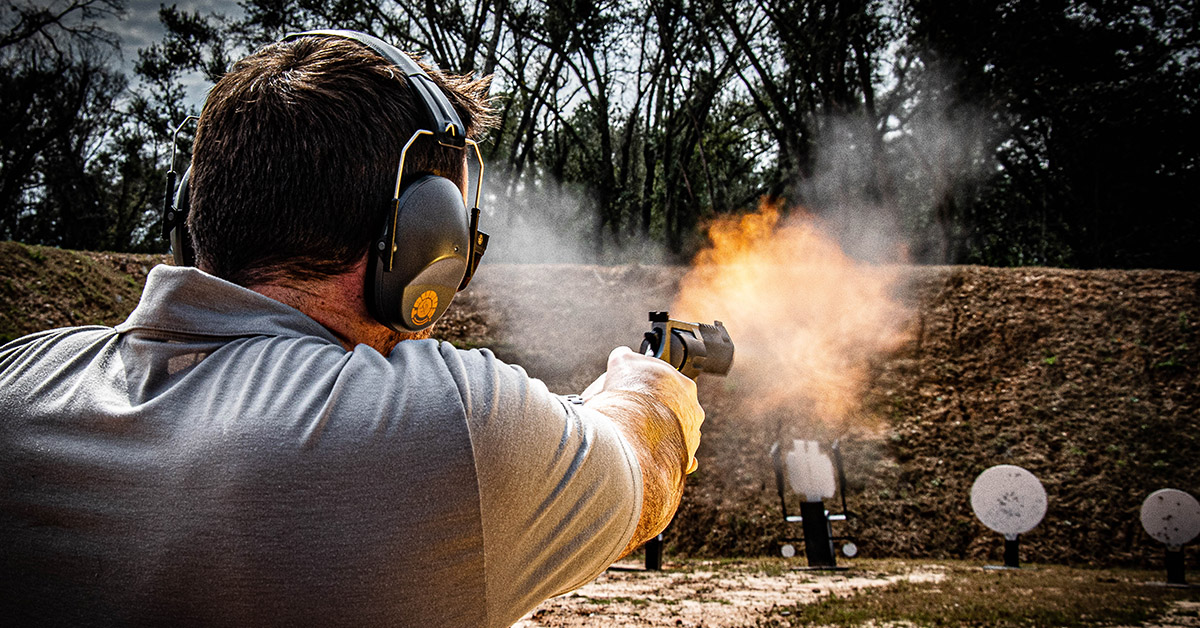 Super magnums may not permit the hours of shooting fun you can enjoy from less powerful caliber revolvers, but for decisive knockdown power on the largest game animals you'll ever encounter, you'll find no equals in the handgun world. If that sounds like your new game, check out the Taurus Raging Hunter 460 S&W.
Now…time to load up the truck and get after some swamp boars.
Taurus Raging Hunter 460 S&W Two-Tone 8.37-in. Specifications
Caliber: .460 S&W Magnum
Capacity: 5 Rounds
Action Type: Double Action / Single Action
Firing System: Hammer
Front Sight: Fixed
Rear Sight: Adjustable
Grip: Rubber with Cushioned Insert
Frame Size: Large
Barrel Length: 8.37 in.
Overall Length: 15.00 in.
Overall Height: 6.50 in.
Overall Width: 1.8 in.
Weight: 57 oz.
Frame Material: Stainless Steel
Frame Finish: Matte Stainless
Barrel Material: Stainless Steel
Barrel Finish: Carbon Steel
Cylinder Material: Steel Alloy
Cylinder Finish: Matte Black Oxide
MSRP: $983.33 (as tested)