Is shotshell performance impacted by temperature, and what new products can help beat the cold when waterfowl hunting?
by Brad Fenson
Late-season waterfowl provide some of the most exciting action of the year. Big Canada geese look like they are dressed in black and white tuxedos, sporting a new set of feathers. The honkers are as fat as a market hog, making them superb table fare. The challenges are cold weather and educated birds that have seen a hunter or two.
Just before Christmas, David Fishley called and asked if I was interested in a late-season honker hunt. I met David at the SHOT Show the previous year. We discussed hunting opportunities in Alberta, including a December prospect that sounded too good to be true.
David and his long-term hunting companions have been chasing late-season geese for decades and have the birds dialed in without spotting or even checking on the fields. We met the morning of the first hunt at our rendezvous location. A heavy fog hung in the air, and the combination of ice crystals and snowflakes reduced visibility. It seemed like perfect hunting conditions until we finished setting up blinds and decoys and stood in the frigid wind waiting for the geese to show up. When 10:30 a.m. rolled around, I was sure the birds would be flying. An hour later, I was starting to wonder if a trip to the truck to warm up would be possible. By noon I was wondered if the birds would show up at all. At 1:15 p.m., it finally happened. A small flight of dark objects appeared against a dark-gray sky. One of our hunting buddies grabbed a goose flag on a 12-foot pole and started to wave it at the birds. Seconds later, the geese were headed directly towards our decoys.
The geese locked onto our decoy spread, made a quick turn downwind, and muscled up to soar into the spread with feet splayed to find the ground. Five hunters emerged from blinds, and big honkers tumbled to the ground with a flurry of shotgun blasts. Instantly, we forgot all about the cold.
I was still reaching into my pocket for another handful of Fiocchi BBs when the next wave of birds was on us. The fog and ice crystals in the air dropped the mercury to -6°F, but the birds gave me something else to focus on. Hundreds of geese lined the sky. Some flew by without a second look, but plenty of the flocks broke rank to shortcut a late lunch. The action was fast and furious, and 45 minutes after the games began, we had 40 giant honkers and one mallard on the ground.
The experience was more than I had bargained for, and I couldn't wait to try it again. We had planned on two days of hunting. The next morning, we set up decoys and blinds in the same spot, but for slightly different wind.
Hand warmers were placed in sleeves and gloves to ward off frostbite. The ALPS Legend Layout Blind I used has a floor, is waterproof, and was a great place to hang out and stay warm and out of the wind. As we waited for the birds' daily flights, I mused about having a couple of dead geese to place in the blind to act as temperature regulators. My hunting buddies were sitting on old blankets, pieces of neoprene pads, and trying to stay comfortable. I didn't want to rib them badly on our first meeting, so I offered them a chance to try out the zero-gravity seat in my layout.
We were busy discussing layout blinds and how they had changed over several decades when the first geese were spotted. We ran to cover like excited kids bursting out of class at the recess bell. The flag waved, calls blew with trumpet-like force, and before we knew it, the birds were headed towards us.
With the wind conditions, the birds had to fly over us, make a sharp hook, and come back into the decoys. The first flock never missed a beat and finished in the decoys like they had read our script. Collette, an avid retriever trainer and good friend of David's, was along, and the extra dog power cleaned up the birds in short order. David has trialed retrievers for years and has two labs of his own. The oldest got a major workout on day one, so his younger dog was along to share the duties with Collette's dog on day two.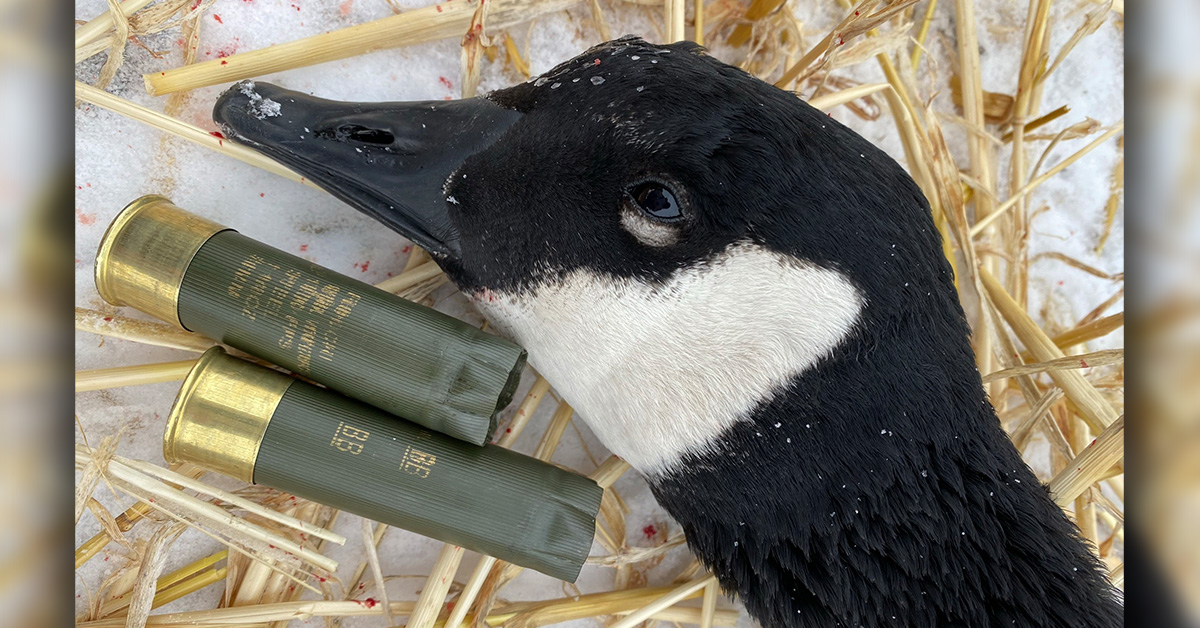 A big flight of birds broke the horizon, and as we huddled in our blinds, a single, then a pair of big geese came in for a landing. David ignored the early dinner guests, allowing a flock of about 40 birds to follow. The racket of a hoard of hungry honkers homing in on our position was enough to make me shake with excitement. The big birds glided towards us, and when they were about 20 yards off the ends of our shotguns, we opened up. It rained big birds as four guns ran dry. Several small flights directly behind the big flock ignored the flaring birds and set up for a landing. The action was hot, heavy, and intense, leaving me to giggle like a first-time hunter.
Finished birds and straight barrels made short order of the flock. We opted to call a temporary truce to pick up the downed birds and start lining them up in groups of individual limits for ease of counting. The dogs put on a show and even brought back a bird down on the edge of the field.
For a second, I wanted to slow down time, immerse myself in the moment, and revel in the excitement. No spotting. No preplanning, sleeping in, setting up at a leisurely pace mid-morning, and having geese finish like they've never been hunted was too good to be true.
Ted and I bantered about preparing some birds and traded recipes for legs and thighs and specialty goose dishes. Ted asked more about the Legend blind, and after trying it said it would add ten years or more to his goose hunting career. The cold, uncomfortable ground takes its toll. Our conversation was cut short when someone noticed another flock of geese setting up for a landing. We dove into our blinds and tucked ourselves under the snow covers in anticipation. The geese wanted in so bad that they never considered circling. It was a kamikaze beeline straight for the decoys, barely giving us enough time to close the doors. I let up and watched the others shoot a few birds before I shouldered my shotgun. It was the only moment I could sit back and soak in the experience, knowing it wasn't a race to get our birds before they stopped flying or working.
We finished up our four-person limit and lined up for photos with our four-legged goose collectors. The lines of geese continued to fly over us while we picked up and enjoyed a last cup of coffee before heading home.
Alberta Parkland Waterfowl Professionals (APWP)
David Fishley is the Master Outfitter/Guide at APWP, specializing in making Canadian waterfowl dreams come true. Outstanding accommodations, meals, and modern hunting equipment make a trip to Alberta an adventure. Mallards, pintails, big honkers, lessers, specklebellies, snow, and Ross' geese are abundant. Check out the website at http://www.apwp.ca/. Email: [email protected] or call/text 403-589-0840.
Fiocchi USA
Fiocchi is an Italian-based company but has two production facilities in the USA—one in Ozark, MO, and the newest in Little Rock, AR. Keeping with traditions, the American-made ammunition manufacturer prides itself on heritage, innovation, and performance. A good example is the company's "green" primers, which are lead-free but still deliver a hot, reliable ignition.
New for 2021: Fiocchi Flyway Series
The steel shot used on the late-season honkers hit hard and killed clean. The 3-inch, 1 1/5-ounce loads have a muzzle velocity of 1,550 fps. Most birds were shot with BB, but a box of #1 shot was also used and performed outstandingly. The extra pellets increased pattern density and maintained energy to hammer the big birds. Cold weather can rob a shotshell of energy and velocity. Fast burning powders are as problematic, and wads that lose flexibility can damage patterns. When hunting in real cold weather, always keep shotshells in a pocket to keep them warm. Add a hand warmer if needed. There were no performance issues at all, even hunting at temperatures of -10°F.
Fiocchi Flyway steel load shotshells come in a wide variety of loads to suit your specific needs, from shooting wood ducks over decoys to pass shooting geese at ultra-long range. Fiocchi Waterfowl Steel Load Shotshells are manufactured with a combination of treated steel shot, protective wads, and the appropriate powders to deliver a consistent, dense pattern that is easy on your gun barrel but hard on your target. When you must use steel shot, you can find a Fiocchi steel shotshell to fit the application.
Fiocchi Golden Waterfowl/Golden Goose Ammunition
Fiocchi offers a complete line of superior patterning steel shot hunting shells in the Golden Waterfowl line. The shotshells are constructed with zinc-plated steel pellets, heavy-duty wads, sealed crimp, clean, consistent powders, and reliable primers. Golden Waterfowl is available in 12 gauge, 3-inch shotshells, 1 ¼ oz of shot, with an option of #T, BBB, BB,1, 2, 3, and 4 pellet sizes. The value-driven line shoots 1,350 fps muzzle velocity. Golden Goose is available in 3-1/2-inch 12 gauge shotshells with 1-5/8 oz of shot in T, BBB, BB,1, and 2 shot sizes being pushed at 1430 fps. Fiocchi seals the crimp of each shotshell to ensure they are waterproof.
ALPS OutdoorZ
ALPS Legend Layout Blind
The Legend Layout Blind offers an enclosed waterproof tarpaulin floor, which protects you and your gear from challenging weather, cold, mud, and moisture. The mesh face screen keeps the hunter concealed but able to watch all the action unfold. A rear-zippered door provides access to the pit storage area, where you can keep lunch, Thermos, cameras, and extra clothes. The zero-gravity chair keeps hunters off the ground and as comfortable as lying in a bed. The Legend design will extend your years in the field.
New for 2021: ALPS Alpha Waterfowl Blind
New for 2021, ALPS OutdoorZ has released the Alpha Waterfowl Blind, designed for quick assembly, concealment, and comfort. The lightweight blind base is a square-tube aluminum frame that is powder-coated to stand up to the environment. This stand-up blind is intuitive to put together and offers set-up options for overhead concealment. The side doors open wide for easy access, including wheelchairs. There is extra room for gear and ammo bags, mesh pockets, and it will comfortably accommodate four large shooters and two dogs. Provided stakes ensure stability in the wind. The outer material is constructed of 600D polyester. Three mesh windows allow shooters to watch incoming birds under full concealment. Rows of brush pockets let moisture drain but hold bundles of grass, corn stalks, or brush to blend into the surroundings. There are two dog ports to collect birds without opening a door. The 39-pound blind and components roll up in a tight package held together by a convenient shoulder carry strap. MSRP: $399.99.
Snow Goose Chair
Available in March 2021, just in time for the spring snow goose conservation hunts, is the ALPS Snow Goose Chair. The portable, lightweight unit's main features are the ALPS Zero Gravity chair design, with no assembly required. Simply fold out the legs and it is ready to use. The chair comes with backpack straps, weighs 11 lbs., 8 oz., and has folded dimensions of 36x25x7 inches. The snow goose chair is straightforward and extremely comfortable. Wear whites, take a seat, lay back, and stay concealed and comfortable. MSRP: $139.99.