The "handyman" of the carbine world, Mossberg's MVP Patrol in .300 BLK is an on-the-go bolt-action that takes "truck gun" to its logical conclusion
by Serena Juchnowski
The idea of a "ranch rifle" has long been appealing, even if someone doesn't technically own a ranch. Consider it the rifle version of the pump action shotgun, intended for both home and property defense.
Something stealing your chickens at night? Grab the ranch rifle. Spy a groundhog across your property? Grab the ranch rifle. Noise out back? Grab the ranch rifle. Traditionally viewed, these "ranch rifles" are also "scout" rifles. The platforms are similar — a compact, easily maneuverable bolt gun — but with the ability to mount the scope ahead of the receiver. Special scout-style scopes with a long eye relief are made for these guns — a concept made famous by Gunsite founder Jeff Cooper.

About ten years ago, Mossberg released their first offerings in the MVP (Mossberg Varmint Predator) series. These "ranch rifles" were especially popular as they fed a bolt gun from an AR magazine. This concept has since extended to other guns and manufacturers, but Mossberg has continued to refine the line. Currently offered are the MVP Patrol in .300 Blackout, .223 Rem., and .308Win, and the MVP Scout rifle in .308 Win.
The primary difference between these offerings, besides caliber selection, is the length of the top Picatinny rail. The Scout version has an 11-inch extended Picatinny rail, two side rails, and comes with a Magpul PMAG as opposed to a traditional metal magazine. It is also available in a scoped package version and has a fiber-optic front sight and a rail-mounted rear ghost ring.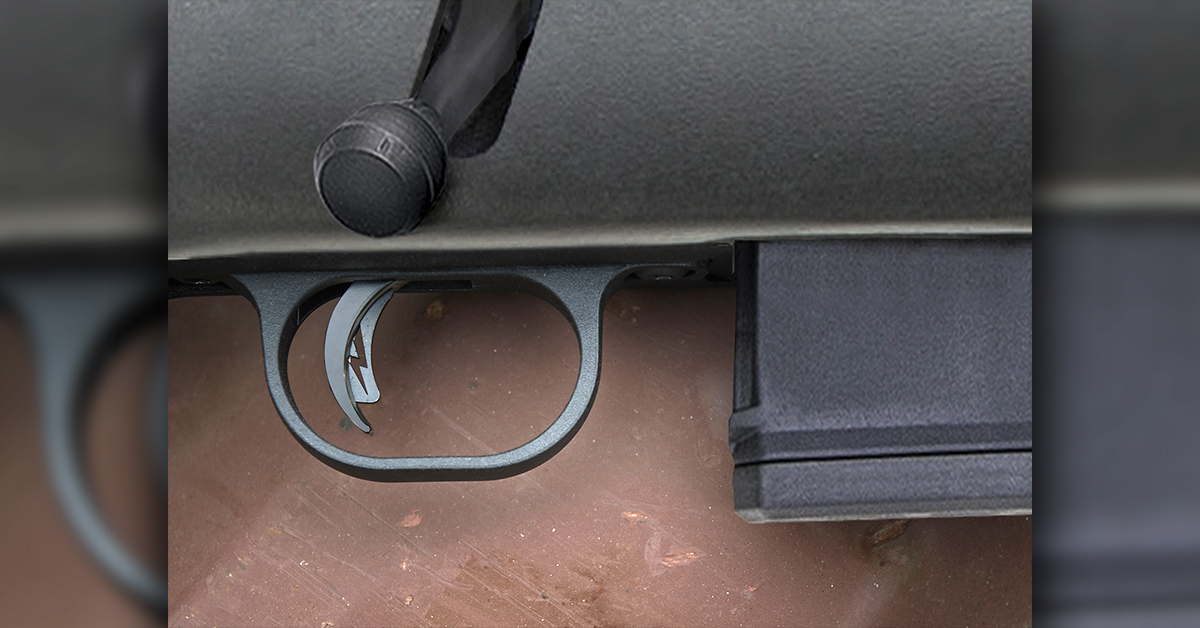 The Patrol has a traditional Picatinny rail atop the receiver, but the same compact versatility as its counterpart. Both have a pillar-bedded stock, threaded barrel, and removable A2-style flash hider with an included protective thread cap, oversized bolt handle, AR magazine compatibility, and the patented LBA trigger adjustable from three to seven pounds.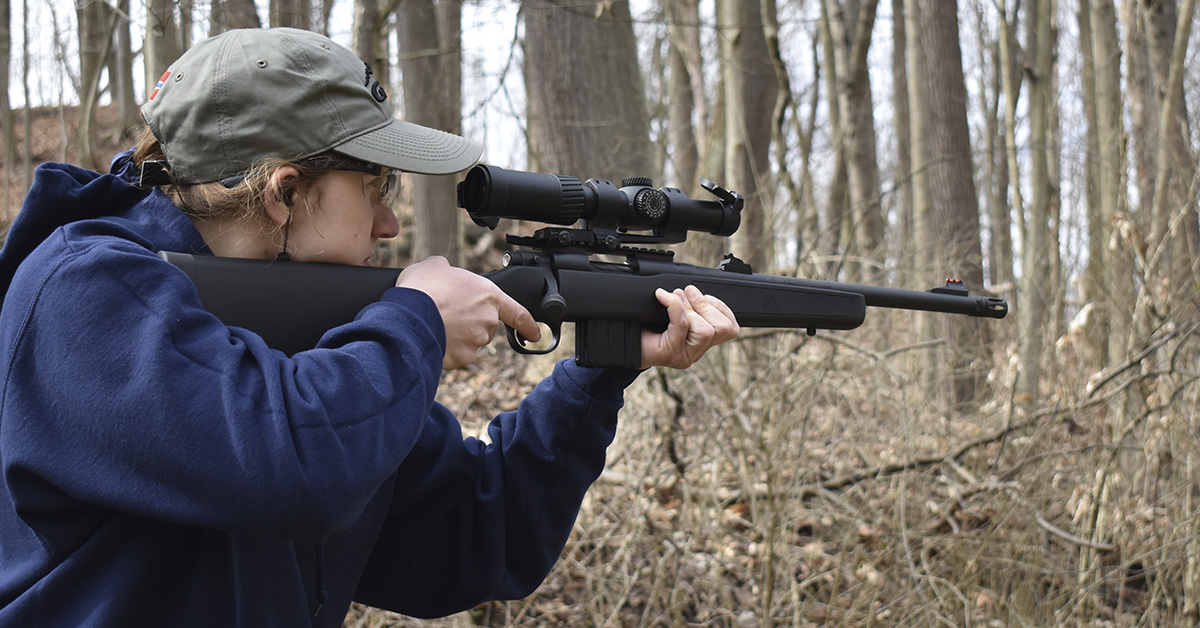 I tested the MVP Patrol chambered in .300 Blackout. This cartridge is an especially fun one to shoot and popular for short-range defense (0 to 300 yards) and plinking. Made from a modified .223 case, this versatile cartridge is designed for accuracy and reliable function, particularly with subsonic loads. It also achieves peak ballistic potential in shorter barrels than does a .223. The .300 Blackout does have more recoil than a .223, but subsonic loads cut down on this, as does the addition of a muzzle brake or suppressor.
My test model had a 16.25-inch barrel — just long enough to prevent it from being labeled an SBR. It has a 13.25-inch length of pull and 36.5-inch total length, making it extremely maneuverable and ideal for small-frame shooters and close-quarter action. The entire gun – stock, barrel, action, bolt, and magazine — are all black, providing a nice compliment to the .300 Blackout chambering but also ideal for remaining nondescript. Practically speaking, you don't want your ranch rifle to draw attention.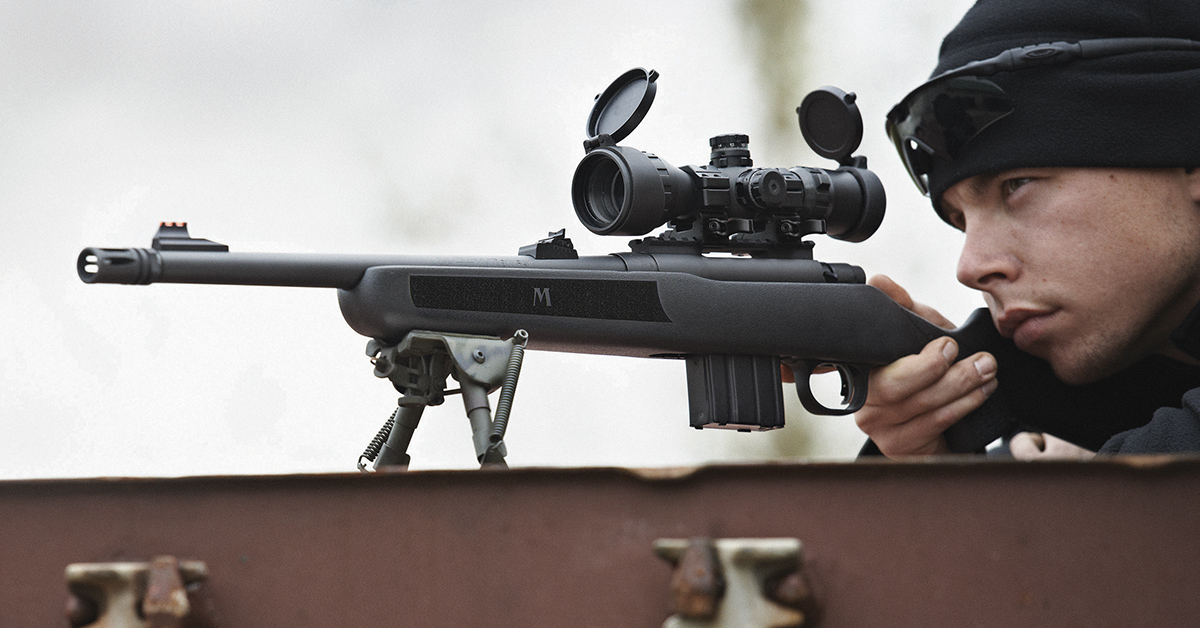 The synthetic stock is ideal for wet weather and light stippling on the sides of the grip and forend aids in keeping ahold of the gun. A small oval indent behind the grip and before the comb provides a comfortable place for the base of the palm to rest while shooting. It also serves as a handy reference point for keeping your hand in the same position. On the rear of the bolt is an easy-to-see loaded chamber indicator. Its seamless integration at the rear of the bolt makes it obvious but not obnoxious. The safety is a tad stiff, but not likely to be knocked on or off accidentally. The adjustable single-stage trigger arrived with a weight of three pounds.
Out of the box, the bolt could benefit from a slight coat of oil, but it runs smoothly. I especially appreciated the oversized bolt knob, which made it easier to run quickly.
One thing to keep in mind is you need to depress the follower on the included 10-round D&H Tactical magazine in order to slide the bolt forward if there is no round in the magazine. This magazine is easily removed by depressing a recessed magazine release on the underside of the stock. It is simple to manipulate and has an audible click. The rifle includes an adjustable v-notch rear sight and fiber optic orange front sight that enhance visibility in low light conditions.
This rifle weighs 6.5 lbs. out of the box, and slightly more with a scope and rings, depending upon what you select. I opted for the Sightmark Presidio 1-6×24 with a quick release cantilever mount.
Two integrated sling swivel studs provide an easy way to carry the rifle. I do wish the Patrol had Picatinny rails on the sides of the forend like the Scout version does for the addition of a light. During my testing, I found the rifle was easy to manipulate but jammed occasionally when running the bolt too quickly. With enough practice, I developed a rhythm that kept everything running smoothly.
I tested this rifle off the bench at 100 yards with several types of ammunition. My best five shot group with Hornady 135-grain FTX ammunition measured 1.4745 inches wide and 0.8645 inches tall. I pulled one shot out to the left. Removing this shot resulted in a 0.553 wide group. I observed something similar with Federal Fusion 150-grain MSR. Four shots landed in a small 0.5225-inch wide by 0.6785-inch-tall group. Including the flyer widens the group to 1.0560 inches. American Eagle 150-grain FMJ did not perform well at all. Shots almost failed to group within five inches at 100 yards. The best observed group with Hornady Subsonic 190-grain Sub-X ammunition was 1.0415 inches wide by 1.0775 inches tall — just barely over one MOA. The subsonic ammunition was so much fun to shoot — quiet, with almost no recoil.
The Mossberg MVP Patrol is ideal for someone looking for a security package that won't break the bank. While the MSRP is $679.99, I found retail prices around $500. It's also solidly built, compact for use and storage, and a fun little gun in a great caliber.
Mossberg MVP Patrol 300 BLK Specifications
Caliber: .300 AAC Blackout
Action Type: bolt action
Barrel: A2, med. bull, threaded
Barrel Length: 16.25 in.
Barrel Finish: matte blue
Capacity: 10 + 1
Length: 36.5 in.
LOP: 13.25 in., fixed
Sights: Picatinny rail, fiber optic rifle sights
Stock: synthetic (black)
Twist: 1:7
Weight: 6.5 lbs.
MSRP: $679.00
Latest posts by Serena Juchnowski
(see all)