With its plug-n-play simplicity, environmentally adaptive technology, and low-profile design, Bushnell's newest micro red dots are the perfect solution for your EDC/CCW sighting needs
by Rob Reaser
I've admitted here to being somewhat bullheaded regarding the use of red dots. I've resisted using them for years on my EDC pistols because I'm a bare-bones type when it comes to firearms. The fewer add-ons the better, in my book. I also don't fancy any extra layers of complication that could potentially fail me at the wrong moment.
Even so, I've been slowly coming around to red dots. At first, I struggled to achieve rapid sight picture acquisition. That, I learned, comes through practice. Now I can get on a red dot as quickly as I can using open sights. And if I'm honest, my on-target groups are a bit tighter when a red dot is employed.
All of that to say, I'm becoming, if not a loyal fan, at least appreciative of the reflex aiming system, and am growing fonder of it as time goes on. I'm not, though, overly keen on the interfaces found on most red dots. Buttons to adjust brightness settings, pushing buttons in combination to turn the units on and off…I don't like it.
What I do like is the relatively new micro reflex red dots from Bushnell. There are no buttons to push and no "shake to wake" operation. With a 50,000 hour run time, self-adjusting resonate-cavity LED brightness, and exceptional clearance for open sight use as a backup, the Bushnell RX Micro Reflex series optics nullify any complaints I've had with red dots to date.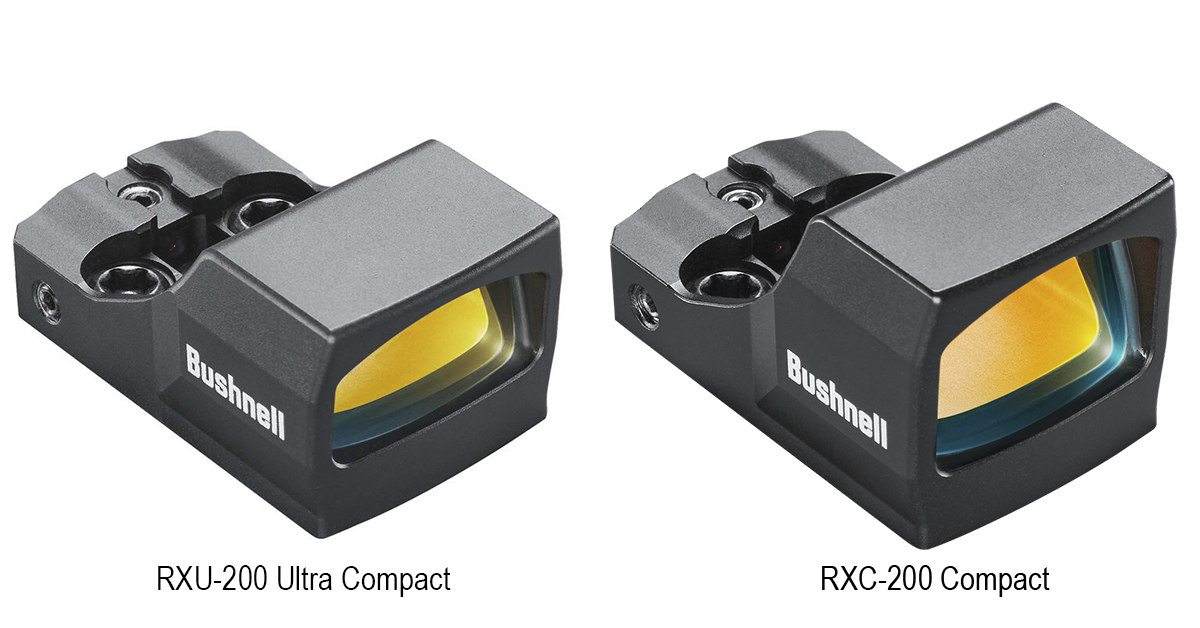 Bushnell has released two versions of their RX series micro red dots: the RXU-200 Ultra Compact and the RXC-200 Compact. The only differences between the two are the height of the lenses and a slightly short chassis for the RXU-200. The RXC-200 lens is 15mm tall, providing an ample view that is ideal for new red dot shooters who may struggle with sight acquisition or who simply prefer a larger sight window. The RXU-200 lens is a bit shorter at 11mm tall. The reduced size means slightly less bulk and better concealability and may be favored by shooters already adept at running a red dot.
I picked up the RXC-200 for testing because I'm still working on my red dot game. With an MSRP of $149.99 for both the RXC-200 and the RXU-200, this system hits a comfortable price with all the performance you need for an EDC compact, sub-compact, or micro-compact pistol. The unit comes with a rubber sight housing cover, CR2032 battery, two wrenches for optic mounting and zero adjusting, Bushnell's Spudz microfiber lens cloth, and three sets of screws to ensure correct mounting to your slide.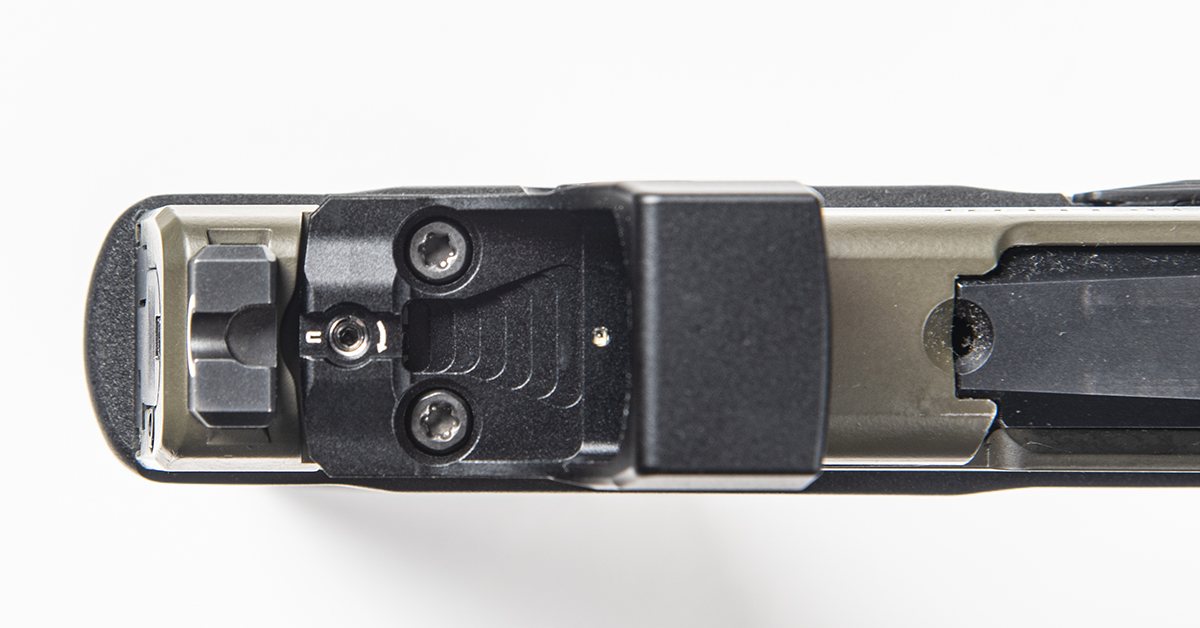 The RX series red dots are designed for use with slides featuring the Shield RMS or RMSc footprint. This covers pistols like the Springfield Hellcat, which I used for my testing. The mounting holes and alignment pins in the factory-cut slide perfectly matched the red dot, so the installation was a snap. Install the battery in the bottom of the sight housing and snug the two mounting screws to 15 lbf-in using a low- or medium-strength thread locker. You want to keep the sight securely fastened to the slide, of course, but the screws will need to be removed eventually to install a fresh battery.
Open reflex sights mean the light source is exposed, not enclosed. Here you can see the LED, centered between the mounting screws, is active. The RX series optics do not have an on/off switch nor a shake-to-wake function. The LED is on whenever the battery is in place. Given that the battery can last 50K hours (2,083 days), you won't need to swap it out that often.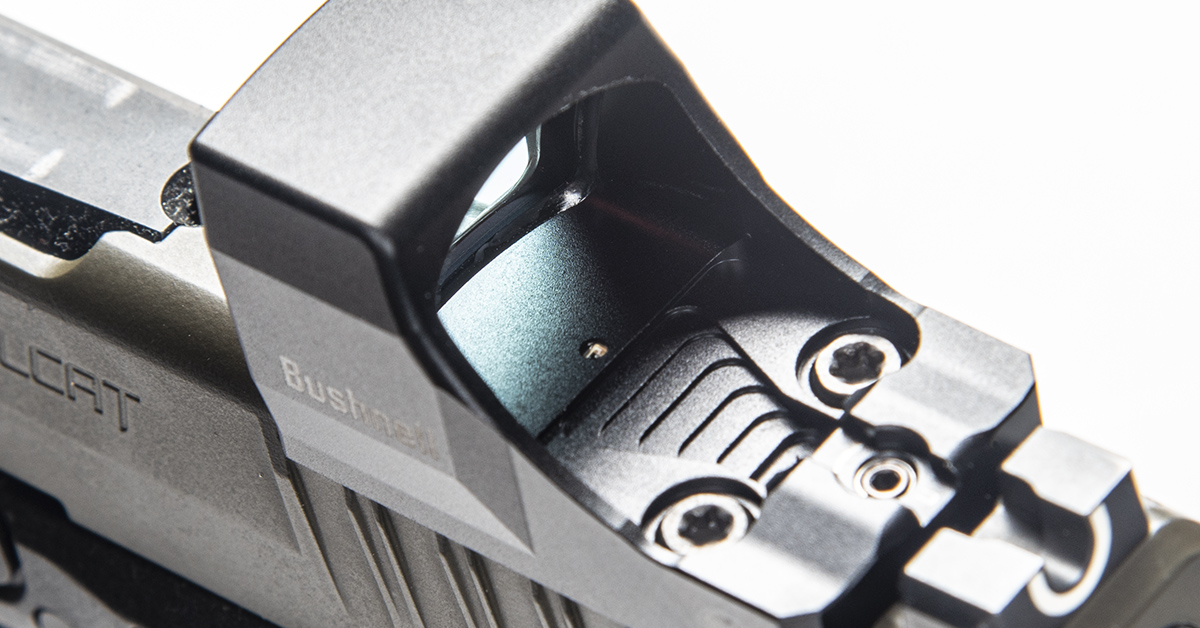 While the RX sights do not offer user-adjustable illumination, the optic does feature linear brightness adjustment. This is an automatic adjustment based on ambient light levels. A small sensor (seen here atop the sight body base) gauges the available light and increases or decreases the red dot intensity to match: brighter light conditions initiate a brighter red dot, and the reverse holds as ambient light decreases.
Bushnell notes in its instruction manual that there may be instances when the auto brightness adjustment may not provide the ideal sight picture. The given example is when the shooter is in shaded or dark surroundings, but the target is in bright light. In this case, the red dot brightness would be reduced, potentially making it difficult to see on the target. I tried to replicate that scenario, and a few more, to see if the auto adjust might pose any difficulties in achieving a good site picture. It didn't happen for me, but I suppose there is that possibility.
If that were to happen, it is no matter. As you can see, the RX incorporates a notch at the rear of the low-profile sight base that provides a clear view of the pistol's factory open sights. This means you do not need to install taller aftermarket front and rear sights to clear the red dot housing.
Here is the sight picture of a Springfield Hellcat with standard factory sights as viewed through the RXU-200 (left) and the RXC-200 (right). This view also provides a good comparison of the shorter 11mm sight window versus the 15mm window.
The red dot is prominent, and at 6 MOA, it should be. Some may say, "That's too big." Well, perhaps if you're trying to drill a bullseye at 50 yards it would be, but that is not the purpose of these optics; they are made for compact to micro-compact defensive pistols with an understandable effective range best measured in feet, not yards. For your typical close-quarter encounters, the 6 MOA size is easy to find under duress and offers a generous sighting point to neutralize a threat with precise shot placement.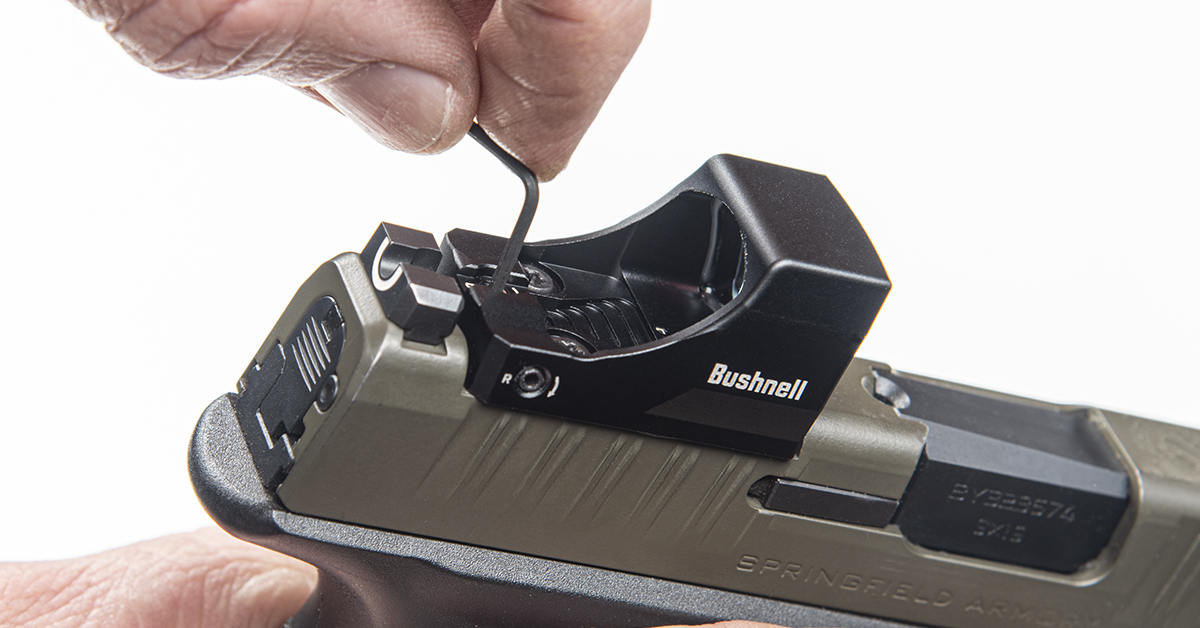 Speaking of precision, the no-click friction windage and elevation adjustments on the RX series lets you dial-in your zero to perfection. Simply use the supplied Allen wrench to move your point-of-impact exactly where you want it. It doesn't take much movement to shift the LED, so make your adjustments in small increments.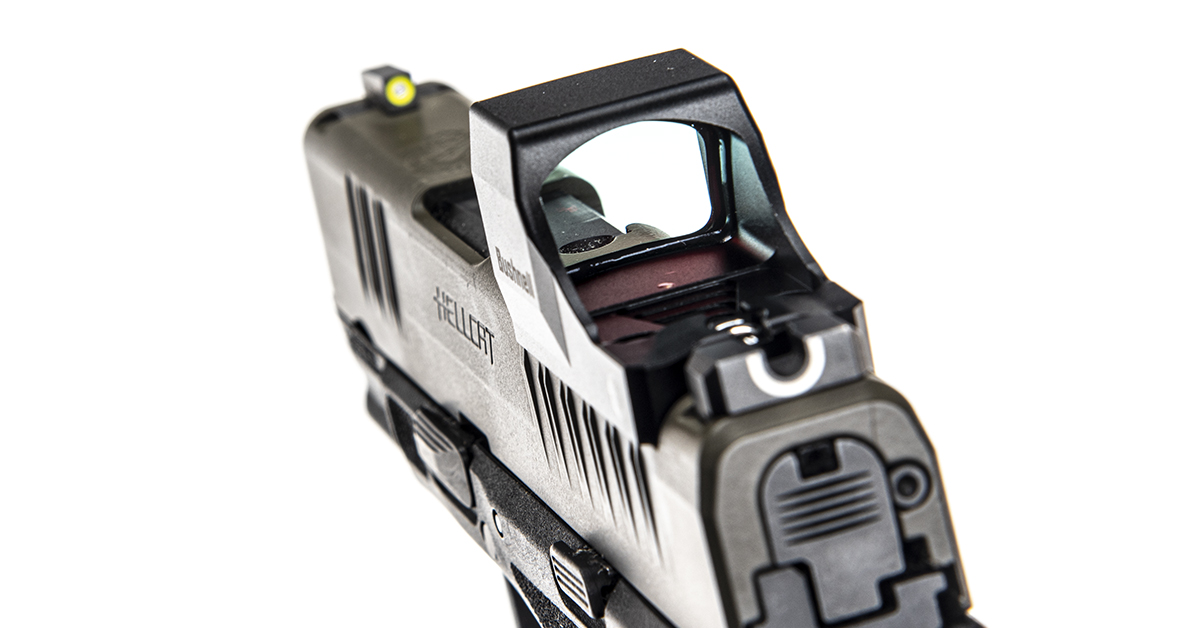 Not that the glass on a reflex sight must necessarily run in the same league as a quality magnified optic, but it's always good to have a clear, distortion-free view of your target. In that, the RX delivers. The lens is multi-coated for maximum optical clarity and makes for a sharp and crisp red dot reticle. In that quest, the RX succeeds. I found the red dot to be well-defined in all lighting conditions tested with no glare or flare issues.
In addition to its excellent optical performance, the RX series also boasts good durability performance in its the glass. I say "boasts" because while I did not toss the optic into a gravel pit or hit it with a sand blaster to see how it would withstand the torture, Bushnell points out that the RX Micro red dots are treated with the company's EXO Barrier lens coating. EXO Barrier is a bonded coating that fills any microscopic pores on the glass exterior, thereby providing an exceptionally smooth and slick surface to help repel liquids and debris and to keep clear your downrange view.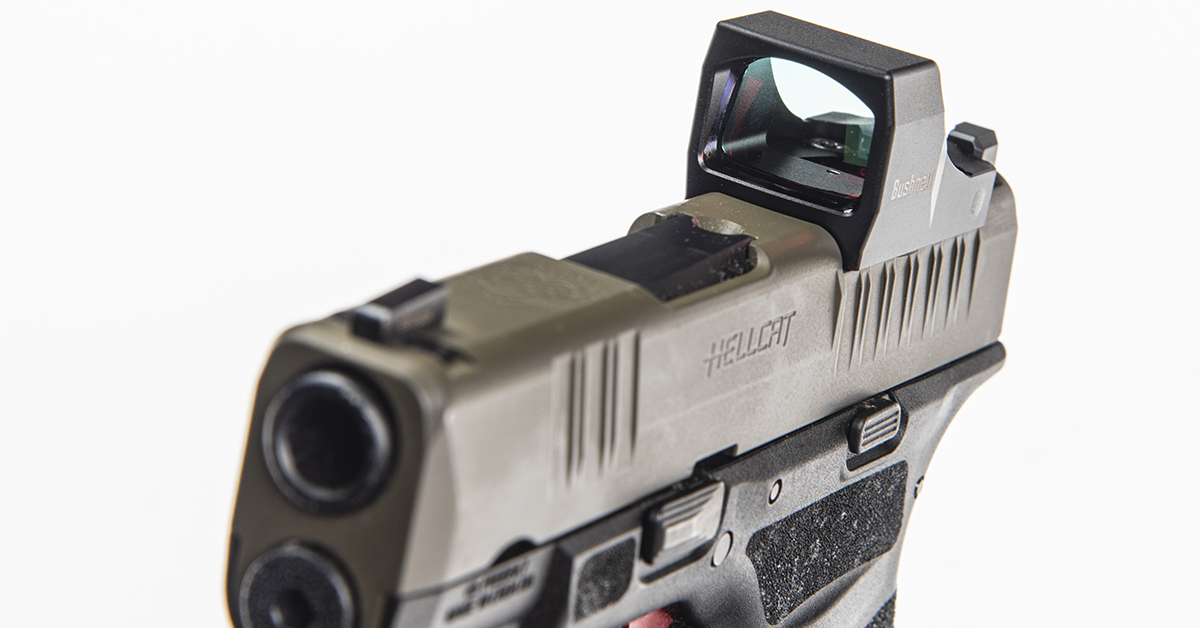 Does it work? It sure seems to. I detected no lint build-up while carrying the RX. I even dunked it into the wife's bag of potting soil and the lens came out clean and dust free, so the EXO Barrier treatment must do its job quite well.
Other specs point to the RX Micro's ready-for-action construction, such as its MIL-STD-810 impact and vibration rating, 7075-T6 billet aluminum housing, and IPX7 ingress rating (submersible up to one meter for 30 minutes).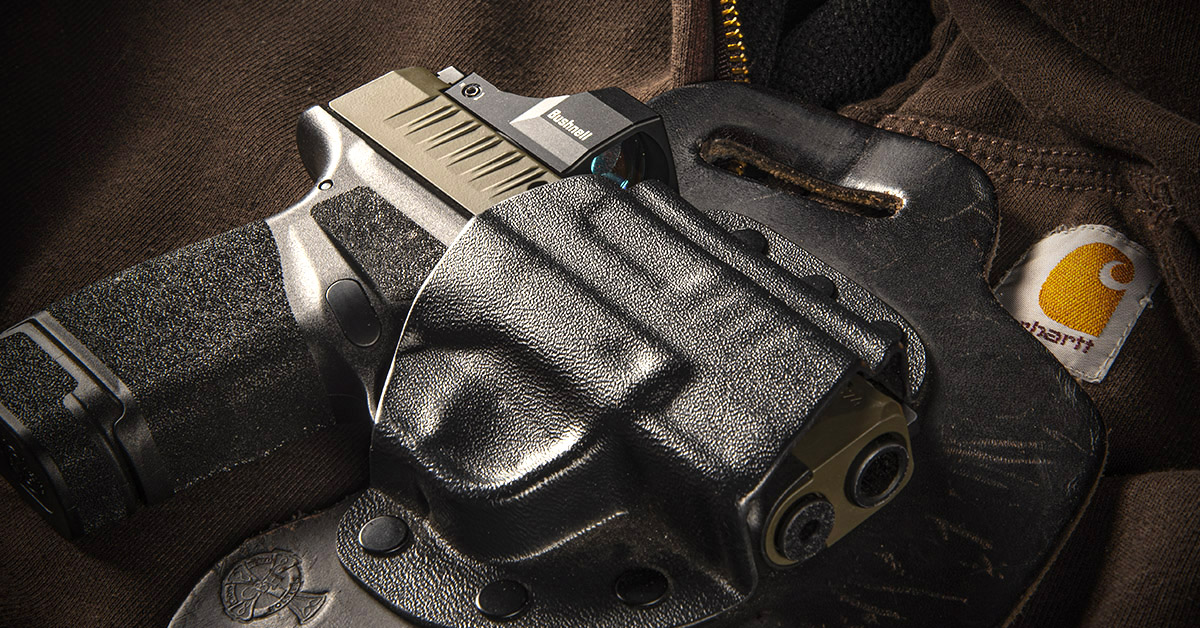 In conclusion, I found the Bushnell RX series micro reflex sight to be an excellent red dot at a price that is comfortable on the budget. It is operation-free, provides a quick and clear sight picture that is out-of-the-box compatible with low-profile factory open sights, and checks all the boxes for an everyday carry or concealed carry pistol.
Bushnell RX Micro Reflex Specifications
Type: Open Reflex
Adjustment Range: 100
Dot Color: Red
Magnification x Objective Lens: 1x21mm
Min Parallax Distance: 25 yds
Brightness Settings: Linear
Reticle: 6 MOA Dot
Waterproofing: IPX7
Weight: RXU-200 23 oz / RXC-200 25 oz
MOA Per Rev: 55
Mount: SHIELD™ RMS or RMSc footprint
Battery Life: up to 50,000 Hours
Battery Type: CR2032
MSRP: $149.99