The Taurus big-bore game-getter kicks it up a few more notches for 2023. Only serious handgun hunters need apply…
by Barb Melloni
The Taurus Raging Hunter turned more than a few heads when it hit the marketplace in 2018. Big, bold, and brash, it pretended to be nothing more than it was…a burly hand tool for knocking down big game animals. It was a game-changer five years ago, and a new 2023 model Raging Hunter model is about to stir up the game once again.
We're talking about the Taurus Raging Hunter 10-inch chambered in .460 S&W. It has a longer barrel than the 8.37-inch Raging Hunter .460 S&W we tested a couple years ago. Not only is the barrel longer, Taurus added a compensator and a first-in-class bottom rail because…well…if you've packed a Raging Hunter in the field, you already know the benefit of this welcome add-on.

So, let's get into the basics. If you didn't catch it from its name, this DA/SA revolver is not your everyday plinking gun, nor is it one that you'd be drawing from the holster during competition. Just as its name states, the Raging Hunter is meant to be taken out into the wilds as either a primary gun while hunting or as a backup gun should your primary go down.
A .460 S&W load demands respect. This magnum cartridge is right at home in the hunting fields (or defending yourself if necessary) and is capable of taking medium to large game at mid- to long-range distances.
If you plan on purchasing a Ranging Hunter, start researching holster options now because appendix carrying this beast, with its 16.22 inches overall length, simply is not an option. Most folks will opt for a shoulder holster or a chest rig for hunting.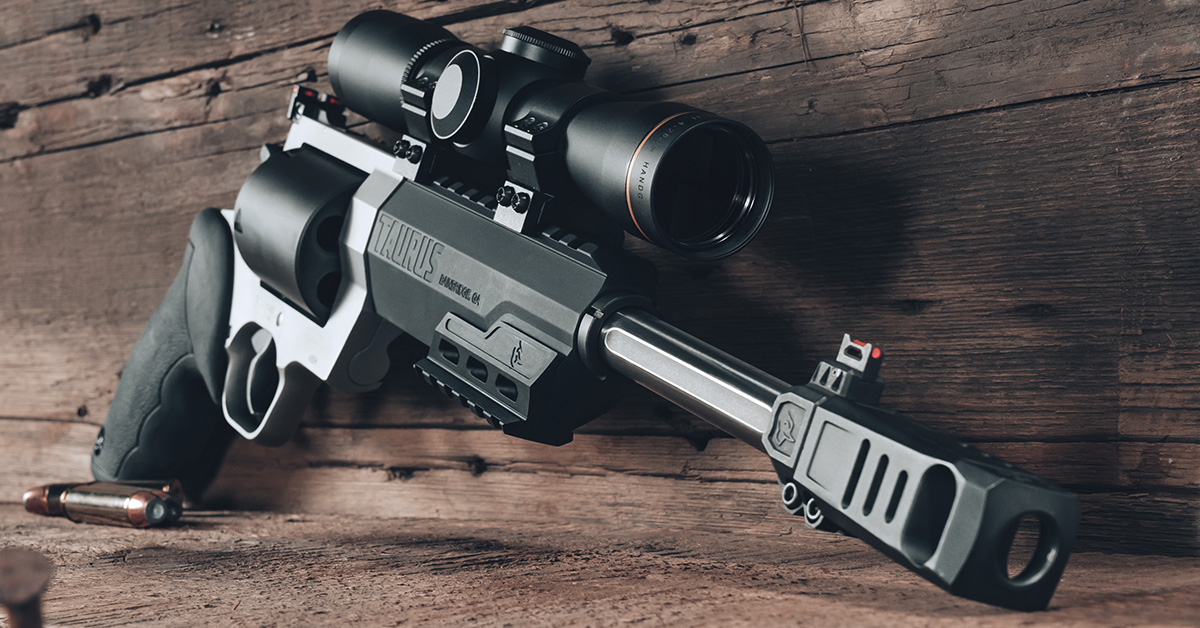 As one who typically shies away from large-platform revolvers, I can say that this wheel gun was a pleasure to shoot. Weighing in at 71.26 ounces (unloaded) and having a built-in compensator, the felt recoil was surprisingly minimal for the powerful .460 S&W. Not only was felt recoil substantially less than I anticipated, but the gun also settled right back on target in no time flat, allowing for quick target reacquisition — exactly what you want if you have an angry bear charging your way. Given that this gun has a lot to manage, Taurus built the Raging Hunter with a robust steel frame, cylinder, and barrel.
Is it heavy? At 71.26 ounces unloaded, it most certainly is. And the extra inches of barrel length compared to the 8.37-inch barrel length of the earlier Raging Hunter .460 S&W doesn't help. Taurus did, though, flute the 10-inch barrel, so that shaved off some weight. The bigger weight mitigation comes from the bottom Picatinny rail mount, which allows you to hook up with a compatible bipod or tripod.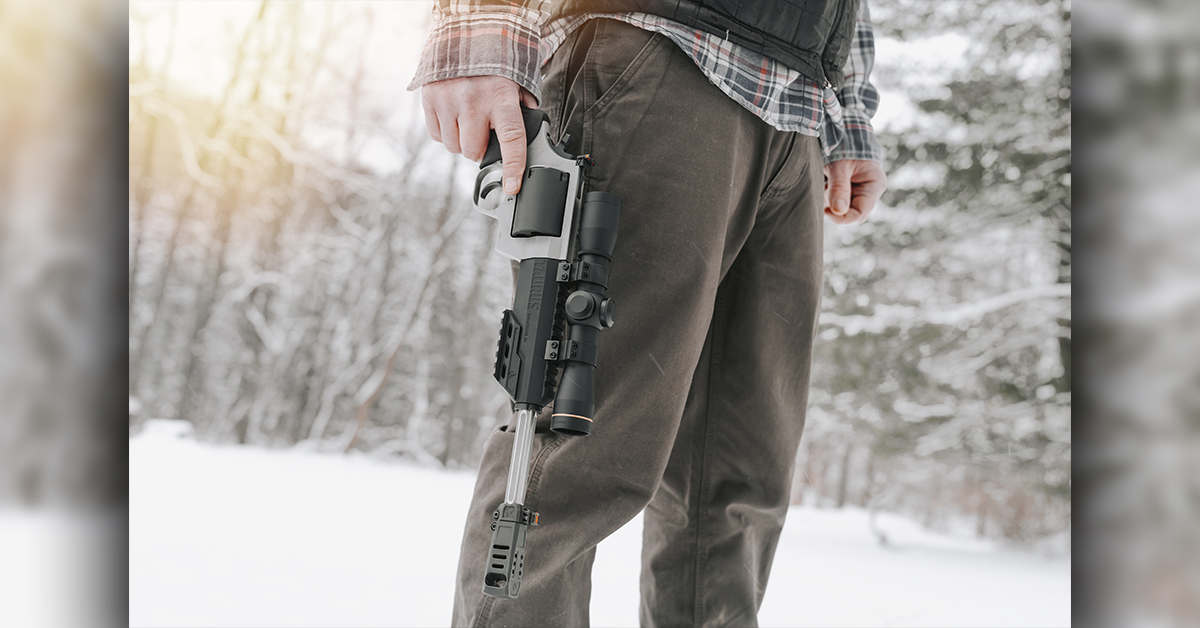 As for sighting systems, you can go one of two ways with this revolver. When purchased, the Raging Hunter will come stock with a set of iron sights. The front sight is fixed atop the compensator while the rear is adjustable. Both feature fiber-optic inserts, which are much appreciated when hunting in low-light conditions or dense woodlands.
Of course, most serious hunting revolvers demand a more sophisticated sighting option like a scope or red dot. For this, the Raging Hunter boasts a Picatinny rail integrated into the barrel shroud. This makes adding a magnifying optic like the Leupold FX-II 4×28 a breeze.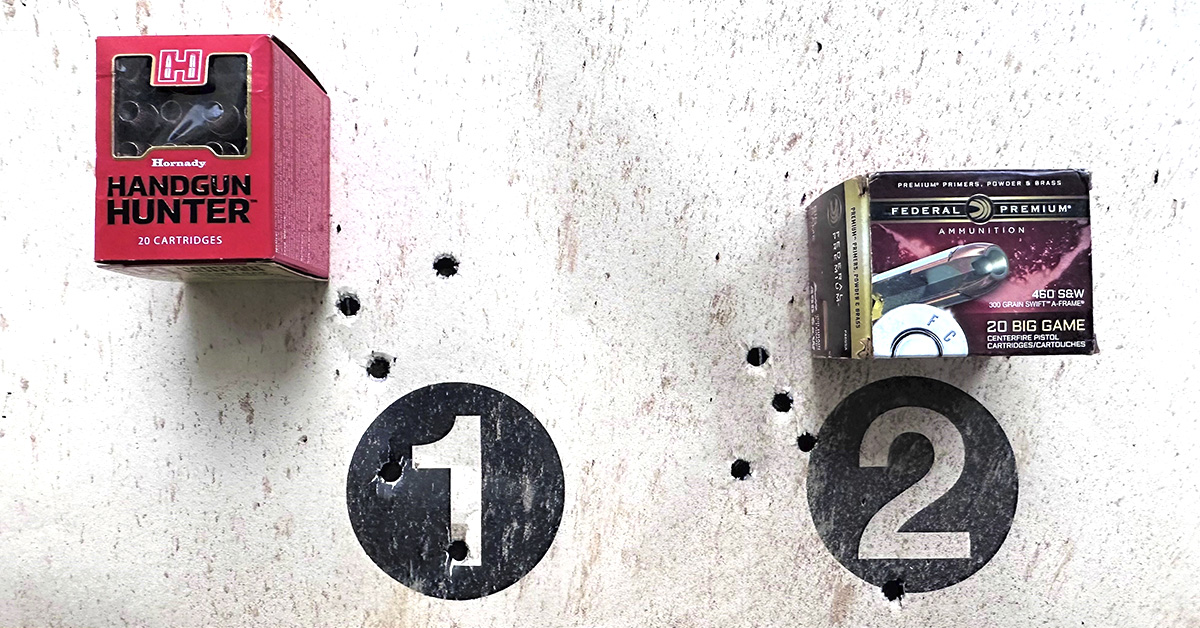 By the time range day came around, the Raging Hunter was feeling a bit hungry. The ammo selected for testing was Federal Premium's 300-grain Swift A-Frame 460 S&W and Hornady's Handgun Hunter 200-grain MonoFlex 460 S&W. The Federal offering boasts high weight retention and controlled expansion, with its Swift A-Frame bullet flying fast with a muzzle velocity of 1750 feet per second. Our Hornady ammo spoke to high weight retention as well as deep penetration and its MonoFlex bullet zipped along with a speedy muzzle velocity of 2150 feet per second.
When tested at 300 yards on our steel hog gong, each round fed into the Raging Hunter's five-round cylinder functioned without issue and rang steel all afternoon. Felt recoil of each cartridge, as stated before, was easily manageable.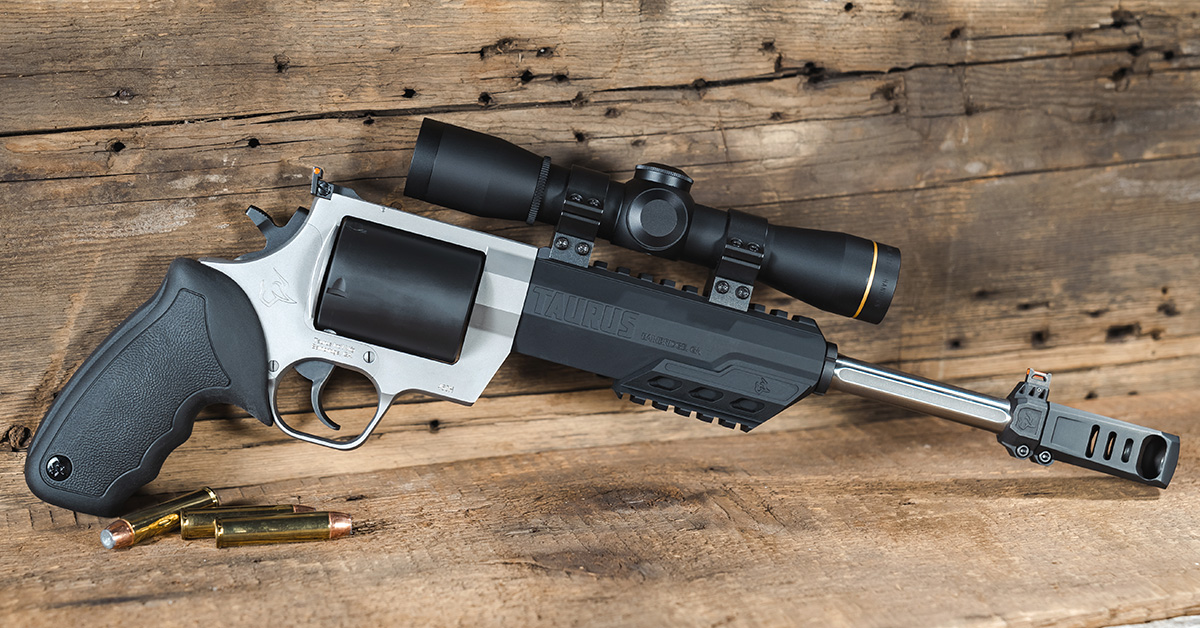 When testing guns, it's best to wait for optimal wind conditions. Since this is a hunting gun, which may be employed in any conditions, we decided that the range day wind would only validate the Raging Hunter's real-world potential. Temperatures were around 50 degrees with a steady wind of 10-15 miles per hour. Our groups while shooting unsupported averaged around 2 MOA or, as I would say, minute of bear. If one were shooting supported with this revolver mounted to a tripod, you could expect those groups to shrink most likely by half. Of course, the reloader in me was sure to save the brass to see how much we could reduce the cost of each round sent downrange.
Overall, we couldn't have been more pleased with the powerhouse Taurus Raging Hunter. With optimal recoil management and trigger weight better than any other large format revolver we've shot previously, this wheel gun has gained a new home in the safe.
Taurus Raging Hunter .460 SW 10-Inch Specifications
CALIBER: .460 S&W Magnum
CAPACITY: 5 Rounds
FRONT SIGHT: Fixed
REAR SIGHT: Fully Adjustable
ACTION TYPE: DA/SA
SPECIAL FEATURES: Dual Lockup Cylinder, Picatinny Rail, Scope Mount
FRAME SIZE: Large
BARREL LENGTH: 10.00 In.
OVERALL LENGTH: 16.22 In.
OVERALL HEIGHT: 6.40 In.
OVERALL WIDTH: 1.80 In.
OVERALL WEIGHT: 71.26 Oz. (Unloaded)
TWIST RATE: 1:20 RH twist
GROOVES: 5
FRAME MATERIAL: Stainless Steel
FRAME FINISH: Matte Stainless
CYLINDER MATERIAL: Alloy Steel
CYLINDER FINISH: Matte Black Oxide
BARREL MATERIAL: Alloy Steel
BARREL FINISH: Barrel Matte Stainless, Shroud Black Anodized
SAFETY: Transfer Bar
MSRP: $1,269.99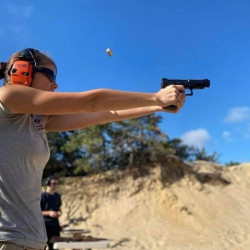 Latest posts by Barb Melloni
(see all)