Another Turkish entry makes its way into the US handgun market
by Jeromy Knepp
In a world full of striker-fired pistols, it takes a special something to get your attention. Often, U.S. handgunners will purchase products from one of two countries. Germany and the United States hold the lion's share of pistol designs and sales. But many other countries can and do produce quality firearms. The Czech Republic with their CZ pistol line and Brazil with their ample Taurus lineup provide two excellent options.
At the 2022 SHOT Show, an obscure company from Turkey took a leap into the world market. Fate would fall upon Ken Cooper of Buffalo Cartridge Company to shuttle a new brand of striker-fired pistols into the United States built by Burgu Metal of Turkey under the BRG-USA banner and called the BRG9.
BRG-USA likes to boast of its quality-built pistol, and rightfully so. Longevity and repetitive function are what they strive to infuse in their 9mm semi-autos. BRG-USA chose to use 4340 steel that has a high nickel content for both its ample slide rails and barrel, creating optimal stability and durability.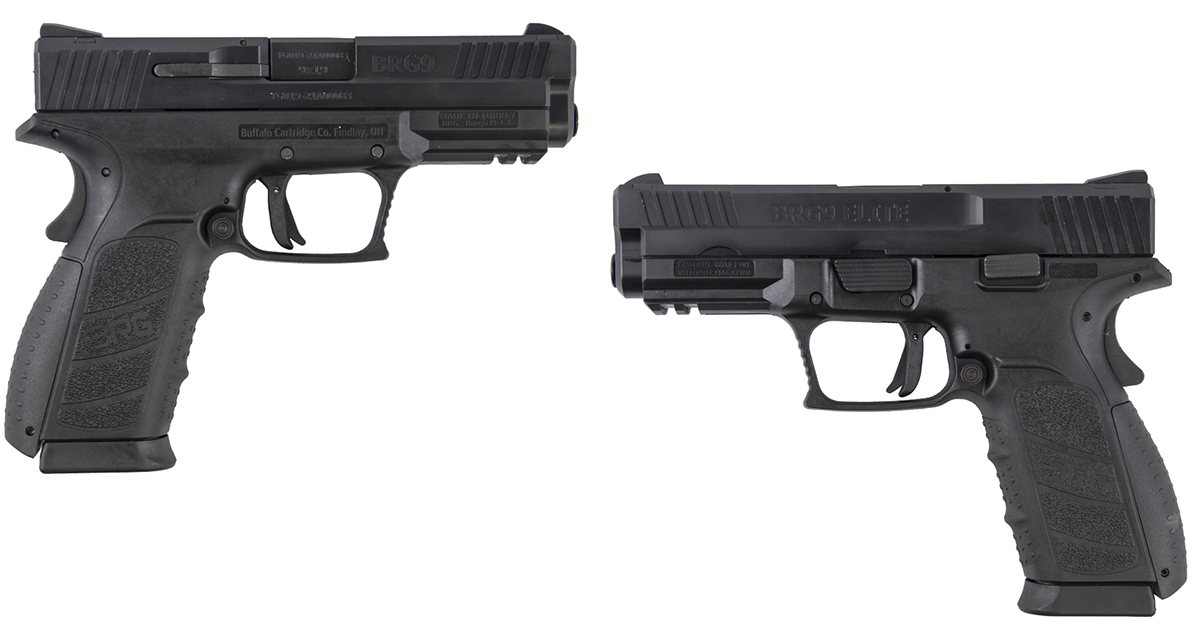 Robust, longer-than-average slide guides are quite evident next to a well-known industry standard. Ken Cooper stated that the 4340 steel provides a natural lubricity for smooth function. The longer guides help to reduce slide flex, felt recoil, and keep the slide more linear during the shot.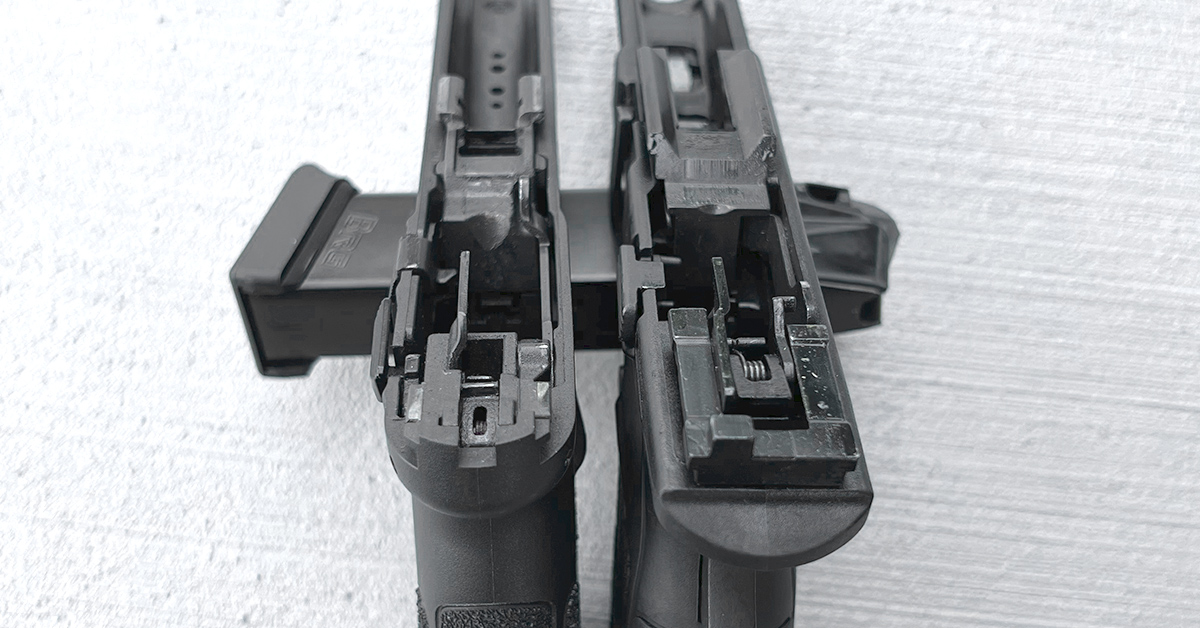 Ken said, "Women and first-time shooters tend to enjoy the BRG9 Elite over other pistols." Taking my wife to the range proved his statement true. She is as green as the grass when it comes to shooting pistols. After walking through how to properly hold and fire the pistol, she began sending bullets downrange. Her first shot hit the target. After multiple magazines, she then moved to another pistol that functions in a similar fashion. She did not like that pistol. Her reason: the BRG "felt better in my hands." She also felt that the recoil was more manageable.
BRG 9 Elite Features
This Turkish delight is packed with form and function. A simple carboard box is not what the company had in mind for sales in the US market. Purchasing a BRG9 Elite gives you a heavy gauge plastic case. Inside are laser cut slots holding a multitude of products.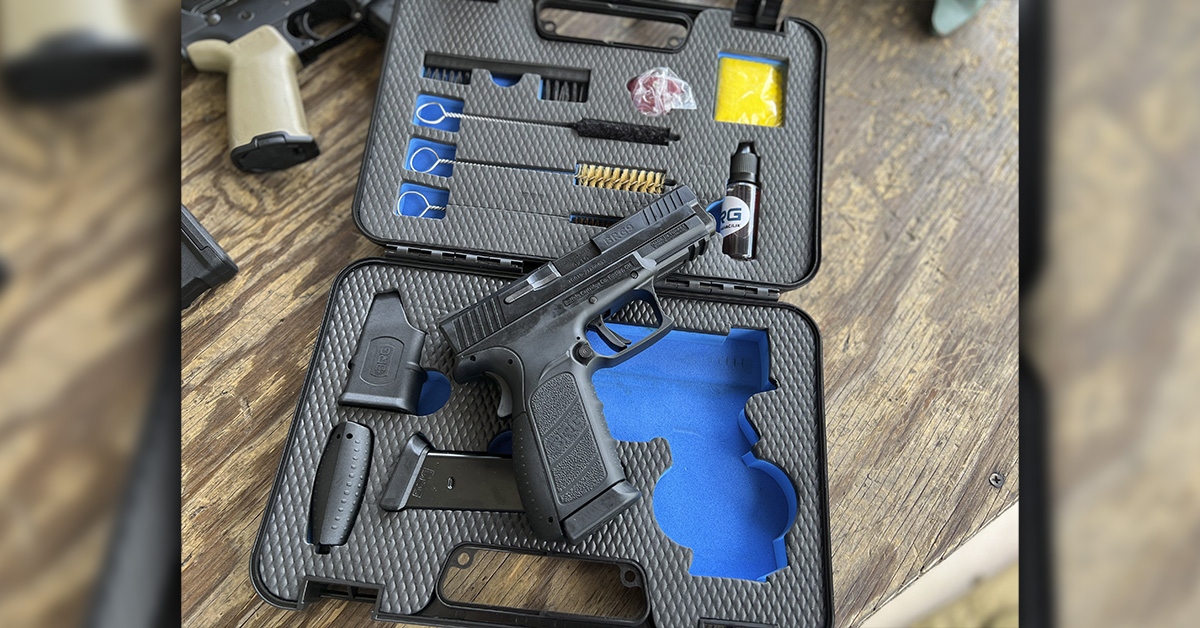 This is a great pistol for the starting shooter or the pro who is looking for a solid, quality product. The case holds all the following:
BRG9 Elite
Two 16-round magazines (OE or aftermarket Springfield XD-9 compatible magazines will work)
Magazine loader
Two backstraps (large and small; medium installed on the pistol) to customize the grip feel
Trigger lock
Three wire-handled bore brushes: nylon, bronze, cloth mop
Cleaning cloth
Bottle of CLP
That is one heck of a buy. Shooting one, you'll know your hard-earned money was well spent.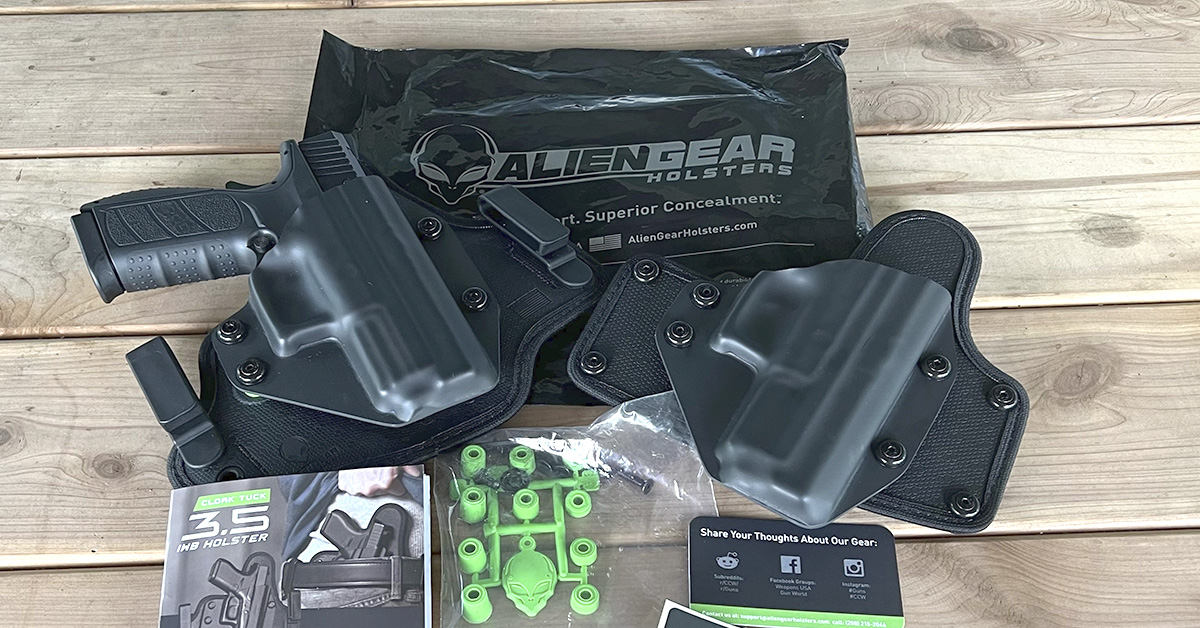 For carry purposes, Alien Holsters provides models to fit the BRG9 Elite.
At the Range
Range time with the BRG9 was a pleasure. Deep serrations in the front and back of the slide allowed for easy manipulation. The slide release protrudes just enough for good purchase but not enough to snag on clothing. Looking at a BRG9 Elite loaded tells you it is ready to go. A load indicator ramp pops up to indicate a round is chambered. A firing pin indicator extends from the back of the slide, showing it is cocked. There are no slide safeties, but a trigger safety and a grip safety similar to the XD and 1911 ensure the gun won't fire until the trigger is depressed.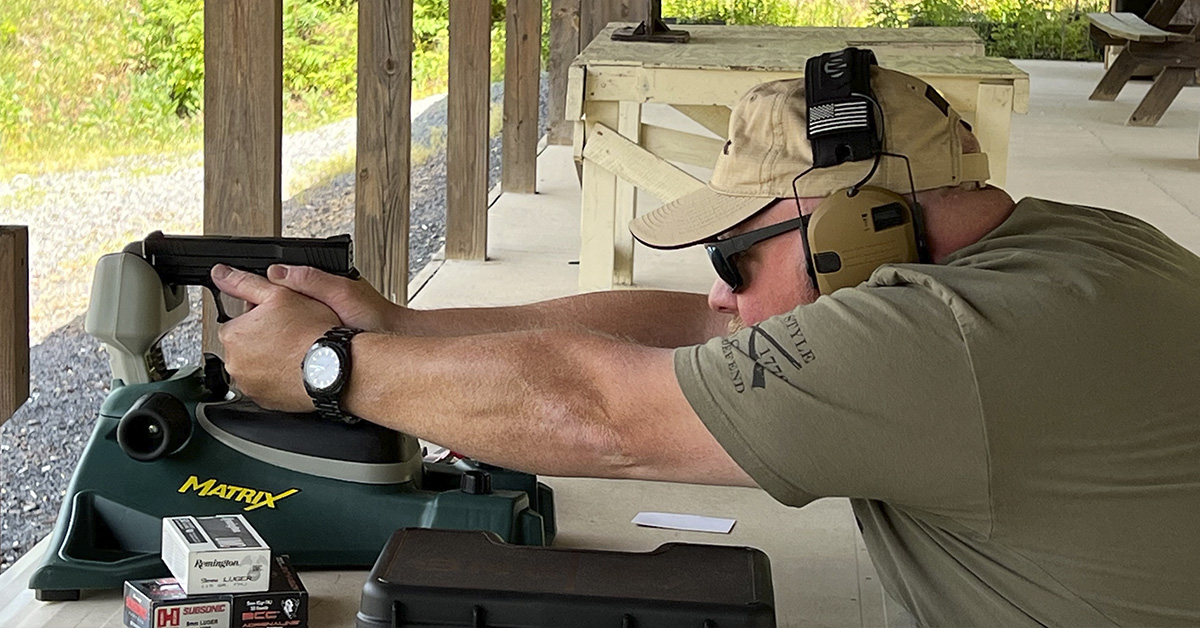 Hanging out with fellow writers, we always challenge each other. I was able to make hits at 50 yards and 100 yards with open sights as quickly as another shooter using a higher priced pistol and a red dot. Perhaps it was good fortune, but I was one of two shooters that day that hit a 66% IPSC target at 200 yards. A lot of credit for that performance goes to the BRG9's smooth and predictable trigger.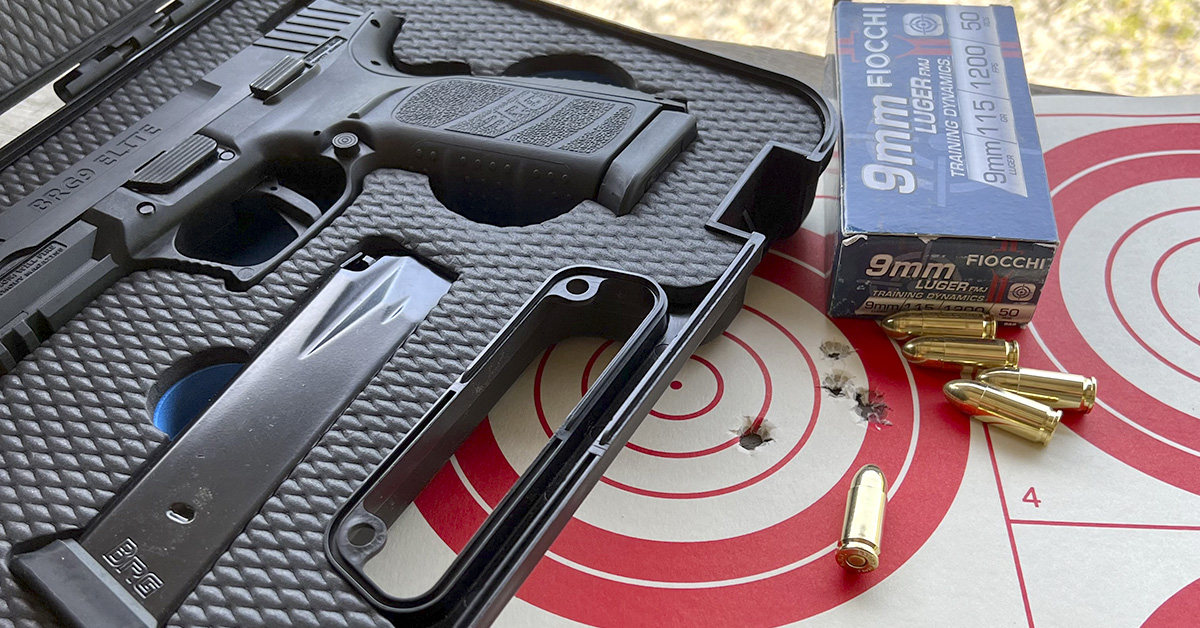 Five-shot group sizes taken at 15 yards were…
Fiocchi 115 FMJ Training Dynamics: 1.573 in.
Hornady Subsonic 147 gr. XTP: 1.890 in.
Buffalo Adrenaline Precision Series 115 gr. FMJ: 2.453 in.
Remington 115 gr. FMJ: 3.371 in.
Barnaul 151 gr. FMJ Subsonic: 4.616 in.
Final Thoughts
This pistol made me feel confident and accurate. Across multiple loads, the BRG9 performed well. The smallest group came from the Fiocchi 115 FMJ Training Dynamics at 1.573 inches. That, for me, is outstanding. Everything I fed through the pistol shot without a hitch. So, what don't I like?
My only complaint is with the sights. I'm naturally a bullseye shooter and my aged eyes prefer brighter colors. This pistol comes with two white dots in the rear and one orange dot in the front. I lose the orange in the front with the black surrounding it.
Overall, the BRG9 Elite is a reliable pistol offered at a great price.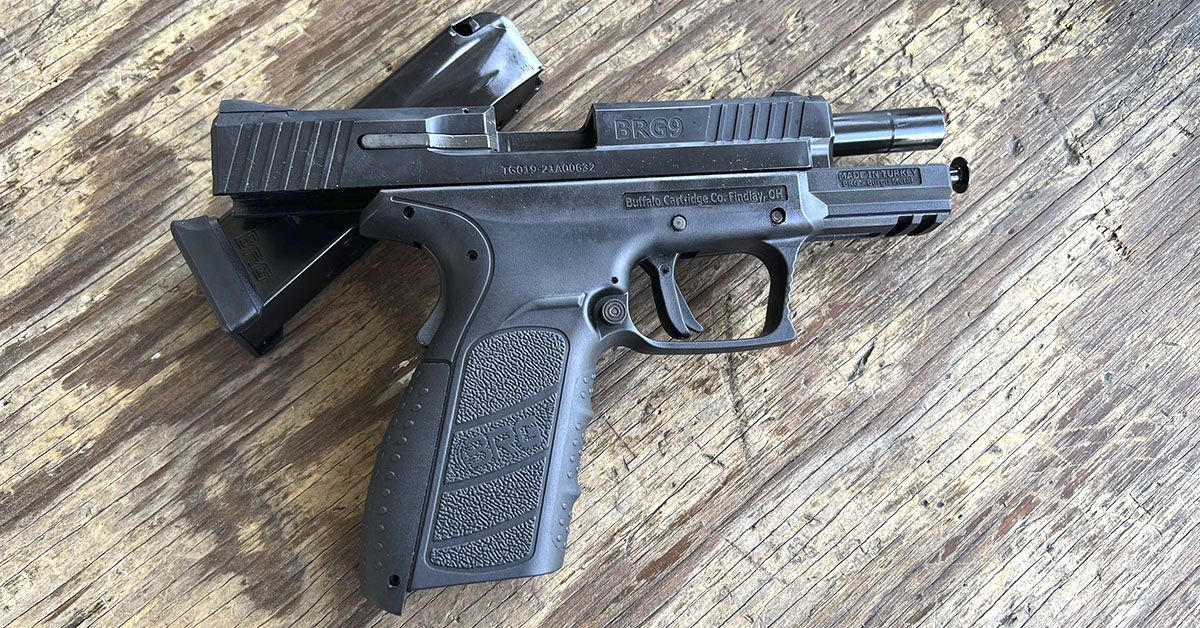 BRG-USA BRG9 Specifications
Caliber: 9x19mm
Action: semi-auto, SAO
Capacity: 16+1
Barrel/Slide Material: 4340 forged steel, dual heat treated
Barrel Length: 4 in.
Rear Slide Plate: 7075 T6 aluminum
Frame: high-impact polymer
Safeties: grip, trigger
Front/Rear Sights: high-visibility dovetail
Mag Release: ambidextrous
Trigger Pull Weight: 5 lbs.
Overall Length: 7.36 in.
Height: 5.5 in.
Width: 1.4 in.
Weight: 30 oz. (empty)
Accessory Rail: Picatinny
Black slide with Black polymer frame MSRP: $399
Hard-chromed Silver slide with black polymer frame MSRP: $419
FDE slide and frame MSRP: $429
Latest posts by Jeromy Knepp
(see all)