Tired of fumbling through piles of ammo boxes? Hornady's Ammo Cabinet is the ideal solution for your home, gun room, or hunting camp.
by Rob Reaser
It's all too easy, as most of you know, for our ammo stashes to become, shall we say, unwieldy? Between buying what we can get whenever ammo is available and racking up multiple boxes of partially consumed ammo, it doesn't take long for things to get out of hand in the storage and organization departments.
Here's another take to consider. With ammunition steadily returning to normal stock (at least with many of the big box retailers we've frequented over the last several months) and with inflation plus additional, inevitable economic horrors looming on the horizon, smart shooters and gun enthusiasts should be engaging in serious resupply efforts right now. But you're going to need somewhere to stow it all.
Enter the new Hornady Ammo Cabinet.
In case you are unaware, Hornady has a LENGTHY list of firearm security products, from home storage safes to mobile lock boxes and numerous safety and security accessories. Tired of tripping over the ammo boxes in our shop, we decided to give the Hornady Ammo Cabinet a go.
We did. We liked. Now we need to get a couple more!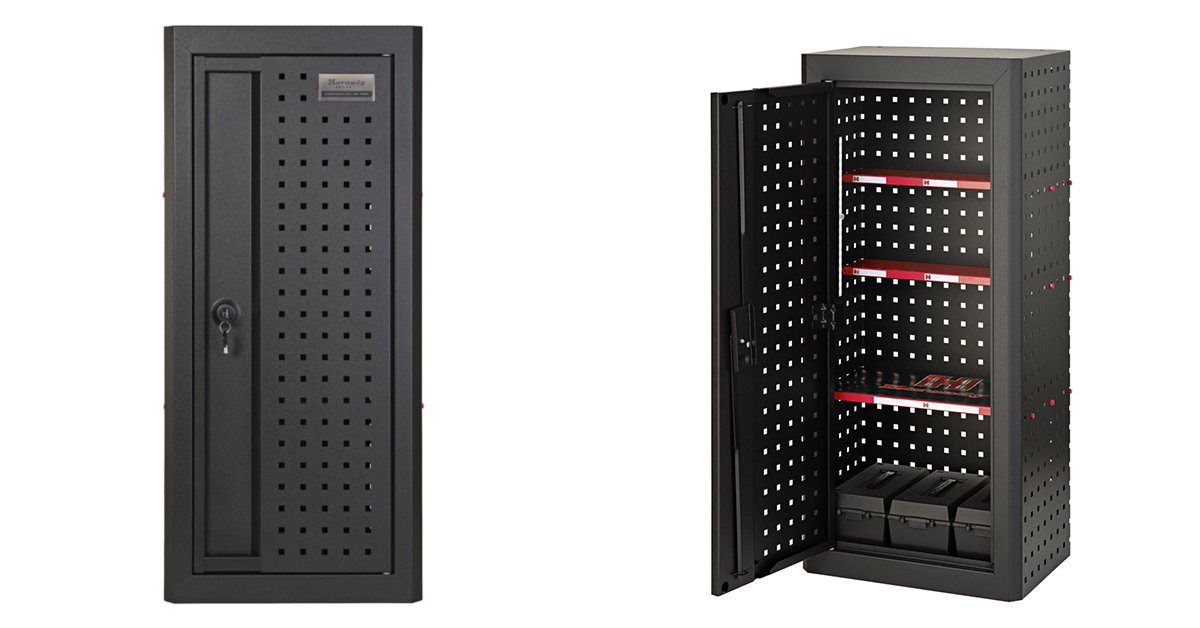 The Ammo Cabinet is constructed of steel panels and measures 18x12x40 inches. Weight is 47.8 pounds. Hornady calls the panels Square-Lok. This design incorporates rows of square holes that, aside from providing ventilation, allow for customization of shelving placement and offer a means to bolt multiple cabinets together. You can also mount the cabinet to walls with multiple stud spacing or just about anywhere you can secure fasteners. Pre-drilled holes in the cabinet's base plate lets you secure the cabinet to your floor. Finally, the door can be oriented for left- or right-hand opening, depending on your needs.
Included with the Ammo Cabinet are four steel shelves able to support 100 pounds each, three plastic ammo cans, a magnetic mount motion-activated LED light bar, three shelf mats, and a sheet of magnetic rewritable shelf labels.
We began our cabinet assembly by placing it against a bare wall in our shop and securing it to the floor with four screws (our floor is an old tongue-and-groove mess, so no worries about drilling holes). Next, we placed one of the included mats in the bottom of the cabinet and dropped in some ammo cans. You can get three M19A1 ammo cans in here, or one M2A1 can and two M19A1 cans.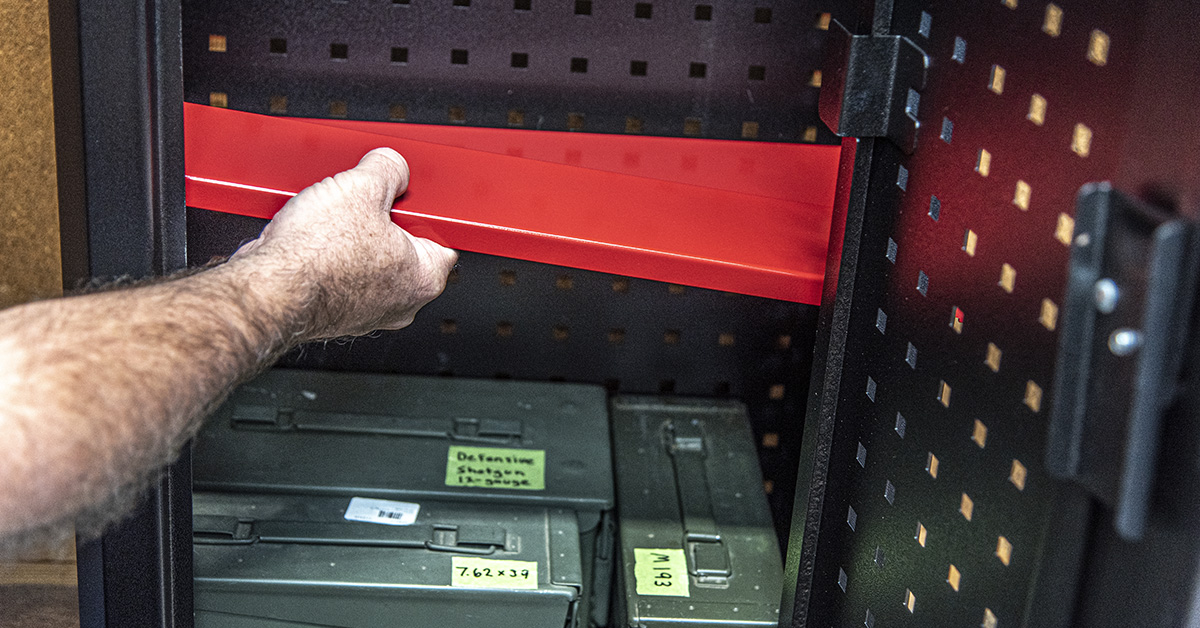 The steel shelves have two "hooks" per side that go into the Square-Lok holes on the cabinet's side panels. Since we loaded the bottom of the cabinet with steel cans, we used two shelves to provide a base for the supplied plastic ammo cans.
The plastic cans are perfect for storing bulk ammo or assorted boxes that can't really find a communal home. All three fit snugly across the dual shelf. This approach also keeps the cabinet from being top-heavy, although mounting the cabinet to the floor negates the possibility of tip-over in any case.
Working our way up, we added a single shelf and loaded it with our stash of .300 BLK.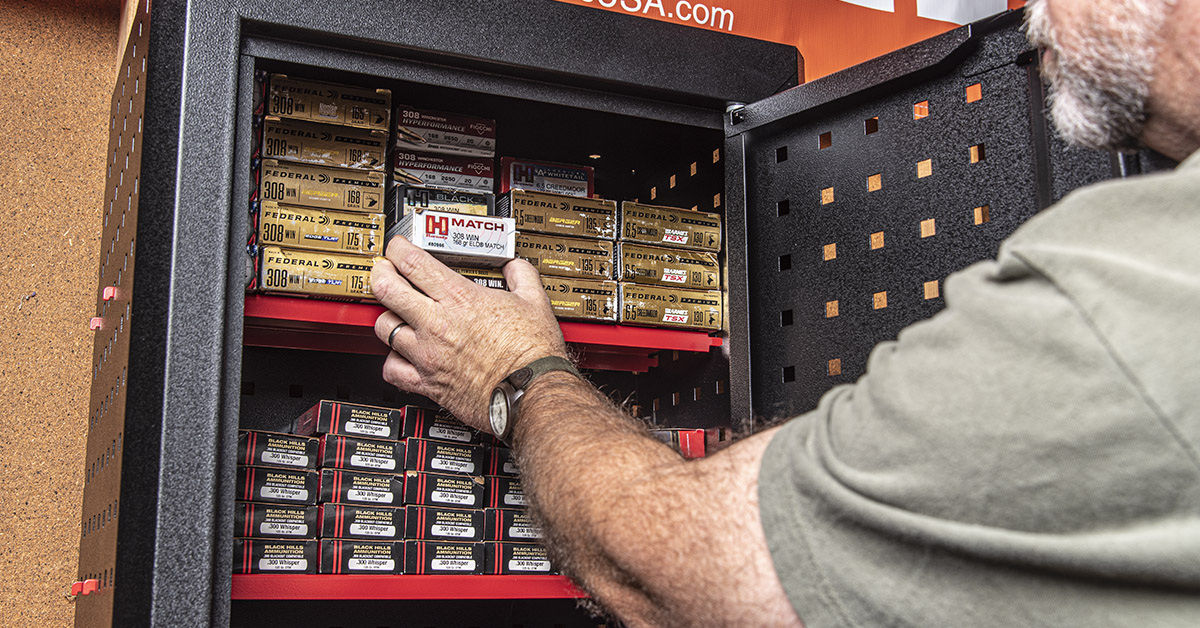 The final shelf became home to our factory .308 Win and 6.5 Creedmoor. As you can see, the shelves are deep enough for standard ammo boxes, and all can be easily organized and accessed.
The LED light bar features a magnetic strip on the back, allowing you to place it where you like inside the cabinet. Simply install six AAA batteries and you're good to go.
We placed the light bar at the top of the cabinet. The motion sensor is quite sensitive. From this position, the light comes on as soon as the door is opened.
The rewritable magnetic strips fit onto the shelf lip for quick ammo ID.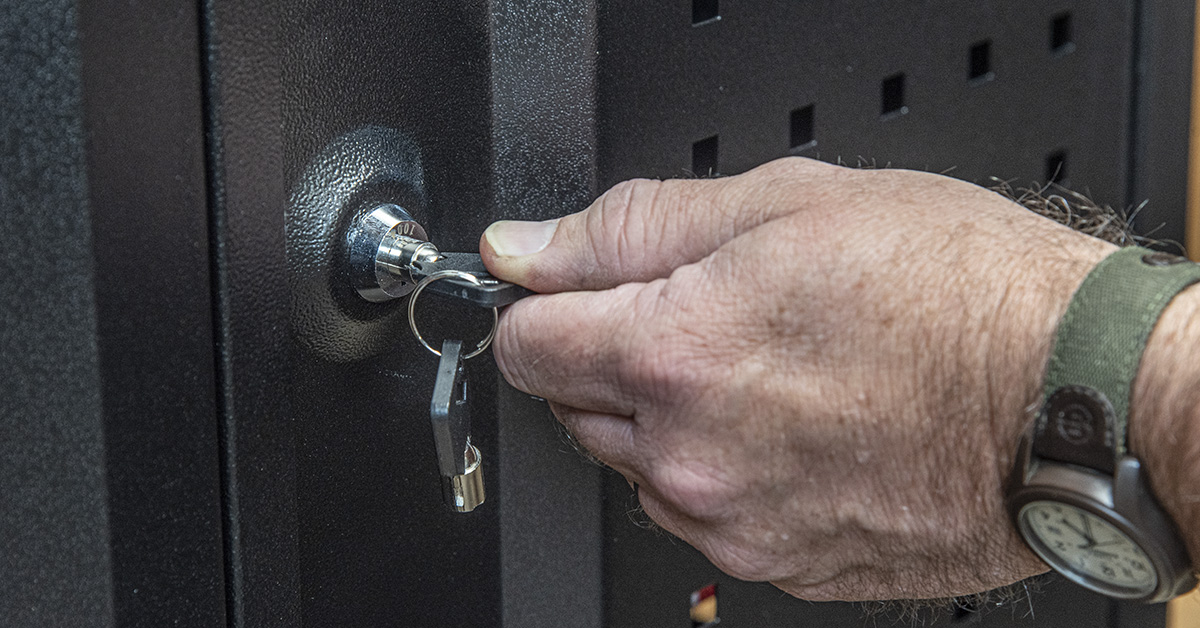 The Ammo Cabinet uses a barrel lock system for security. Two keys come with the cabinet. With this system, the door must be locked in order to remove the key.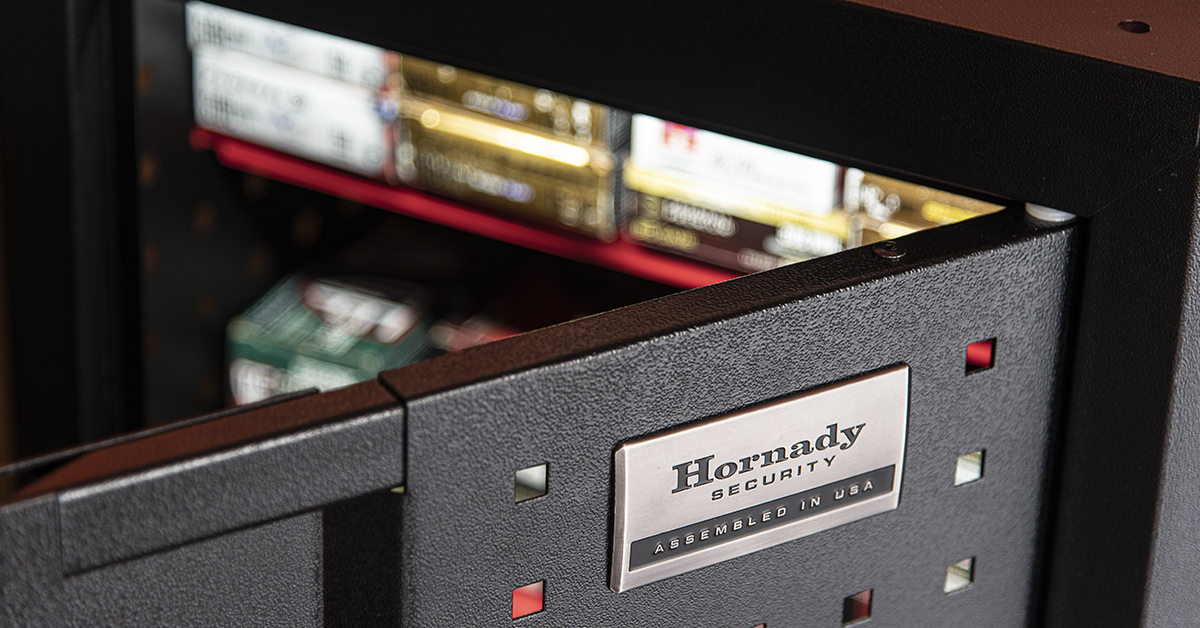 Also included is a "Hornady Security" magnetic badge that you can place wherever you like (or not at all). We think it adds a classy accent to an equally classy cabinet.
While high-volume shooters will likely require more than one cabinet to hold their ammo, a single Hornady Ammo Cabinet can hold a substantial amount of ammunition as well as handguns or other valuables you may wish to keep locked and secure. MSRP is $629, but we found online retailers selling it for around $550. It is an investment, but the inherent value of keeping your ammo organized and secure is worth it.