A hyper-accurate rifle series that resists the elements, boosts comfort and customization, and builds shooting confidence, Benelli's B E.S.T. Lupo Bolt-Action Line is a must-shoot trio.
by Jace Bauserman
I was a pump-action guy, and no one could convince me even to shoulder a semi-automatic shotgun.
Why?
Reliability, mostly. I'd been hunting geese for nearly five years, and not from fancy-to-do layouts or pit blinds. Instead, our goose crew built make-shift blinds in corn rows and hid between tumbleweeds trapped by irrigation ditches. Shotguns got dirty, and in my experience, the semi-autos jammed.
Long story cut short; we weren't expecting the first flight for another hour. It was my turn to finish setting the decoys, and the other guys went to park the trucks. Three geese came — black silhouettes against the rising sun. I couldn't get to my shotgun, so I grabbed my buddy's Benelli and pulled a triple.
I've been shooting a Benelli — one version or another of the SBE (Super Black Eagle) — for over ten years. Benelli makes excellent shotguns; they are reliable, German-tank tough, and feel remarkable in hand.
I was trying to figure out what to think when I shouldered Benelli's B E.S.T. Lupo Bolt-Action Rifle .300 Win. Mag. for the first time. The rifle, up to the magazine, looked like a Benelli Super Black Eagle shotgun, and it felt like one, too.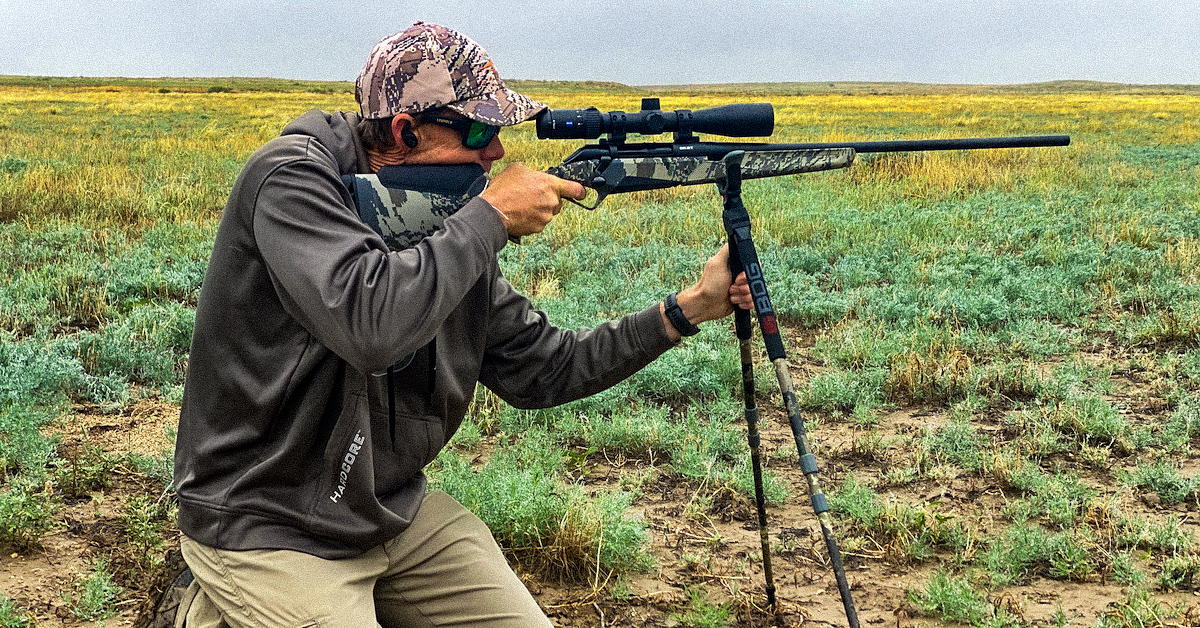 I don't need to go too deep into the B E.S.T. Lupo Bolt-Action Rifle chambered in .300 Win. Mag. If you're interested in finding out more about this western big-game wrecker that is cloaked in Sitka's Open Country camo pattern, you can read the review (Tested: Benelli B E.S.T. Lupo Bolt-Action .300 Win. Mag.) I penned about it.
My second round with COVID sidelined me from a western bear adventure, but that didn't stop me from sending over 150 rounds of Hornady Precision Hunter 200-Grain ELD-X along with Federal's Nosler AccuBond .300 Win. Mag. from the Benelli's B.E.S.T. Lupo. During my time with the rifle, I fell in love with it, and luckily, in early October, I was fortunate enough to give another model in the ultra-impressive B E.S.T. Lupo line a test drive.
Pronghorn were on the menu, and the rifle of choice was Benelli's B E.S.T. Lupo Bolt-Action 6.5 Creedmoor. Now, I'm a stickler for accuracy and building confidence in a gun, and I wasn't thrilled the rifle wasn't in my hands before the hunt. Logistics are a pain sometimes, and when I arrived at Full Draw Outfitters, a Sitka-cloaked, 24-inch barrel 6.5 Creedmoor topped with Steiner's Predator 8 2-16×42 scope was waiting for me.
One of the things I appreciated during my time with Benelli's B.E.S.T .300 Win. Mag. was the customization. With an adjustable trigger, which I never tinkered with because the trigger was crisp and perfect, along with 36 drop and cast stock positions via the included shims and spacers for length-of-pull adjustment, you can make any Lupo B.E.S.T. fit you like a glove.
The rifle had been zeroed with Fiochhi's Hyperformance 6.5 Creedmoor before my arrival, and it took me only seven shots to ring steel at 500 yards. The rifle's comfort is remarkable. Chambered in 6.5 Creedmoor and fitted with Benelli's Lupo Progressive Comfort System, a trio of patented interlocking flexible buffers that soak-up recoil like a sponge at different stages of the recoil cycle, shoulder abuse is nil. I've always said when a rifle is fun to shoot — one that doesn't make you shutter when you think about pulling the trigger — you and that rifle will become an undeniable pair on the range and in the woods.
Another Lupo hat-tipper is how well the Combtech System welds the cheek to stock, promotes proper eye-to-scope alignment, and reduces recoil by pulling impact vibrations away from the facial area. For instance, when I dropped the hammer on my Colorado pronghorn, my eye never came out of the scope, and I watched the speed goat make a quick death sprint before toppling over. This feature is so essential in a rifle. When the cheek isn't taking abuse and the eye isn't coming out of the scope, quick follow-up shots are possible, and when hunting in thick timber, you can see the animal's immediate direction of travel and know where to start blood trailing.
I didn't give Benelli's B E.S.T. (Benelli Surface Treatment) enough love in my review of the B E.S.T. Lupo Bolt-Action .300 Win. I would have left it out of this article, except something happened on the hunt that showed me its importance.
I was hunting with outdoor legend Fred Eichler, and Fred and I were excited. We've spent a lot of time together, and with rain falling and sandhill cranes coming off a nearby reservoir, we quickly talked each other into stalking this average Colorado pronghorn.
After harvesting the goat, we were so excited about the stalk and the possibility of getting a crane hunt that I left my rifle lying on the Colorado prairie in the pouring rain. It wasn't until my good friend, Mark Sidelinger, who was also along on the hunt, asked me if he could use my rifle for his afternoon hunt that it hit me.
Irresponsible? Yes, terribly; however, Eichler and I slipped out of the lodge and ran back to the prairie. There, sitting in the mud and muck, was my Benelli B E.S.T. Lupo. The B E.S.T. proved its salt. This corrosion and abrasion resistance coating took Benelli engineers more than 10 years to develop. The hybrid Physical Vapor Deposition (PVD) and Plasma Enhanced Chemical Vapor Deposition (PECVD) provide a second-to-none  coating that protects and extends the longevity of your firearm like none other. All I did was clean the scope's glass and wipe the gun down with a towel.
All B E.S.T. Lupo barrels showcase a precision Crio-treated free-floated barrel that attaches to a steel barrel extension bedded to a steel block in the alloy receiver. During my testing, both the .300 Win. Mag. and the 6.5 Creedmoor produced remarkable shot-to-shot consistency with various loads.
Many rifle goers like to build an arsenal of similar rifles in various calibers. For instance, Benelli's B E. S.T. Lupo .300 Win. Mag is ideal for big-game animals like elk, bears, moose, and other heavy-boned critters. It will kill close and far, and if steps are taken, the .300 Win. Mag. is a 1,000-yard killer. If the proper bullet is used, elk can be taken at this distance. The 6.5 Creedmoor is flat and fast, and while you can ring steel with it at 1,000 yards, this caliber isn't your western long-range heavy-boned big-game shooter as it loses too much energy. This hyper-accurate caliber, though, devastates animals like pronghorns, whitetail, and mule deer.
There is another rifle in the B E.S.T. Lupo lineup, and it's the uber-popular .308 Win. Though I have yet to shoulder this rifle, I have no doubt it's an adequate shooter and a great addition to Benelli's B E.S.T. triple of Lupo bolt-action rifles.
Benelli B E.S.T. Lupo Bolt-Action .300 Win. Mag
Caliber: .300 Win. Mag
Barrel Length: 24 in.
Grip: standard
Stock Configuration: Progressive Comfort
Twist Rate: 1:11
Magazine Capacity: 5+1
Action: bolt
Threaded Barrel: yes/adjustable/13.8 in.-14.75 in.
Weight: 7.1 pounds
Benelli B E.S.T. Lupo Bolt-Action 6.5 Creedmoor
Caliber: 6.5 Creedmoor
Barrel Length: 24 in.
Grip: standard
Stock Configuration: Progressive Comfort
Twist Rate: 1:8
Magazine Capacity: 5+1
Action: bolt
Threaded Barrel: yes/adjustable/13.8 in.-14.75 in.
Weight: 7.1 pounds
Benelli B E.S.T. Lupo Bolt-Action .308 Win.
Caliber: .308 Win.
Barrel Length: 22 in.
Grip: standard
Stock Configuration: Progressive Comfort
Twist Rate: 1:11
Magazine Capacity: 5+1
Action: bolt
Threaded Barrel: yes/adjustable/13.8 in.-14.75 in.
Weight: 6.9 pounds