"They're born of the wild," he told me. "I don't understand," I replied. "Not many do," he said.
by Wayne van Zwoll
He carried an ax, to repair a log fence. But that morning in 1965, Jack Turner had slung a carbine across his back, too. Grizzly bears were common on British Columbia's Atnarko River. Runs of sockeye and humpback salmon jammed riffles below the homestead he and Trudy had staked eight years earlier. Jack figured as many as a dozen bears fished for coho there into December. After Trudy surprised a sow and two cubs destroying the garden, Jack trailed the trio. By accident, his shot struck both cubs. The sow charged. Jack's .30-30 bullet felled her mere feet away.
The path he trod this morning wound through thickets bears frequented. Rounding a bend, Jack met "the biggest grizzly I'd ever laid eyes on." At 13 steps, their eyes locked. The beast came instantly, no growl or tooth-popping. In one motion the homesteader dropped his ax, whipped the carbine off his back, ran the lever, flipped the sight. "The bear was almost on me" when his bullet struck, low between the eyes, killing it. The bear was huge, a match to the world's record grizzly taken in 1954.
Not every hit from a Winchester 94 brings such results. A B.C. hunter whose shots were poorly aimed was fumbling to reload when the wounded grizzly charged. "Shoot!" he screeched at his partner, filming from behind. The cameraman snatched up his .30-30 as the bear burst from the bush. At 20 feet, his bullet whined off her skull. So did a fast follow-up. A third entered her eye, dropping her at his boots.
Lever-gun history is a series of dramas. John Wayne, Chuck Connors, and other heroes blazed a path through peril with carbines that never ran dry and seldom missed. When Rooster Cogburn took the reins in his teeth and gave his Winchester a practiced, one-handed flip, you knew his nemesis was seconds from denting dirt. In real life, the likes of Jack Turner put lever rifles to extraordinary tests. For millions of hunters facing neither outlaws nor grizzlies, flat-sided carbines first defined deer hunting.
In 1848 Walter Hunt invented a ring-lever rifle with a tube magazine. The Volitional Repeater fired "Rocket Balls," bullets whose hollow bases held a small powder charge ignited by external primers. Unable to market or refine this rifle, he sold rights to George Arrowsmith, who hired Lewis Jennings to improve it. In 1850, Arrowsmith peddled it, with Jennings' patents, to railroad tycoon Courtland Palmer. He handed the project to Horace Smith and Daniel Wesson, who gave Rocket Balls a primed copper base. In 1855, a year after Palmer partnered with Smith and Wesson, 40 investors bought them out and formed Volcanic Repeating Arms Co. One of their own, Oliver F. Winchester, was voted in as director. He soon moved Volcanic to New Haven. The company failed. In 1857 Winchester bought all assets for $40,000 to establish the New Haven Arms Co. In 1860, his shop foreman, B. Tyler Henry, was granted a patent for a rimfire lever rifle, its 216-grain .44 bullet clocking 1,025 fps.
The Henry saw limited use by Union Troops in our Civil War. After Appomattox, it got a forend and a side loading gate to become the first Winchester-branded rifle, the Model 1866. Its successor, the 1873, fired Winchester's first centerfire cartridge, the .44-40 (.44 WCF). It sent 200-grain bullets at 1,300 fps. Winchester soon offered the '73 in .38-40 and .32-20, too. Frontiersmen William F. Cody adored this rifle. As Buffalo Bill, he used it during the 30-year run of his Wild West Show, after its 1883 debut as the Old Glory Blowout in Columbus, Nebraska. At an early performance in Brooklyn, New York, bullets hit greenhouse glass over a block from the arena. So, Cody ordered smoothbore '73s in .44-40. Their quarter ounce of #7 shot broke targets without threatening windows. Annie Oakley also used one of these rifles.

About this time, Winchester VP Thomas Bennett tracked down an obscure rifle, designed without blueprints and built with only crude tools, by a young Utah gunsmith. In Ogden, Bennett paid $8,000 for all rights to John M. Browning's single-shot. As Winchester's Model 1885, it would compete with Sharps and Remington "buffalo rifles." During the next 17 years, Bennett bought all the 40-odd firearms designs Browning sent to New Haven. Winchester may have found the Utah genius just in time to save its lever-action line. The bulky Model 1876, an outsize '73, wasn't strong enough for the frothiest cartridges of the day. Browning adapted his single-shot's vertical-lug lock-up to a lever-action Winchester produced as its 1886. Listed in 10 chamberings, to 50-110, it would stay in Winchester's stable until 1935. It inspired the short-action 1892, which Browning delivered just 30 days after Bennett asked for it! With Models 53 and 65 variants, Winchester would ship over a million '92s before the last in 1941.
The Browning-designed Winchester 1894 followed. A lightweight rifle for mid-length cartridges, it appeared first in .32-40 and .38-55, then in .25-35 and .30-30 — our first smokeless hunting round. The 32 Special came later. America's "deer rifle," the 1894 (subsequently 94) topped a production total of seven million before the New Haven plant closed in March 2006. It was soon re-introduced.
Theodore Roosevelt, whose first Winchester was an ornate 1876, quickly came to favor the 1894 in .30-30 on western hunts. Afflicted with poor eyesight, Roosevelt conceded, "I don't know how to shoot well, but I know how to shoot often!" He liked rifles that could be cycled fast from the shoulder and kept another "little .30" with a Maxim silencer at his Sagamore Hill home to shoot pests. He also sent a 94 to Holt Collier, a former slave who'd served as the only black Mississippi soldier in the Confederate Army. After the war, Collier worked as a dog handler on hunts. In 1902, he roped a bear that, fleeing Roosevelt's hunting party, sought refuge in a lake. Roosevelt refused to kill the animal. In a Cliff Berryman cartoon in the Washington Post, it became "Teddy's bear." Teddy bears resulted.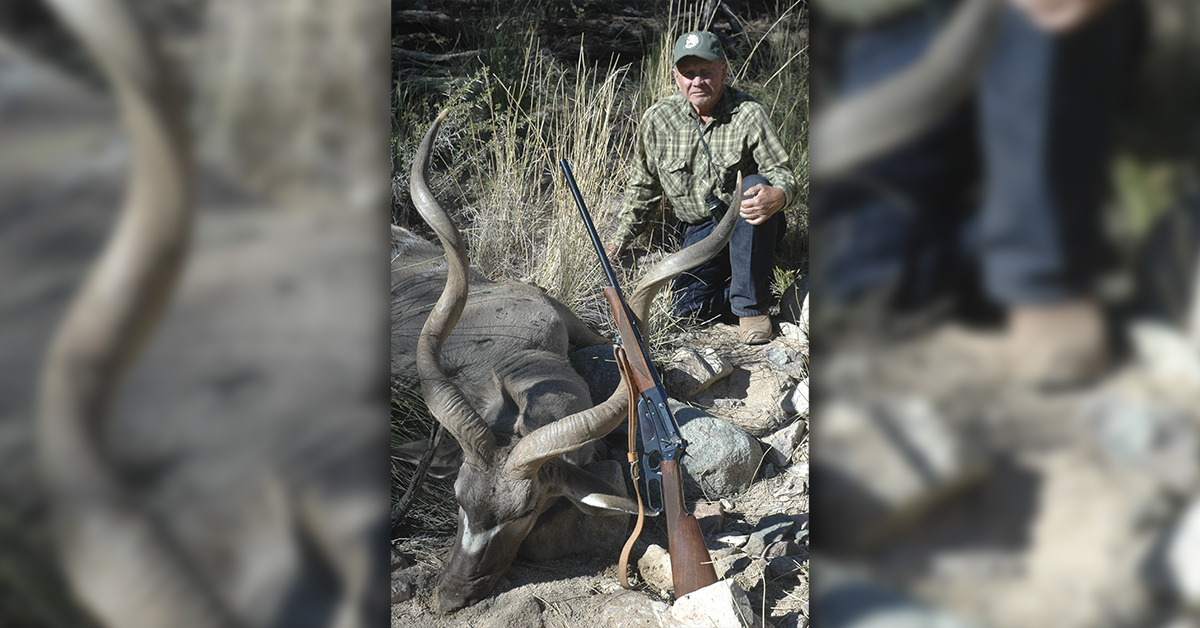 Opening morning long ago, Harry was easing through sugarbush – Michigan maples tapped for sap to make maple syrup. Dawn's oblique light brightened the slope and the frost-browned weeds on its hem. Rifle in the crook of his arm, Harry moved slowly, stopping often to scrutinize the low growth as if looking for rabbits. A black spot caught his eye "where nothing else was black," he said. A buck's nose. Averting his gaze, he eased the Winchester to cheek. The deer died in its bed.
Harry hunted with a Model 94, as did my pal Ron. A classmate, Bruce, had been blessed the year before with a 94 and a hunting trip to Michigan's U.P. He'd shot an eight-point buck. How I longed for a Winchester! But $89.50 was far beyond my means. I took small comfort when Ron and I bumped a buck from cover and emptied both rifles as it loped across a field. His .30-30 was no less embarrassed than my old Lee-Enfield battle rifle.
It was some time before I throttled my pace to match Harry's, and to see deer cover once ignored as "just grass" or "too small." In one thicket no bigger than a three-car garage, on ground litter tinder-dry, blackberry vines snared my ankles and noisily raked my jacket. "Any deer would be long gone," thought I. But deer can choose to lie low. Not until I side-stepped a log did the buck rocket up through brush mere feet ahead. Foolishly I swung in front — and missed twice. "He's not that fast, Dunderhead! And this is slingshot range!" Bead on the shoulder as he opened the throttle, I fired again, then flicked the lever and got a fourth bullet into his flank as he turned away. He died short yards into the willows.
Such personal events, as well as the people and times that define a rifle, bless it with patina you can't buy. Lever rifles have what some hunters defend as soul.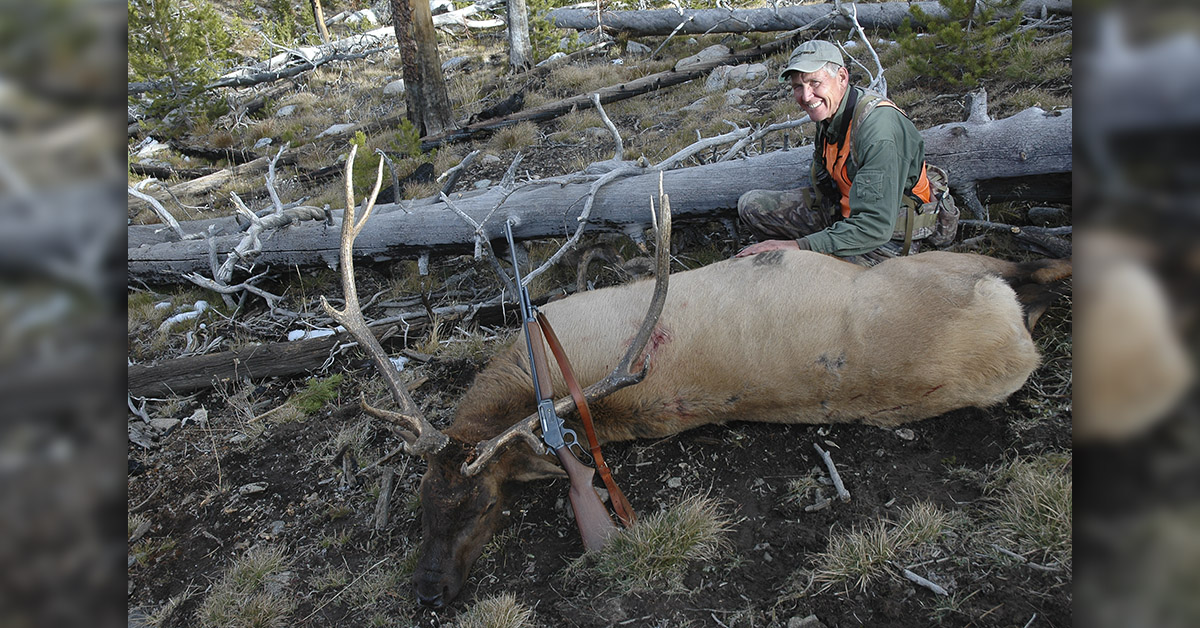 Its pre-Civil War genesis, B. Tyler Henry's patents, and Smith and Wesson's rimfire ammunition gave Winchester a head start in the nascent market for repeating rifles. T.G. Bennett's good luck finding and good sense courting John Browning brought it market dominance. By the turn of the century, one in every four sporting arms stateside was a Winchester. But John Marlin also developed exposed-hammer lever rifles. Marlin's Model 1881 in .40-60 and .45-70 begat the short-action 1888 by L.L. Hepburn and the side-ejecting 1889. Hepburn's 1893 fed the longer .32-40, .38-55, .25-36, .30-30 and .32 Special. The Model 1893 competed with Winchester's 94 before giving way to the 36 and, in 1948, the 336 (in .30-30, .32 Special, .35 Remington). The short-action Marlin 1894 countered Winchester's 1892. It would return after a mid-century hiatus as Marlin moved to North Haven, Connecticut in 1969. A Model 1895, in .45-70 and six other potent rounds, faded in 1915. It would resurface on a modified 336 action in '72. Marlin added the .444 Marlin to its 336 series in 1965. The .356 and .375 Winchester came aboard briefly in the early '80s. Hornady's .308 and .338 Marlin Express blessed Marlin lever rifles with the reach and energy of the .308 Winchester. The revived 1895 would chamber the .450 Marlin from 2006 to 2009.
Remington Arms bought Marlin late in 2007, and in 2010 moved production to Ilion, New York.
In September 2020, a U.S. Bankruptcy Court approved the sale of just about all the Remington Firearms business to Roundhill Group, LLC, for $13 million. That dissolution included the $81.4 million transfer of Remington ammunition to Vista Outdoor, Inc. (Federal, CCI, Speer). Sierra Bullets bought Barnes for $30.5 million. Sturm, Ruger got Marlin for a bit less, and promised to build a Marlin worthy of the name.
The other day, I received on loan a sample of the new 1895 Marlin .45-70 produced at Ruger's Mayodan, Connecticut plant. It is a stainless rifle, with a gray laminated stock. A Pic rail, with an aperture sight just in front of the hammer, extends well up the 19-inch barrel. This rifle has an oversize finger loop, a crossbolt safety, a threaded muzzle, and a fiber optic sight. The full magazine ends an inch from the muzzle.
Scoped with a 2-10x Meopta Optika5, the new Marlin shot Black Hills and Remington loads into 1 ½ inches at 100 yards. A trio of Hornady FTX bullets drilled a 5/8-inch cloverleaf — as tight as I can hold a lever rifle on sandbags. The fluted bolt ran like a freshly-oiled piston. It fed pointed and flat-nose loads, 300 to 405 grains, without a hiccup. Fit, finish, and operation match that of Marlins made decades ago.
Early last fall, I carried another new old lever rifle: an Italian reproduction of Winchester's 1886, imported by Taylor's & Co. Like Ruger's Marlin, it is true to the original in action profile, and cycles as smoothly as originals. It also takes liberties. The stock of well-checkered walnut has a beefy pistol grip, a broad forend perilously near "beavertail" in cross-section. Receiver and lever are beautifully case-colored. The 16-inch blued barrel, straight and heavy in contour, is octagonal to the forend cap, then round to the threaded muzzle. A half-length barrel rail wears an aperture sight. The magazine, with take-down lever, ends three inches shy of the muzzle.
This Taylor's rifle shot very well, groups averaging just over a minute of angle. In South Dakota, I still-hunted up on an eight-point whitetail and killed it with an offhand shot.
Both these lever-actions print tighter groups than the few originals I've benched. Soft black pads make them pleasant to fire. They also cost about twice as much as the average factory-run bolt rifle.
Remakes of the best exposed-hammer lever rifles combine history, tradition, and nimble handling with improved accuracy, harder hits, and better bullet performance at the ranges most big game is shot. If you've not yet carried one afield, are you missing a call from the wild?