A go-bag, outfitted with a few carefully selected items and chosen for your specific needs, is a minor investment that can pay big dividends should things turn south
by Jeromy Knepp
Poor leadership — starting from the top and working down through our legal system — has turned many areas of our country into real danger zones. It's a disgrace because it puts law-abiding citizens directly in harm's way. And with many government officials constantly seeking to erode and ultimately eliminate our 2nd Amendment rights, the situation is only getting worse.
Of course, we are not without determination and resources to defend ourselves in the wilds of the urban jungle or to prepare for a "go now!" emergency. A go bag is your way out — an essential piece of equipment that could mean the difference between life or death. Survivability for the unknown. Grab your bag and move!
Here's how I built my latest go bag. Perhaps it will provide some guidance and inspiration for you to build yours.
A Go-Anywhere Bag
Size and weight are serious considerations when choosing a bag. This must be balanced with what you need to carry and how mobile you can be with the bag loaded. Regardless, you need to plan for foot travel, so you must be sure the bag is portable and leaves your hands free.
I prefer a bag like the GPS Tactical Bugout Computer Bag. The heavy-duty design provides both function and concealment. Pockets and zippers abound. A padded waist strap and compression straps for stability lock this bag tight to you for maximum mobility.
This large pack provides ample space to carry what you need: food, water, survival gear. MOLLE webbing gives the user configurable options on the outside of the bag for added accessories.
Tools
Each person will configure their go-bag in their own style. Since I live close to many homes and businesses, weather survivability is not as much of concern as someone who lives in the high mountains or in prairie country. What I feel I may need is more utilitarian, and SOG provides the essential gear.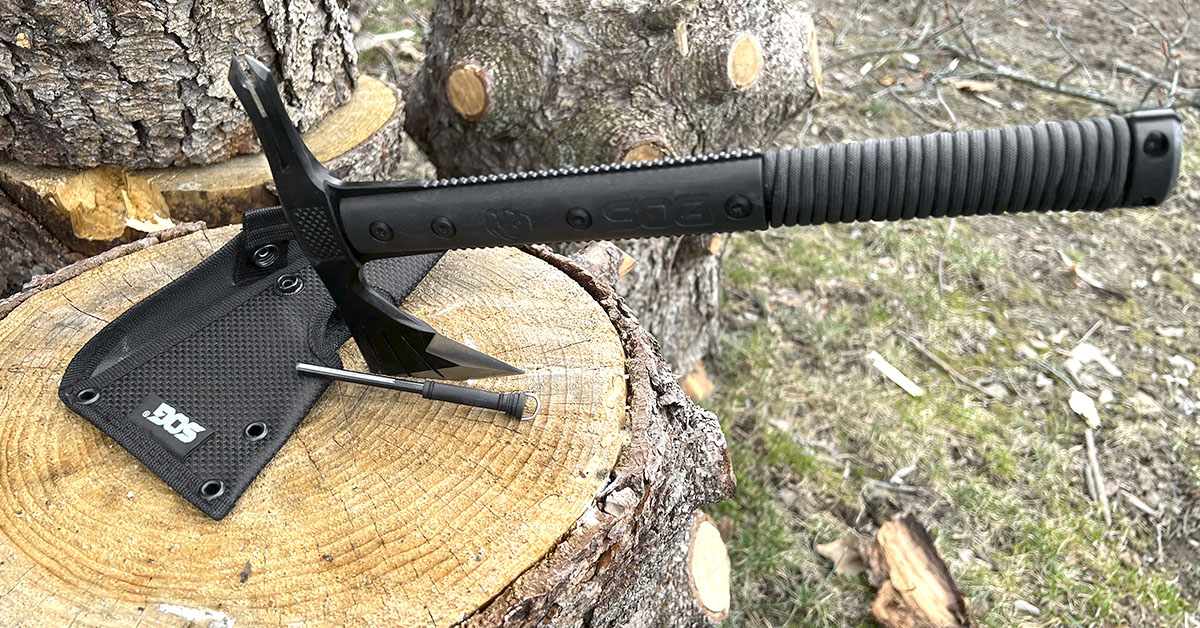 Who doesn't want a tomahawk? OK…so it may not be a practical choice for your urban carry bag, but for a bug-out/survival kit, this is a great choice. I chose the Survival Hawk from SOG — a feature-rich and rugged-built tool that can serve both utilitarian and defensive duties. This Survival Hawk has a few interesting characteristics. It has a claw for pulling nails and two waffle areas in the middle of the hawk head that can be used for hammering. Hidden in the bottom of the handle is a ferrocerium fire starter rod. Simply scrape some ferrocerium into a dry ball of tinder and you're ready to make fire!
SOG also has a great lineup to satisfy multi-tool needs. Requesting two different sizes was a good plan. The one I am super happy with is the PowerPint. This little bugger is my EDC tool because it fits easily into a pocket and covers most needful chores you may encounter throughout the day.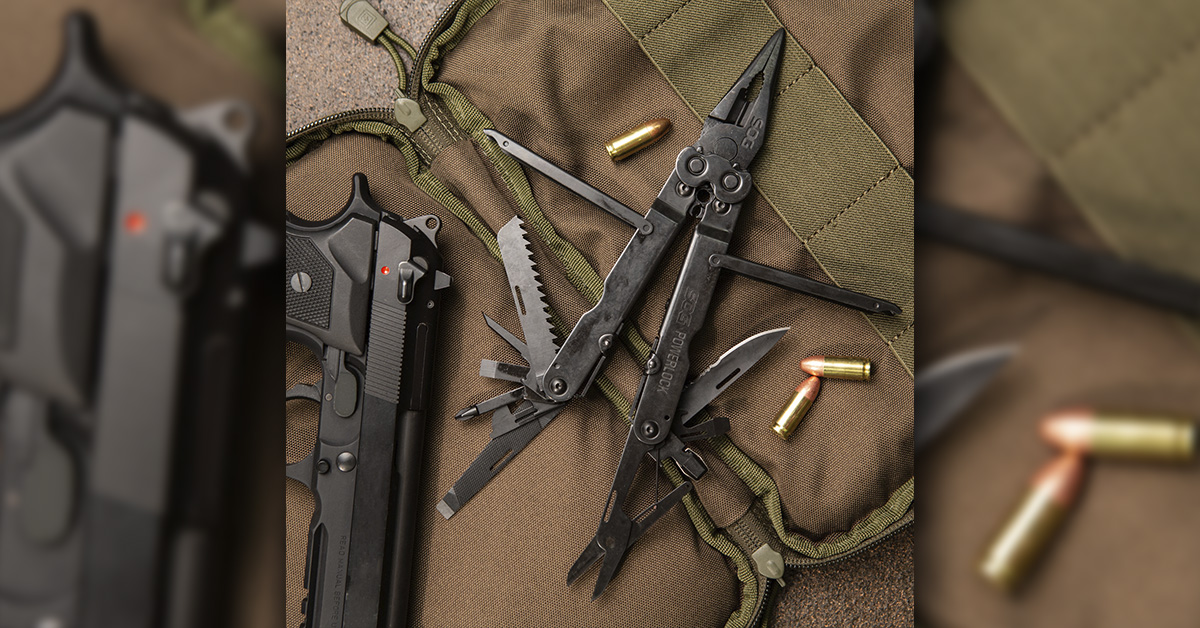 Another tool from SOG that is more robust and capable is the PowerLock. While not a convenient pocket-carry tool, it is perfect for the bug-out bag.
Both the PowerPint and the PowerLock multitools use SOG's patented gear-driven Compound Leverage mechanism. The action is silky smooth and provides tremendous leverage for a tight grip.
Helpful Accessories
Readyupgear.com provides many bug-out bag options that I find necessary, like their All Weather Spiral Bound Range Notebook. This notebook can withstand the elements with its waterproof pages. Using their Glass Breaker Tactical Pen can help get you out of car entrapment or through a house window. Made of an aluminum body, this pen has a hardened tip to break glass and can be used for up-close personal defense.
Other essentials I added include the Cold Steel Large Drop Point Voyager folding knife for heavy duty cutting, two Nite Ize carabiners, and a Nite Ize CamJam tie-down. Never know when you might need to tie something up or something down.
What is more important for a computer bag than power? My son is an Amazon junkie, and one slick item he found for me is the ROMOSS Sense8P+ Power Bank. This 30,000mAh has six different ports fit your power needs. It can charge multiple devices at once. On a bus trip, I charged my daughter's phone, my phone, and a set of ear buds only using 71% on the charger.
For light support, Lowes sells some cool flashlights. My pick was the Coast TP9R. This rugged unit has three light levels and uses rechargeable batteries.
Firearms
What do I carry with my GPS bugout bag? For me it is simple. Two Taurus G3 9mms with magazines. One is the first-generation G3. The second is the new G3 Tactical. Both pistols are striker-fired and feel exactly the same in function and hold. They also share the same magazines. Four 17-round magazines and two boxes of Hornady Critical Defense are packed and ready for service.
Also packed are two holsters from Crossbreed Holsters. One is their Drop Slide OWB holster. The second is The Reckoning IWB holster. Both use Kydex and leather and each is comfortable to wear. Why holsters when you have the bag? Once you're moving and need access, I would rather have it on my side than in the bag.
Medical
While several items in my bag can fall into the "optional" column, a medical kit sits squarely on the must-have side of the ledger. My choice was the Mountain Man Medical Yellowstone Trauma Kit. Mountain Man Medical specializes in on-person and portable trauma kits, and this kit covers the essentials. Its compact size allows it to mount right to my exterior MOLLE webbing. It comes with two different tourniquet options, QuikClot Combat hemostatic gauze, Hyfin compact twin chest seal, trauma bandage, and more.
The caveat to effectively using medical kits is training. Basic first aid skills are necessary on any level, but more advanced first aid training is recommended for all of us. If you aren't trained, I suggest you find a local training course.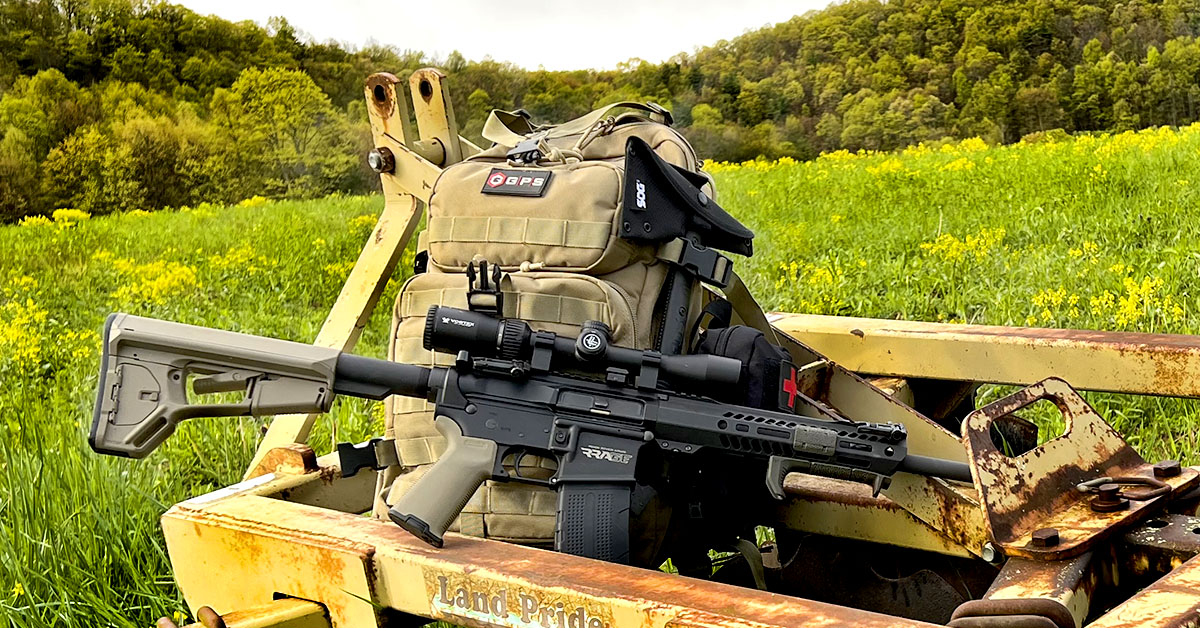 Being prepared for unknown situations is something we should all take seriously. Whether you're a local commuter or cross-country rambler, a go-bag, properly outfitted, should be considered a must-have.
Latest posts by Jeromy Knepp
(see all)