Tuffy Security Products' TSA-compliant handgun safe takes the hassle out of airline travel (or any travel) with your EDC essentials
by Rob Reaser
Flying with a firearm is no fun. Ask anyone who has done it on a regular basis. Depending on the airport of entry, the aggravation can ramp up quickly. Regional airports are typically easy enough to check a firearm through. Hit the larger internationals and things can get a bit sketchy and a whole lot testy. For these reasons, I usually leave my EDC gear behind unless my journeys take me somewhere I must go but don't want to. Avoidance, you see, is a foundation principle of personal defense.
These days, though, nowhere is truly safe. With an increasing number of states and cities just saying, "The heck with it," and releasing violent repeat criminals onto the streets before the ink on their police report is dry, even small towns and rural areas where we once felt relatively safe (except when tipping mugs in battered honky-tonks) are not places to slip into the "white zone" of fat, dumb, and happy.
Tuffy Security Products, best known for their automotive safes and lock boxes, makes a portable pistol safe that is ideal for the airline traveler who wants to carry upon arrival at their destination (assuming that destination doesn't illegally bar firearm carry). This is a slick product that has a remarkably small footprint for stowing into checked baggage, and depending on the size of your gun, can accommodate a spare magazine and ammunition.
To legally transport a firearm on a commercial domestic airline, the firearm must be unloaded and secured in a hard-sided and locked container for which only the gun owner/passenger has the key or combination. Further, any magazines must be empty, and any ammunition must be stored in a container designed to carry ammunition. Both may be transported as checked baggage. Regulations do allow magazines and ammunition to be transported in the same locked container as the unloaded firearm.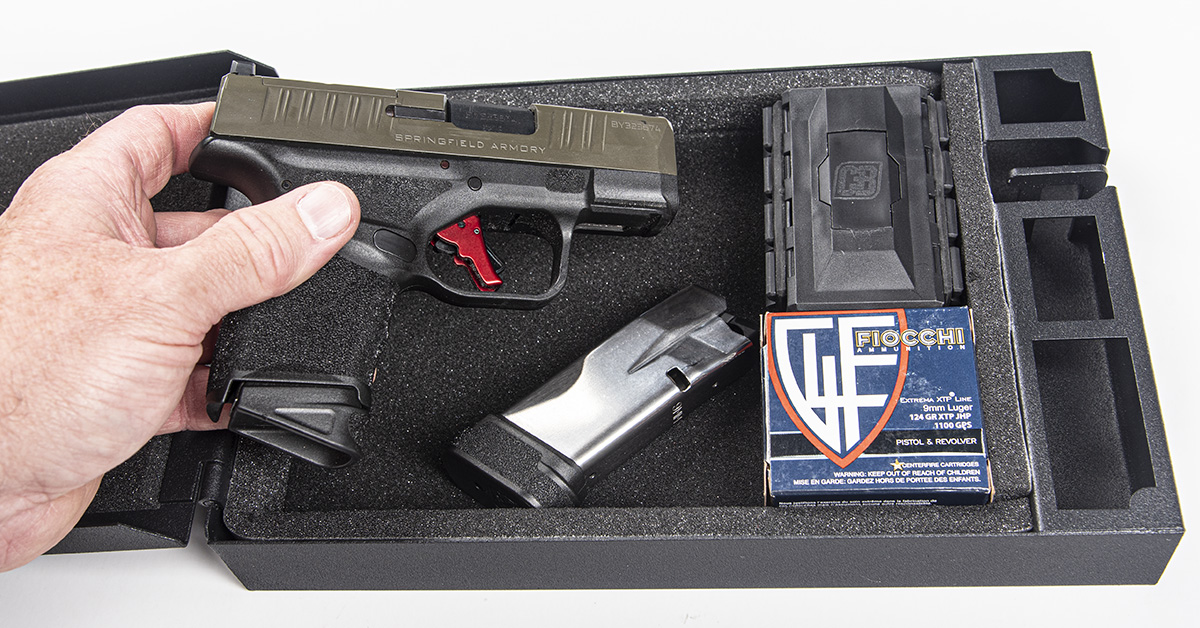 The Tuffy Portable Pistol Safe is sized to accommodate your checked-baggage EDC gear if you manage things correctly. I'm able to stow my Springfield Hellcat along with its second magazine, Crossbreed's new Confidant Multi-Fit Mag Carrier, and a 25-round box of Fiocchi's 124-gr. XTP JHP in my safe. I can't fit my Crossbreed DropSlide holster inside, but that is stowed elsewhere in my checked bag.
While I've not had the need (or seen the reason) to carry two pistols, it is certainly possible given that only firearms must be in a hard-side, locked container for air transport. Here is my Sig XCompact Spectre (7.4 in. overall length) and my Taurus GX4 T.O.R.O. (6.05 in. overall length) both fitting comfortably in the safe. In this configuration, ammunition and accessories can ride elsewhere in the checked bag.
In keeping with Tuffy's reputation for building stout and secure lock boxes, the pistol safe is as robustly manufactured as is practical for portable storage. The two-piece steel box comes with a durable, textured powder coating and a strong piano hinge. Foam lining provides 360-degree protection for your firearm(s).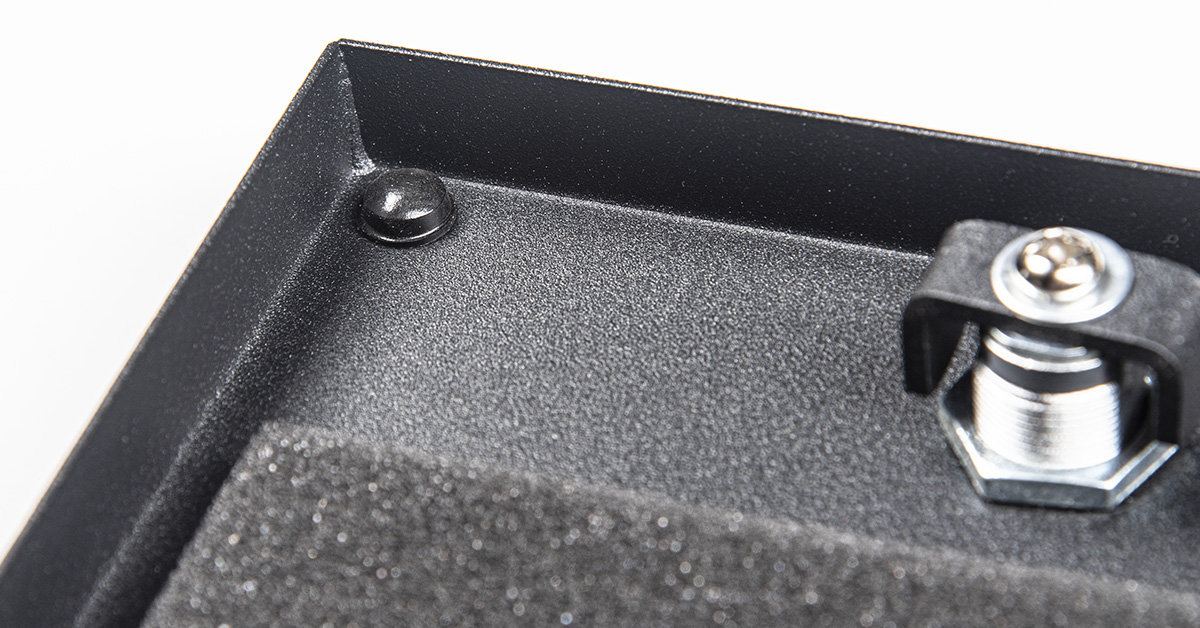 Details are important. For example, the lid features compression bumpers at the front corners to eliminate vibration and to maintain positive engagement of the lock cam bar.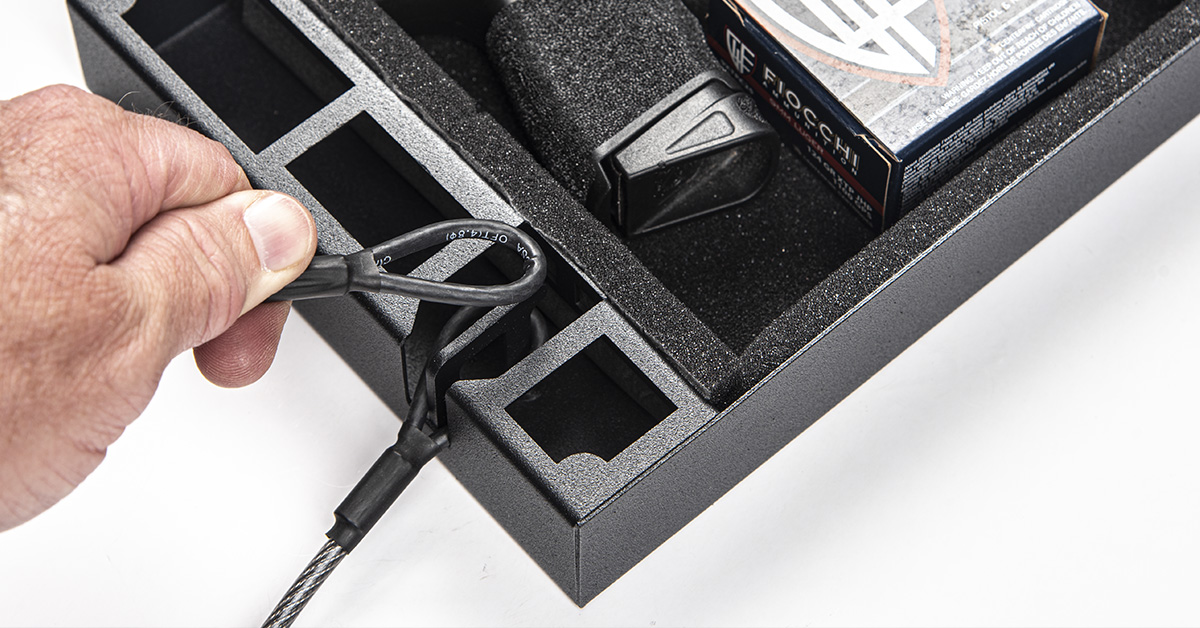 Included with the safe is a two-foot-long steel security cable rated at 2,000-lb. test. The cable's ends loop onto a 1/8-inch steel anchor point integrated into the safe. Closing the lid locks the cable in place. This is a great feature for securing the safe in, say, a rental vehicle, should the need arise. Just loop the cable through the driver- or passenger-side seat track and lock it in. Slide the box underneath the seat or cover it with the rear floor mat and the box will be hidden from casual observation.
A user-programmable three-digit combination lock is used to secure the safe lid.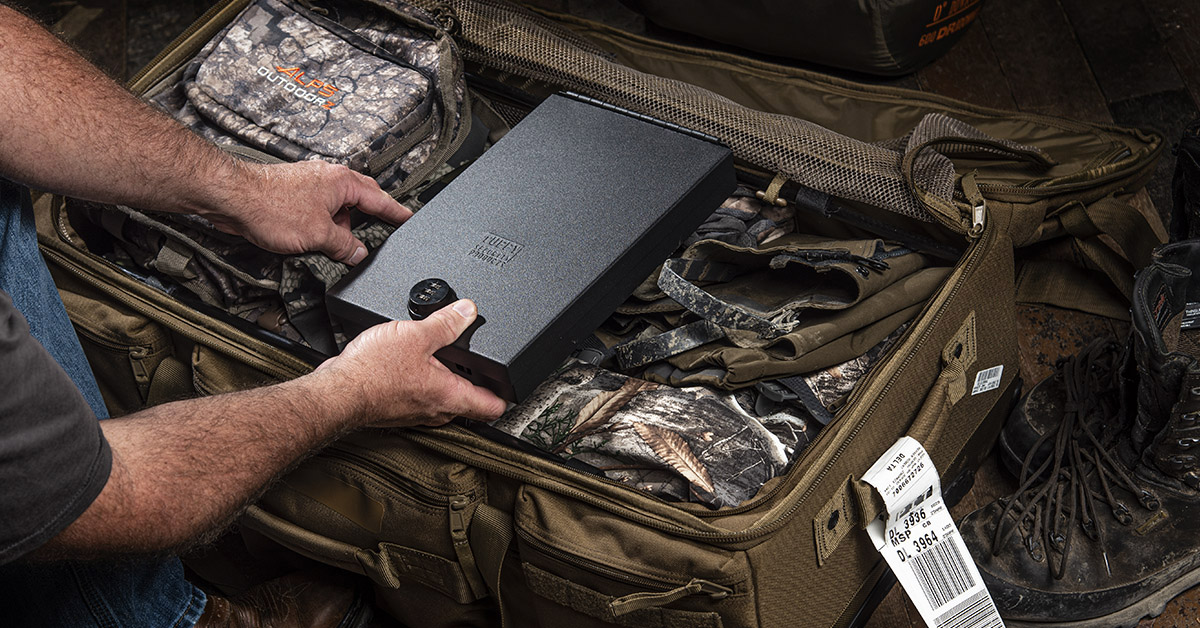 Given its compact dimensions, the Portable Pistol Safe is an easy stow into most any luggage piece. Here, you see it is an ideal fit in my 5.11 Mission Ready 3.0 rolling duffel. Should you need something even smaller, Tuffy also offers a safe for compact pistols (#300-1). This model has all the same features as the full-size pistol safe but weighs less than 3 lbs. and has an exterior dimension of 9 3/4 (L) x 6 1/2 (W) x 1 4/5 (H) inches.
Travelling with your EDC gear can be a bit of a pain, but it is a right you should certainly exercise, and it is a wise choice given the current social and political climate that has been forced upon us. Smart solutions like the Tuffy Portable Pistol Safe just makes the practice a tad less challenging.
Tuffy Security Products Portable Full-Size Pistol Safe Specifications
Model: #303-01
Construction: welded steel
Lock: 3-digit combination with 2-point steel cam
Finish: texture powder coat
Interior: 3/8-inch-thick foam (lid, sides, bottom)
Color: black
Exterior Dimensions: 11-3/8 (L) x 7-1/4 (W) x 1-4/5 (H) inches
Weight: < 4 lbs.
Additional Security: 2-ft. long 2000-lb test cable with 1/8-in. steel security cable anchor point
MSRP: $119.00