The latest G-series pistol from Taurus stretches the micro-compact concept with a longer barrel for improved accuracy and terminal performance
by Barb Melloni
Known by shooting enthusiasts across the country for their well-made firearms at a price point that won't break the bank, Taurus has again launched a new addition to its heralded G-series handguns — the GX4XL. The GX4XL is a striker-fired 9mm featuring a thoughtfully crafted ergonomic polymer grip. The stainless-steel frame insert sits snugly inside its polymer exterior, and atop the frame, you will find a nitride-coated carbon steel slide.
Preceding this new offering were the Taurus G3, G3XL, G3C, and GX4. The GX4XL is available in two different options: the standard configuration for those of us who favor irons or for those who have hopped onto the optics bandwagon there is the T.O.R.O. (Taurus Optic Ready Option) variant.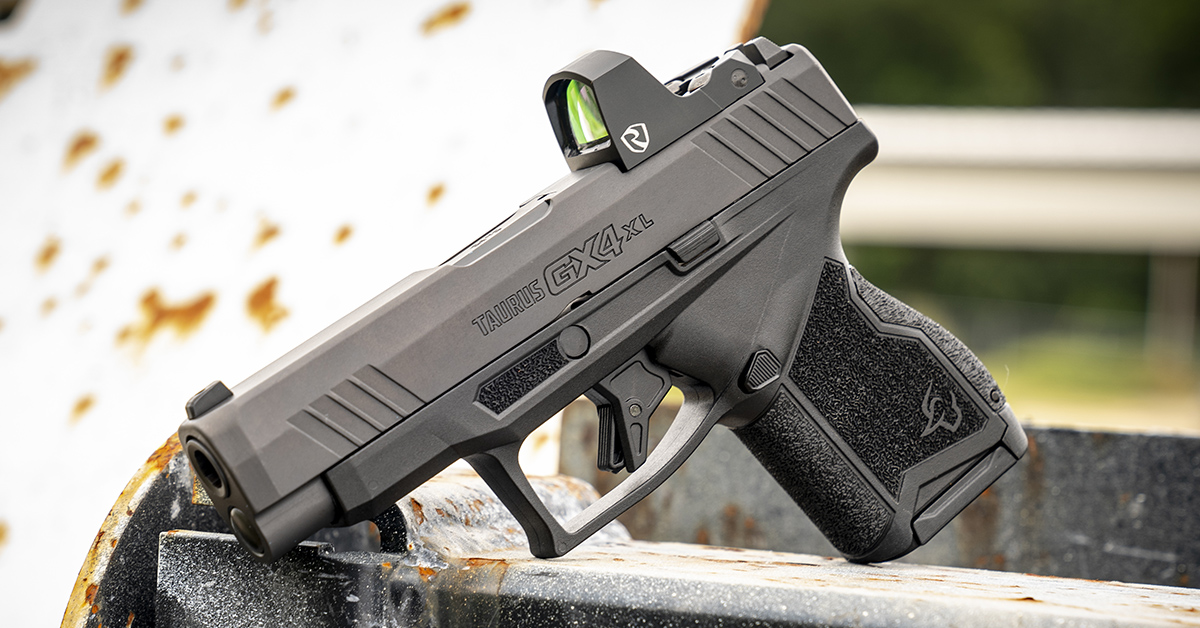 When purchasing the GX4XL, you can choose either an eleven and thirteen-round magazine, or for more restrictive states there is also the option to order the GX4XL with two ten-round magazines. As can be expected, the larger capacity magazines provides a bit more real estate for your grip, but even the ten-rounders provided ample room to rest your pinky.
So, what are some features that make this heavy-hitting striker-fired 9mm different from its predecessors?
First off, the Taurus designers added an extra inch of length compared to its little brother the GX4, bringing overall length to just under 6.5 inches. When shooting with iron sights, this means a longer sight radius and increased accuracy…as long as you do your part as the shooter. The front sight of the GX4XL is fixed, while you will find a drift-adjustable sight in the rear.
Those who choose the T.O.R.O. version of the GX4XL will undoubtedly become quick fans of the optic mounting system. The world of optics can be overwhelming with the plethora of options on the market — not only with the many optics to choose from but also the varying mounting patterns available. The mounting system on the GX4XL is a direct thread system and does not require the use of any sort of mounting plates when you choose from a variety of top-selling red dots, including the Shield RMSc or Sightmark Mini Shot A-Spec M3. Perhaps you already own a Trijicon RMR and want to give it a go on the GX4XL…no worries, as Taurus offers an adapter plate so you can stick with your preferred optic. No sacrifices necessary!
Range day was welcomed with excitement as it was finally time to send some rounds downrange. When it comes to testing a new firearm, it has become standard practice to test a variety of types of ammunition, as each type has the potential to bring about a variety of both successes and failures.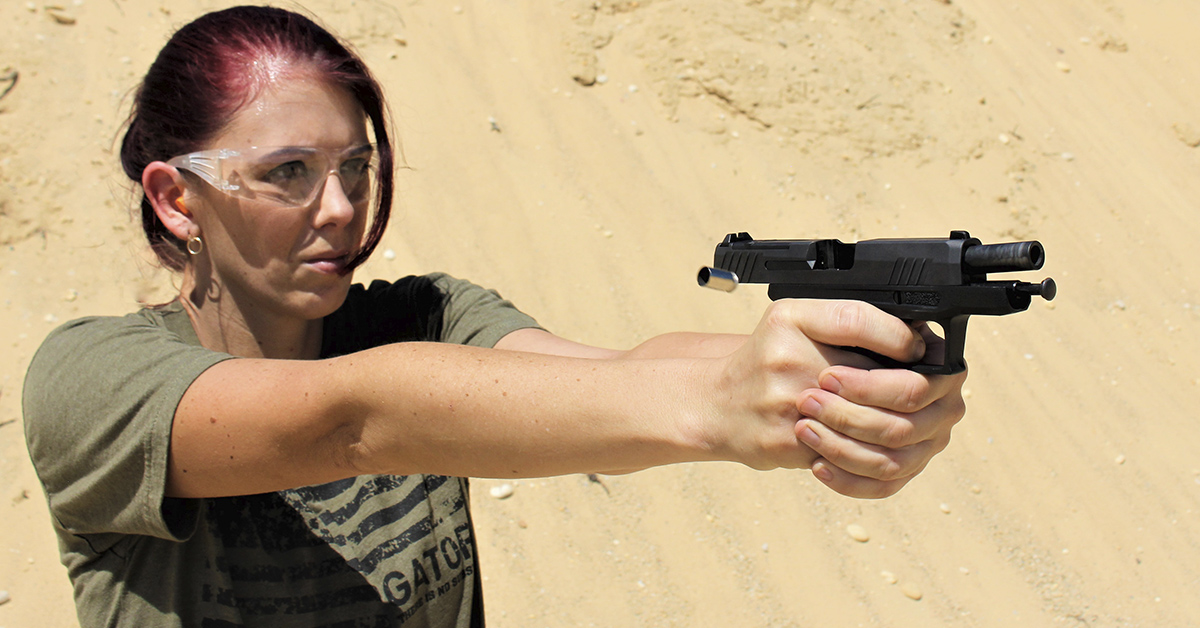 First off, let's address the failures we experienced during testing: there were none. All three types of ammunition tested through the brand-spankin' new Taurus GX4XL ran without issue: Winchester USA Ready 115 gr. 9mm flat nose FMJ, Remington UMC 124 gr. FMJ, and Federal Syntech Range 124 gr. This was a pleasant surprise because as with any gun that is brand new, there is a certain "break-in" period that can be expected. The only thing done to the GX4XL before squeezing the trigger was applying a light coat of lube after a brief field strip. Each type of ammunition was tested at a distance of 15 yards and averaged an approximate group size of 1 to 1.5 inches between all three.
The flat face trigger built into this gun allows for proper trigger finger placement to happen almost instinctually, and after each shot breaks crisp and clean, there is a short reset, cutting down time in between subsequent follow-up shots.
Interchangeable backstraps provide a custom-fitted option for all hand shapes and sizes. The textured polymer grip worked wonders on range day once the temperatures began to rise and the sweat began pouring down, preventing slippage during firing and providing confidence that this gun would perform in all conditions without issue. The same texture you find on the grip of the GX4XL is also thoughtfully placed up towards the muzzle end, where your trigger finger rests during magazine changes, transitions, and more. It is another layer of security when it comes to maintaining control of your firearm.
All in all, our experience with the newest addition to the G-series from Taurus was a favorable one, and we are looking forward to getting the GX4XL back out on the range soon — perhaps this time once we find ourselves in the cooler temperatures of autumn.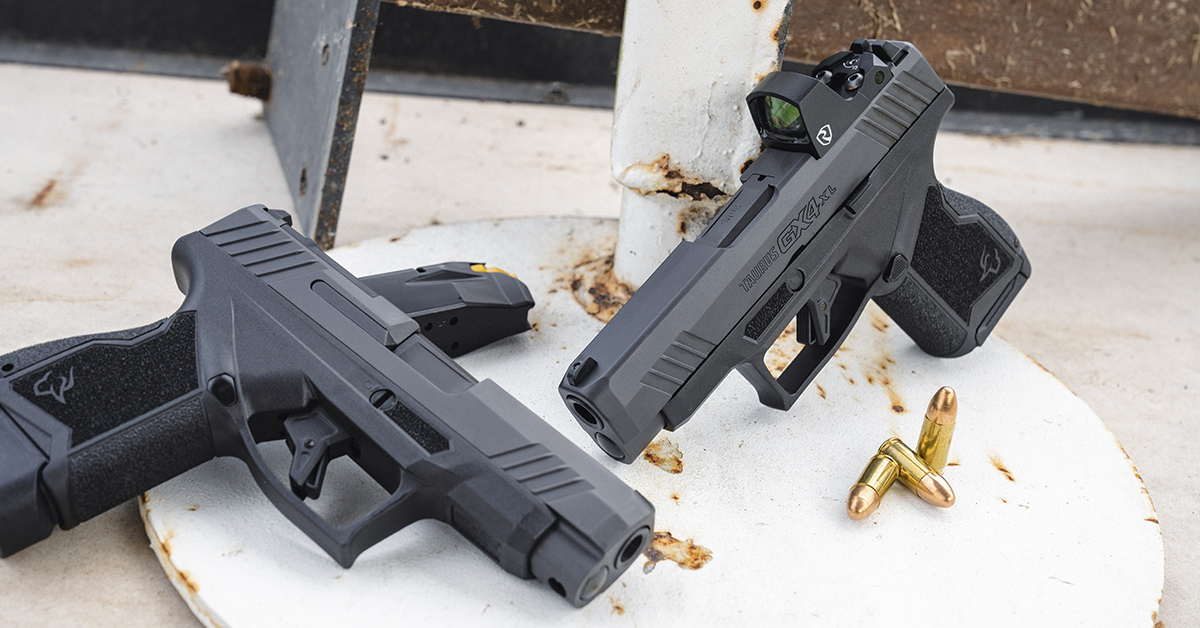 Taurus GX4XL Specifications
Caliber: 9mm Luger
Capacity: 10/11/13 rounds
Magazines: 1×11 and 1×13, or 2×10
Firing System: striker
Action Type: SA
Front Sight: fixed
Rear Sight: serrated drift adjustable
Safety: striker block, trigger safety
Frame: stainless-steel frame insert and polymer grip
Grip Material: polymer
Slide Material: carbon steel
Slide Finish: gas nitride coating
Barrel Finish: black DLC coating
Barrel Length: 3.7 in.
Overall Length: 6.43 in.
Overall Width: 1.08 in.
Overall Height: 4.40 in.
Weight: 20 oz.
MSRP: starting at $429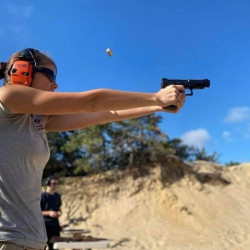 Latest posts by Barb Melloni
(see all)