A heavy hitter without the heavy price tag, the AM-10 Battle Rifle finds that perfect balance of price and performance
by Rob Reaser
I must admit that the AR-15 is high up on my favorite firearm list. The platform (in M16 through modern AR-15 variations) has proven itself for everything from defense to specific hunting applications for nearly 60 years. It's a heck of a firearm and its contemporary ammunition options make it a wise choice for numerous missions, buuuuuut…for decisive terminal performance across typical hunting and defense ranges, the AR-10 with its .308 Winchester chambering makes a strong case for itself.
Although not as popular as the AR-15, the AR-10s have not only stalked the periphery of the modern black rifle movement for quite some time, the platform actually precedes that of the AR-15. The AR-15, or M16, won out as the premiere U.S. military service rifle in the early 1960s, but the appeal of the harder hitting AR-10 never went away.
Among the several firearm manufacturers producing the AR-10 style rifle is Anderson Manufacturing of Hebron, Kentucky. Recently, the company announced the second-generation of their AM-10 line — rifles chambered in .308 Winchester and priced within the means of the average enthusiast. Part of what elevates the AM-10 appeal to the budget-conscious consumer is not only the affordable price but the fact that these rifles can serve double duty. The .308 is a proven round for defense and it is an all-business round for big game hunting. If your budget demands one AR-platform rifle that does it all, this is it.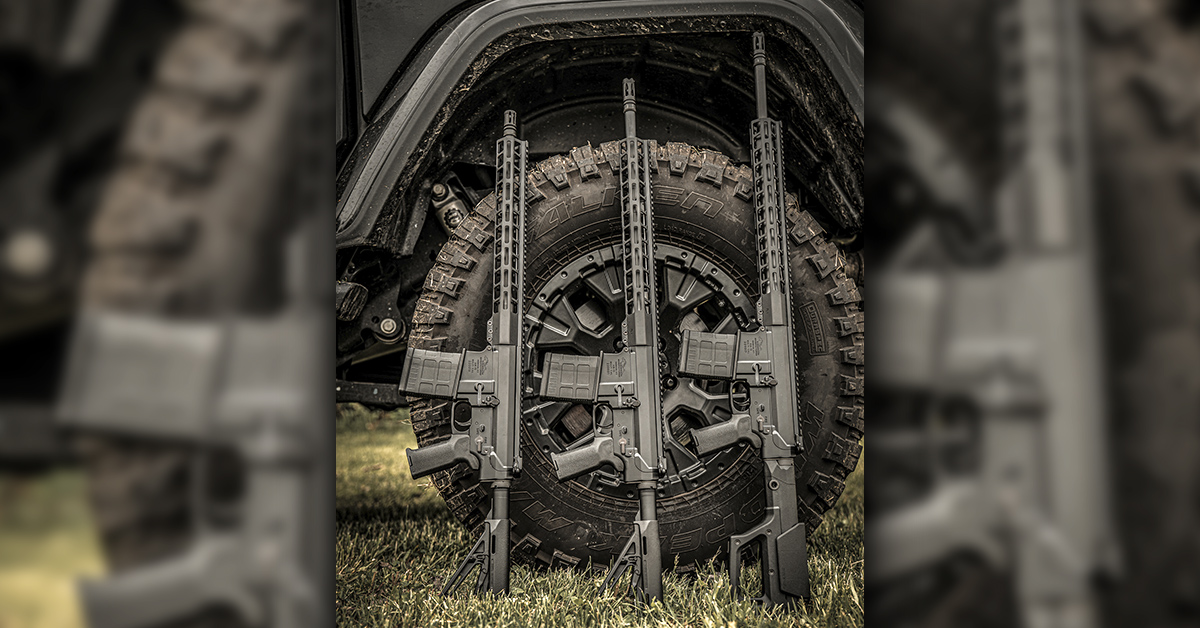 The AM-10 series is comprised of four models — each of which fills a niche. There is the AM-10 Battle Rifle, AM-10 Ranger, and the AM-10 Marksman XL. Anderson also offers a pistol variant called the AM-10 Breacher.

Anderson designates the AM-10 Battle Rifle, with its 16-inch barrel, as a "general use, home defense" rifle. The carbine length certainly offers the maneuverability and portability for said tasks, and it is suitably sized for the whitetail woods or the hog swamps.

The AM-10 Ranger is a slight step up in size from the Battle Rifle. Intended for personal defense and longer-range shooting, the Ranger comes with everything on the Battle Rifle but with an 18-inch barrel, two-stage trigger, and a Knight Stalker flash hider.

For those who favor long-range shooting — either to keep the zombies far away, drop big game from distance, or target shooting — the AM-10 Marksman XL stands ready. Built on the same upper and lower receiver as the Battle Rifle and Ranger, the Marksman XL ups the ante with a 20-inch barrel, Magpul PRS Lite buttstock, two-stage trigger, and the Knight Stalker flash hider.

Finally, there is the AM-10 Breacher, a pistol variant of the AR-10 that packs a serious wallop in a tidy little package. Sporting a 12.5-inch barrel, Stable-Lock M-LOK handguard, and an SBA3 Tactical Pistol Stabilizing Brace, the AM-10 Breacher maximizes portability and maneuverability.
Since we tend to favor utility in our firearms, we chose the AM-10 Battle Rifle for a closer look.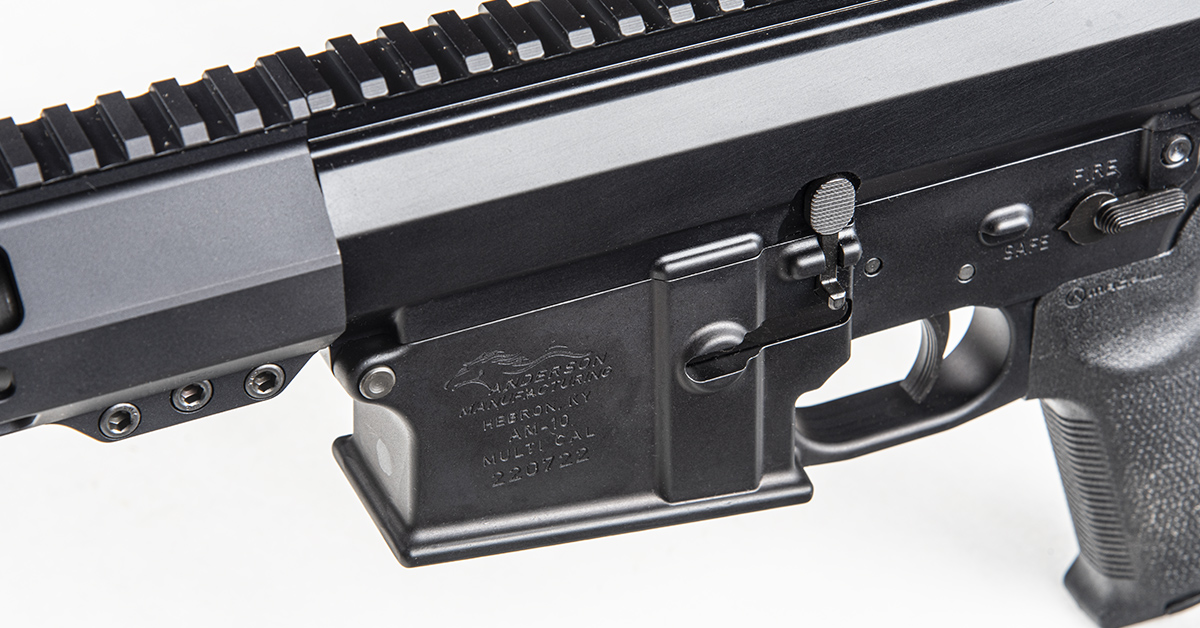 If you are unfamiliar with the long-term view of Anderson's AM-10s, the natural question is, "What's different with the 'second-generation' rifles?'" The answer is a matter of nuance.
The first-gen AM-10s held to more of a proprietary design that did not always work with aftermarket components. The former lower receiver design, for example, did not accept all AR-15 grips, negating the opportunity for custom modifications. The rail height of the upper receiver and handguard was also a custom configuration that created some compatibility issues.
For the second-generation AM-10s, Anderson implemented a few design tweaks. The platform is now compatible with all AR-15 grips and the upper receiver works with aftermarket handguards should you wish to change from the factory model. The lower and upper receivers are also interchangeable with other-brand DPMS-type receivers.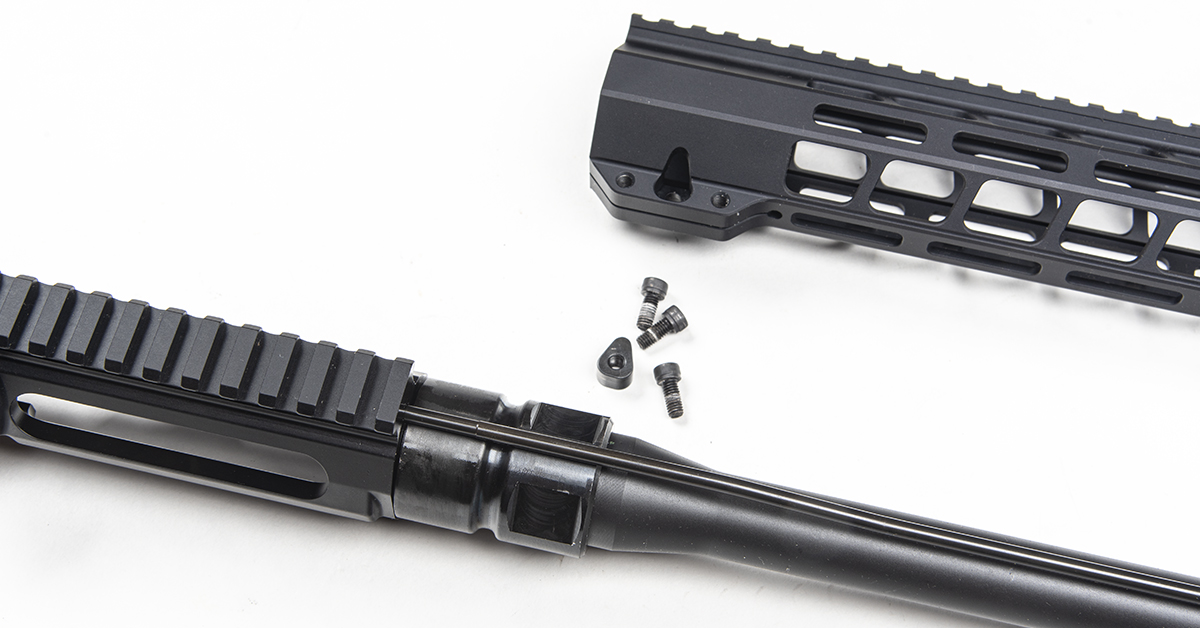 The 15-inch M-LOK handguard is comfortable in the support hand and offers ample acreage to install accessories if one is so inclined. The handguard attaches to a proprietary barrel nut via two clamping screws and a screw/lock nut.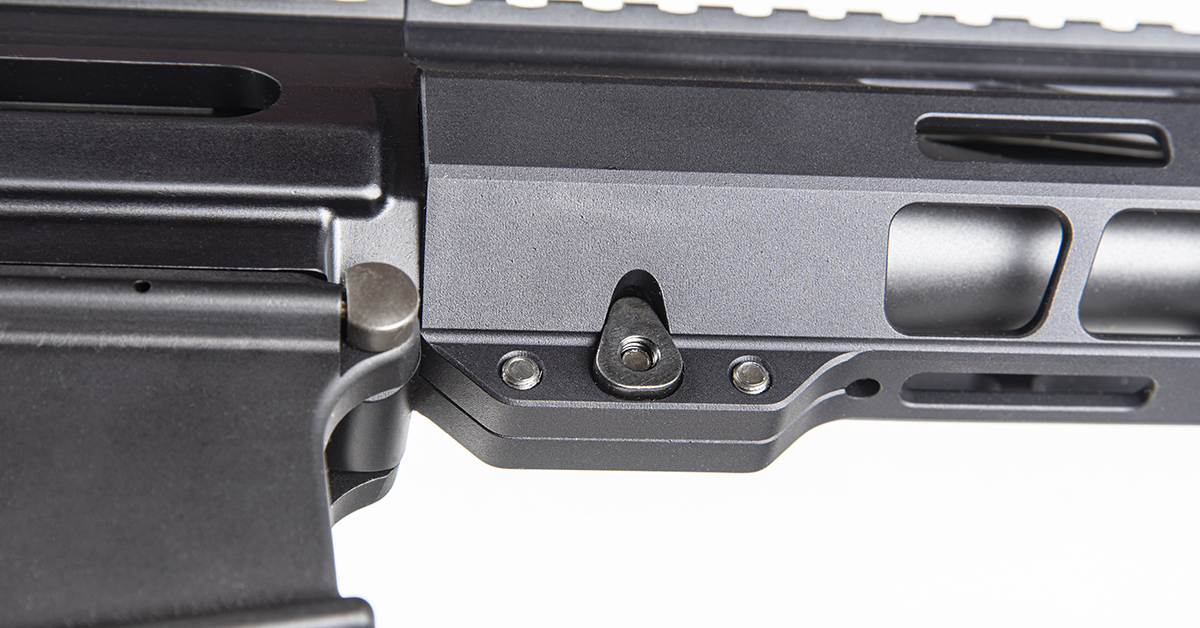 The lock nut engages with the groove in the barrel nut to prevent fore and aft movement should the clamping screws come loose.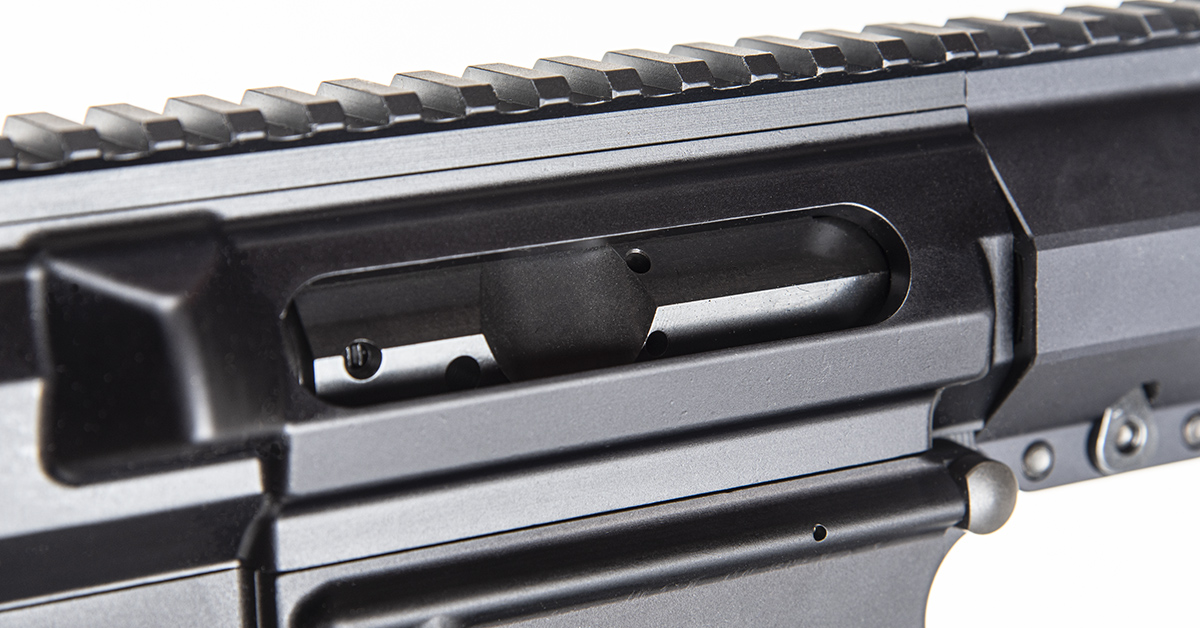 The forged 7075 T6 aluminum receiver boasts a clean design and a slick Type 3 hard anodized finish. The sleek design is further accentuated by the absence of a dust cover.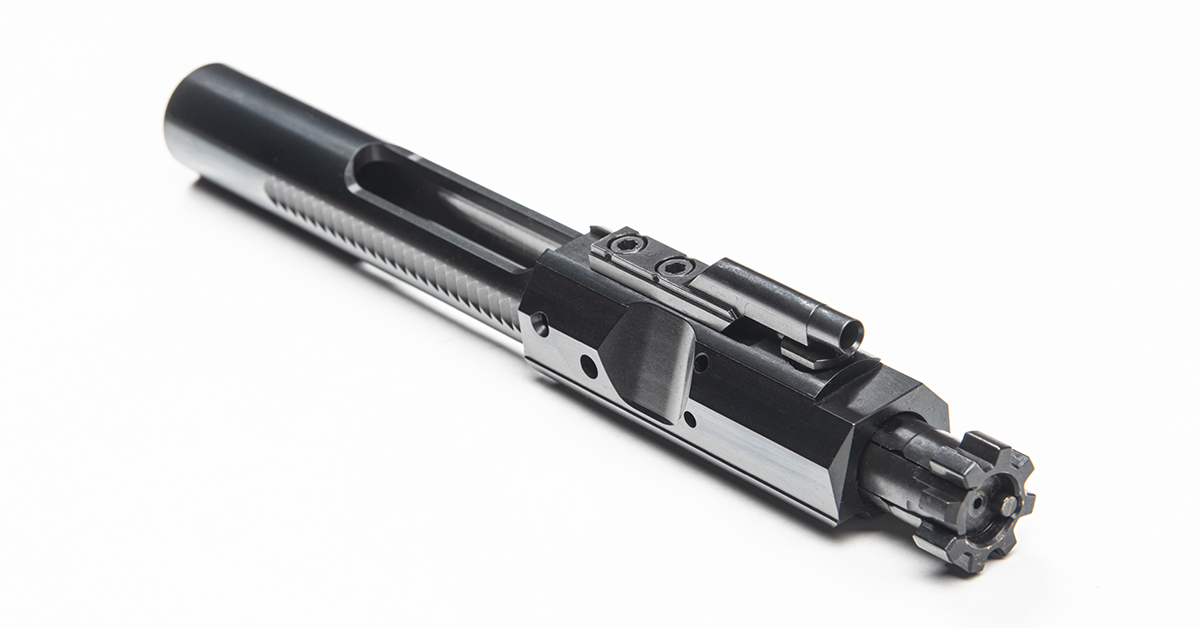 The bolt carrier is a robust piece, as is fitting of a .308 BCG. It is constructed of 8620 steel and is treated to a rugged black nitride finish that resists corrosion and cleans up easily. The bolt is made of 9310 steel and is also coated in black nitride.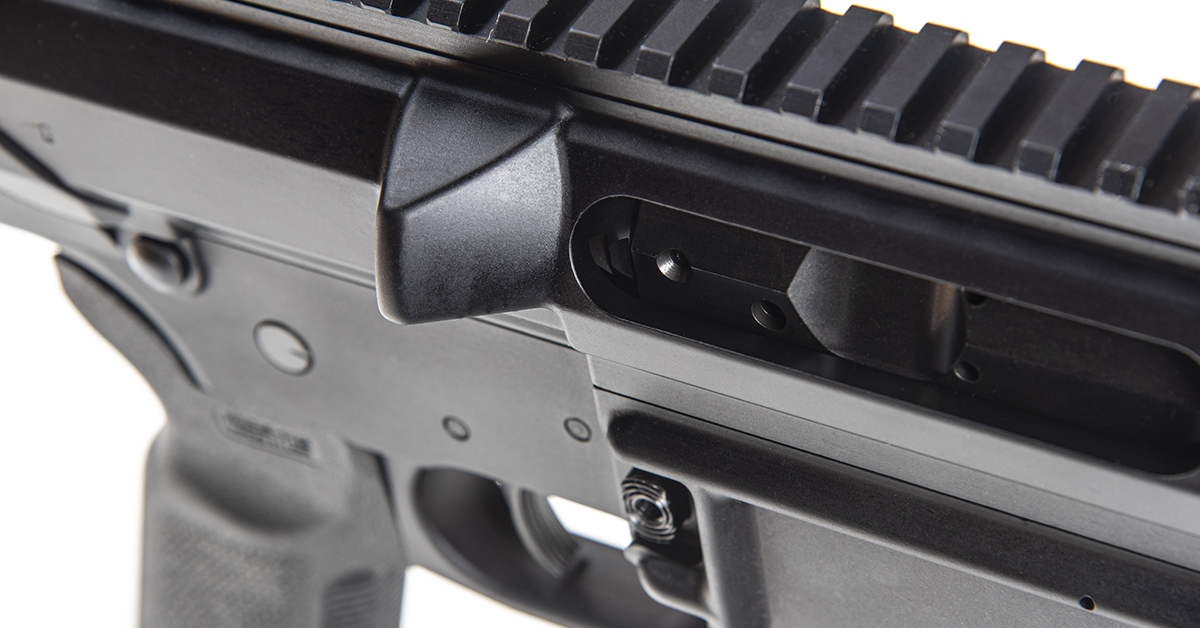 A prominent shell deflector keeps empty brass under control. During our testing, the deflector kicked the hot brass at a near right angle, so mind any bystanders at the shooting bench.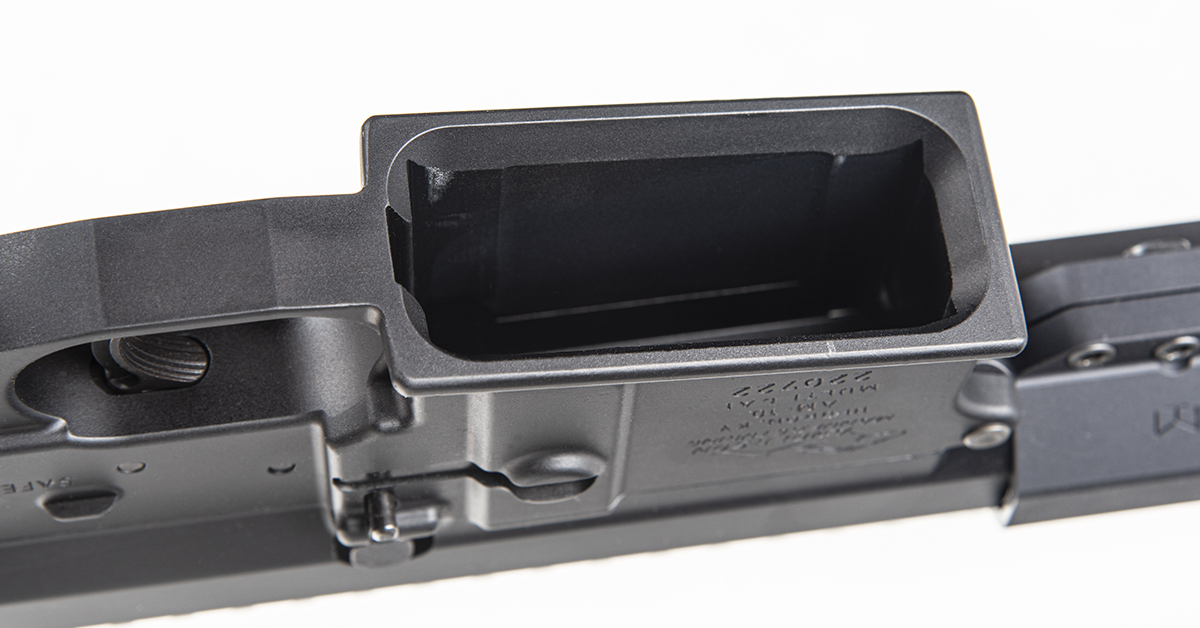 The mag well will cause no issues during a hasty reload. The pronounced beveling easily funnels P-MAGs into position for quick mag swaps.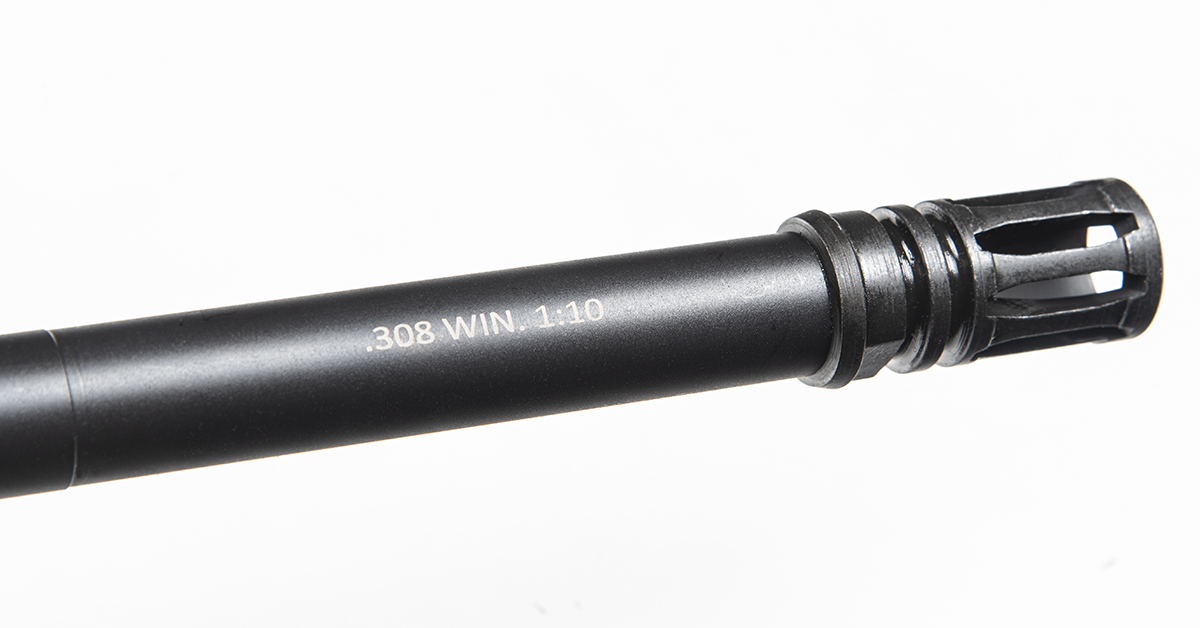 Anderson selected a 1:10 twist rate for their AM-10 series rifles. This is a fast enough rate to stabilize the broadest spectrum of .308 bullet weights you'll buy off the shelf. As you can see, the A2 flash hider comes standard on the Battle Rifle.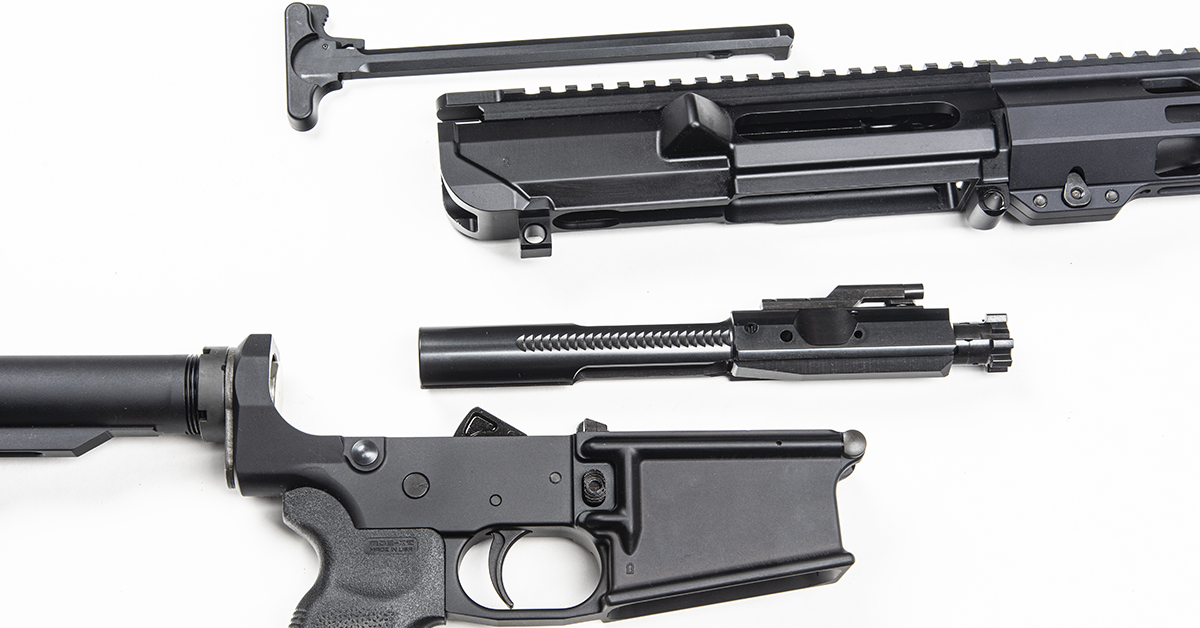 If you're used to the AR-15 platform, the AM-10 will give up no surprises. Disassembly for field-stripping is familiar territory.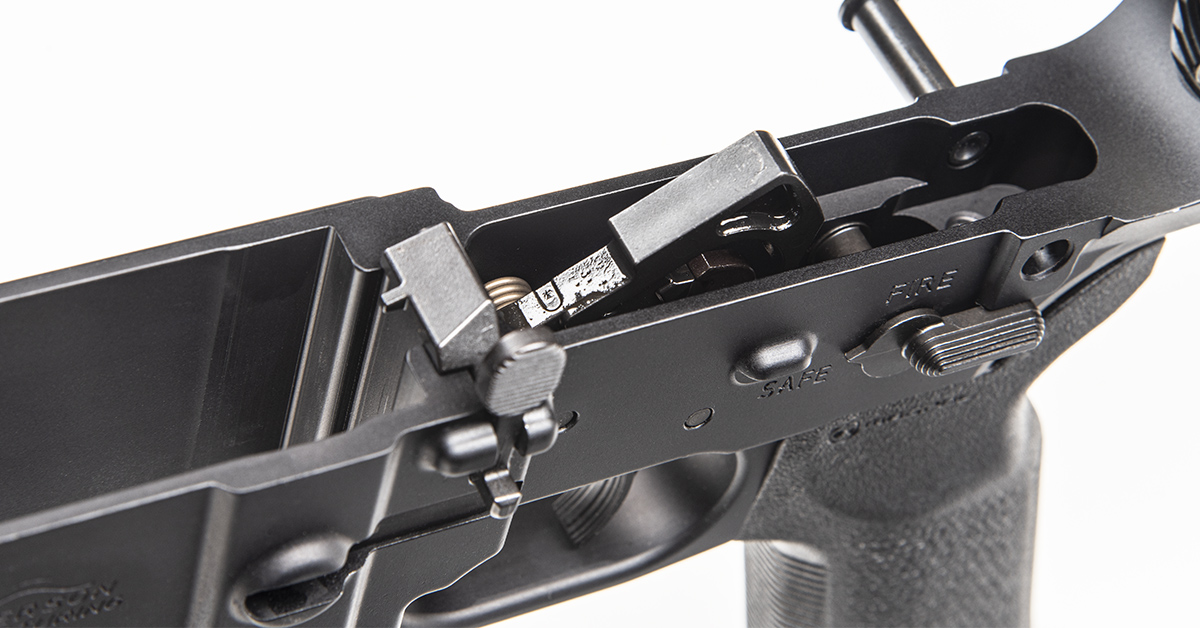 The AM-10 Battle Rifle comes with a single-stage trigger. Our test model did have some creep and a couple gritty spots, but it was a far cry better than your standard MILSPEC trigger. A bit more shooting will smooth things out. Out of ten test pulls, our trigger scale measured an average pull weight of 5 lbs., 5.5 oz. — right at the bottom end of the military trigger pull weight range specification. Overall, it is a perfectly suitable trigger for this rifle's close-quarter to mid-range mission.
Accuracy Test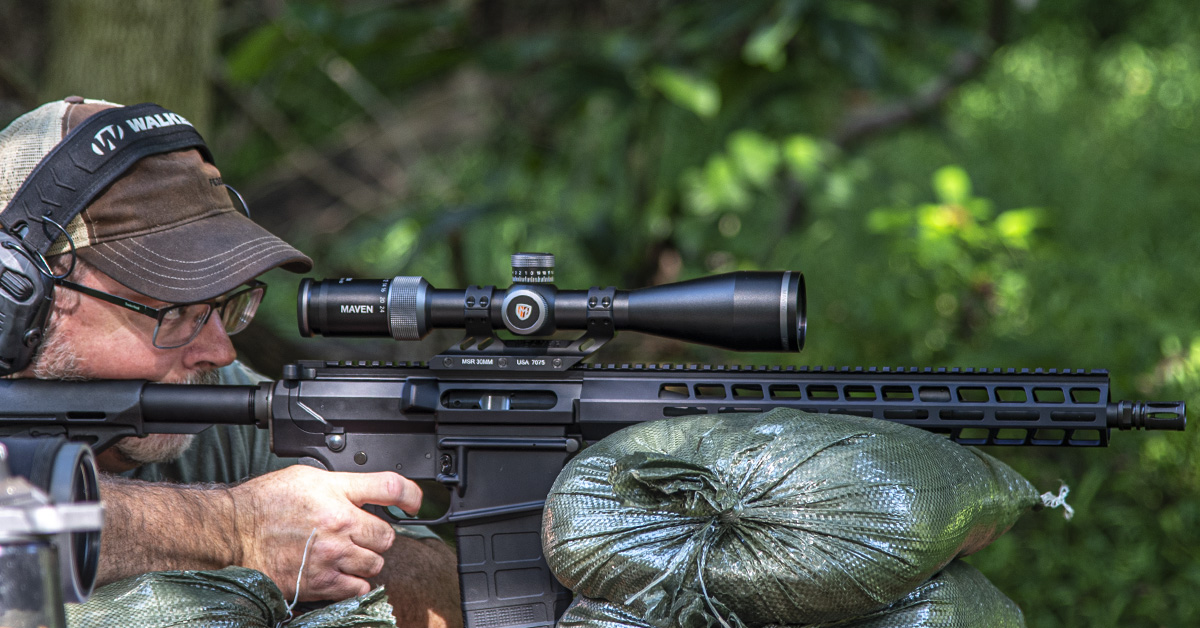 After mounting Maven's RS.5 4-24×50 SFP scope and Weaver's Premium MSR Optics Mount atop the Battle Rifle, we conducted our accuracy test, shooting 100 yards off sandbags to better simulate a field prone position. The RS.5 is certainly more glass than this rifle needs, but exactly what we wanted to ensure a precise sight picture.
Each load was given a three-round shot string. Ammunition consisted of several Federal loads, Hornady Match ELD, and Fiocchi Hyperformance.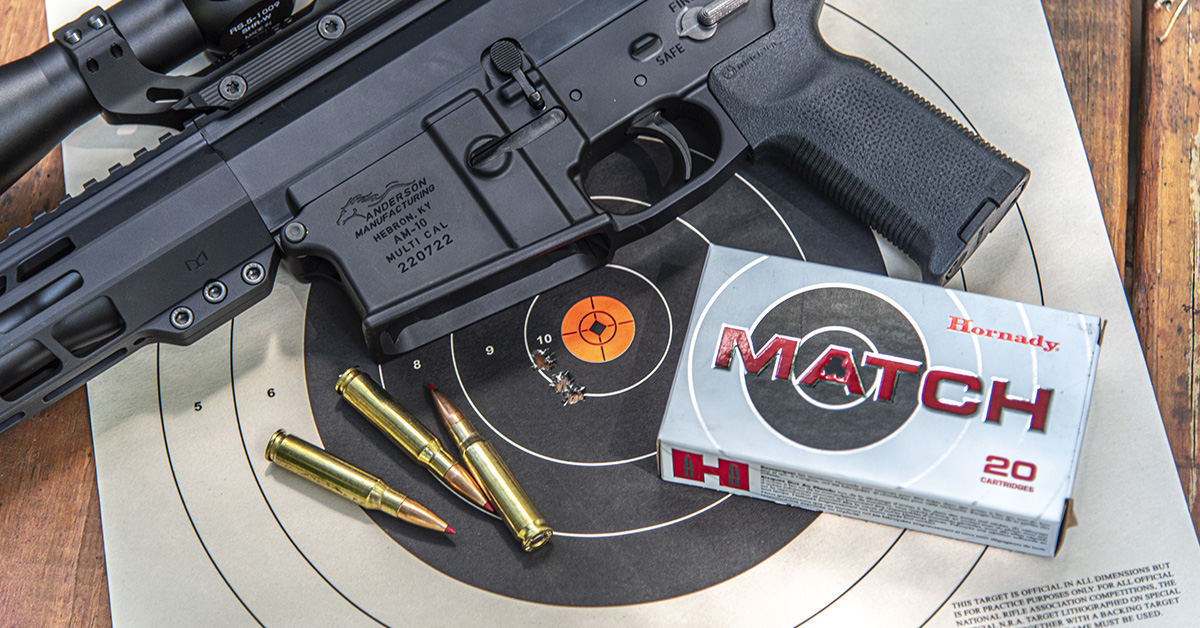 Hornady Match ELD, 168 grains: 0.619 in.
Federal Berger Hybrid Hunter, 168 grains: 1.071 in.
Federal Non-Typical Soft Point, 150 grains: 1.135 in.
Fiocchi Hyperformance, 168 grains: 1.246 in.
Federal Edge TLR 175, grains: 1.594 in.
The Hornady Match ELD outpaced all other loads by a fair margin. No doubt more experimentation could find several loads that will hold 1 MOA groups, especially in conjunction with a solid bench rest, but for a 16-inch barrel .308 in an AR platform, the AM-10 Battle Rifle proved more than accurate enough for its close- to mid-range mission parameters.
Time behind the trigger was enjoyable. The rifle's mid-length gas system and buffer/buffer spring combination mitigated any harsh recoil while reliable cycling everything thrown at it. At eight pounds, the gun weight is definitely noticeable when compared to an AR-15 carbine, but that is to be expected. A quality sling system will make the Battle Rifle easy to handle in the field.
As for sighting systems, open sights is our preference, but a good LPVO would be ideal and serve everything from defense to hunting. The choice is yours, but one thing is certain —  with an MSRP of $854.99, the Anderson AM-10 Battle Rifle delivers an excellent price-to-performance ratio.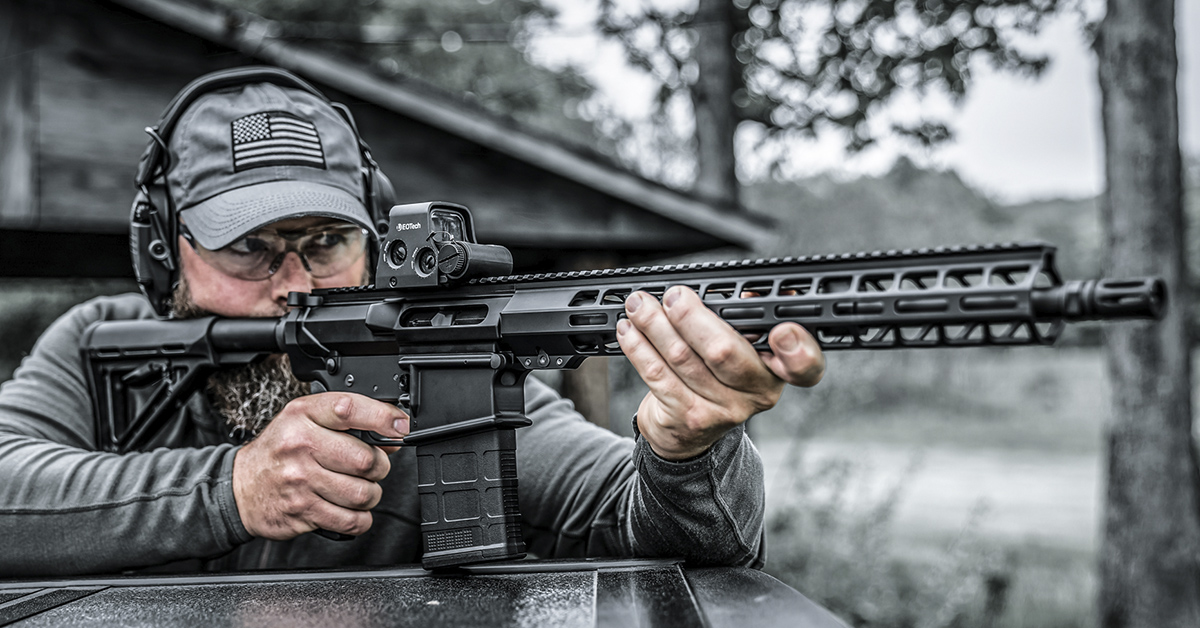 Anderson Mfg. AM-10 Battle Rifle Specifications
Caliber: .308 Winchester
Lower Receiver: Forged 7075 T6 Aluminum, Type 3 Hard Anodized Black
Upper Receiver: Forged 7075 T6 Aluminum, Type 3 Hard Anodized Black
Trigger Guard: closed
Bolt Carrier: 8620 steel, black nitride finish
Bolt: 9310 steel, black nitride finish
Barrel Length: 16 inches
Twist Rate: 1:10
Barrel Material: 4150 Chrome Moly Vanadium, nitride finish
Barrel Contour: government profile
Muzzle Device: A2 flash hider
Muzzle Thread: 5/8-24
Gas System: mid-length, low profile
Handguard: 15-inch M-Lok
Pistol Grip: Magpul K2
Stock: Magpul 6-position
Weight: 8 lbs.
MSRP: $854.99