Savage's famed 110 series casts a wide net with many variations to choose from. The Carbon Tactical in FDE is one model that blurs the lines. Hunting rifle? Long-range target gun? Both?
by Barb Melloni
Few things "class it up" in the field or on the range like a finely crafted, accurate, and easy-on-the-eyes bolt gun. When Savage released the 110 Carbon Tactical, I knew it wouldn't be long before I would be grabbing some .308 Win. off the ammo shelf to feed this rifle during my next range session. If all went well, I'd take it on my next whitetail hunt or shoot out to distance with some handloads.

The 110 Carbon Tactical FDE I happened to be testing was chambered in .308, but if that isn't your jam, no worries — it is also available in 6.5 PRC and the ever-popular 6.5 Creedmoor. All three options weigh under eight pounds and have similar barrel lengths ranging from 22 inches up to 24 inches. Overall rifle length also stays similar among the three options with lengths ranging from 42 inches up to 44.25 inches. If you aren't a fan of the FDE seen here, it is also available in black.
While unboxing the 110 Carbon Tactical, the first thing that caught my eye was the ever-classic carbon fiber-wrapped stainless steel PROOF Research barrel. While we left our muzzle bare, it is threaded and ready to accept a suppressor. The action is held fit and secure within Savage's patented AccuStock stock. On both the beavertail forend and on the rear portion of the gun, you will find three thoughtfully placed sling swivel studs that will fit not only your favorite sling but also a bipod.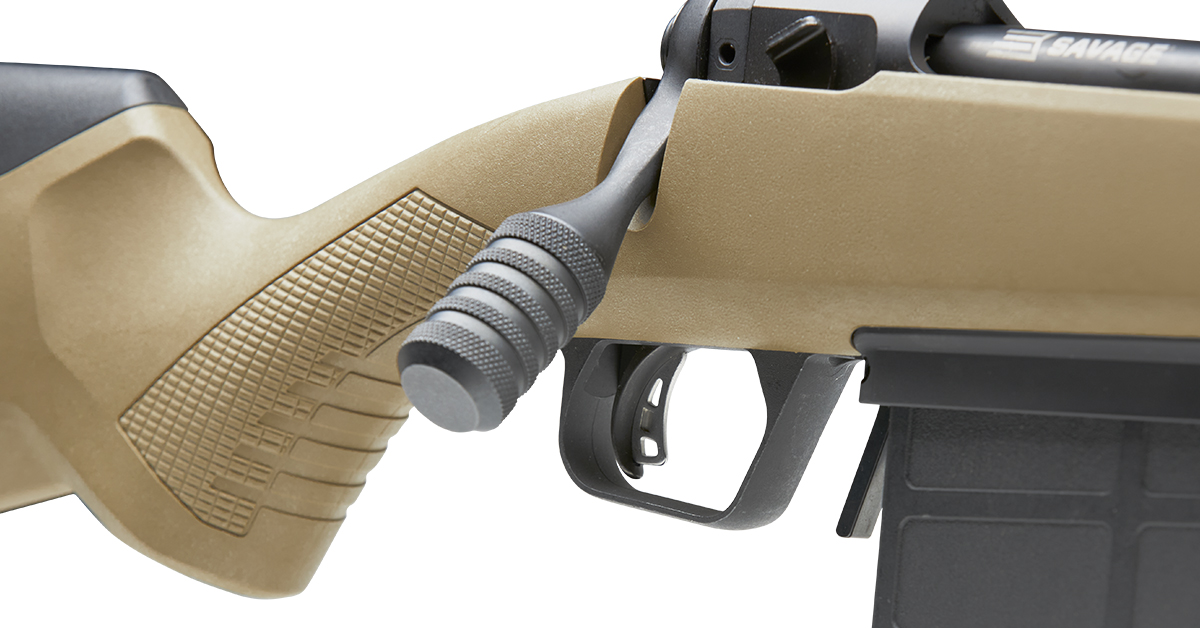 Speaking of fitting this gun specifically to your needs and preferences, the AccuTrigger is adjustable without the need to go to a gunsmith. It adjusts anywhere from four pounds all the way down to a mere pound and a half!
Of course, Savage doesn't simply stop at a crisp, customizable trigger, top-tier barrel, and other features we have already mentioned. Perhaps you are sharing this rifle with a friend, and they find themselves needing to adjust for a longer length of pull or a lower height on the cheek riser. That's no problem with this rifle, as both points of contact can be adjusted to fit the shooter to their specific requirements. No need to settle for a "good enough" fit with the 110 Carbon Tactical.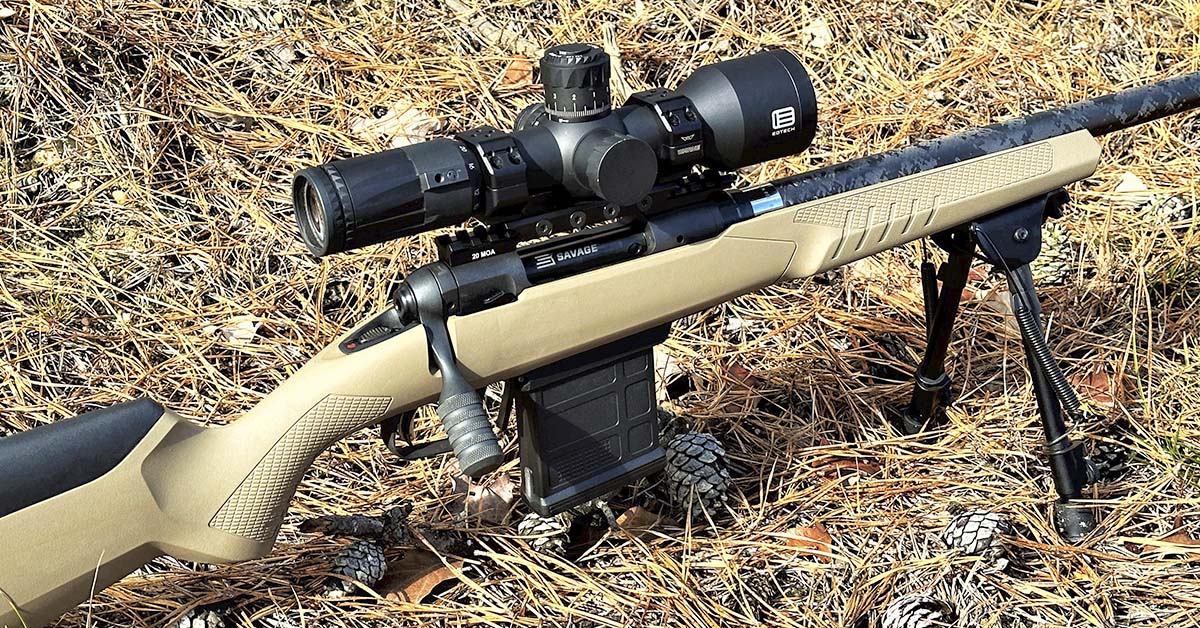 My eyes aren't what they used to be, so holding back when it came to glass was not an option. On top of the included 20 MOA, one-piece rail, we placed a Warne Skyline one-piece mount to which we mounted an EOTech Vudu 5-25×50 riflescope. The MD3 reticle on this bad boy would serve any tactical/target shooting application quite well, but I appreciated the fact it would allow for quick target acquisition on any medium to large-sized game without causing too much fuss within the glass, giving me more than just one specific use out of this gun/scope combo.
Our range session was unseasonably warm but most welcome for November, with temperatures hovering in the upper 60s and a half-value wind coming in from the southwest. The ammunition we would be testing included Hornady Outfitter .308 with a 165-gr. CX bullet, Sig Sauer's Elite Hunter .308 with a 165-gr. bullet/controlled expansion tip combo, and finally Federal's Non-Typical Whitetail .308 150-gr. soft point.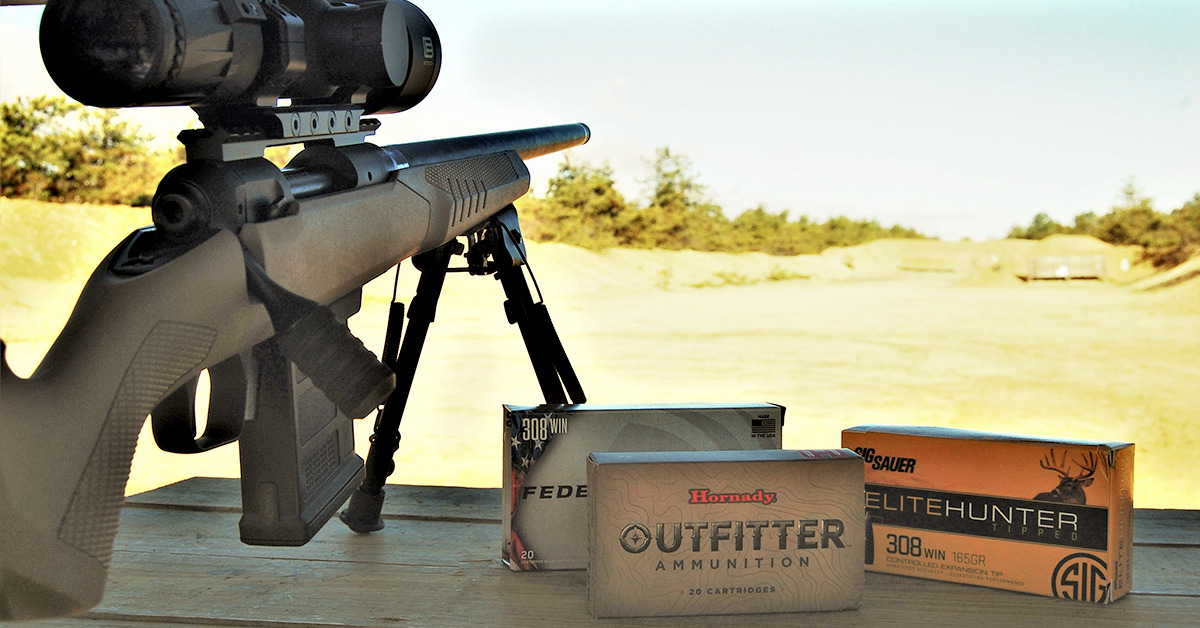 Each round from our three selections fed flawlessly through the gun, but that was to be expected. For hunting purposes, you don't anticipate running the gun hot. If you're out at the range doing some long-distance shooting, though, you may let that barrel get a little toasty, and we made sure to do so during our test. Even with the barrel as hot as leather car seats in the summer sun, everything ran just fine with no issues arising. The average group size ranged from 1 MOA to 1.5 MOA between the three ammo brands tested. I expect those groups would shrink down a bit once the gun has a chance to break in. As it sits, this gun shoots a "minute of whitetail" and I wouldn't hesitate to take it to the woods. My inner handloader is begging to see how small we can shrink those groups with bullet/powder combos specifically tailored to this gun.
Savage has, once again, knocked it out of the park with a bolt gun that has custom features close to DIY prices.

Savage 110 Carbon Tactical FDE
Action: bolt
Barrel Length: 22-in.
Barrel Material: carbon fiber wrapped stainless
Chambering: .308 Winchester
Capacity: 10 + 1
Length of Pull: 12.75- to 13.75-in.
Magazine Type: detachable AICS-style box magazine
Overall Length: 42-in.
Rate of Twist: 1 in 10
Receiver Material: carbon steel
Stock Material: synthetic
Weight: 7.65 lbs.
MSRP: $1,789.00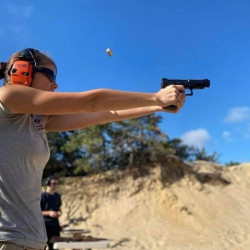 Latest posts by Barb Melloni
(see all)