A 22-inch barrel turkey killer as reliable as the day is long that doubles as a great truck and home-defense shotgun, Mossberg's 500 Turkey makes a great add to any shotgun arsenal.
by Jace Bauserman
My first-ever shotgun was a wood-stock Mossberg 500, and I melted the barrel down. From trap to skeet to ducks to upland, it was a tank, and I loved it. 
Recently, I got my hands on Mossberg's new-for-2023 500 Turkey in a 20-gauge bore. I planned to tote the shotgun on a few turkey excursions and make it a home-defense shotgun. Based on its specs and what I read about the shooter on Mossberg's website, it seemed the shotgun's overall length of 41 inches and under-14-inch  LOP (length of pull) would also fit my 11 year-old-son, Brody, who would be chasing spring thunder chickens for the first time. It should be noted that the LOP is fixed, and there is no adjusting it. I would have liked to see Mossberg go with a slightly smaller stock profile or provide LOP adjustment, but this feature would drive the cost up. 
First Impressions
The first thing that jumped out at me was how sexy the shotgun looked fully cloaked in Mossy Oak's Greenleaf. The shotgun is a stunner.  The only black on the shotgun is that of the extended X-Factor Ported Choke, recoil pad, safety button, slides, trigger, and trigger guard. The rest of the gun is blanketed in camo and looks fantastic. 

The gun's 22-inch barrel and compact build mounted swiftly to the shoulder. The shotgun felt maneuverable, and after depressing the action-release button, the slides were smooth and the action fell open, exposing the inner chamber. 
There were no noticeable nicks, dings, or dents, and I applaud Mossberg's Optic-Ready (Shield RMSc pattern) mount and the triangular-shaped Front FO sight. Features like this allow shooters to attach a red-dot or shoot with a traditional fiber-optic bead-style front-end sight. One glance at this shotgun and you know exactly what it was created for. 
The vent rib is a nice touch, and as with most pump-action shotguns, the barrel fell into place. Final barrel attachment meant screwing down the forend-cap screw, which, like the synthetic stock, is fitted with a stationary swivel for sling attachment.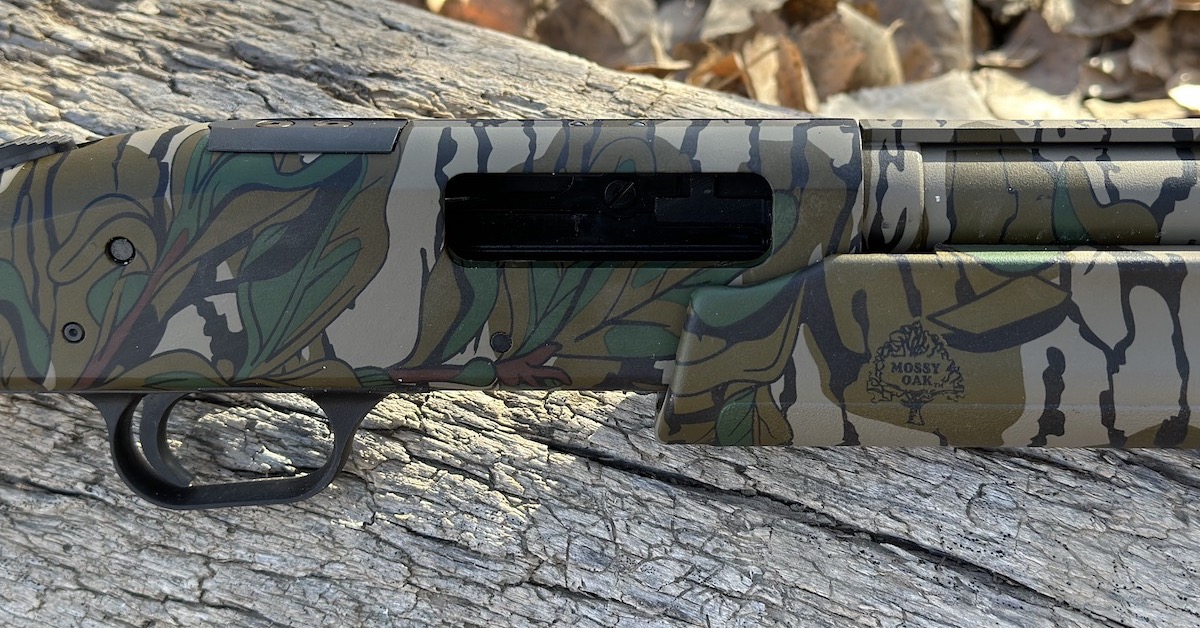 Send It
I wanted to give the 500 Turkey a little dance but didn't want to burn Fiocchi's Golden Turkey TSS just to get familiar with the shotgun's fit, feel, and overall shooting experience. For this, I went with Fiocchi's Dove & Quail Field Dynamics.
I'm an old-school turkey hunter, and while I have zero issues with a red-dot optic, I stayed with the standard FO sight. Not a gun I'd want to use as a clay buster or a wing shooter because of the shorter barrel; this gun feels balanced against the shoulder, and from a seated position, is easy to swing right or left and is highly maneuverable. 
The trigger is a tad heavier than I'd like, but trigger preference is highly personal. When Brody practiced with the gun, he told me, "Dad, I like the trigger, and I don't have to pull it too hard and the gun goes off."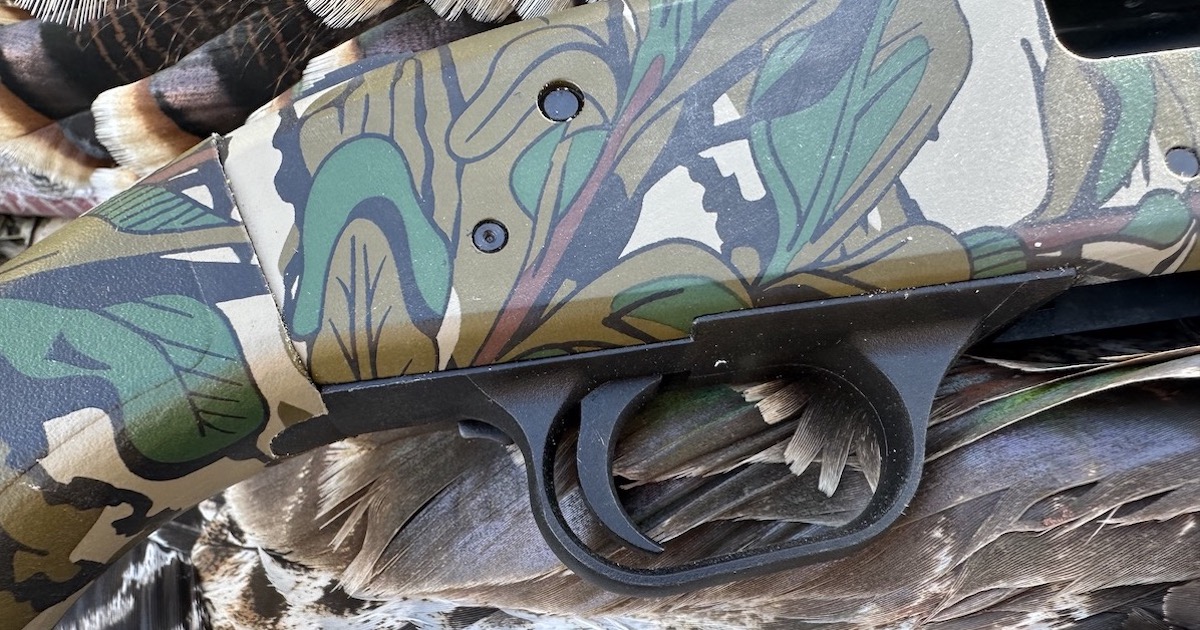 With Fiocchi's 2 3/4-inch 7/8-ounce #7.5 shotshells, the Mossberg 500 Turkey produced mild recoil, and the slide and action proved incredibly smooth. I could hold my cheek on the synthetic stock and make rapid follow-up shots on paper. The gun's workabilty and solid shooting nature remained the same throughout testing, and I promise, during a recent turkey hunt, Brody got the inside of the action more than a tad dirty.
The safety is stiff, which I like, and is mounted on top of the action directly above the action-release button. I like that the safety button is long and robustly serrated, which makes it easy to find and operate, and a red dot is visible when the safety is pushed forward to let the shooter know the gun is hot.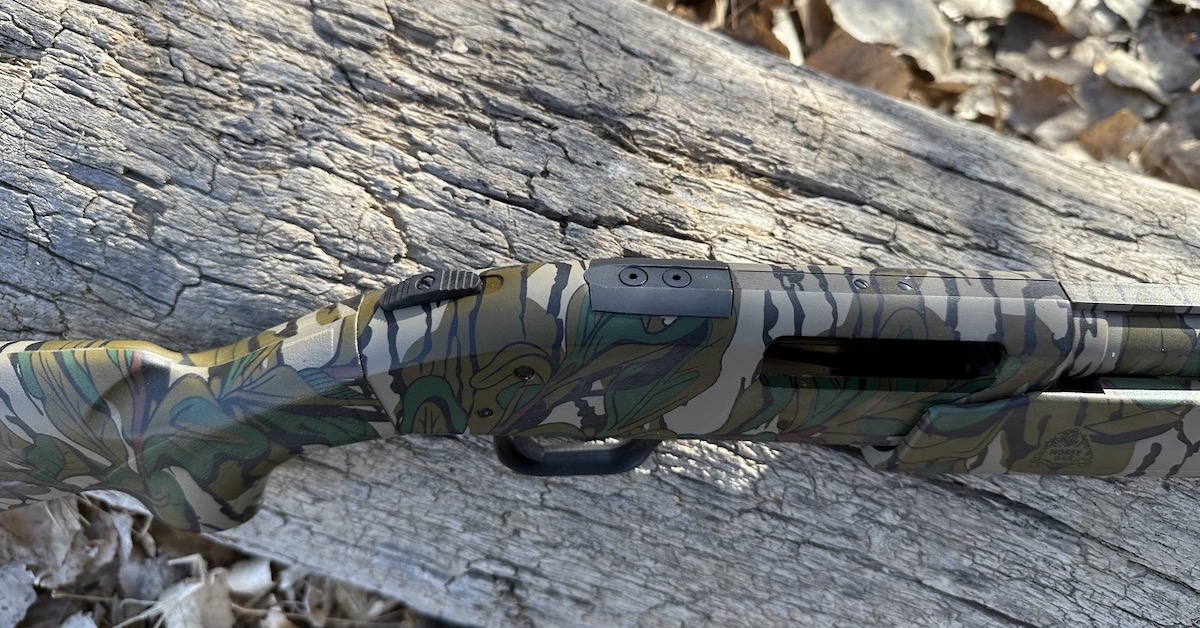 The Mossberg 500 Turkey cycled shotshells as fast as I could manipulate the slide, and reloading the 5+1 internal magazine was super simple. 
Pattern It
I'm not often lucky enough to find a shotgun, choke, and load that lines up to create a turkey-killing trio. Usually, I end up swapping chokes, changing loads, et cetera, but the Mossberg 500, when paired with 3-inch Fiocchi Golden Turkey TSS #9s, proved an exception to this rule.
At 30 yards, the 1 3/8-ounce #9 payload put more pellets in the head and neck of my homemade turkey target than I could count. At 50 yards, I had to rest my bead on top of the head of the target but still managed to get 19 pellets in the kill zone — more than enough to cream a big ol' longbeard. I was overly impressed with the stock X-Factor Ported Tube, and the choke easily threaded in and out of the shotgun.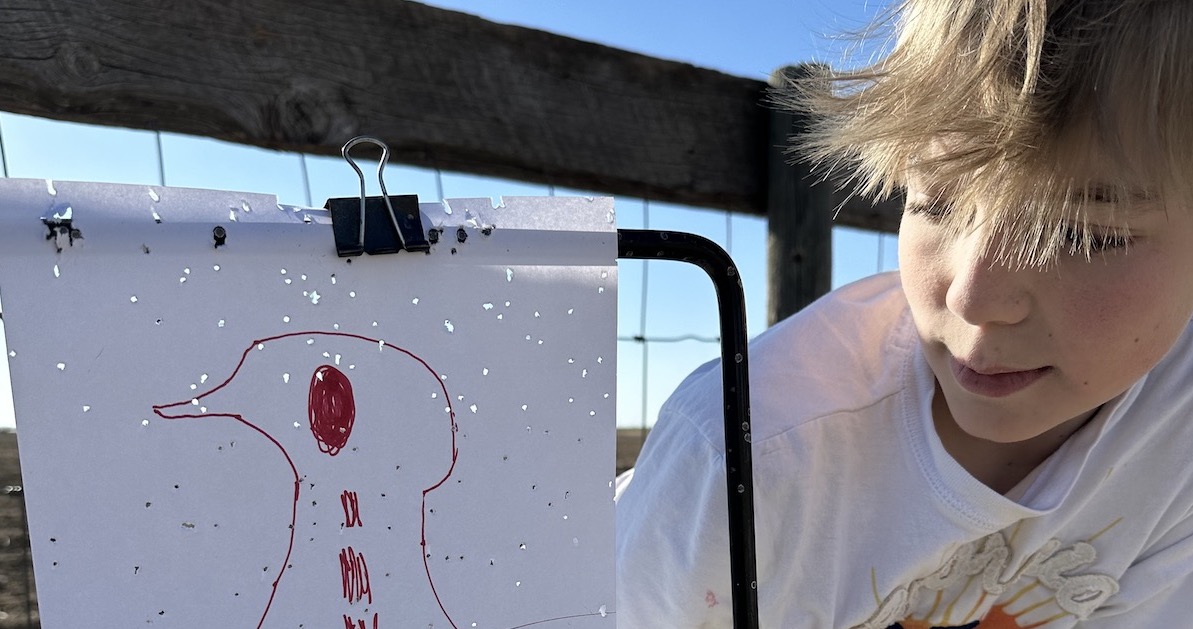 When you shoot loads like Fiochhi's Golden Turkey TSS, even in 20-gauge, you know it when you pull the trigger. The recoil is quite extensive, but the payoff is well worth it. Over the years, I've killed my share of tom turkeys with this ammo, which pulverizes them. And, being that the shotgun weighs a mere 6.75 pounds, you can bank on the shoulder taking some of the abuse. 
How much abuse, exactly? Not terrible. My 11-year-old is 80 pounds soaking wet, and while he wasn't in love with practicing too much with these specific loads, when his time came, he settled his FO bead on the 26-yard turkey and executed the shot like a champ. 
Tote It
At 6.75 pounds and 41.24 inches long, this shotgun is a joy to tote around the woods. I also recommend it as a good truck gun. It's durable and compact and can be abused. Of course, with a barrel length of 22 inches and built on a reliable pump-action, the shotgun triples as a home defense weapon. 
Brody carried the gun (no sling) for over three miles during his turkey hunt and never complained about weight or length, and because he could control the gun, the muzzle was always pointed in a safe direction.
Clean It
Cleaning the firearm takes minutes. Open the action and check to make sure the gun is unloaded. Next, turn the black forend screw counter-clockwise and remove the barrel. A pin in the mid-portion of the action dumps the trigger unit, and you're set to go. Using Real Avid's Gun Boss Pro – Universal Gun Cleaning Kit, I had the inside of the barrel, chamber, and action looking new in no time.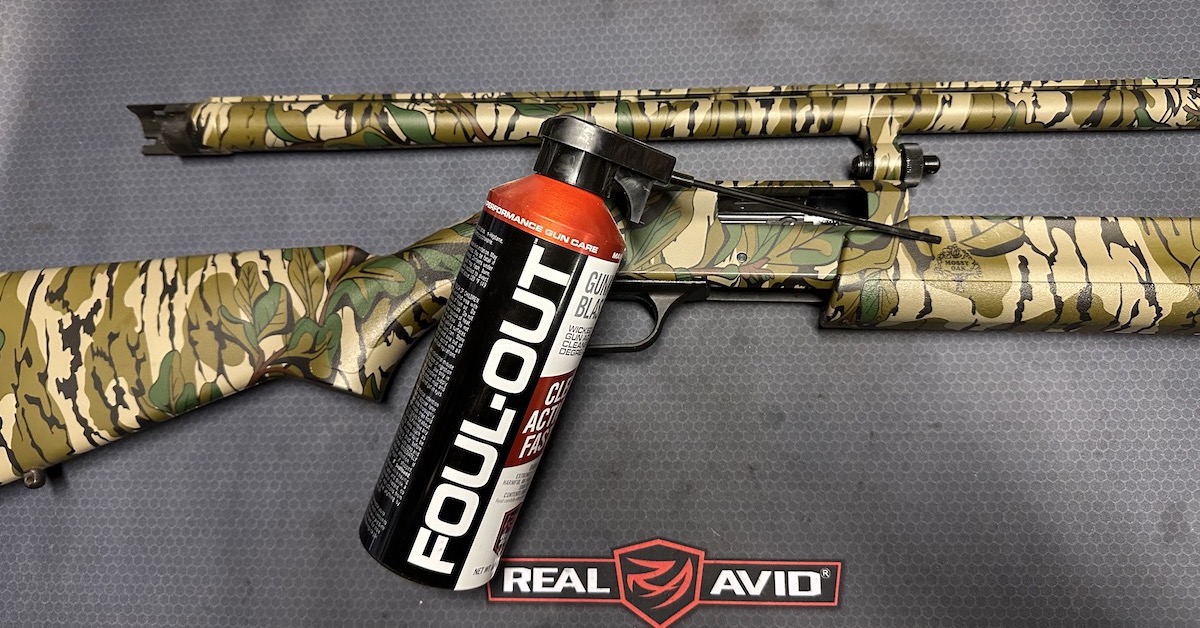 Final Thoughts
For $644, you get a heck of a turkey gun that doubles as a truck gun and a home-defense firearm. The shotgun is reliable as the day is long. I experienced zero jams or malfunctions over a two-week testing period. I credit much of that to the gun's guts — dual extractors, steel-to-steel lockup, and an anti-jam elevator. 
This is a highly versatile shotgun that almost any shooter, regardless of frame size, can handle, and it will remain part of my shooting arsenal and be a shotgun that I pass on to my kids. 
Mossberg 500 Turkey Specifications
Gauge:

 20

Action: 

pump

Chamber: 

3 inch

Barrel Type:

v

ent rib

Barrel Length:

 22 inches

Barrel Finish:

 Mossy Oak Greenleaf

Choke: 

X-Factor Ported Tube

Magazine Capacity:

 5+1

Length:

 41.25 inches

Length of Pull:

 13.87 inches

Sights:

 Front FO; Optic Ready

Stock: 

Synthetic Mossy Oak Greenleaf

Weight:

6.75 lbs.

MSRP:

 $644