This groundbreaking cartridge has been slow on the uptake for over 30 years. Now companies like Fiocchi, Ruger, and S&W are helping push this intriguing platform into the mainstream.
by Rob Reaser
I'll admit to ignoring FN's 5.7×28 wonder child for…well, forever. I've always thought the diminutive bottlenecked, centerfire cartridge was "neat"; however, the limited, bulky, and/or pricey commercially available platforms with which to propel this .22-caliber zinger just made no practical sense to my mind.
Originally intended as a high-round-count, 9mm alternative for personal defense weapons (PDW) and handguns carried by special law enforcement and military personnel, the 5.7×28 enjoyed modest adoption by state agencies in many countries, but in the commercial realm, the traction just wasn't there for the aforementioned reasons.
The case could certainly be made for this cartridge to excel as a varmint round should manufacturers develop viable rifle platforms to support it (none did). As a PDW, sure, yet if one were to go that route, why not opt for the proven POW! of our beloved 5.56 NATO? As an EDC contender, the 5.7 appeals to the "more rounds are better" crowd, although practical carry pistols chambered for this cartridge have been historically focused on the FN Five-seveN and its hefty price tag (current MSRP $1,409).
Ruger turned the corner on the affordable 5.7 pistol front when the company introduced the Ruger 5-7 into the marketplace in early 2020. Here was a 5.7×28 built to go head-to-head with the FN Five-seveN with an MSRP more in line with the working folks' budget at $899. The Ruger 5-7 put 20+1 rounds of onboard firepower into a full-size handgun that, while not exactly of deep concealed carry stature, certainly could serve an everyday carry function.
Now, as we roll into 2023, the prospects of the 5.7×28 gaining true commercial momentum loom large.
Late last year, Ruger once more dipped into the 5.7 pool when it introduced its LC Carbine. In January of 2023, Smith & Wesson followed with the launch of their own model to compete with the Ruger 5-7 and FN Five-seveN — the S&W M&P 5.7. Shoot On contributor Bob Campbell has been working that angle, so check out his review of this latest Military & Police model.
While all these new offerings are great, they do little good if there is nothing to feed the little beasties. Well, even that is changing.
Fiocchi Delivers on the 5.7
Fiocchi has been the cornerstone manufacturer of 5.7x28mm ammo since the beginning. At this year's SHOT show, the company announced a new initiative to expand production for the commercial market and has pushed out three ammo options in the Fiocchi handgun ammunition lineup.
The first new Hyperformance Defense 5.7×28 cartridge from Fiocchi hosts a jacketed frangible 35-grain bullet. It is constructed around a copper core with a copper jacket and features a polymer tip. The tip promotes reliable feeding across all firearm platforms and helps initiate rapid expansion to minimize over-penetration while delivering the terminal performance you expect in a defensive load. Muzzle velocity is 1750 fps.
Another entry into the Hyperformance Defense line is a tipped hollow point round. Boasting a lead core and copper jacket construction, this 40-grain bullet also incorporates a polymer tip to initiate expansion while ensuring deep penetration into the target. Muzzle velocity is the same as the 35-grain load at 1750 fps.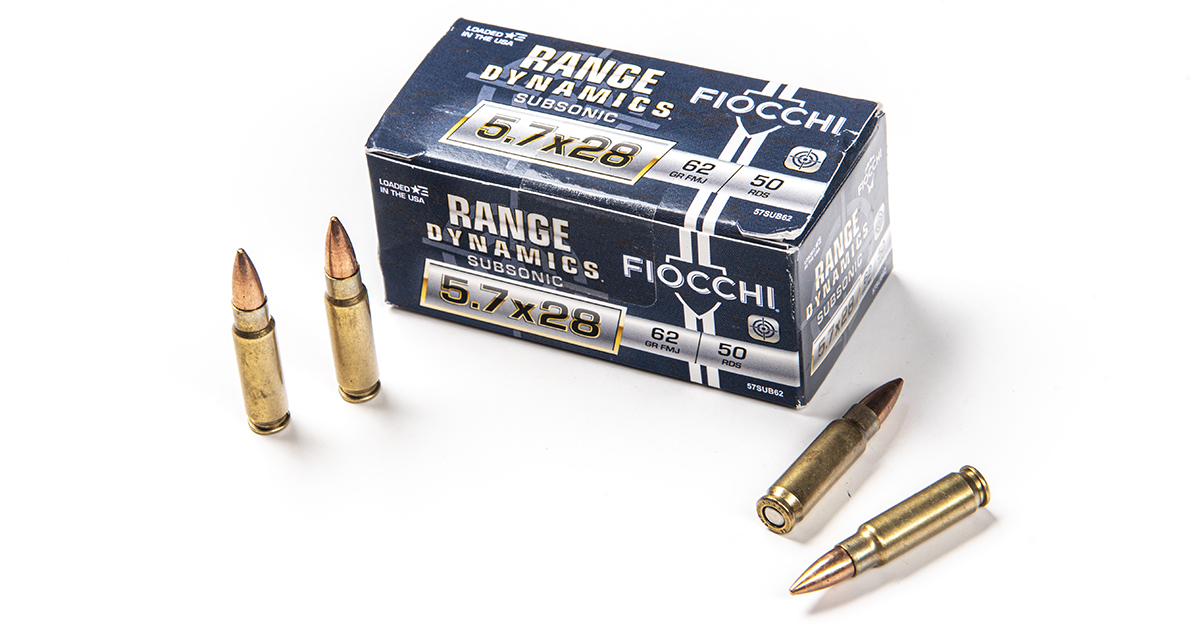 Lastly, Fiocchi has included a subsonic 5.7×28 cartridge in its 2023 rollout. Placed in the company's Range Dynamics handgun ammo portfolio, this cartridge comes with a 62-grain FMJ bullet and load to generate a 1050 fps muzzle velocity. It is ideal for shooting suppressed or unsuppressed and is priced for high-volume work at the range or for eliminating a platoon of aluminum cans invading the Back Forty.
In sum, Fiocchi's launch of these three new cartridges should prove to be a catalyst for the 5.7×28 movement in the commercial arena by providing consumers with more options, expanded availability on retail shelves, reduced ammunition cost, and give firearm manufactures added incentive to move with greater purpose and confidence into this exciting, if not exactly new, segment.
Ruger's 5.7×28 LC Carbine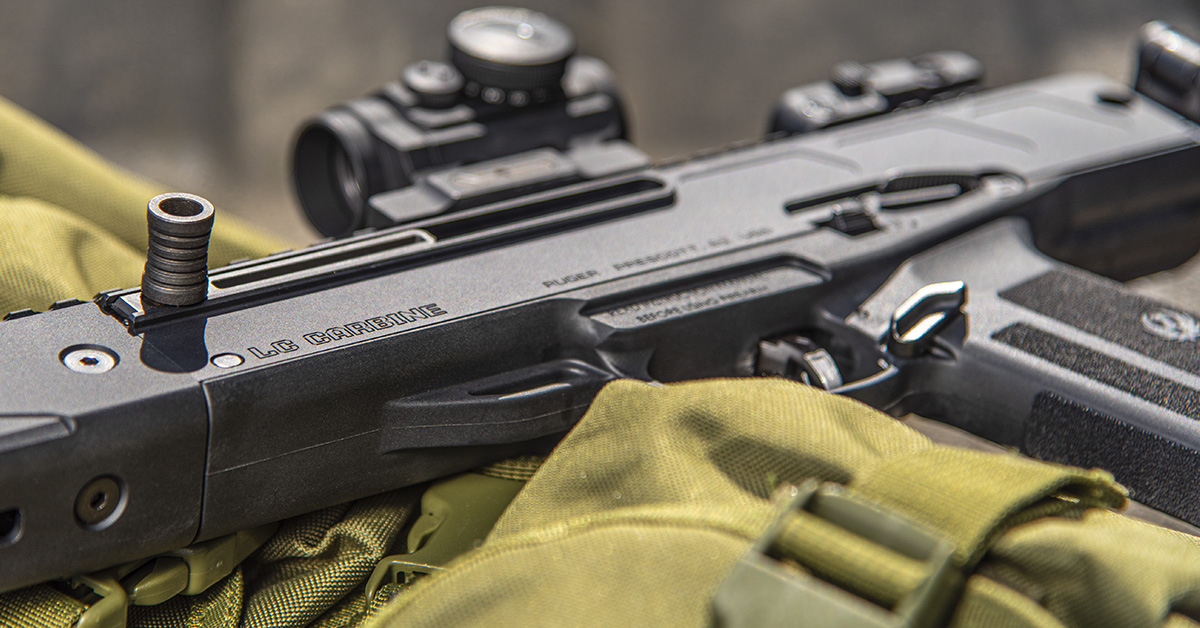 In case you're wondering, the "LC" in the Ruger LC Carbine stands for lightweight and compact. And as a carbine, it certainly is. Overall weight is 5.9 pounds. Length is 22 inches with the stock folded and just over 30 with the stock fully extended. As a home defender, backpack gun, or a fun plinker, this carbine is an easy carry.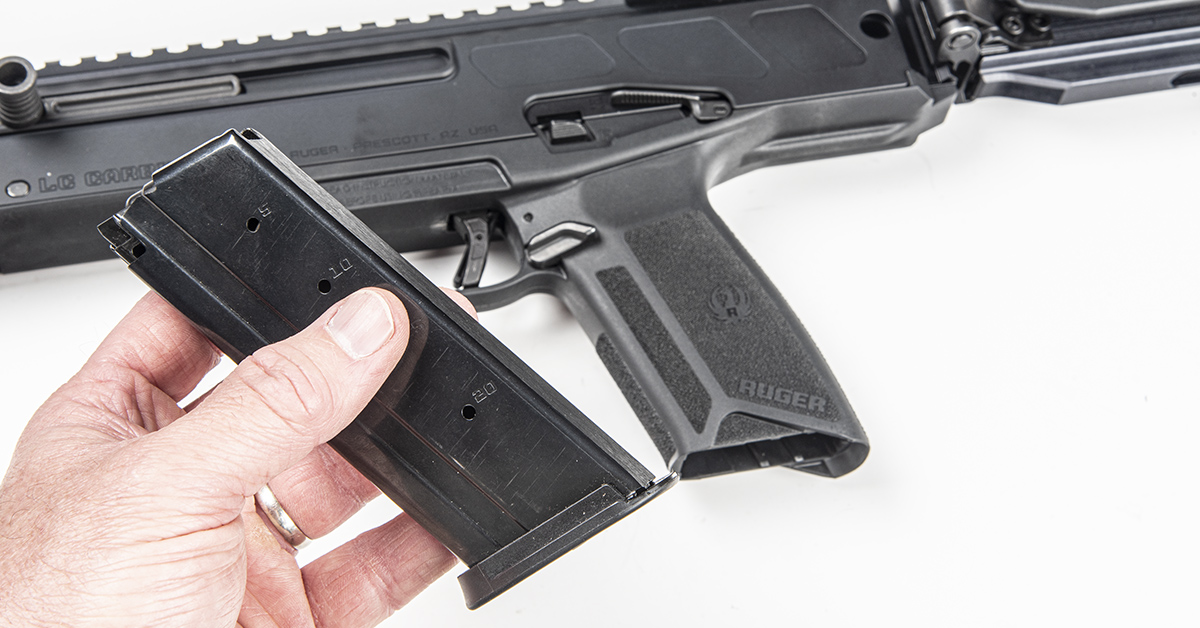 The LC is sleekly profiled, further enhancing ergonomics. Much credit here goes to the magazine-in-grip design. The LC uses the same steel magazine as is found in Ruger's 5-7 pistol, and the architecture for the LC's grip frame is based off the pistol. This cross-compatibility is a boon for those who choose the LC and the 5-7 as their combined personal defense portfolio. Having the mag insert into the grip's mag well also cleans up the front half of the carbine.
Modularity is a big feature of the LC Carbine. The gun strips down to its essential components with nothing more required than the two included hex wrenches. Further, the charging handle can be installed on either side of the receiver to accommodate left- or right-hand shooters.
The safety lever is ambidextrous, and the magazine release lever (located only on the left side) can be easily swapped with Ruger's 5-7 pistol mag release button to provide ambidextrous mag releases.
The stock is adjustable for length of pull and folds with the simple push of the lock button. This can also be changed between folding to the right or the left side of the gun by flipping the hinge.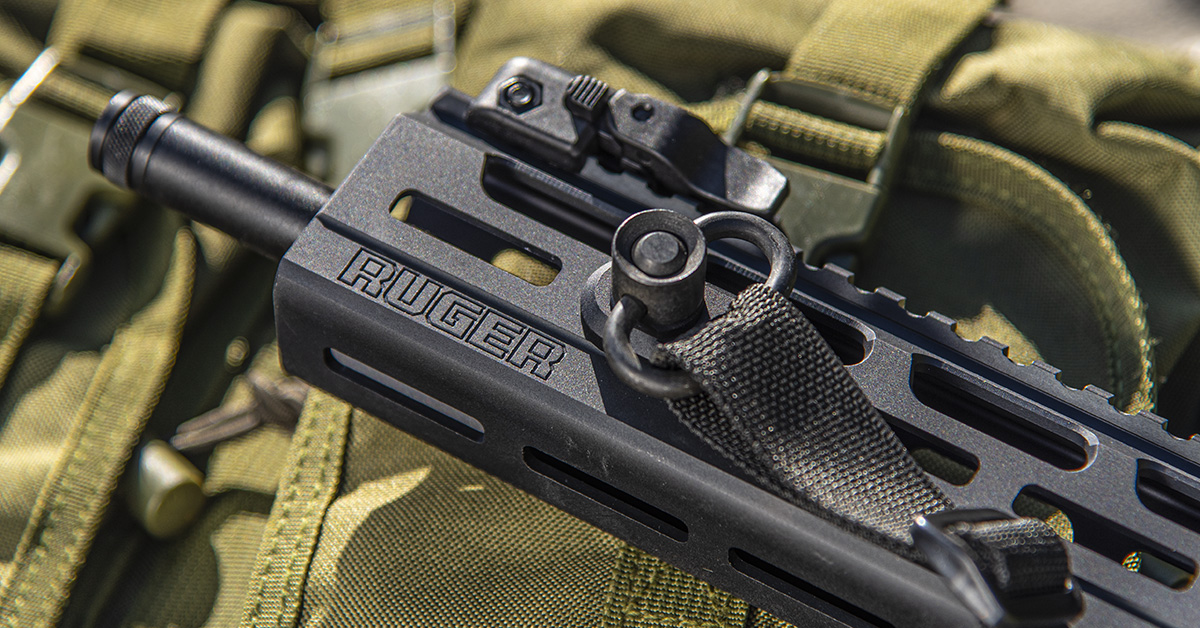 Included with the LC is a QD M-LOK sling socket that mounts to the handguard. Combined with the sling sockets in the left and right side of the buttstock, the LC adapts to any mode of sling carry.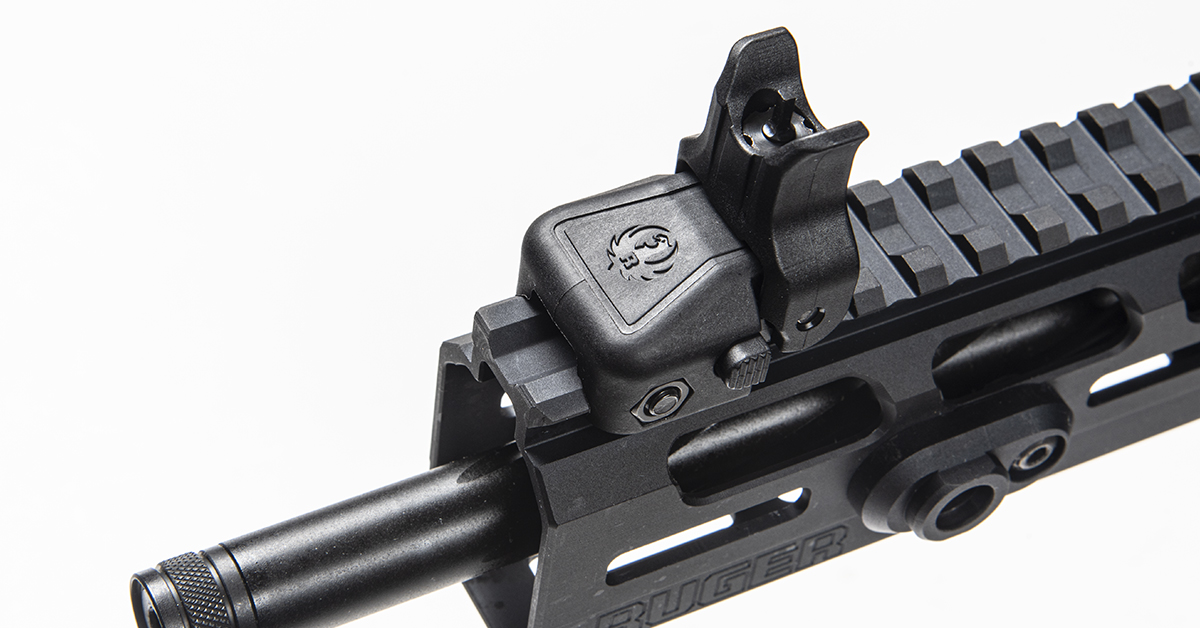 With its full-length Picatinny rail system, the LC Carbine allows for conventional AR-15 sight systems — red dot, LPVO, scope, or open sight. For those who prefer the minimalist approach in a generally close-range firearm like this, or who seek the high fun factor of plinking, the LC comes with Ruger's Rapid Deploy front and rear sights. We found them to work great as both a primary sight system and as reliable backups for red dot use.
On the Range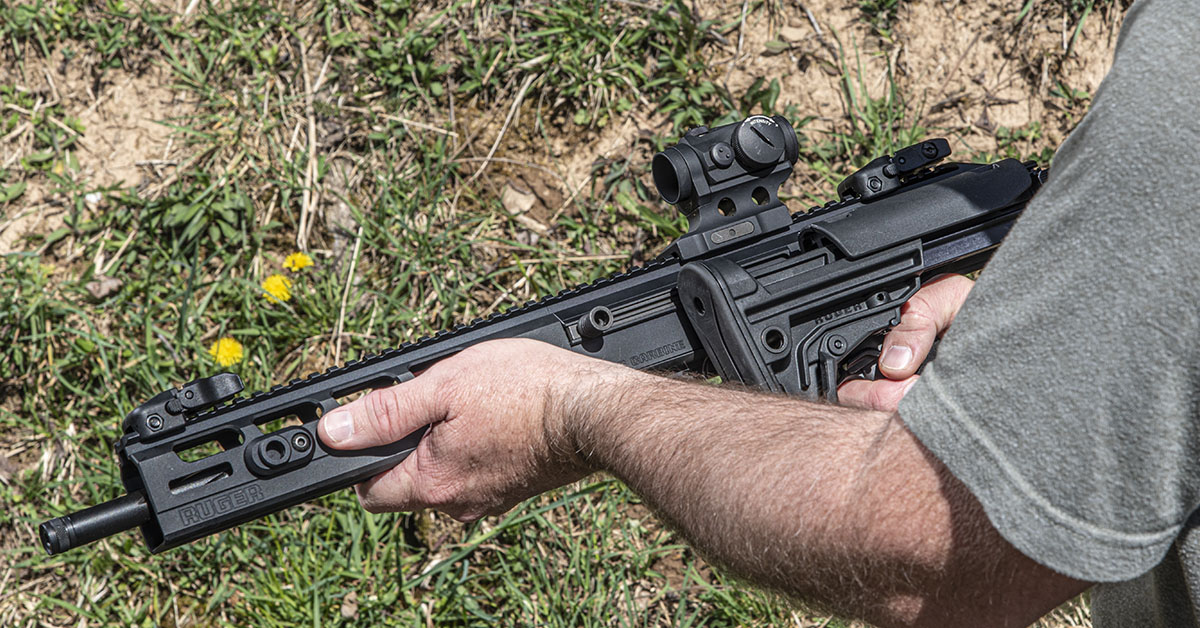 The 5.7×28 has proven itself to be a most suitable and, in some scenarios, desirable round for close-quarter defense. And with the premium loads produced by Fiocchi, quite accurate in both carbine and pistol platforms. Our testing revealed nothing to counter that with the Ruger LC Carbine.
Handling and operation show this firearm to be a creampuff. Recoil is negligible (think .22 WMR with this platform), so target reacquisition is lightning-fast. The ergonomic grip and control layout — easily customizable to the shooter — makes for smooth and intuitive operation.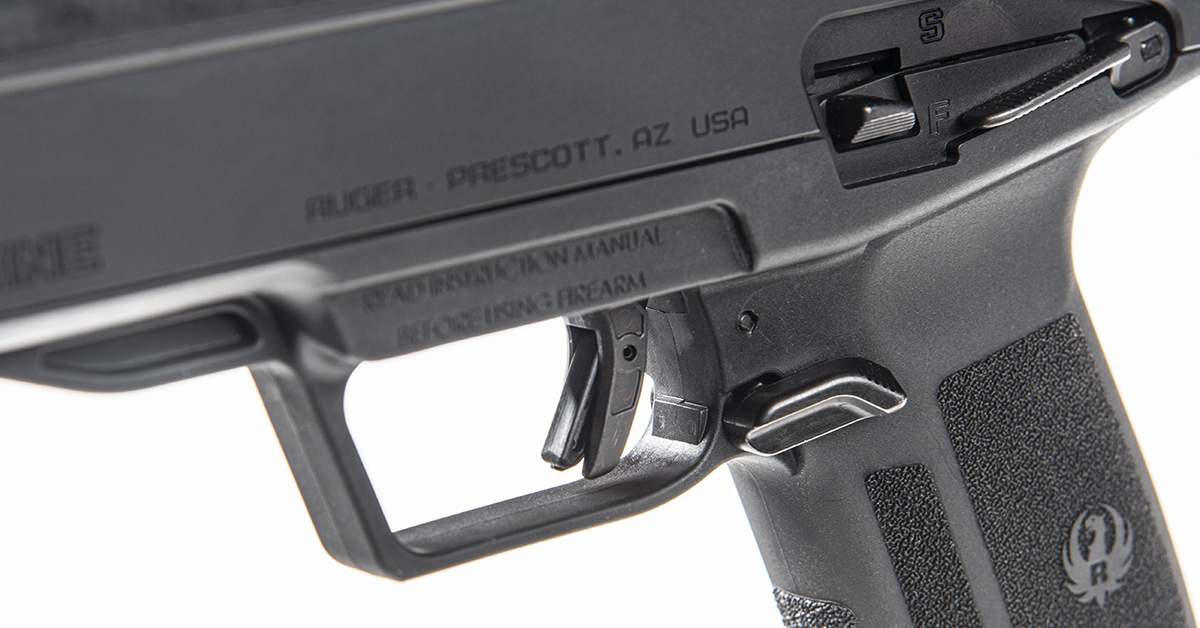 We can't give high marks for the trigger as it has a long, spongy feel with a far-too-long rolling break. The wall at take-up is there, but it is exceptionally "soft and fuzzy." Our test model recorded a 4 lb., 12 oz. pull weight over a 10-pull average. While not what anyone would call a precision trigger, it gets the job done.
Most of our testing involved steel targets because, well, this cartridge simply begs for it. Between slow fire and the occasional mag dumps, we ran the LC Carbine through all three of Fiocchi's loadings: 35-grain, 40-grain, and 62-grain subsonic. Straight out of the box, there were no cycling issues. This is a gun you can shoot all day.
As for portability, the Ruger LC Carbine hits the mark. As mentioned, the folded length is 22 inches, so it straps easily onto an accommodating daypack — perfect for a long stroll afield or if you have a hankering for a bugout rig.
While the 5.7×28 firearms have a way to go before hitting the mainstream stride, the tea leaves say this cartridge is likely ascending…finally. Thanks to Fiocchi's full court press on making the ammo available and affordable, we're confident that more pistol and carbine manufacturers will be mapping out new product launches over the next few years in this underappreciated chamber.
Ruger LC Carbine Specifications
Chamber: 5.7x28mm
Action: semi-auto
Capacity: 20+1
Weight: 5.9 lb.
Overall Length: 28.70″ – 30.60″
Length of Pull: 12.50″ – 14.50″
Twist: 1:9 RH
Grooves: 8
Barrel Length: 16.25″
Barrel Feature: fluted, black nitride finish
Thread Pattern: 1/2-28
Receiver Material: aluminum alloy
Stock: folding, adjustable length of pull
Sights: adjustable Ruger® Rapid Deploy
Receiver Finish: type III hard-coat anodized
Suggested Retail: $1,009.00