The author takes Kimber's Mountain Ascent, Leupold's VX-5 HD, and Federal's Terminal Ascent ammo on a Texas test drive. 
Jace Bauserman
I've always been obsessed with wild sheep. The country they inhabit is rugged and majestic, and if the Creator made a more regal animal, I've yet to lay eyes on it. While I've never held a coveted tag for Rocky Mountain, Dall, Desert, or Stone, each species invades my dreams regularly.
I've filmed a few sheep hunts and tagged along with buddies that pulled a premium tag or have the "fat-wallet" Subway describes. Each hunt was terrific, and after, my want to return and chase a ram of my own got stronger.
Often referred to as the poor man's sheep, the aoudad was brought to the U.S. in the early 1900s and placed in zoos. This North African import proved hearty, and captive numbers exploded. Between 1957 and 1958, Texas Wildlife officials released roughly 40 aoudads into the state's Palo Duro Canyon, and the exotic species took off. I'm so glad they did.
Finally, A Sheep Hunt
Invited by former Colorado Game Warden and good friend Jeremiah Johnson, I had the opportunity this past January to head to the Lone Star State for a sheep adventure. No, it wasn't for a sheep that would kick off my Grand Slam run, but it was a sheep hunt nonetheless, and I couldn't have been more grateful.

This hunt happened on a whim, and though I'm an avid archer, I didn't hesitate to pull out my Kimber Mountain Ascent chambered in .280 Ackley Improved. I would have three days to make it happen, and though sheep are regulars in this little slice of Texas heaven, this was a DIY adventure, and there were no guarantees.
But First…
I send lead downrange regularly. I love to shoot and pride myself on being at my best. After some time on the phone with Jeremiah and my good buddy Jason Weaver, who would also be along for the hunt, I realized the chances of taking and making a shot beyond 300 yards were possible.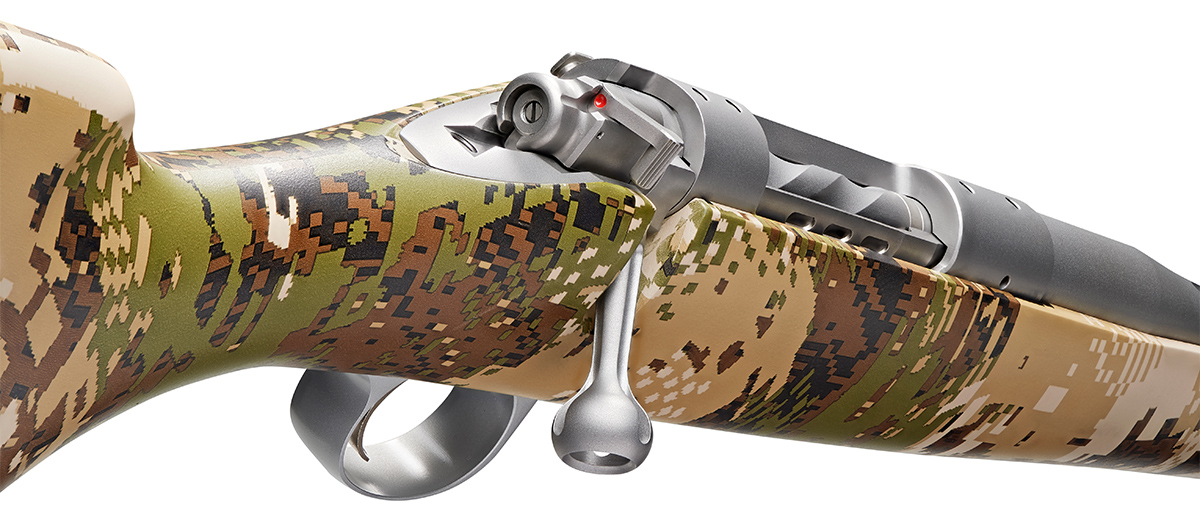 The rifle and caliber are tailor-made for sheep hunting. The Mountain Ascent is fitted with a carbon fiber reinforced stock, fluted barrel, fluted spiral body, and skeletonized bolt knob. Weighing under five pounds, this rifle is a joy to tote, especially when hunting steep, unforgiving terrain, and it promises sub-MOA accuracy. The barrel is stainless steel with a satin finish, and at 22-inches, this barrel has a right-hand twist rate of 10 and sports four grooves. A muzzle brake and thread protector also compliment the barrel's end.
Originally a wildcat caliber, the big story with the .280 Ackley Improved is the typical SAAMI spec chamber opening up to create less body taper and ensure a steeper shoulder. This design created a larger, more efficient propellant chamber. Comparable to the famous 7mm Remington Magnum, the .280 Ackley Improved's make requires less powder, which provides additional room in the magazine.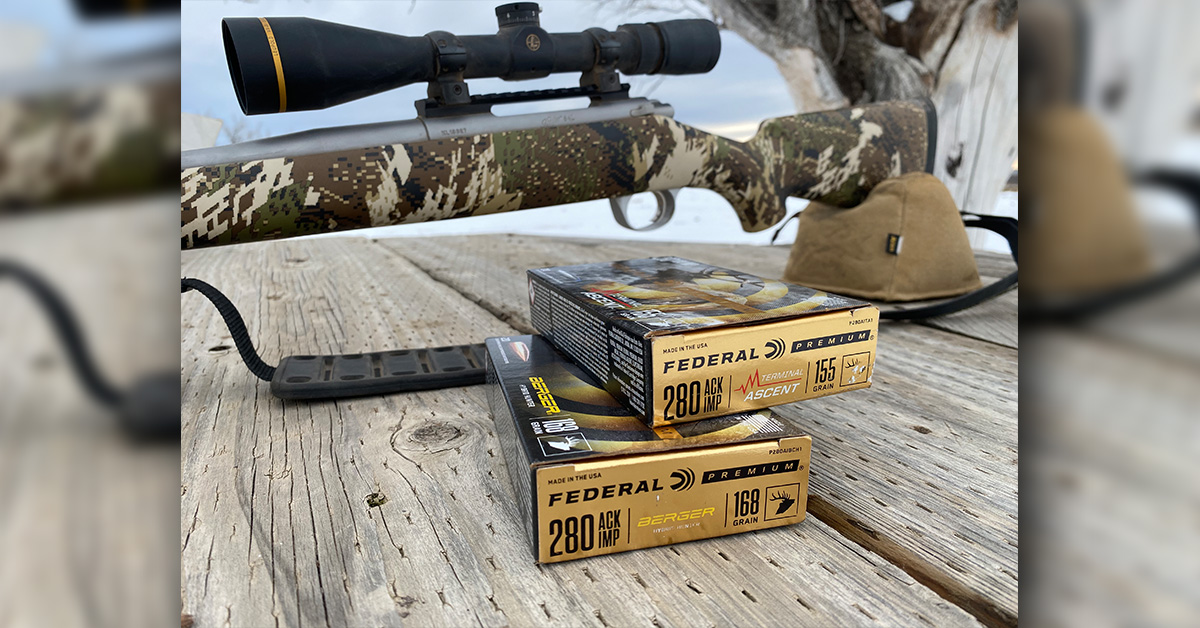 While many .280 Ackley Improved lovers load their ammo, I would be toting Federal's Terminal Ascent 155-grain rounds for this adventure. I love this big-game load because it provides extreme long-range expansion and close-range weight retention. With most loads, you tend to get one or the other. This past fall, my good buddy shot a bull elk at 96 yards with a long-range handload. The problem: the bullet retained no weight, and there was no uniform expansion. The bullet, upon impact at short range, exploded. We never recovered that elk.
The Terminal Ascent's SlipStream Polymer Tip was designed with a hollow core that promises expansion at all distances, and the AccuChannel Groove boosts accuracy and minimizes bullet drag. Of course, these are all just bullet points. How did the round perform on the range? Perfectly. From my Kimber Mountain Ascent, I fired three-shot groups from 100, 200, 300, 400 and 500 yards. I was impressed with the accuracy this duo created, and leaving the muzzle at 2,930 fps, drop was minimal. At 500 yards, with a slight three mph headwind, bullet drop was 38.6 inches.
Dream Achieved
Jason and I had hunted hard all day. We'd spent hours behind the glass and covered miles on foot and with Jason's side-by-side. Jeremiah and his brother J.D. did the same on the opposite end of the ranch. With each walkie-talkie report, the news was the same: no sheep.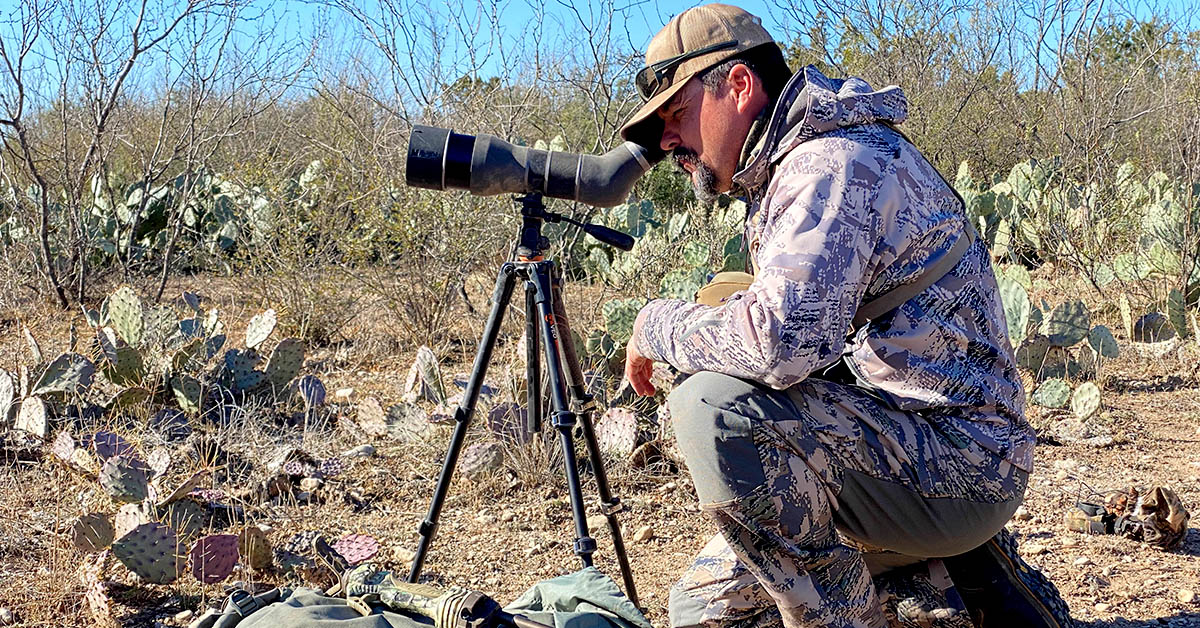 With tired eyes and wobbly legs, Jason and I decided to post up in a mesquite flat rich with hog sign. We figured we'd get back on the aoudad trail come morning. I hadn't been glassing the flat long when Jason whispered, "Well, I found your ram."
While I was glassing for hogs, Jason fixed his binos on the steep plateau to our south and found a good ram. We were over a mile away, and my heart was already racing. Fighting the sinking sun, we had to move quickly. Using shadows and keeping the wind in our faces, we quickly cut the distance. At 523 yards, however, we were out of stalking real estate, and the wind was beginning to shift. Dialing my Leupold VX-5 HD's CDS (Custom Dial System) to 525 yards, I placed the rifle's forearm in my Primos Gen3 Tall Bipod Shooting Stick and got comfortable. The ram was in a good position, and there was no need to rush. Getting my breathing under control, I squeezed the trigger.
"Miss," Jason whispered.
Frantic, I quickly chambered another round—the throw on this gun is incredible—and the rifle thundered again. I was sure of the hit this time. I heard the unmistakable wallop, and the ram stumbled forward into some brush.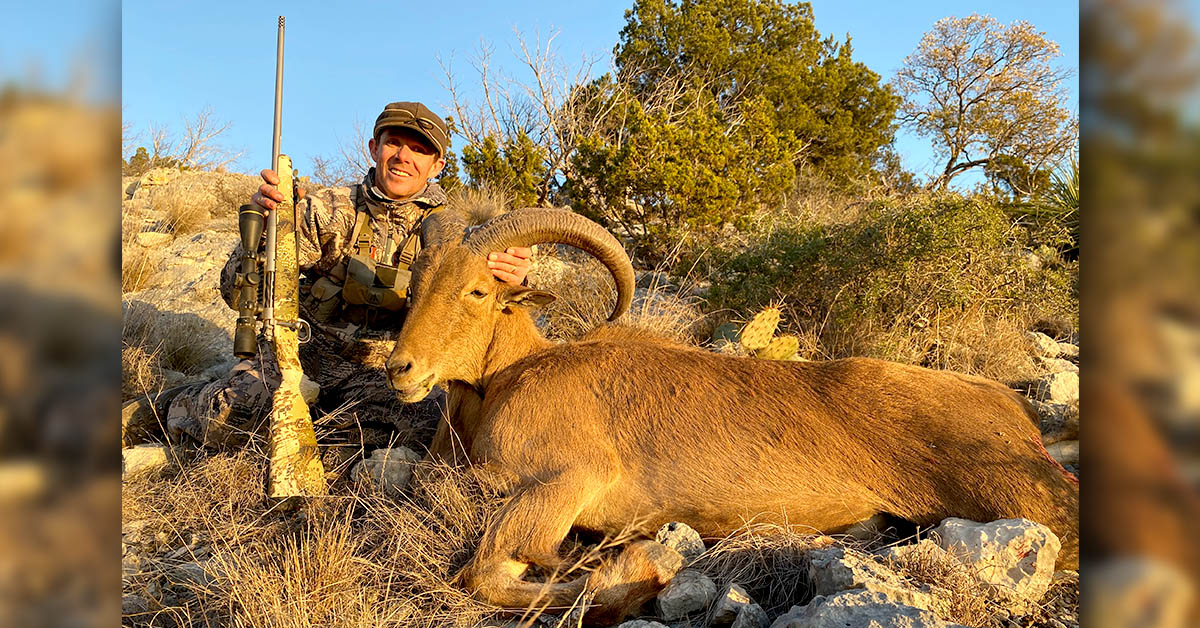 I was nervous, but Jason was sure of the hit. We watched the patch of timber the ram leaped into for 20 minutes and he never emerged. We covered the distance slowly and cautiously, often stopping to glass the timber. When we arrived, the ram was stone dead, and to our surprise, both shots were accurate. The first shot was a tad low but hit the bottom of the heart before exploding a rock as it exited. The second was midbody and through both lungs. The rifle/scope/bullet combo performed brilliantly. The trauma caused by the 155-grain boattail bullet was evident. Both wound channels caused significant trauma, and we were able to recover the second bullet, which showed uniformed expansion.
Bottom Line
If you're planning a sheep adventure from British Columbia to Texas to Mexico, I highly recommend Kimber's Mountain Ascent. The gun is airy yet produces very little felt recoil. After that first shot, I was able to get right back on target and squeeze off another round. As for my ammo of choice, I will use it again and again and again. The hype surrounding Federal's Terminal Ascent line has been lived up to, and it won't let you down. As for glass, you can't go wrong with the ruggedness and accuracy-enhancing features of Leupold's VX line. This trio makes the perfect sheep go-getter.