Stealth Cam's new Command Pro app puts maximum control of your wireless cameras in the palm of your hand…no matter where you are.
by Rob Reaser; photography by Therese Shaw
It doesn't seem that long ago when scouting meant a liberal application of boot leather to the ground during the two or three weeks leading up to bowhunting season. When our archery season opened in mid-October, I would start pounding the woods about the third week of September, looking for rubs, shiny "Milk Duds," chewed acorn hulls, freshly scuffed trails, and anything else that might provide a hint as to the best spot to build a ground blind for the opening day.
My, how things have changed.
The advent of trail cameras not only diminished the need for a lot of that walking about (not all of it, but a good bit), it allowed hunters to identify the areas where specific bucks were frequenting and provided the "aspirational targets" that were often never even seen in the pre-trail cam days.
Of course, operating trail cameras had its own drawbacks. If you're old enough to remember stuffing 35mm film cartridges into those cameras, guessing how long to wait before retrieving them and taking them to the pharmacy for processing, only to get back 36 blurry, poorly exposed 3×5 prints of squirrels, racoons, and maybe the flash of a deer's leg, you know what we're talking about.
Sometimes, the good old days weren't all that good.
But digital cameras changed all that. Good quality photos, seemingly limitless photo storage, and low operating costs delivered a high return on the investment and better "scouting" results in the process.
What more could be asked for?
Video.
Higher resolution.
More data logging features.
Custom recording modes.
Oh, we can always ask for more.
Enter Wireless
The big leap in the last few years, of course, has been wireless trail cameras—those systems that tap into the nation's cellular network to deliver images from way out in the boondocks right to your comfy chair.
Today, that remote viewing capability has become even more sophisticated thanks to firmware and software technology like the new Command Pro app from the folks at Stealth Cam.
The truly hardcore trail cam users are quite familiar with the possibilities offered by feature-rich wireless trail camera systems. Most hunters, though, have yet to take a deep dive into this technology or to see it in action. With the recent launch of the Command Pro and our having had a chance to try it ourselves, we thought this would be the perfect system to spool up the uninitiated into what wireless trail cam technology has to offer and let experienced users know about this fresh product just in time for the always-anticipated summer scouting season.
The Command Pro app is available for use with AT&T or Verizon networks. The supported cameras include several Stealth Cam and Muddy models, including the Fusion X and the Muddy Manifest 2.0 we tested. These are network-certified systems, meaning the supported cameras use network-certified hardware, so it is easy for the manufacturer to troubleshoot and resolve any product issues. That's a big deal for anyone who has experienced serious customer support problems with other wireless systems.
Once you've purchased your Command Pro app-compatible Stealth Cam or Muddy camera, setup is a cinch. Just download the app (available through the iPhone App Store or Google Play for Android) to your AT&T or Verizon plan mobile device, create and sign into your account, scan the QR code on the camera, and follow the easy steps.
Once you have the camera synched to the Command Pro app, the setup is complete. If you have multiple cameras, repeat the process. One of the cool things about this app is that it offers full communication and control of all your synched cameras. We set up three different cameras on our phone, and each one only took a few minutes.
All that's left is to configure each camera the way you want to record, upload, and store your photos and videos. Here is where the Command Pro app really shines.
All camera functions can be controlled remotely through the app, meaning no more field trips to change record settings or SD cards. You can also control the transmission times for captured images between instant, hourly, and once or twice per day.
If you have one of the compatible 2021 camera models and video is your thing, the Command Pro app offers a 3-frame preview of videos. This is a big data saver because you can better choose which videos to download and apply to your plan's data allotment. Ditto for high-resolution still image downloads.
Speaking of data, the Command Pro app allows you to change your cloud storage plan remotely should you find you need more or less data storage across the seasons.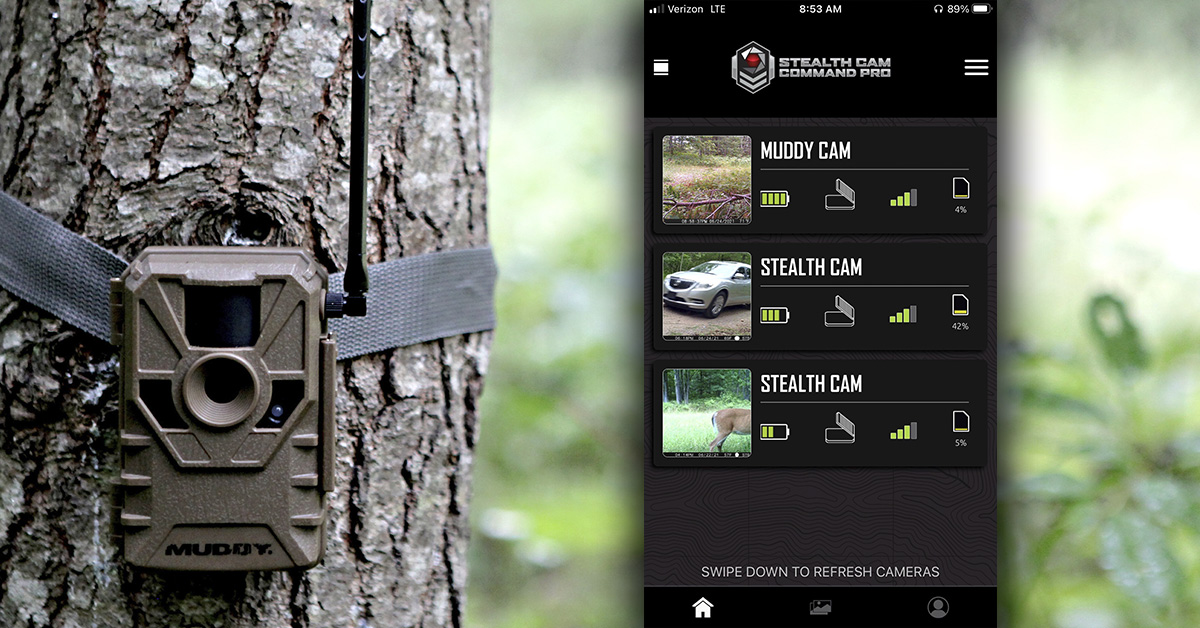 For hunt planning and game inventorying, the app offers some robust tools—particularly when it comes to organizing stored images according to critical information. You can tag images and use filters to sort photos by custom names, time taken, environmental conditions, and location. Basically, everything you need to monitor deer movement and pattern them without disturbing your hunting area.
Additional app features include:
Remotely monitor internal/auxiliary battery levels, cell signal, & memory card capacity
Global gallery (integrates images, videos, and previews from all 2020 and 2021 Stealth Cam, Muddy, and Wildview cellular cameras into a single gallery)
Night-time colorization
Pin camera locations using Google Maps
Photo Tracker – displays your cameras' activity
Receive push notifications for new photos
Format camera's memory card
Share images via text, email, and social media
Customizable camera list sequence
Demo mode
Two nationwide cellular plans are offered for the Command Pro app. There is a monthly plan ranging from $5/mo for 600 photos/50 MB to $20/mo for unlimited photos. For $50/mo you can get the Bundle Pro, which includes three cameras, 36,000 photos, and the option of adding additional cameras for $5 each. The annual plan follows the same data structure, but at a pre-pay cost of $4, $8, $15, and $40/mo, respectively. One year of cloud storage is included in all plans.
Stealth Cam Fusion X and Muddy Manifest 2.0 Wireless Systems
If you're ready to jump into the wireless trail cam era, we have a couple of suggestions that will roll right along with the Command Pro app—Stealth Cam's Fusion X and Muddy's Manifest 2.0.
The Stealth Cam Fusion X is the pricier of the two at $159.99. With that price tag comes some incredible 26 MP images, fast 0.4-second trigger speed, and 1-6 image burst mode. Additional features include:
Image resolutions (26MP/16MP/8MP/4MP)
Upload resolutions (low / high): low 640×360; high 1025×576
Matte finish PIR sensor
4pcs 850nm power LEDs
80-ft. detection & IR range
2-59 sec. / 3-59 min. recovery time
SD card slot up to 32GB
Operates on 8 AA batteries
Quick scan QR code set-up
Burst mode: 1-6 images per triggering
Time / Date / Moon Phase / Camera Name
Integrated Python lock latch
External power jack for SOLPAK solar battery back (sold separately)
At $129.99, Muddy's new Manifest 2.0 has been upgraded with new firmware for enhanced image quality. Features include:
16MP image capture
Updated 0.8-sec. trigger speed
Image resolutions: 16MP/8MP/4MP
Upload resolutions: low/high
Quick scan QR code set-up
Matte finish PIR sensor
4pcs 850nm power LEDs
80-ft. detection & IR range
Burst mode: 1-3 images per triggering
2-59 sec. / 3-59 min. recovery time
Time / Date / Moon Phase / Camera Name
SD card slot up to 32GB
Integrated Python lock latch
Operates on 8 AA batteries
External power jack for SOLPAK solar battery back (sold separately)