Home defense is essential, but so is home safety. You could be asking for trouble if your home defense arsenal isn't locked up. Get a gun safe and keep your home defense firearm safe and easily accessible.
by Jace Bauserman
I've always been able to throw myself under the bus if it meant helping others, and that's what I'm about to do. 
I was young and dumb, and while I housed my rifles and shotguns in a gun safe, my home defense weapon, a Smith & Wesson .45 ACP, was barely under my mattress. Yes, our kids were young, and shame on me! As they got older, though, each learned how to fire the handgun, knew where it was, and could even take it apart and clean it. 
I realize how lucky we were and have been reflecting a lot on this. Now that our kids are in elementary and high school and have lots of friends coming over, I realized the need to lock my home defense handgun up but still have quick access to it.
Enter Hornady's RAPiD Safe Night Guard. This RFID gun safe is a win. It is aesthetically pleasing, sports a digital clock and a pair of USB charging ports, and promises immediate access to your handgun. Best of all, though, my wife and I are the only two who can access the safe's inner contents.
The safe operates on four AAA batteries or the AC Power Cord. I plugged the included AC Power Cord into the outlet next to my nightstand and started the setup process, which is super straightforward. Also, for testing's sake, I put in the AAA batteries; the safe functioned perfectly with them. 
My first mission was to test both barrel keys that come with the safe to make sure each opened the safe, and they did. Next, I turned the keypad tones off — I don't want a home intruder to know my location. Now it was time to program the included RFID tags, and these tags are where this gun safe shines. The biometric RAPiD Safe Night Guard sports patented RFID technology and came with a total of five RFID tags. The tags include one Watchband, one key fob, and two decals (more to come on these). 
After opening the safe with the standard barrel key:
Press the program button located on the back drawer of the safe under the 1-5 illuminated number system.

Press and release the button, and the first available program, which should be the 1 program, will blink.

Take any RFID tag and hold that tag within one inch of the RFID reader, which is the clock display. The safe will then beep two times, and that RFID tag is programmed appropriately.

Repeat the process for each RFID tag you plan to use. 
I want to note you don't have to use all of the tags. The more tags you use, the more devices there are out there that will open your safe, and the more you'll have to hide. If you don't program a tag, it will not open the safe. I chose to create two tags; one is on my key chain and the other on the back of my iPhone. The tag on the back of my iPhone's case is one of the Hornady-branded decals. These things are awesome. Peel off the sticker and slap them on whatever you want.  
Once an RFID tag is programmed, all that's required is a swipe over the clock face, and the safe drawer, which is spring loaded, will slide open. The process takes seconds, and what I love most about it is my firearm, extra magazine, and ammo are locked but getting to them takes less than five seconds.
This innovative, economical gun safe also allows you to create a punch-in-style digital code. You don't have to do this, but codes can be between four and six digits if you choose to create one. To create a code, press the right side of the safe's digital touch screen, and a red illuminated four-number pattern with the Hornady symbol in the middle will appear. Repeat the process you did when setting RFID tags, only this time when the available program starts blinking, enter your code and press the H button in the middle. Once the code is entered, verify it is correct by re-entering it and pressing H again. This time, the motor should cycle and your code is operable. 
Another remarkable feature of the RAPiD Safe Night Guard is the Security Cable, which will bolt the safe to any secure structure. The drawer of the safe is also removable, and you can drill holes in the bottom and attach it to a frame. RFID tags can also be quickly removed; however, if you erase one tag, you must erase and re-program them all. 
I've tinkered with several gun safes over the years, and Hornady's RFID Tag System is the best I've found. These tags simplify opening the safe, and I've yet to have one fail. 
When the safe opens, it opens quickly, but not in a manner that will knock your hand out of the way and shift the inner contents. The drawer is not padded, which is one complaint I have with the safe, but it's not a deal breaker. The door is also roomy, and I can easily place my wallet and keys in addition to my handgun, extra magazine, and ammo.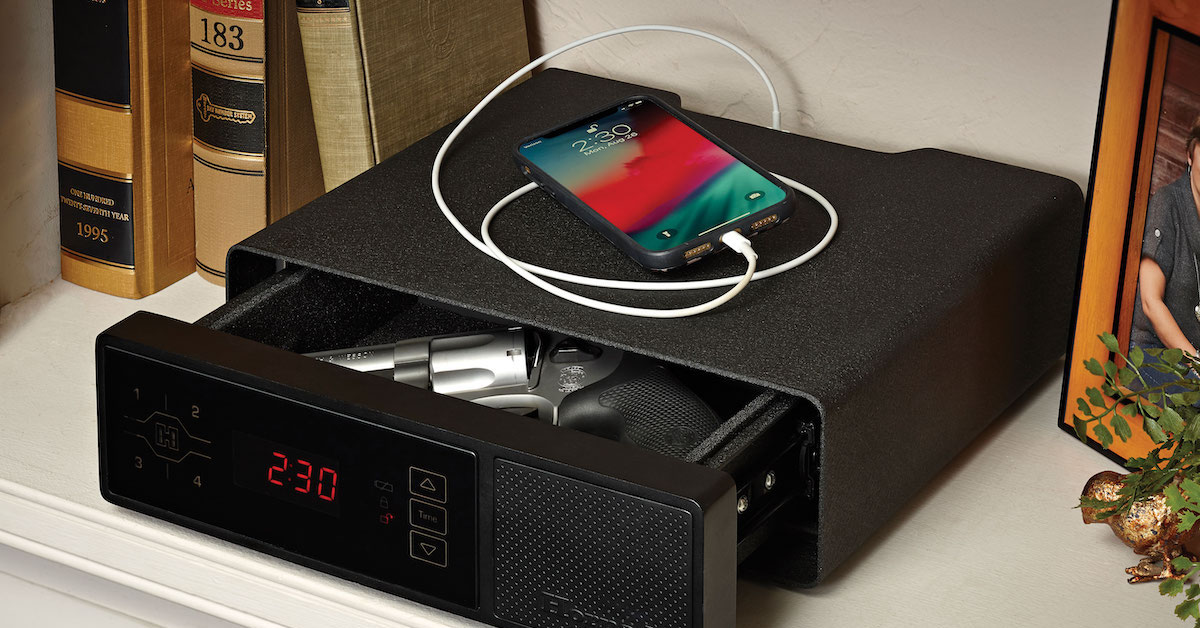 If you're looking for a top-end gun safe that doesn't break the bank, is easy to set up, and is incredibly functional, look no further than Hornady's RAPiD Safe Night Guard. 
Hornady RAPiD Safe Night Guard Specifications:
Exterior Dimensions: 3″ x 12″ x 10.5″

Interior Dimensions: 2.2″ x 9.2″ x 6.9″

Weight: 18 lbs.

Power: 12V 20.A or four (AAA) batteries (not included)