The buying season may have been in July and August, but if you have some cash lying around or don't mind swiping the plastic, these 10 items will make any outdoor fanatic smile.
by Jace Bauserman
Some call it a Gift Guide, a Black Friday Buster, and the list goes on. We don't have a fancy-to-do-name, and we're good with that. The to-come items are tried-and-true, have been used and abused, and the Shoot-On team has branded them worthy. 
If you're in the buying mood — for yourself or someone else — this list of ten doesn't disappoint. 
Enjoy!
Air Rifle Meets Rapid Fire
When GAMO introduced its Swarm 10X technology, it changed the air rifle market in a huge way. Simply load the 10-pellet magazine and the projectiles are ready to send downrange as fast as you can break the action and pull the trigger. Now, GAMO has improved its Swarm 10X performance with the third-generation auto-loading magazine. Utilizing recoil inertia force, the new Gen3i magazines load smoother and more precisely for increased accuracy and elimination of potential double-feeding. Available in .22 and .177 calibers, the GAMO Swarm Magnum 10x Gen3i is the perfect air rifle for small-game hunting action. $319.90.
A Better Bow Stand
Bow kingpin Hoyt started crafting carbon bows for several reasons, but one was to keep bow weight down. An uber-light bow, though, can get heavy when you add bulky accessories. Enter Hoyt's Carbon Go-Stix. An excellent bow stand design that mounts to the bow's lower-most stabilizer hole, these Stix are ideal for bow-mounted decoys, sitting in a ground blind, or slinking through the Rockies on a spot-and-stalk mission. Another win is that a stabilizer can still be attached once the Go-Stix is connected, thanks to an included disconnect. $69.99.
Get A Red Dot
Having a competition gun or a turkey beard buster without a top-tier red dot is like having Memphis Ribs without BBQ sauce. Not only is Burris' RT-1 Red Dot Sight affordable, but it's a breeze to mount and operate. The RT-1 offers shooters actual 1x magnification, allowing you to shoot with both eyes open. To help with customization, Burris includes a high and low base mount so you can create a perfect cheek weld. A 2 MOA Reticle rounds out the package. $359.
See In The Dark
One of the quickest ways to get more accurate with your sidearm is to replace the factory sights with a sight that creates incredible focus and stands out in all lighting conditions. Let me save you an internet search — click XS Sights and start shopping. One of our favorites is the XS R3D Night Sights, which showcase a traditional 3-dot tritium notch and post sight picture, but the blacked-out rear boosts contrast against the front sight, making the front sight incredibly bright. Front sights are available in orange or green. Each contains Ember Glow Dot Technology that allows the Ember to absorb ambient light and glow in the dark without casting any haze or creating a halo effect. A front tritium lamp keeps the Ember charged, which means the front sight always shines brighter than the rear. $116.
Guard It … Get To It
(Hornady RAPiD Safe Night Guard)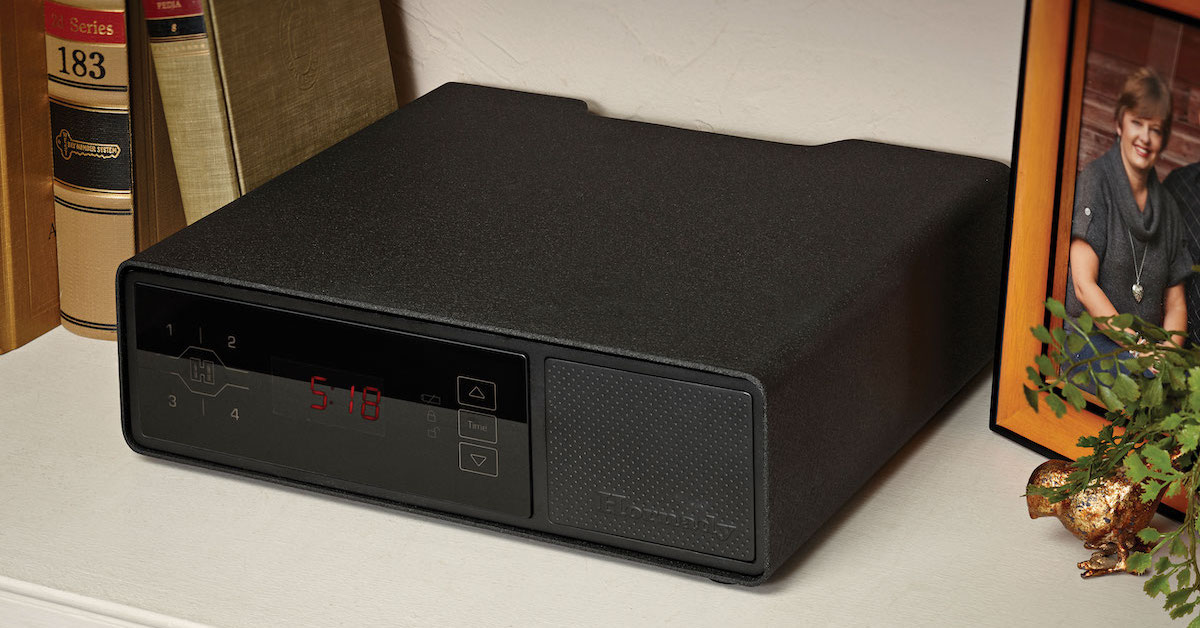 You want to keep your home-defense handgun close and at the ready but locked away and not in sight, right? We get it, and that's why Hornady's RAPiD Safe Night Guard sits atop our nightstands. The safe looks like an alarm clock, the tempered glass front panel shows the time, and the safe's back is fitted with a pair of USB Ports. The safe comes with multiple RFID tags, which, once scanned, open the safe with a simple swipe in front of the RFID reader located on the glass panel. The safe also has an access code keypad, and the spring-loaded door will open when the correct combo is punched in. $333.99.
Full Access
(ALPS OutdoorZ Vault Blind Bag)
The Vault Blind Bag is designed around a dual-compartment modular internal shelf and external support system that allows the pack to be secured out of water and mud while permitting the hunter full access to essential gear.  Inside the main pack compartment is a fold-down internal shelf. When deployed, this serves as a stable work shelf or can be used to separate the pack into two compartments. A full-access U-shaped lid makes it easy to retrieve items from the main compartment without the risk of spilling contents.
Mount Up
(Leupold Quick Stem Binocular Tripod Adapter)
Find more game faster and go lighter with Leupold's Quick Stem Binocular Tripod Adapter. Leave the spotter at home, and don't fret about the shake that freehand glassing causes. Attach the stem to the tripod, attach your binos to the stem, and bingo, you're trusty bios are mounted to a stable system and you can start picking the mountainside apart. This tool is also incredibly handy at the range. The Quick Stems Arca-Swiss compatible bases suck your binos down to any Leupold tripod, and the quick-release button detaches the binos in seconds when it's time to break the system down. $97.79
Store It Safe
(MTM ACDC30 – Ammo Crate Divided Utility Box)
Keep your ammo dry, safe, and away from eyeballs with MTM's new Divided Ammo Crate. Inner dimensions of 17.7″ x 8.6″ x 6.6″ paired with a trio of removable partitions boost organization and allow you to conveniently store shotgun, rifle, and handgun ammo in one box. Due to the case's organization features and durability, we recommend getting a couple and turning one into a range box and another into an in-the-truck travel emergency kit. The Dark Earth color is excellent, and the stackable design with tie-down and strap-over points makes these lockable boxes a breeze to haul anywhere. $27.98.
Steady Now
Shooting sticks are a must-have item. Whether you're checking a rifle before a hunt or trying to settle your crosshairs on the trophy of a lifetime, the steadier you are, the better, and BOG's Adrenaline Bipod is a great option. Designed around the concept of versatility, this bipod features lever leg locks, retractable metal foot spikes that dig and hold in any terrain, and BOG's patented Switcheroo system means quick and effortless changes between optics accessories and the USR shooting Yoke. $89.99.
For Better Field Vision
(MagView S1 Spotting Scope Adapter) 
A streamlined digiscoping masterpiece brilliant for field and range work, MagView's S1 Spotting Scope Adapter is lightning fast and a breeze to use. Use the included rings to fit the adapter with rare-earth solid magnets to your scope, slap the included MagView Phone Plate to the back of your smartphone, set the Phone Plate over the MagView eyepiece, and viola, you're set to go. $169.99.
Get It On Film
Tactacam makes self-filming your next hunt or shooting adventure more effortless than ever with its 5.0 Wide Lens. Attachable to your shotgun, rifle, bow, or crossbow, this push-the-button-and-you're-recording device is compatible with Tactacam's Remote and App and the 5.0 Wide films in 4K HD. Winning! A low-light sensor and a 360-degree microphone sweeten the pot and boost the finished video quality. The newly designed shell sports a quick change mode button and external battery indicator and promises rugged, water-resistant construction. $299.98