Viridian's RFX 25 green dot optic is ideal for shotguns, rimfires, and concealed carry pistols
by Brad Fitzpatrick
At one time, it was odd to see a reflex sight on a semi-auto pistol, but optics have become almost standard equipment on handguns in recent years. Sometimes, we mistakenly refer to reflex sights as red dots, but as Viridian's new RFX 25 demonstrates, not all reflex sights feature red dots. In fact, the number of green dot sights on the market is growing, and with good reason: our eyes simply see them better.
Why So Sensitive?
Pick up a pistol (or shotgun, or rifle) with Viridian's RFX 25 and you'll immediately appreciate how the vibrant green dot stands out against the target. And, in fact, it is easier to see a green dot than a red one, and the reason has to do with wavelengths.
Humans can see colors in the visible spectrum ranging from roughly 380 nM (nanometers) to 700 nM. Red light is on the upper end of the spectrum, about 700 nM, but our vision is clearest at about 550 nM, which corresponds with green light.
What does this added sensitivity mean? Simply put, you can see a green dot more clearly in more light conditions than you can a red dot.
I first noticed this while using a red bore sighting laser on my rifles. At midday, the red laser would fade from sight between 50 and 100 yards. In full sun, the red dot was invisible at 40 yards or less, which made it difficult to zero guns. When I switched to a green light, there were no issues zeroing guns at 100 yards — even on sunny days — because I could clearly see the dot.
The same principle applies to reflex sights. Virdian's RFX 25 sight comes with a 3 MOA green dot that is easy to see regardless of ambient light conditions. To test the RFX 25's performance in variable light conditions, I moved from near total darkness (an interior closet) to bright exterior light. For most red dots to be visible in full sun, the intensity must be so bright that the dot "flares" when moved to low light conditions, and low light settings are invisible in full sun. The RFX 25 gives you much more overlap than you get from a red dot sight, and you can use the same brightness setting for a wide range of environments. Normally, I must adjust a red dot sight at least three brightness settings when transitioning from a dark environment to a light one or vice versa. With the RFX 25, the needed transition is just one brightness setting. With 10 total settings (8 day, 2 NV) the RFX 25 offers plenty of options for any light condition you might encounter.
The Right Sight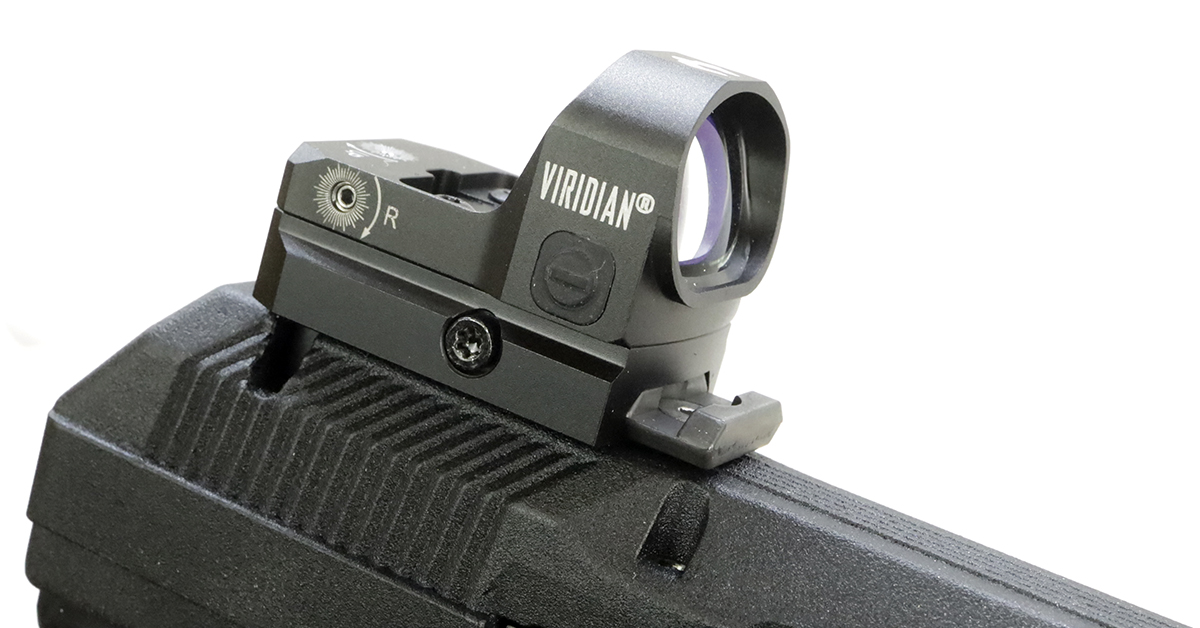 RFX 25 sights utilize a Doctor footprint, which means that they'll fit on a wide variety of optics-ready pistols. In addition, the Viridian comes with a rail mount that makes it easy to attach this optic to shotguns, handguns, and rifles with a top rail. It also means this is one optic that can serve multiple functions. With the rail mount in place, the RFX 25 works well on an AR carbine for close-quarters defensive shooting, and this sight is equally effective mounted on a turkey gun. You can then remove the base and mount this optic on your semi-auto carry pistol. It's rare to find an optic that's so versatile.
RFX 25 optics are powered by a CR2032 battery that mounts under the optic and above the rail attachment. It would be simpler to swap out the battery from the side or top so you wouldn't have to remove the optic, but with a battery life of over 30,000 hours on medium brightness level and a two-minute auto shutoff feature, you won't be changing the battery in this optic very often. Like other Viridian products, the RFX 25 offers their Instant-On technology, which means that the sight is activated every time the gun is drawn from the holster, ensuring that you always have a bright, clear aiming point in any light conditions.
The Viridian's 6061-T6 aluminum body is durable but very light, and the entire unit weighs just .75-ounces. The 20x28mm viewing window is plenty large to offer a good view of your surroundings, which is particularly important in self-defense situations as well as predator and turkey hunts. The aluminum walls surrounding the lens are thick enough to offer support and protection to the lens without distracting the shooter, and I'm a fan of the window design, which is more rounded and less obtrusive than some other optic designs. The lenses are very clear with minimal color aberration for a crisp sight picture.
MSRP for the RFX 25 is $289, which is slightly more than Crimson Trace's CT Rad Green ($274.99) but less than Holosun's HE507C-GR X2 ($399.00) green dot sight with solar fail-safe. The RFX 25 is currently available now from Viridian along with the RFX 35 (RMR footprint) and RFX 15 (Shield footprint) green dot sights.
On the Range
I tested the RFX 25 on Hi-Point's new JXP 10 10mm Auto pistol. Because the Hi-Point comes with a removable rear sight that can be replaced with a rail section, I didn't have to remove the base from the sight and risk losing the battery.
Despite being backed by an impressive seven-year warranty, I've never had any issues with Viridian optics, even on hard-recoiling guns. The RFX 25 was no exception. It handled the setback of the 10mm Auto with full-power loads and never had any problems. The 3 MOA dot is nicely sized and, not surprisingly, it was visible in a variety of light conditions.
Though most RFX 25 optics will likely land on handguns, this sight will work on a variety of firearms. After losing a turkey with a red dot optic two years ago (the dot disappeared when the bird transitioned from dark forest to an open hayfield), I much prefer chasing birds with a green dot. The 3 MOA Viridian RFX 25 is perfect for that. My kids are learning to shoot, and have a new Ruger .22 with a rail, so the parallax-free RFX 25 will be a great choice.
That's a lot of real estate for a $289 optic to cover, but the Viridian RFX 25 is a truly versatile sight that you'll use in all seasons. Aside from slightly inconvenient battery placement, there's very little about this optic that isn't well-designed.
Viridian RFX 25 Specifications
Housing: 6061-T6 Anodized Aluminum
Reticle: 3 MOA Green Dot
Brightness Settings: 8 Day/2 NV
Battery: CR 0232
Battery Runtime: 30,000 Hours
Objective Lens Size: 20 x 28mm
Weight: .75 oz.
Operating Temperature: -4oF to 130oF
MSRP: $289
Latest posts by Brad Fitzpatrick
(see all)