Built to satisfy states with tighter muzzleloader regulations, the new ShedHorn from Traditions delivers modern features for second-to-none performance in the field
by Rob Reaser
There is much more to muzzleloader hunting than an appeal to greater challenges afield or taking advantage of special seasons to fill the freezer with "just one more." Western hunters — particularly those looking west for a once-in-a-lifetime big game adventure — understand all too well that the muzzleloader may offer the best bet for getting a tag in a promising unit. And given the no-nonsense performance of the modern muzzleloader, the one-shot, one-kill muzzleloader is a wholly viable option for those willing to do their homework at the shooting bench.
That said, there are still a few states around the country — most notably Pennsylvania in the East and the Northwest states — that put a hitch in the modern muzzleloader hunter's giddyup. Whether it be restrictions on the sighting system, propellant type, ignition system, or bullet design, a gun that is allowed in Kentucky may not fly in Idaho.
Taking into consideration all the restrictions for muzzleloaders found in various states throughout the country, Traditions Performance Firearms set out to develop a rifle platform that could be used in all 50 states and do so while delivering many of the benefits today's hunters look for in a top-performing muzzleloader. The result is the all-new Traditions ShedHorn.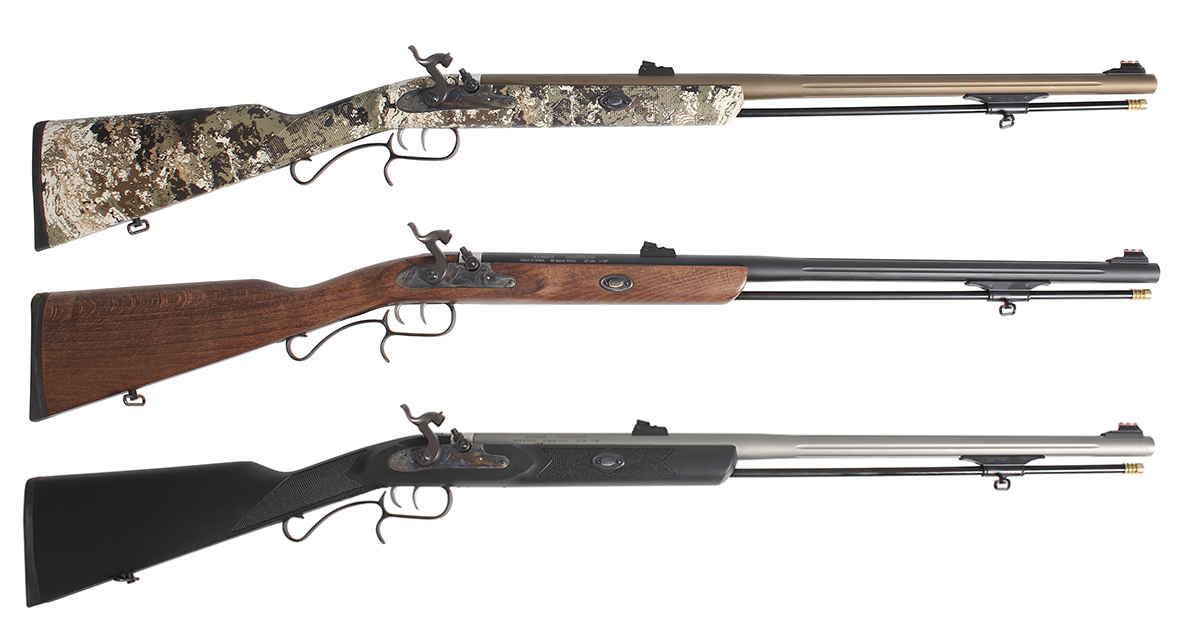 The ShedHorn brings together many features found across Traditions' extensive muzzleloader lineup. It comes in three models, each with a different stock and barrel finish.
As you can see, the ShedHorn blends a classically-styled profile with a modern fluted barrel topped with a conventional open sight system. As such, the ShedHorn satisfies the requirements of those states where only open ignition systems and non-powered, non-magnified sights are allowed.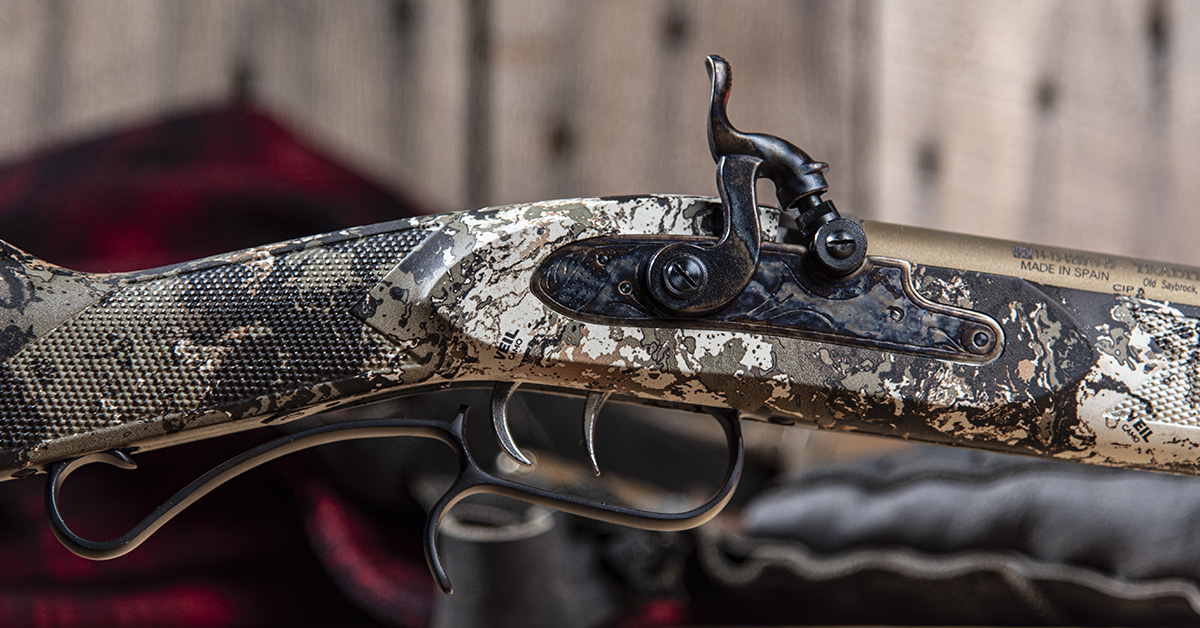 A percussion sidelock serves as the ShedHorn's ignition interface. As long-time muzzleloader fans will note, this is a traditional design that strikes the nostalgic chord just right. The classic hooked trigger guard furthers the heritage link and expertly compliments the stock's slender grip. Being a sidelock, it is allowable in states that demand an open ignition system (versus a closed system such as you find with many in-line muzzleloaders).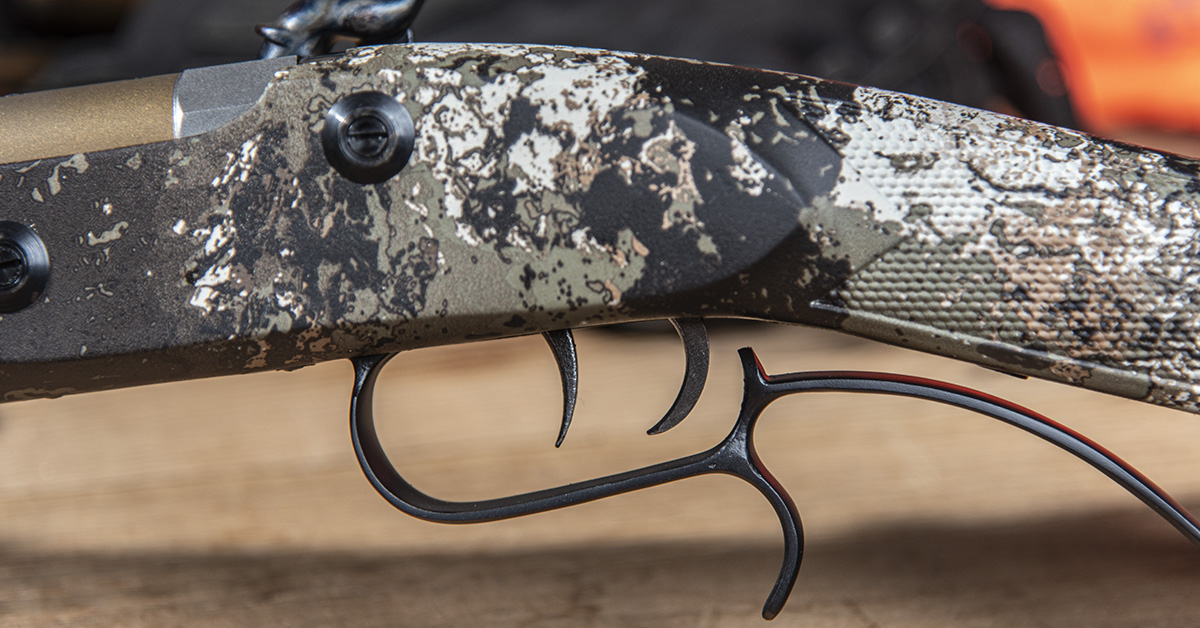 The ShedHorn includes a double set trigger system. While the trigger has a sharp 8.5- to 9-lb. pull weight, the set trigger reduces that pull to a scant 10 to 11 ounces. Using the set trigger pretty much eliminates shooter-induced shot disturbance from the trigger pull, but you better be on target and ready to fire before your finger gets near the trigger!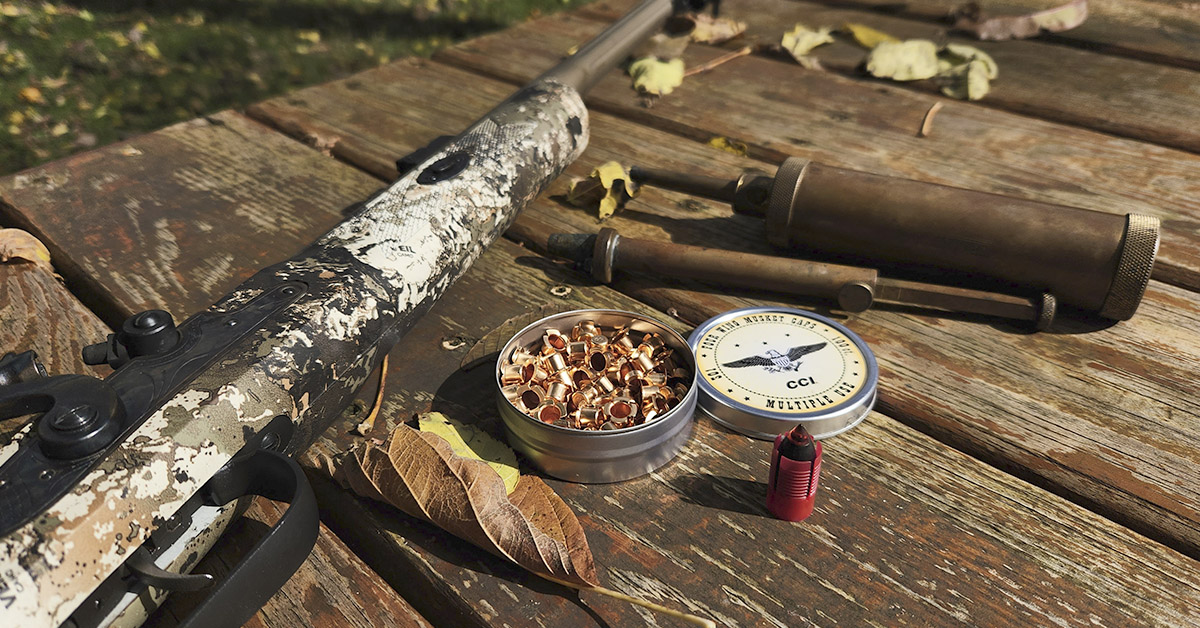 Unlike classical and conventional percussion sidelock rifles, the ShedHorn doesn't use the standard #11 percussion cap for its ignition source. Instead, it comes with a musket cap nipple, which is significantly larger than nipples intended for use with #11 caps. The advantage of the musket cap is that it provides a hotter ignition for better burn performance when using hunting loads to propel heavy 250- to 370-grain bullets. But be warned. Since musket caps are less commonly used than #11 caps, they can be difficult to come by, so plan ahead. The other advantage is that these caps are suitable for states that do not allow the use of 209 primers as the ignition source.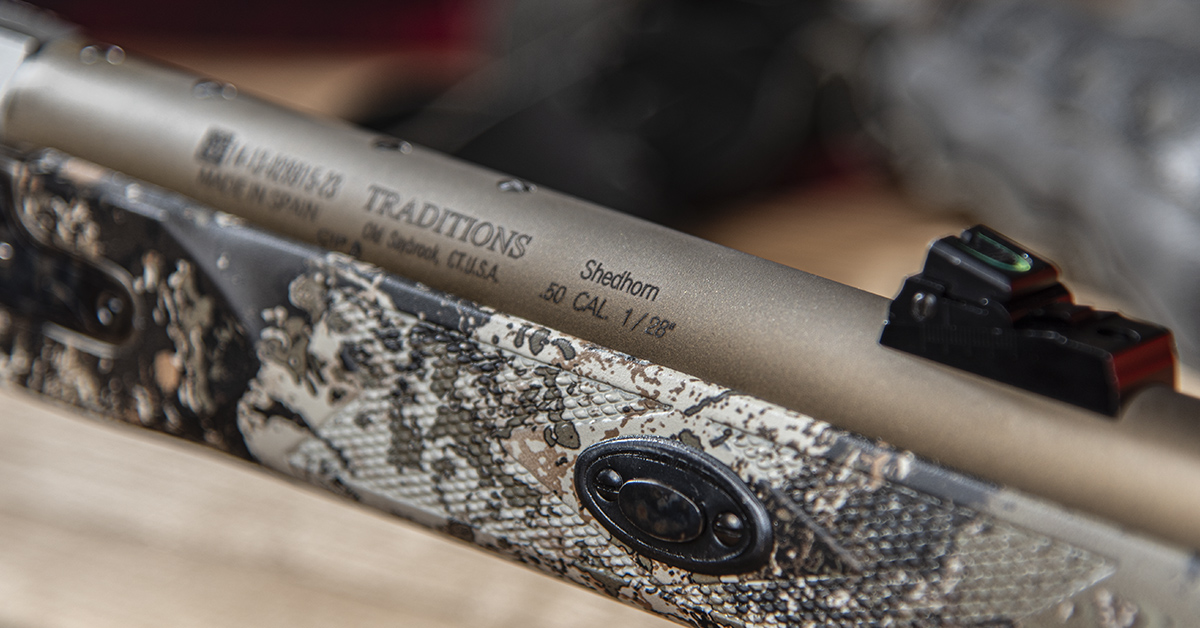 The ShedHorn is offered in .50 caliber. The rifling twist rate is 1:28 — standard fare for most conventional muzzleloaders pushing saboted bullets. Traditions provides a chart in the ShedHorn manual, suggesting volumetric unit powder charges for conical projectiles (maxi balls) and saboted bullets in the 250- to 370-grain range. This chart is based on Pyrodex RS and Triple 7 black powder substitutes. Traditions does not recommend the use of pelletized powder for the ShedHorn. For our testing, we had good luck with Triple 7.
Those familiar with the Traditions line of muzzleloaders already know the accuracy potential of the company's ultralight chromoly tapered barrels, which the ShedHorn wears proudly. All three barrel models are fluted, come 26 inches long, and boast a Cerakote finish. Front and rear sling swivels come installed from the factory and are a perfect fit for our favored M1 Garand web slings.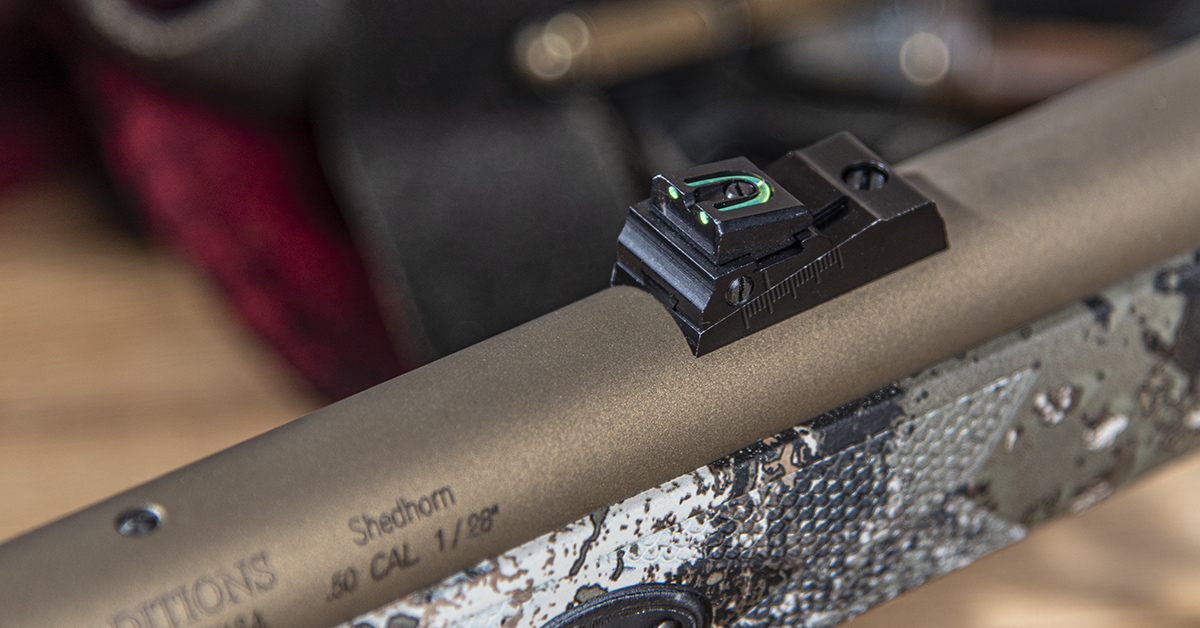 For the sights, Traditions selected the Williams Gun Sights FireSight Open Slugger Set. This set features a windage- and elevation-adjustable rear sight with a fiber-optic element. It is easy to see in low light and easy to adjust.
The front sight contains a red fiber-optic element that contrasts well with the green rear dots. Fiber-optic sights are a perfect choice in those states that prohibit electronic or optical glass sight systems.
Disassembly of the ShedHorn for cleaning is similar to that of Hawken-style rifles. Remove the barrel wedge and tang screw then the assembly can be lifted from the stock.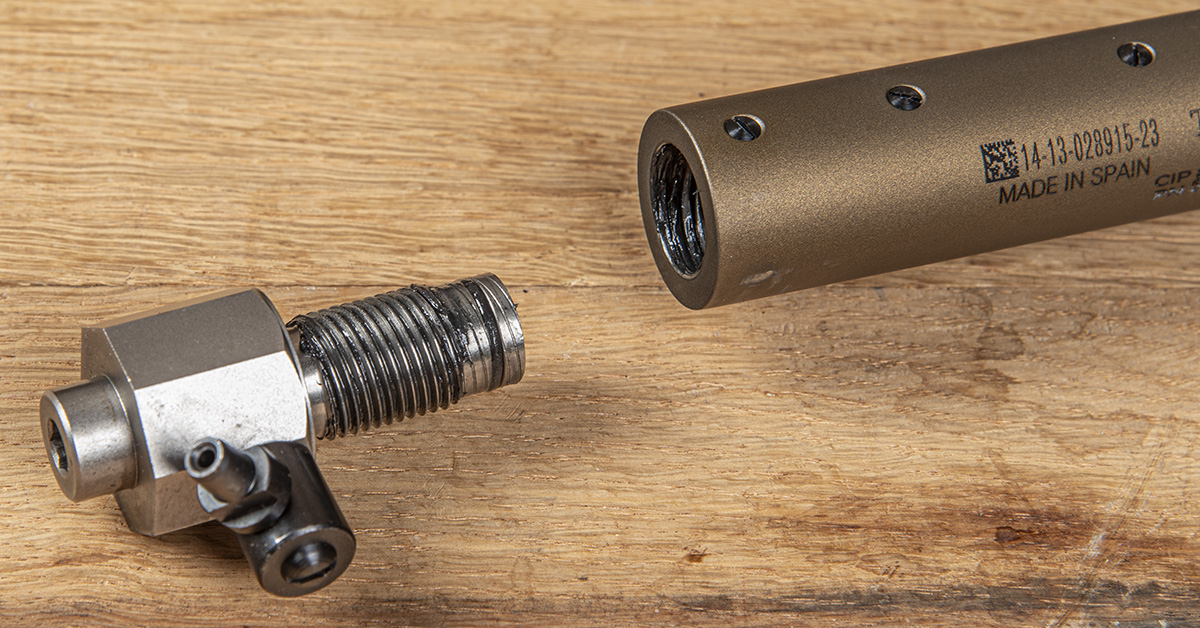 A huge plus is the included octagonal Speed Breech. It installs into the back of the barrel just like an in-line muzzleloader breech plug. One of the key differences is that instead of having a nipple at the back of the breech plug, the ShedHorn breech has a traditional percussion cap bolster on the side. The advantage of this system is that it makes barrel cleaning as easy as that of an in-line muzzleloader.
You will note that the ShedHorn barrel is drilled and tapped to accept the Traditions scope mount rail, meaning you can, theoretically, install a scope. In practice, a red dot is the more likely option. We tried to install a scope for accuracy testing but found that the ocular bell interfered with the rotation of the Speed Breech. Specifically, the bell would not clear the bolster when attempting to screw the Speed Breech in or out. In short, plan to stick with the open sights, or find yourself a good 2 MOA red dot if you are able and wish to use an electronic sight. Purists will be aghast at the sight of a red dot on a sidelock muzzleloader, but, hey…it's your gun!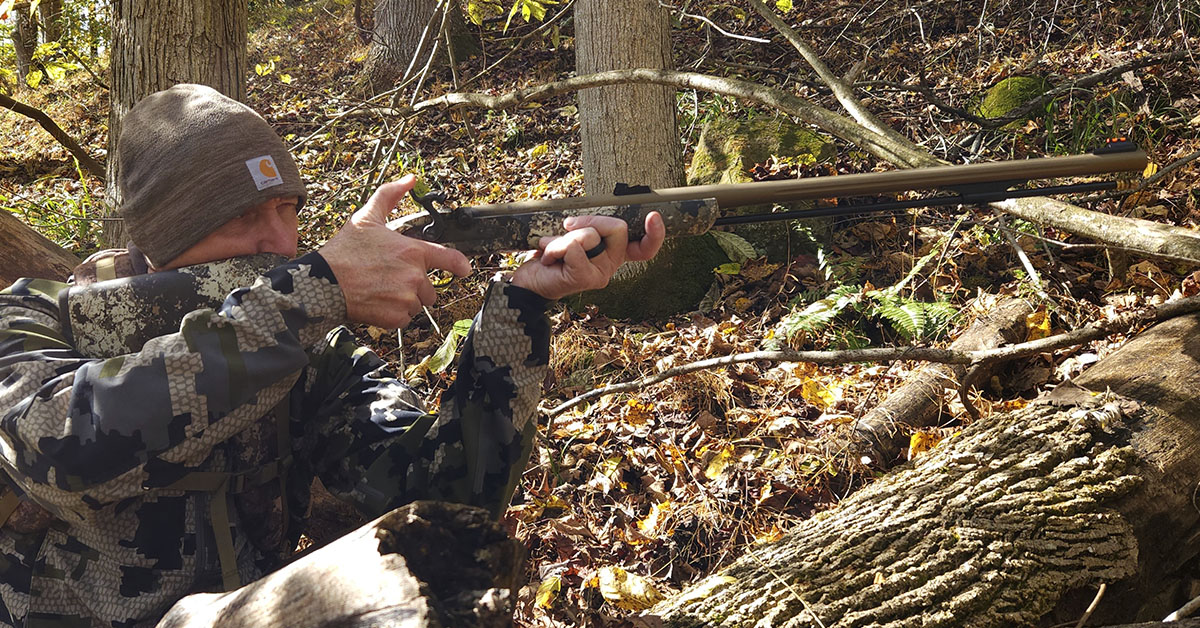 Bench time with the ShedHorn proved immensely fun. Sticking with 95 grains of Triple 7 and shooting Traditions' Smackdown Carnivore 250-grain saboted bullets and the new Smackdown MZX non-jacketed 300-grain bullets, the ShedHorn delivered consistent results. Since aging eyes and open sights don't play well together, we didn't bother shooting for tight groups at distance, but if the ShedHorn shoots anything like our Traditions NitroFire, there's little doubt we could achieve 1-1.5 MOA groups with some judicious load testing.
While muzzleloader fans in states with "loose" equipment requirements may not see the Traditions ShedHorn as their first rifle choice, it is certainly a problem-solving option for those hunting in restricted states or seasons, or for anyone who appreciates the simplicity and heritage of a Hawken-style hunting rifle yet desires some of the benefits of today's innovative muzzleloader features.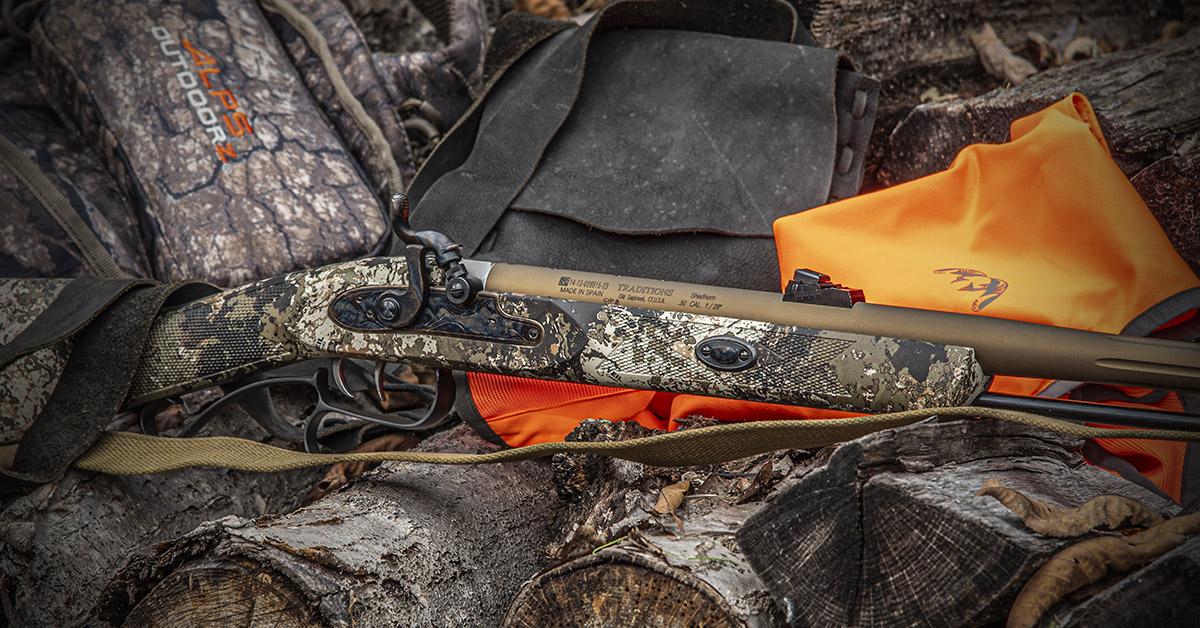 Traditions ShedHorn Specifications (as tested)
Model: #R3980525
Caliber: .50
Ignition: percussion, musket cap
Propellent: loose black powder or black powder substitute
Barrel: 26-in. ultralight chromoly, tapered, fluted
Twist: 1:28
Barrel Finish: premium Cerakote
Trigger: double set
Breech: Accelerator breech plug
Sights: Williams fiber-optic
Stock Finish: Veil Wideland
Additional: rubber butt pad, solid aluminum ramrod, sling swivels, drilled and tapped for scope mounting
MSRP: $538