A combined effort between Federal Premium and Henry delivers the ultimate pairing of rifle and ammunition for true lever-action fans
by Rob Reaser
As anyone with their eyes open and their ears somewhat close to the ground knows, lever-action rifles are once again "a thing" in firearm enthusiast circles. Their short carbine length, easy handling, and gentle shooting manners have moved them back in the stream of the modern gun movement, whether for hunting, personal defense, or simply fun times at the range.
But with the most notable exception of Hornady's LEVERevolution Flex Tip bullet design introduced years ago, there has been little focus or innovation in the realm of lever-action rifle ammunition. Shooters engaging either bottleneck or straight-wall cartridges essentially worked with whatever ammo they could find on dealer shelves that were built for the legacy platforms. This was especially true with lever-action rifles chambered for the traditional pistol calibers, such as .357 Magnum, .44 Remington Magnum, and .45 Colt.
All that changed with Federal Premium's relatively recent introduction of its Hammer Down line of hunting-grade cartridges. Developed in conjunction with the folks at Henry Repeating Arms, Hammer Down represents a refinement of ammunition intended to optimize both operational and terminal performance in lever-action rifles.
A Two-Track Approach

In designing this new class of ammunition, engineers from Federal and Henry considered the key issues of lever-action rifles and their ammunition. Issue One was reliable loading and cycling from the magazine to the chamber and out the ejection port. Issue Two centered on load development to achieve maximum terminal performance from pistol caliber cartridges propelling bullets through long guns sporting 16- to 21+-inch barrels.
"One of the biggest issues is reliable cycling and loading of the cartridges," said Jake Burns, Federal Ammunition Centerfire Rifle Product Engineer. "This issue was fixed with the modified case geometry."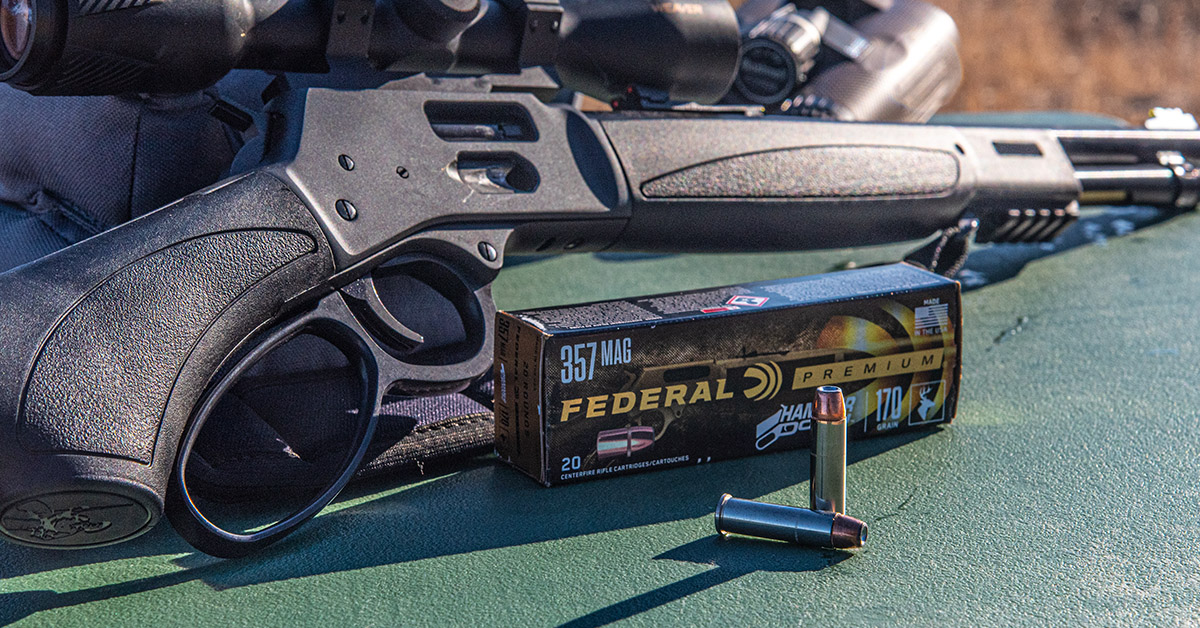 To achieve this, Federal experimented with various bullet profiles and chamfered the cartridge case with unique geometry on the front of the case rim. In the end, the engineers arrived at the assorted cartridge caliber profiles to ensure reliable and exceptionally smooth cycling. This operational quotient was further enhanced with the selection of nickel-plated brass for the cartridges. Nickel-plated brass not only offers greater corrosion-resistance when compared to conventional brass cases, it also has a lower friction coefficient than brass. Combined with the more refined case geometry, the Hammer Down nickel plating promotes even smoother cartridge transition throughout the cycle of operation and makes for easy loading into magazine tubes or through a rifle's side loading gate.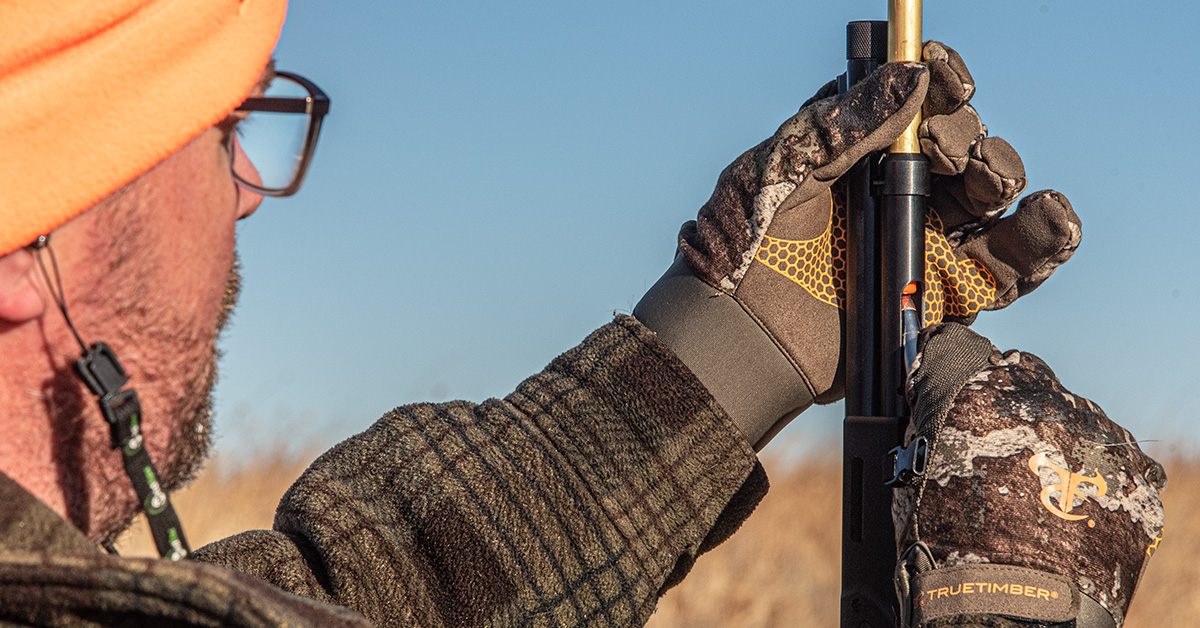 A more complicated juggling of balls occurred during the load development of the Hammer Down line. Conventional handgun ammo, while successfully employed for decades in long gun platforms, presents limited terminal performance on mid-size game at 100- to 200-yard distances. That is due largely to the bullets being lighter of weight and propelled at relatively lower velocities.
To start, Federal engineers determined that molecularly bonded bullets (copper plating bonded to a lead core) would provide the necessary expansion and weight retention in the handgun calibers.
With the bonded bullet and bullet weight parameter established, the engineers concluded that heavy-for-caliber weight would further promote penetration and higher impact energy transfer. For the three Hammer Down handgun cartridges, bullet weights are 170 grains for the .357 Magnum (vs 158), 270 grains for the .44 Remington Magnum (vs 240), and 240 grains for the .45 Colt (vs 225). All disparities are relative to Federal's legacy hunting handgun loads.
Finally, Federal engineers identified two bullet point profiles most suited for the Hammer Down line—Bonded Soft Point and Bonded Hollow Point. Calibers paired to the Bonded Soft Point include .357 Magnum, .44 Remington Magnum, .30-30 Winchester, and .45-70 Government. The .45 Colt and .327 Federal Magnum both receive the Bonded Hollow Point bullet.
While the Hammer Down .30-30 Winchester and .45-70 Government cartridges hold to Federal's established hunting loads for these calibers, the handgun cartridges received careful load tweaking to improve ballistics in a lever-action rifle and to deliver that essential terminal performance on medium-sized game animals at hunting distances. Again, comparing the Hammer Down loads to that of Federal's existing hunting handgun loads, velocity and pressure make big jumps while staying within SAAMI industry standards.
For example, using Federal's existing hunting handgun loads as the benchmark, the new Hammer Down ammo delivers velocities as follows:
.357 Magnum – 1,610 fps vs 1,180 fps
.44 Remington Magnum – 1,715 fps vs 1,250 fps
.45 Colt – 1,400 fps vs 800 fps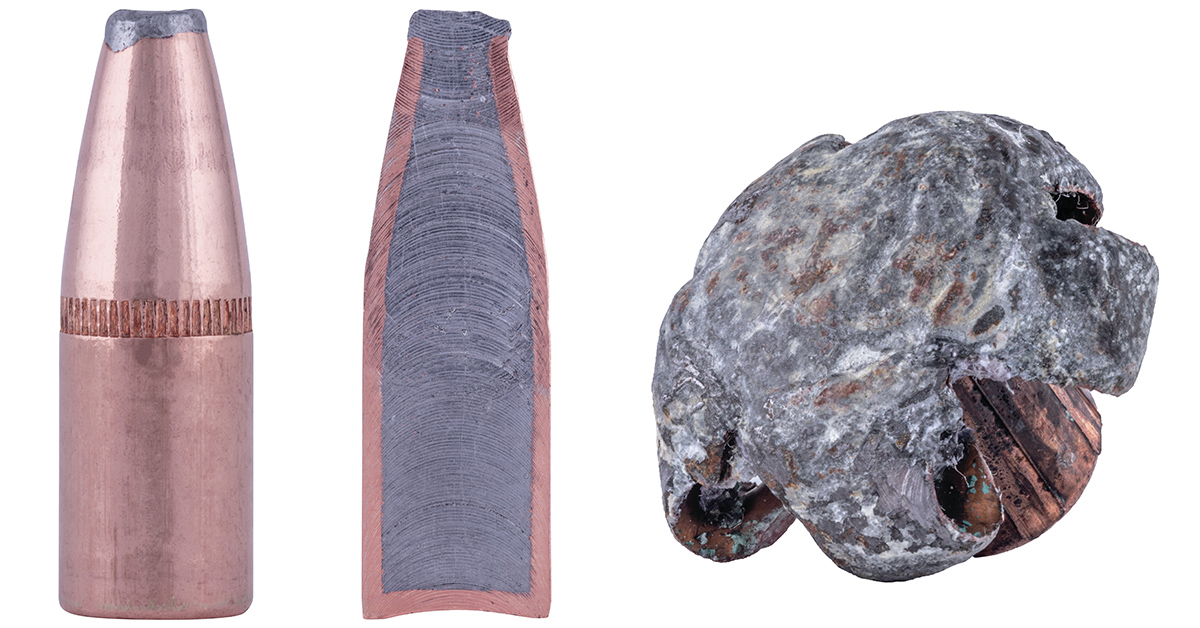 The result is terminal performance ideally suited for medium-size game animals within typical hunting ranges. And that changes the game for the growing number of enthusiasts looking to bring lever-action rifles back to the hunting fields.
"Henry is best known for manufacturing a line of classic, well-crafted firearms—especially commemorative and collectible models—that every enthusiast can afford," said Dan Clayton-Luce, Henry Repeating Arms Communication Director. "Even as early as ten years ago, we didn't make any rifles specifically for hunting purposes. Today, that has changed in a big way. We are seeing more people choosing to hunt with a lever-action rifle as a result. There are simply more options now for someone looking to hunt with a Henry.
"We provide the absolute best rifle we can, and Federal stepped up to the plate to provide their expertise and create the best ammunition for our platform. But a .357 Magnum revolver is a very different firearm than a lever-action rifle chambered in .357 Magnum with a 20-inch barrel. The action is inherently different, the barrel length is vastly different, and the typical uses are different as well. Why use ammunition that was designed with the revolver in mind when there is now an option that was created specifically to maximize performance out of the rifle?"
A Modern Lever-Action
Henry Repeating Arms has built a solid reputation for manufacturing lever-action rifles of the highest caliber. Although generally thought of as a maker of traditional-style lever-actions, the company's X-series models blow the lid off any notion that lever-actions must be inherently "old school" in either function or design.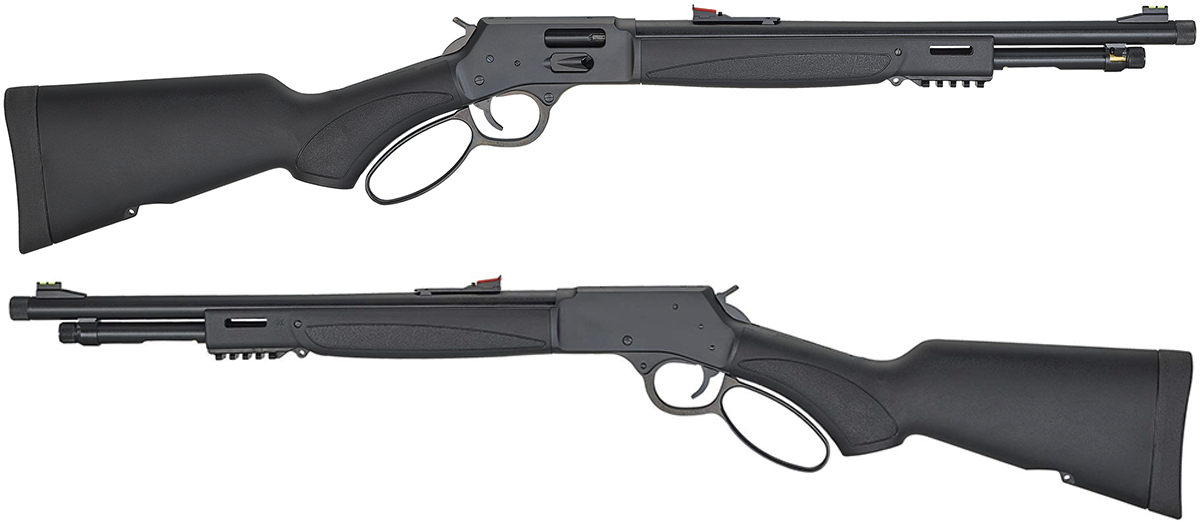 We recently spent some time with Henry's Big Boy X model, which is a modern interpretation of the classic repeating carbine, and came away impressed. Chambered in .357 Magnum, this feisty firearm proved its multi-mission capabilities—hunting rifle, target shooter, or backdoor defender.
Built on Henry's proven action, our Big Boy X sports a 17.4-inch barrel with 1:16 twist rate. The receiver and barrel's black oxide finish expertly blends with the black polymer furniture. The black motif, though, is more than a "tactical veneer."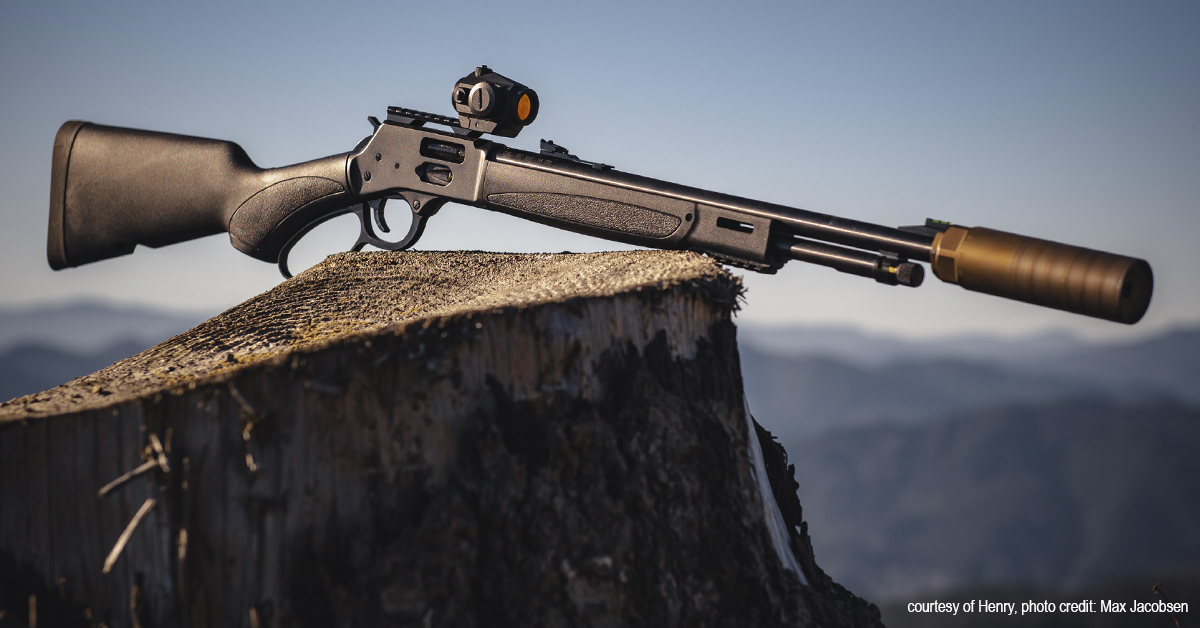 Henry applies the tag "To Protect and Provide" to the Big Boy X, meaning this rifle is equally suited as a game-getter or as a defensive platform. Integrated into the forend is a Picatinny rail for accepting accessory lights or a bipod mount. An included Picatinny rail offers a suitable platform for mounting either a magnified optic or red dot, depending on your sighting needs. Should you prefer to keep the gun clean, fiber-optic open sights are standard fare.
Another welcome bonus is the factory-threaded muzzle. Boasting 5/8×24 threads, the Big Boy X comes ready to accept a suppressor or aftermarket muzzle device. A thread protector comes with the gun for when a muzzle device is not in use.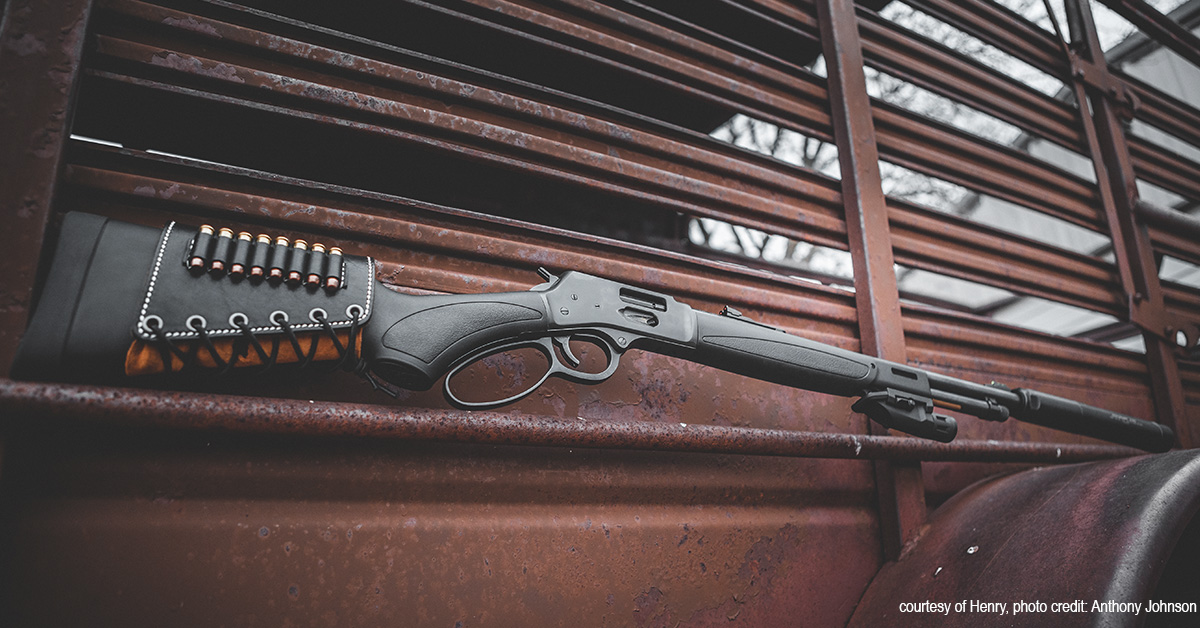 In short, the Henry Big Boy X is a well-thought-out carbine that effectively bridges the classic with the contemporary and does so in a way that adapts to any application. As a hunting gun, it is an easy carry in rugged, tight woodlands or tangled swamp country. Chambered in .357 Magnum, it offers ammo compatibility with equally chambered handguns. As a "bump in the night" go-to or a truck gun, the Big Boy X is easily outfitted with the latest defensive firearm support systems.
Lever-action rifles will arguably be forever linked to range-riding cowpokes or wool-clad, turn-of-the-20th-century deer hunters, but astute firearms enthusiasts and the newest generation of gun fans rightfully recognize the lever-action's place in the modern armory. When you factor in rifles like the Big Boy X that seamlessly adapt to conventional technology and you add in platform-specific ammunition à la Federal Premium's Hammer Down cartridges, one must ask, "Where to next?"