Springfield's latest 1911 in .45 ACP delivers top-end performance and classical 1911 styling at a price that's hard to ignore
by Rob Reaser
Here at Shoot On, we spend a boat load of time behind polymer-frame striker-fired pistols. These are, generally speaking, the vanguard of everyday carry firearms, and for good reason. They are light, boast high round capacity, and are increasingly sized for discrete on-body carry and minimal printing.
Much as we love them, polymer striker-fired pistols fall squarely into the "utilitarian" category. They are built for a purpose, with no pretense of being anything other than the defensive-centric firearms they are. Never will they be elevated onto the pedestal of the "gunmaker's art;" neither admired for graceful lines, exquisite form and balance, or for precisely machined fit relative to their all-steel predecessors.
That is why it is always a thrill to wrap our hands around a high-quality 1911. If you have never spent time behind one, it is difficult to appreciate the subtle and not-so-subtle nuances that have made this platform the gold standard in semi-auto handguns for over 100 years.
Lest we lull you into a sense that the 1911 has, today, been relegated into a mere performative role, know that this John Moses Browning masterpiece, in .45 ACP form, has never relinquished its duty as an ultra-reliable service pistol. Pervasive as the 9mm polymer gang may be, astute ballisticians to experienced defense professionals understand the truism that the "harder they hit, the harder they fall." It is a notion not lost on many personal defense practitioners who are once again (or for the first time) reaching for the .45 ACP-chambered 1911—not only for its reliability and terminal performance, but also for its savage grace.
The 1911 has seen innumerable variations over the last century—from rough-and-tumble MILSPEC models and compact versions to fancy gold-plated museum pieces and hot rod modifieds priced beyond the means of average folk. Yet no matter which flavor of 1911 you engage, the experience is singular—a bold and confident handgun with ergonomics that bely its austere-looking profile.
Springfield Armory Garrison 1911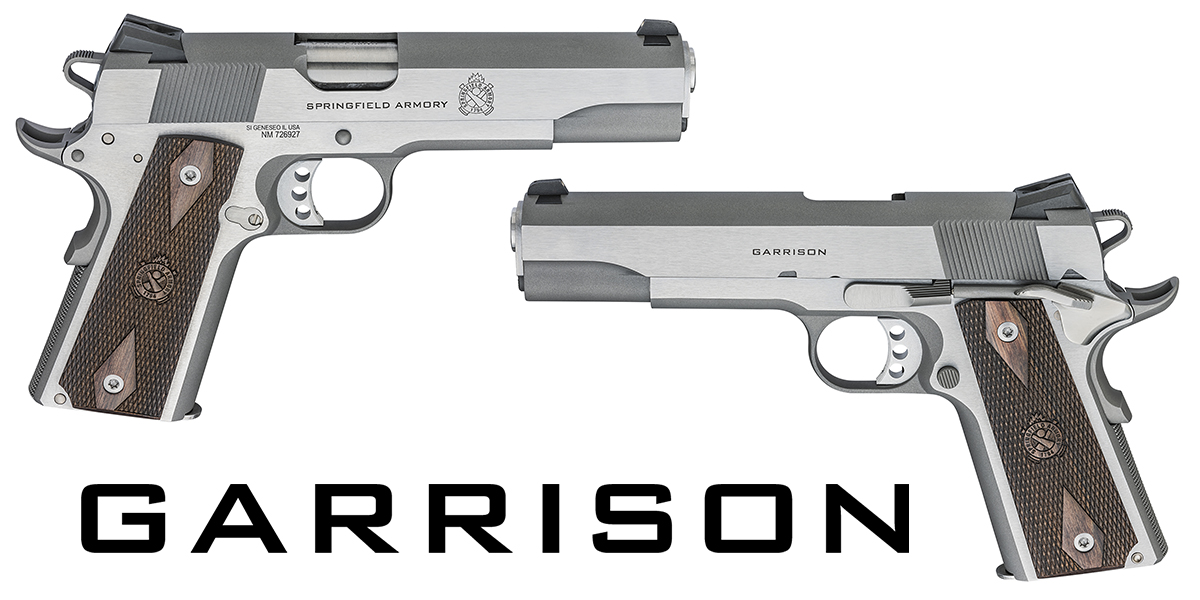 Springfield Armory, a company with a solid reputation for manufacturing 1911 pistols, recently introduced a new model called the Garrison 1911. The Garrison falls in line, pricewise, with the company's Ronin and MIL-SPEC 1911s. The two Garrison models are distinguished by their finish: blued ($849 MSRP) and stainless steel ($899 MSRP). We've had the pleasure of working with the stainless-steel model for the last couple of months (#PX9420S) and must admit loathing at the thought of sending it back at the conclusion of our testing. This handgun is, like most 1911s manufactured to exacting standards, a joy simply to hold and admire, let alone to shoot and to carry.
The first thing you notice with the Garrison is its crisp machining, accentuated by three complimentary finish grades. The slide flats receive a high polish—not mirror-like but closer to a lustrous satin. Moving to the frame flats, we find a slightly more restrained polish that preserves just enough "machining grain" to mute any harsh glare. This dual-grade polish of the frame and slide flats smartly contrasts with the matte finish of the frame and slide's contoured surfaces and the slide serrations, effectively creating a tri-tone finish.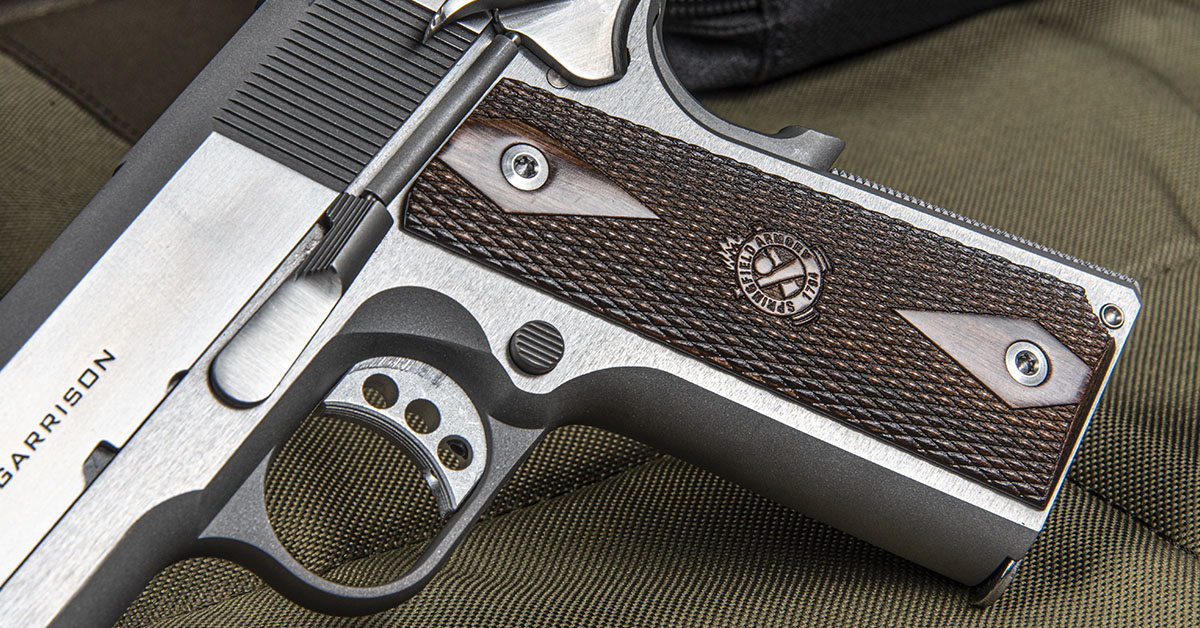 Grips on the Garrison are Springfield Armory's classical 1911 fare, comprised of checkered hardwood with the familiar cross-cannon logo. Where these grips differ is in their thickness. Springfield calls the Garrison's wood grips "thinline," and thin they are in comparison to the standard versions. While boasting the same profile, length, and width, the Garrison thinline grips are significantly thinner. For medium-size-hand shooters, this is a welcome feature as the grips allow the firing hand fingers to wrap around the frame more completely for a surer lock on the pistol. An upshot beyond the hand-in-glove comfort is more precise seating between the web of the thumb and forefinger, which promotes barrel axis and forearm alignment—an important element of good marksmanship form.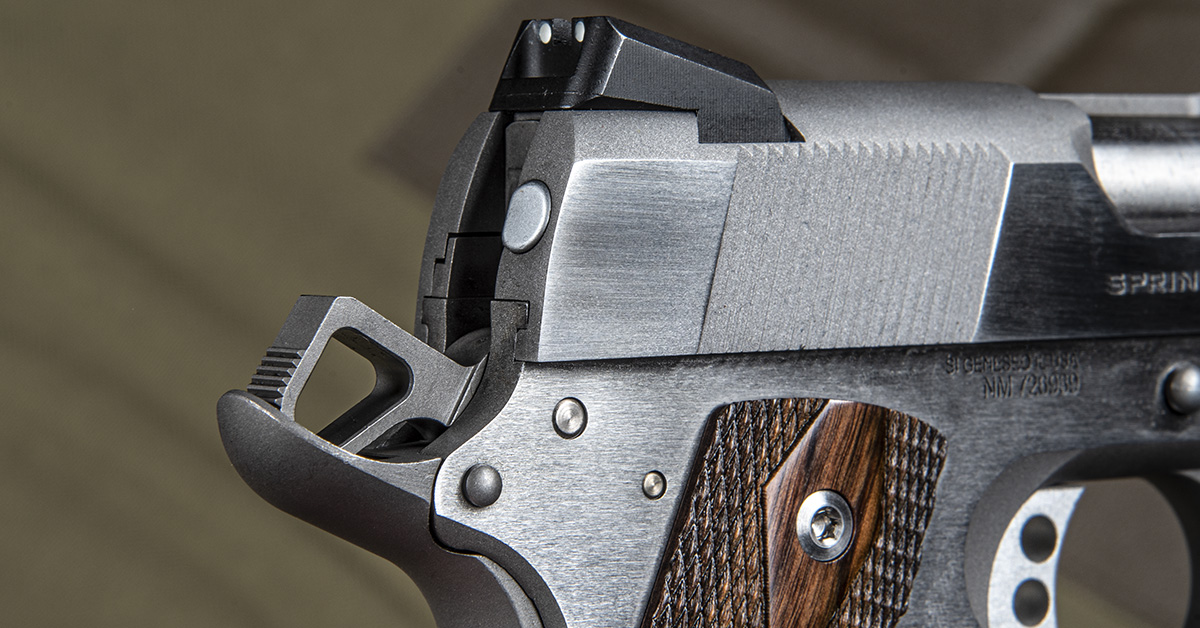 Another element that contributes to the Garrison's comfort and promotion of good shooting form is the extended beavertail grip safety. This is a feature found on all Springfield 1911s except for the company's MIL-SPEC models. The beavertail includes a prominent upsweep and is cored to shroud the cocked hammer—an elegant solution to eliminate "hammer bite" during the cycle of operation. And, yeah, we definitely dig the skeletonized hammer.
The Garrison comes with Springfield's extended safety lever. It is longer, wider, and subjectively more ergonomic than the MILSPEC version, offering exceptional leverage for easy manipulation. The lever's prominence, though, may require some adjustment in your shooting style—particularly thumb placement. Riding the firing hand thumb overtop the lever could be your best bet; however, that may require placing both thumbs higher on the slide/frame than you are used to. For myself, I much prefer the more minimalist MILSPEC safety lever. To each his own.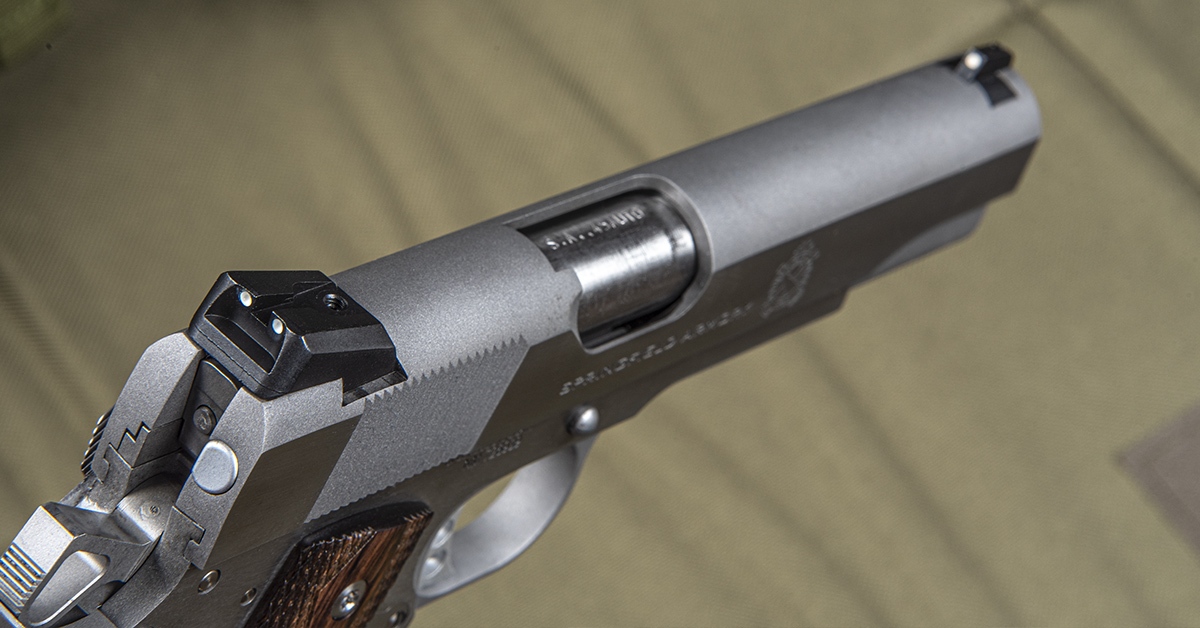 The sighting system for the Garrison is straightforward: low-profile iron sights with white alignment dots. The rear sight is drift-adjustable should you need to tweak the point-of-impact.
From previous experience, accuracy testing is practically a moot exercise with a quality-manufactured 1911 like the Garrison. Find the load that the gun likes best and the firearm's accuracy potential will almost always exceed the shooter's skill. A better evaluation is how the gun intuitively handles from the jump, with no "getting used to" practice strings to uncover the pistol's idiosyncrasies.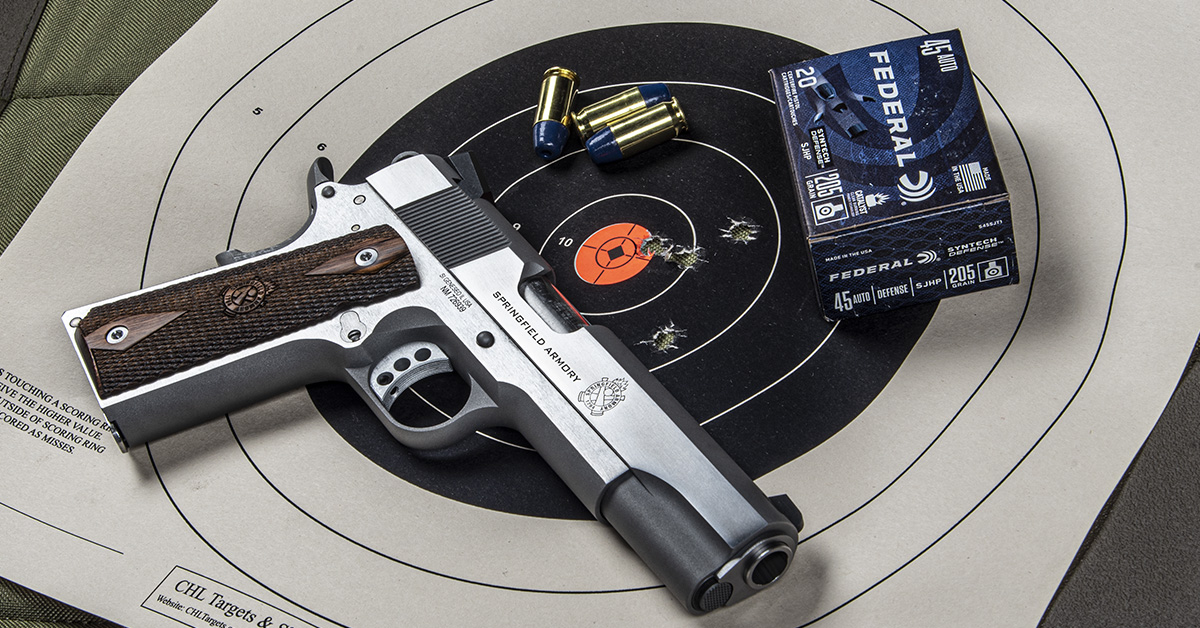 Above is our first four out-of-the-box shots from a slow-fire combat stance at 30 feet while standing on uneven terrain…in 18-degree temps…while wearing a heavy, restrictive coat. Despite the challenging conditions, the Garrison's precision manufacturing and delicious ergonomics won out with pleasing groups that continued to shrink as our ammo stash diminished.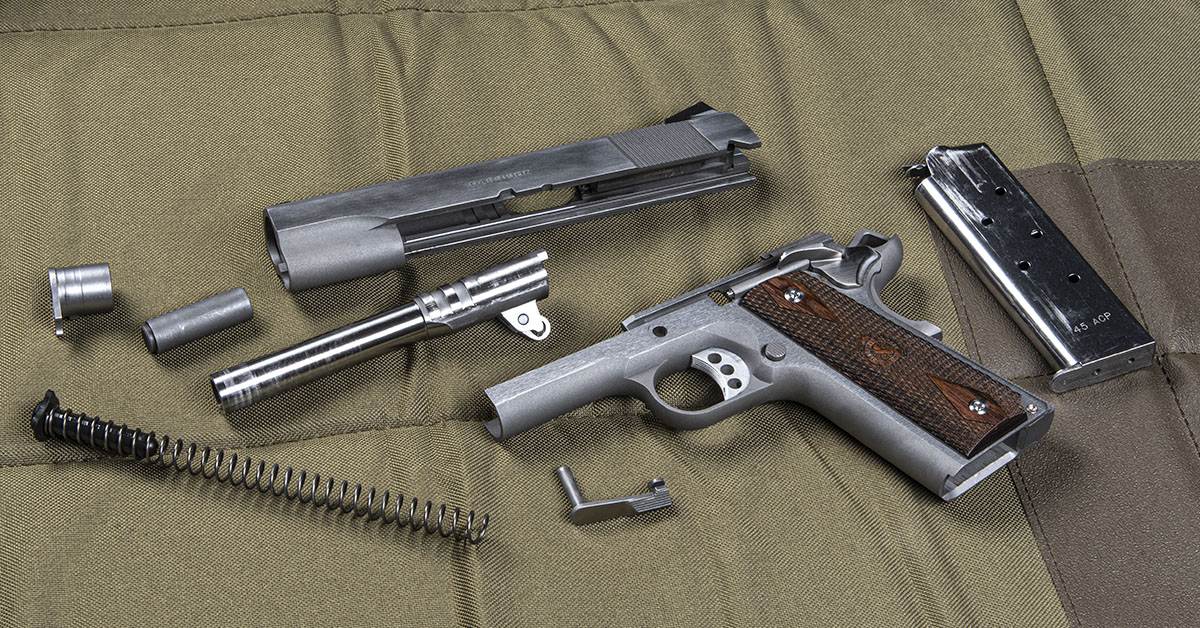 As you can see, the Garrison is familiar 1911 territory inside and out. Springfield does stress that the barrel, slide, and frame are all hammer-forged to ensure maximum material density and strength. Add in the precise machining and the Garrison exhibits no slop whatsoever between the frame and slide assembly. Trigger take-up is maybe 3/32 of an inch with only a skosh of travel before a clean break. Reset is also blessedly short and decisive. The trigger pull weight measured a silky 3 lbs. 4.7 oz. on our Lyman scale…another upside if quality target shooting is on the menu.
Springfield Armory Garrison 1911 Specifications
Caliber: .45 ACP
Capacity: 7 rounds
Slide: forged stainless steel
Barrel: 5-in., 1:16, forged stainless steel
Frame: forged stainless steel
Recoil System: GI-style
Sights: low-profile combat 3-dot
Finish: matte and polished stainless
Grips: thinline wood
Weight: 37 oz.
Length: 6 in.
Height: 5 in.
MSRP: $899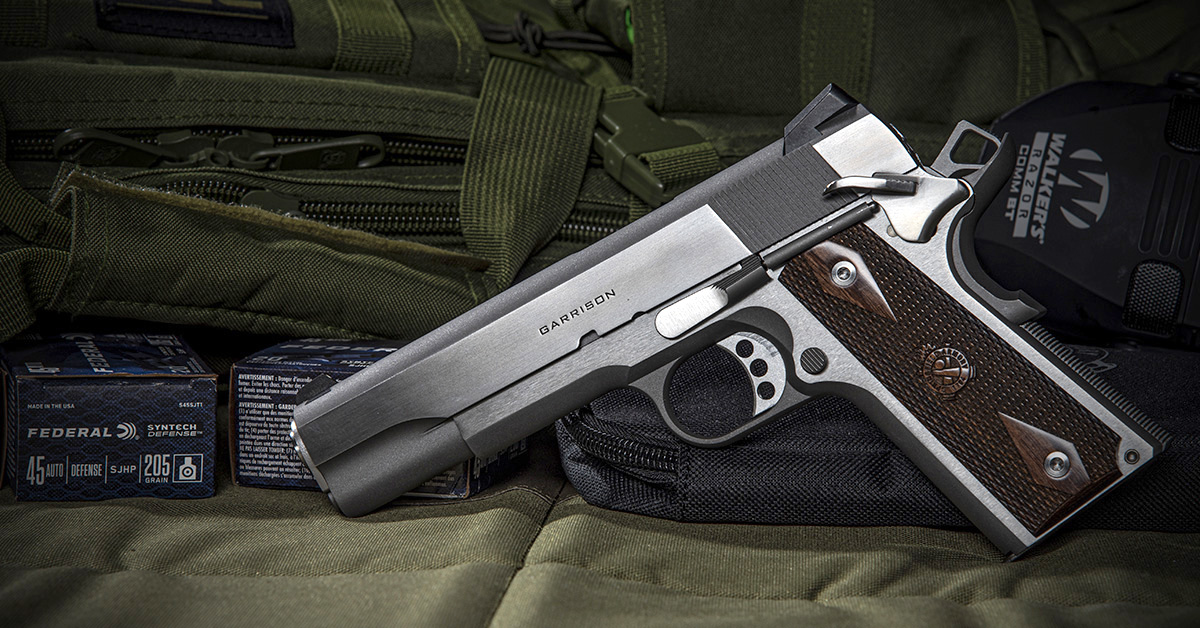 Although a full-size 1911 may not be your first choice for an EDC handgun, the Garrison 1911 should definitely be in your sights if you are looking to break out of the polymer striker-fired mold or simply want an accurate semi-auto for recreational target shooting, competition, or refining your handgun marksmanship skills. With its $899 MSRP in stainless steel trim (or $849 in black oxide), the Springfield Armory Garrison 1911 is a responsible buy that will perform in peak form for a lifetime.
Federal Syntech Defense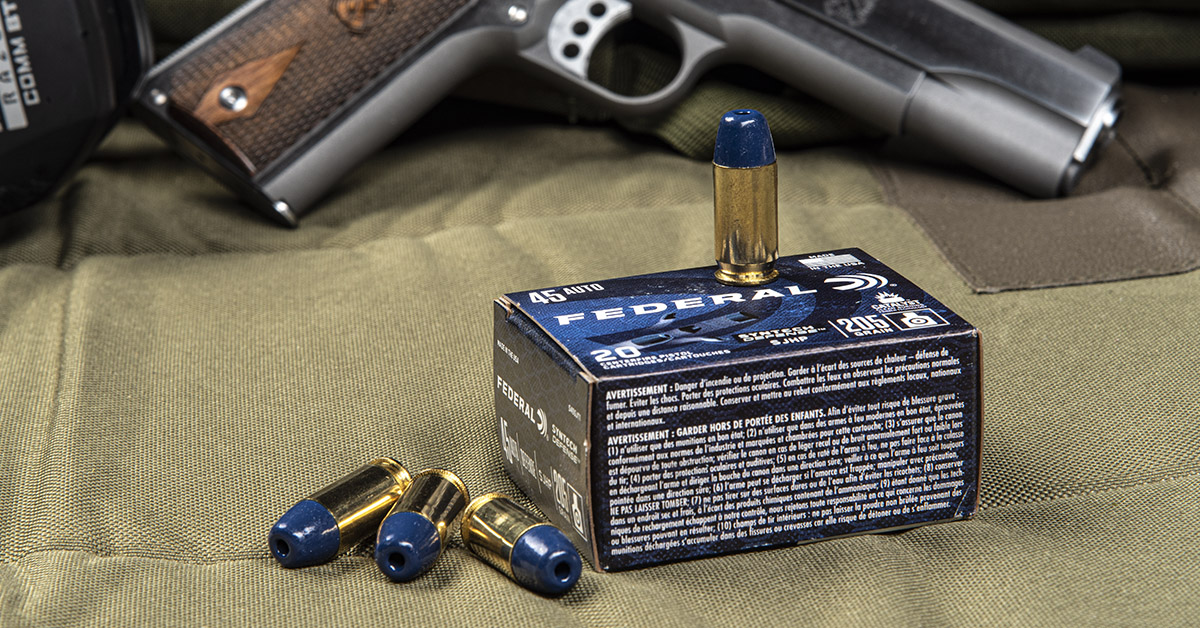 We nearly depleted our stash of Federal Syntech Defense for our Garrison 1911 testing and found it to be an interesting cartridge that begs a closer look for our 9mm handguns. This cartridge has been out for a few years, and it stakes it claim not only on its polymer jacket (intended to reduce lead and copper fouling in the barrel) but also on its terminal performance.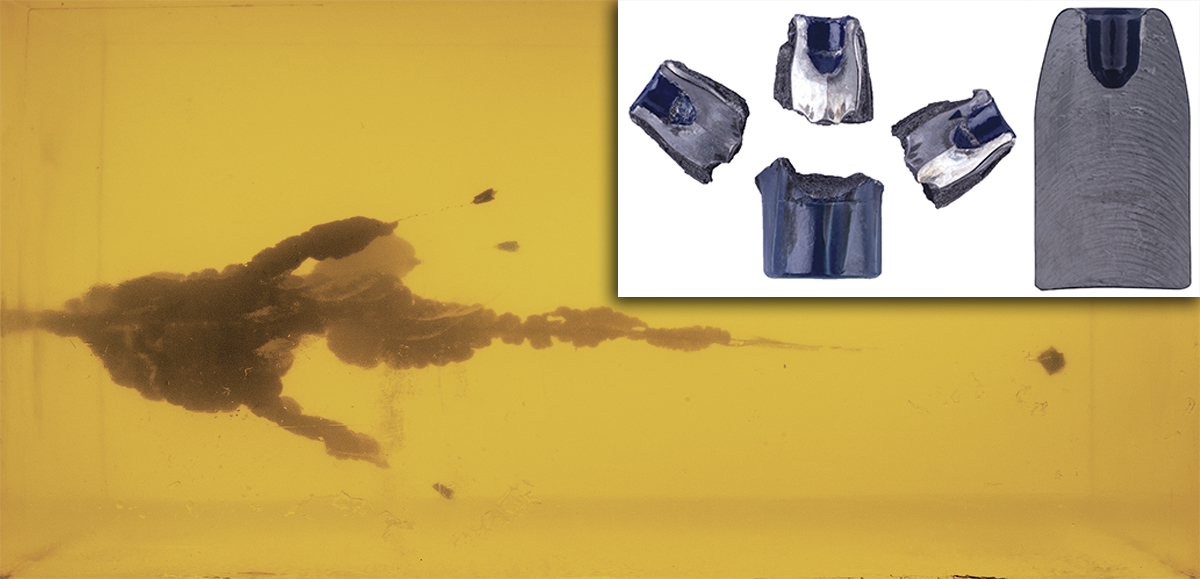 The Syntech bullet is relatively simple in design when compared to some of the more technically constructed defensive bullets on the market today. But from that simple construction comes rather sophisticated performance. This hollow point is intended to separate upon entering the target, with three "petals" creating individual wound channels up to six inches deep while the "core" continues to penetrate 12 to 18 inches deep.
Federal Syntech Defense ammo is offered in 9mm Luger (138-grain), .40 S&W (175-grain), and .45 Auto (205 grain).