For training, competition, or the most fun you'll likely ever have with a boxful of .22 LR, the new Taurus TX22 Competition is your go-to
by Rob Reaser
Pistols chambered in .22 LR tend to get short shrift when in the company of their larger-chambered variants. It is understandable given that practical considerations (like disposable income) tend toward investment in hard-hitting threat-stoppers such as pistols of the 9mm, .40 S&W, and .45 ACP persuasion.
Also, many rimfire pistols are more associated with niche applications. The Ruger Mark IV and the Ruger 22 Charger are two such examples. Fun target busters with some adjunct mission skills, but far enough off the conventional pistol reservation to place them in the "novelty class."
In our minds, the .22 LR pistol truly earns its keep when it offers a broader range of real-world function — more specifically, when it can stand in as a trainer for both novice and experienced shooters. It is that capability that got us excited about the recently introduced Taurus TX22 Competition.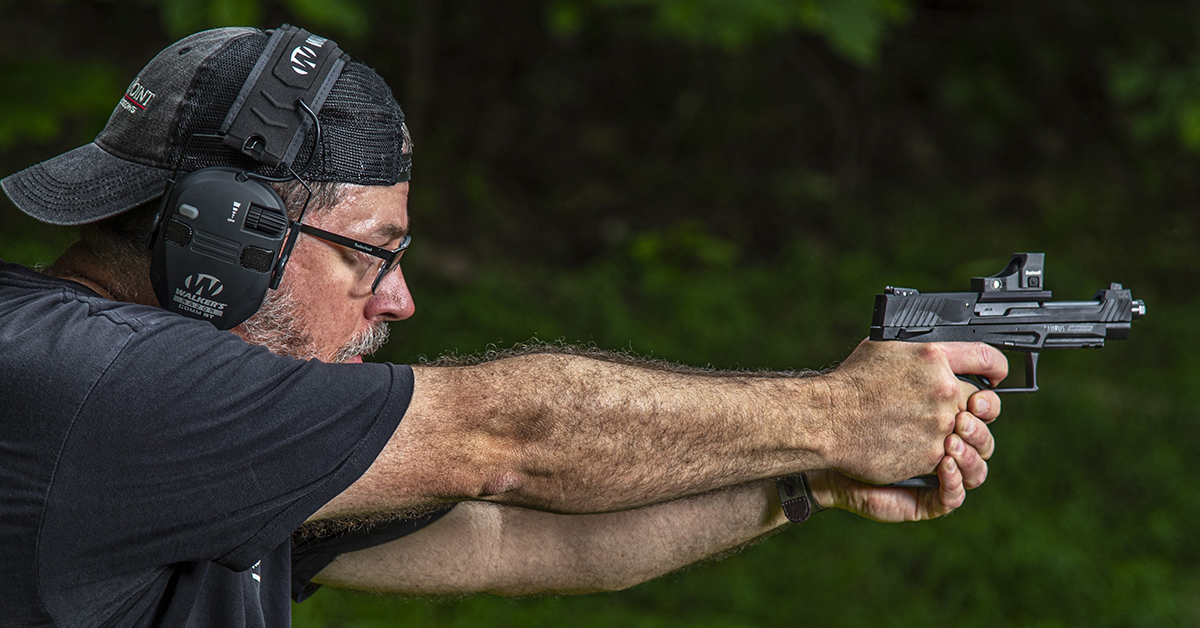 Taurus introduced the TX22 in early 2019 as an all-new, designed-from-the-ground-up pistol with out-of-the-box competition credentials. Two years later, Taurus expanded its TX22 offerings with the TX22 Competition, or TX22C.
The TX22C is built on the same foundation as the original TX22, meaning a superiorly engineered polymer frame that is as ergonomic as any striker-fired handgun we've ever grasped and one seriously fine trigger that won't raise a blister regardless of how much ammo you burn through. Where the new TX22C deviates from its progenitor is the barrel and slide assembly.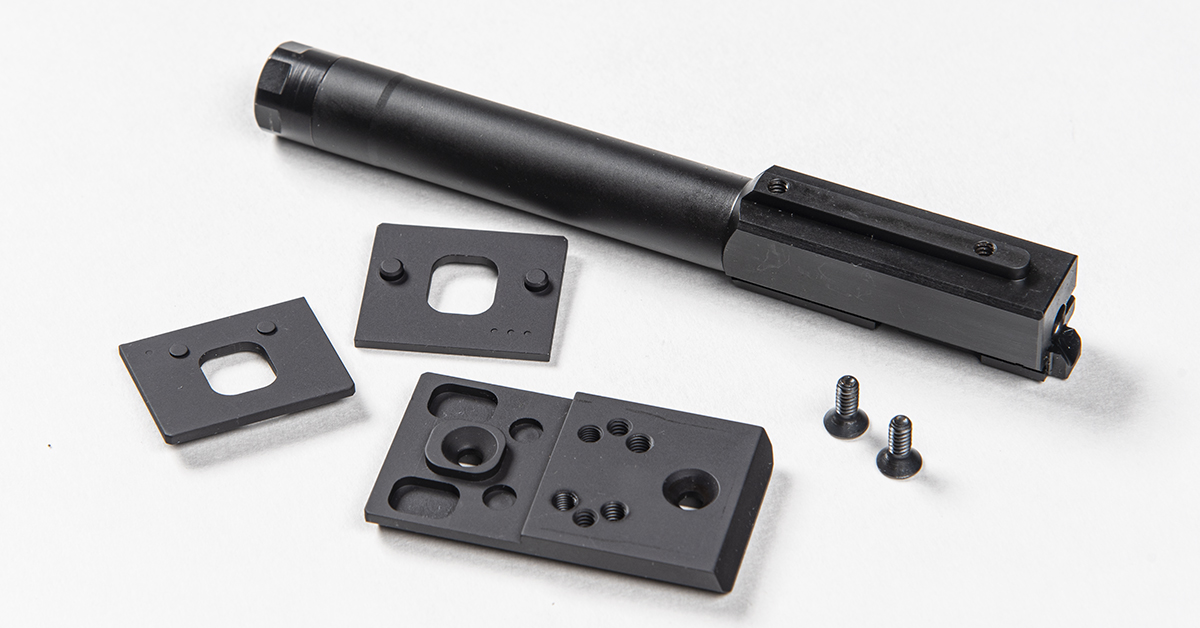 At 5.25 inches in length, the TX22C barrel is 1.15 inches longer than that of the TX22. Part of that added length accommodates a threaded muzzle for shooters desiring a suppressor or other muzzle device.
A thread protector is included should you prefer to run with an open-end barrel. Being a bull barrel, it's also a bit heftier than the TX22's. That added mass offers a welcome stabilizing influence for precision target shooters and assists in sight reacquisition if speed shooting is your game.
Adding to the gun's non-reciprocating mass is an optic mounting plate that affixes to the top of the barrel hood. This plate is secured to the barrel with a precision-machined tongue and groove system for alignment and two Torx head screws. The plate comes with three sets of tapped screw holes that, working in conjunction with two included two-sided mounting plates, can accommodate most micro-red dot optic patterns on the market today, such as:
C-More STS2
Leupold Delta Point, Bushnell RXS-250
Trijicon RMR, Holosun 407
Vortex Venom, Docter Noblex, Burris FastFire, and Sightmark Mini
Adding an optic obviously ramps up the versatility of the TX22C, whether for target shooting, competition, or general plinking. Another huge benefit, and the most important one in our minds if you sport a red dot on your larger-caliber personal defense pistol, is found in training.
Many people accept the notion that a red dot is a beneficial upgrade for a defensive firearm. For some folks, it certainly can be. What a lot of shooters don't realize is that it takes practice to build familiarity when using a red dot in a high-stress, fast-paced defensive situation. Just like learning to shoot with open sights, using a red dot effectively takes work. You must learn to acquire the sight picture instantly because if you must "hunt around" to get the red dot in your sight picture, you will likely lose the battle. So, mounting an optic onto the TX22C is a terrific way to become more familiar with using a red dot on a handgun without burning through expensive and now rare centerfire ammunition.
You'll notice that the slide is "skeletonized." This design allows the optic to be mounted to the barrel instead of to the rear of the slide, as is the case with most pistol optic mounts. While reducing slide weight to offset the forward weight bias of the bull barrel, this configuration also keeps the optic more stable during the cycle of operation — not allowing it to move back and forth with the slide. This means less reciprocating mass on the slide and the ability to reacquire the sight picture more quickly for follow-up shots.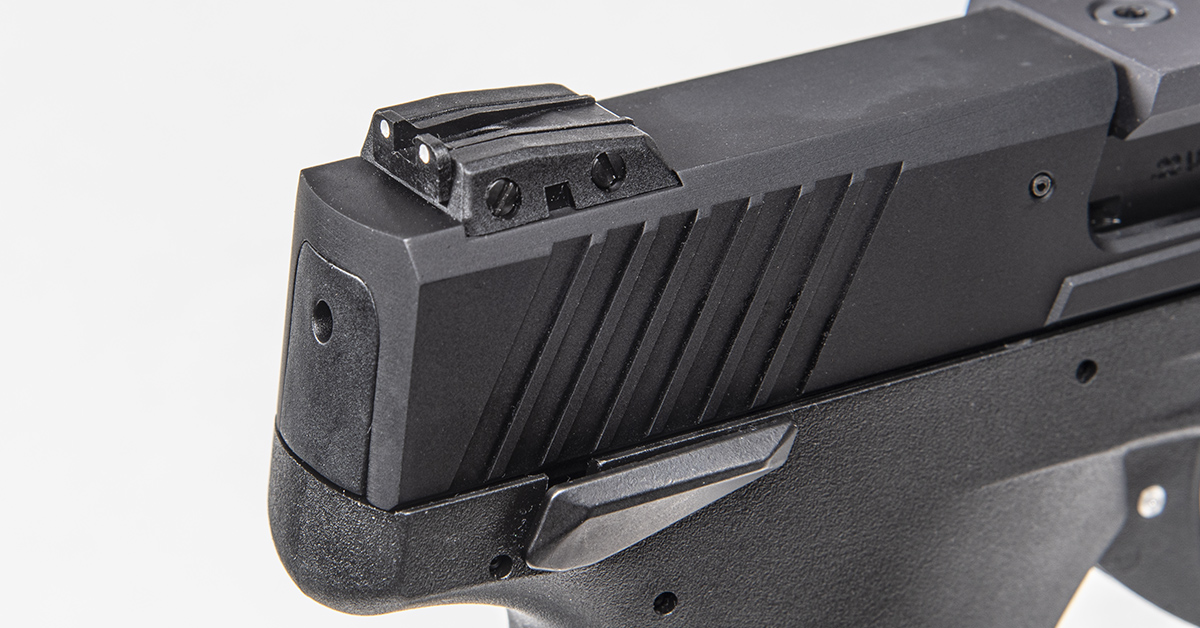 The TX22C is also the ideal platform for the beginner to learn to shoot effectively with open sights, or for the experienced shooter to maintain their hard-earned skills. The pistol comes with a white dot, square notch rear sight that is adjustable for both windage and elevation. This is great for serious target shooters or anyone looking to zero the pistol to their most accurate load.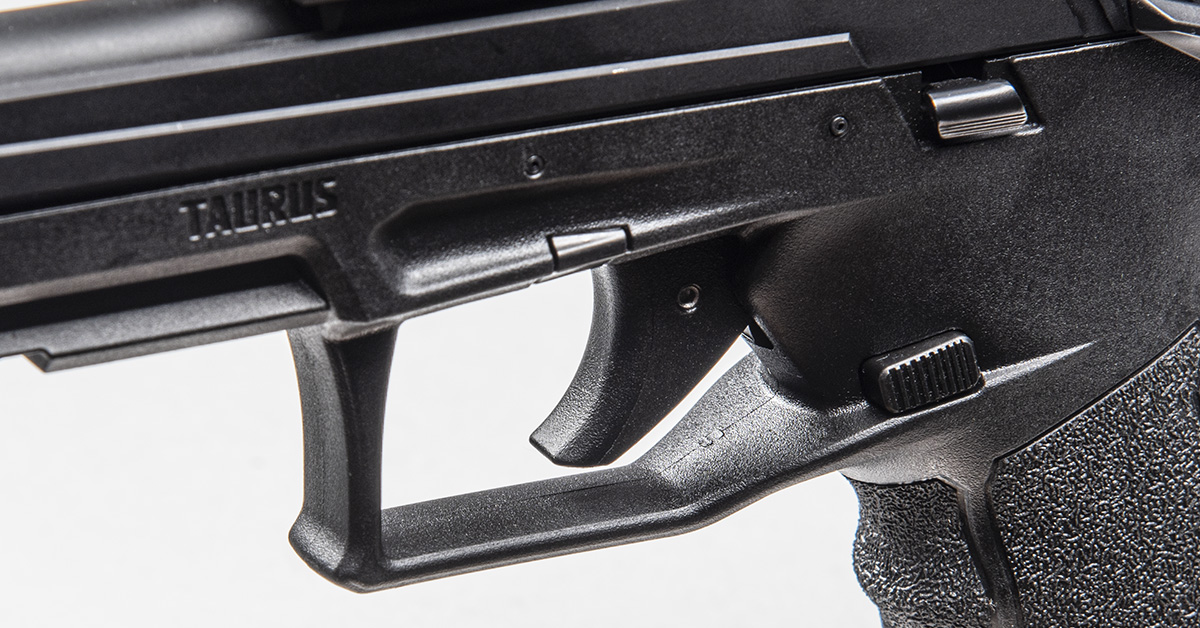 Another gem of the TX22C (as well as the TX22), is the trigger. Taurus engineers spent significant time developing what they bill as the Taurus Performance Trigger System. Unlike many polymer-frame, striker-fired pistols, the TX22C trigger does not come with a protruding trigger safety blade, relying instead on a more subtle trigger safety system located behind the trigger shoe, wherein rotation of the trigger shoe during the first stage of the pull releases the safety. With this system, you get a clean and smooth trigger face that is quite comfortable for extended range sessions and its broad, flat surface promotes good trigger control for most hand sizes.
As for the trigger's performance, it offers surprisingly short travel between the wall and the break. The reset is also blessedly short. We measured the pull weight with a Lyman scale and recorded a 10-pull average of 4 lbs., 1.1 oz.
The TX22C is available in 16- or 10-round capacities. A full magazine is easy enough to load by hand, but for those who need assistance, the package includes a mag loader, or you can manually compress the spring via the follower hold-down buttons to ease cartridge insertion. Three magazines are included.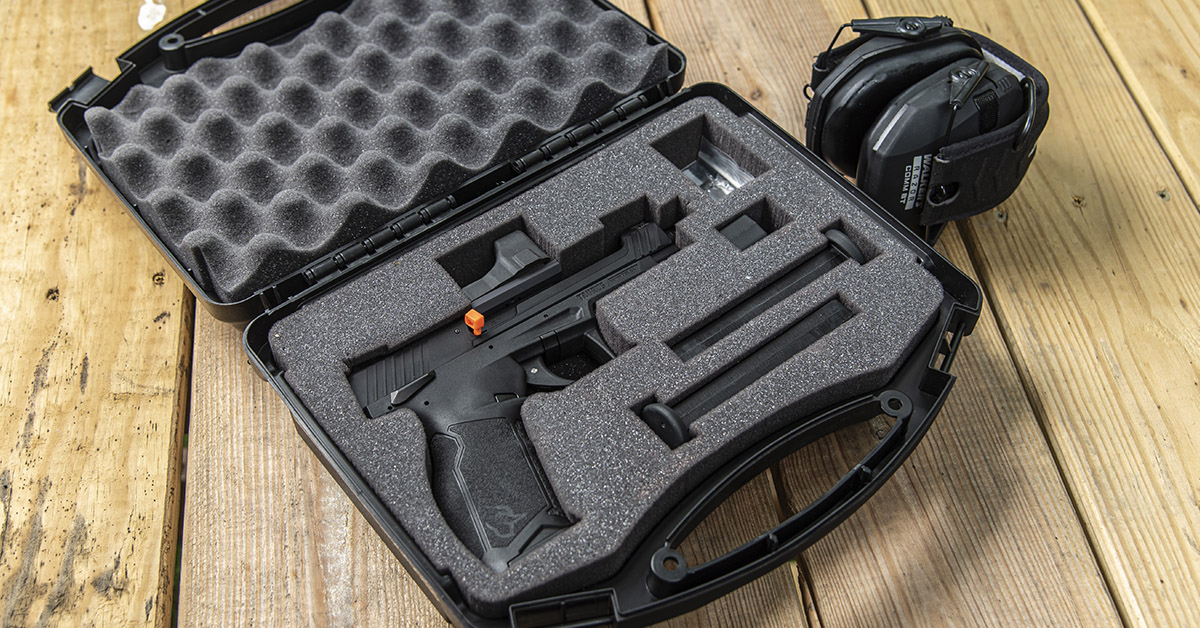 Another cool factor is that theTX22C comes in a well-padded hard case. The bottom foam insert is pre-cut for the pistol and an optic, two magazines, mag loader, and optic adapter plates. Egg crate foam in the lid helps keep it all in place.
We have thoroughly enjoyed our time running the TX22C. Being a full-sized semi-auto pistol, it is perfect for training and for serving as an on-ramp for new shooters who often struggle with confidence-building accuracy when introduced on compact or subcompact handguns. Again, we can't say enough about the ergonomics of this platform. The grip, overall balance, and flat-face trigger make it an absolute pleasure to shoot. Add in the soft report and easy recoil and this is a gun you simply don't want to put down.
We installed Bushnell's RXS 250 red dot and went at it on paper, settling at 20 yards for the accuracy evaluation. Our best five-shot group came in at .428 inches from a bench rest courtesy of Aguila's 22 Rifle Match Competition 40-grain cartridges (1080 fps at the muzzle). It would have been interesting to compare this with Aguila 22 Pistol Match Competition rounds (925 fps), but…you know…ammo availability. Regardless, the TX22C proved itself to be a true out-of-the-box factory competitor.
With an MSRP of $484.85, the TX22C comes at a price that many shooters may think twice about for a polymer .22 LR. Sure. But when you consider the key options this pistol offers, such as competition-ready status and a full-size trainer, and add in the current price of centerfire ammunition (assuming you can find any), the Taurus TX22 Competition can literally pay for itself with just a few trips to the range.
Oh…and did we mention how fun it is to shoot?
Taurus TX22 Competition Specifications (#1-TX22C151)
Caliber: .22 LR
Capacity: 16 RDS
Magazines: 3
Firing System: Striker
Action Type: SAO
Front Sights: Fixed White Dot
Rear Sights: Fully Adjustable White Dot
Safety: Striker block, Manual Safety, Trigger Safety
Frame Size: Full Size
Grip Material: Polymer
Slide Material: High Grade Aluminum
Slide Finish: Hard Anodize
Overall Length: 8.15 in.
Overall Width: 1.25 in.
Overall Height: 5.44 in.