The Mossberg 940 Pro Tactical Holosun Micro Dot Combo is a bad-to-the-bone defensive firearm
by Larry Case
In this age of "what is the best tactical or defensive shotgun," is it possible that Mossberg has upped its game yet again? Short answer is, "Yes" with the introduction of the 940 Pro Tactical Holosun Micro Dot Combo.
We have talked about the Mossberg 940 shotguns here before. If you recall, I related how I took a Mossberg 930 shotgun on a pilgrimage to the Gunsite Academy in Paulden, Arizonia some years ago, where it got a thorough workout from me and other members of the Shotgun 260 Class. As I said then, I didn't see much wrong with the 930, but there is no doubt that Mossberg made several improvements with the 940 Pro series.
Upgrades on the Mossberg 940 Pro
First, Mossberg devised a new gas system for the 940 Pro with a stepped and vented-spacer component that keeps the gas system running fast by shedding any moisture or carbon build-up every time it cycles. This allows for over fifteen-hundred rounds between cleanings. Those who hate to clean guns even more than me can appreciate that. The 940 Pro Tactical will reliably cycle any 2 ¾- and 3-inch shotgun ammo you feed it.

Next, because loading is such a concern with the defensive shotgun, the 940's loading port has been upgraded to allow the user to efficiently quad load the magazine tube straight out of the box without any need of modification to the receiver. The elevator and shell catch have also been designed to eliminate common pinch-points.
Now, just a thought on that quad loading. Many of us will not be stuffing shells into a shotgun like Jerry or Lena Miculek, but the enlarged loading port and elimination of pinch points will definitely help in loading the shotgun quickly in the high-stress situations of home defense.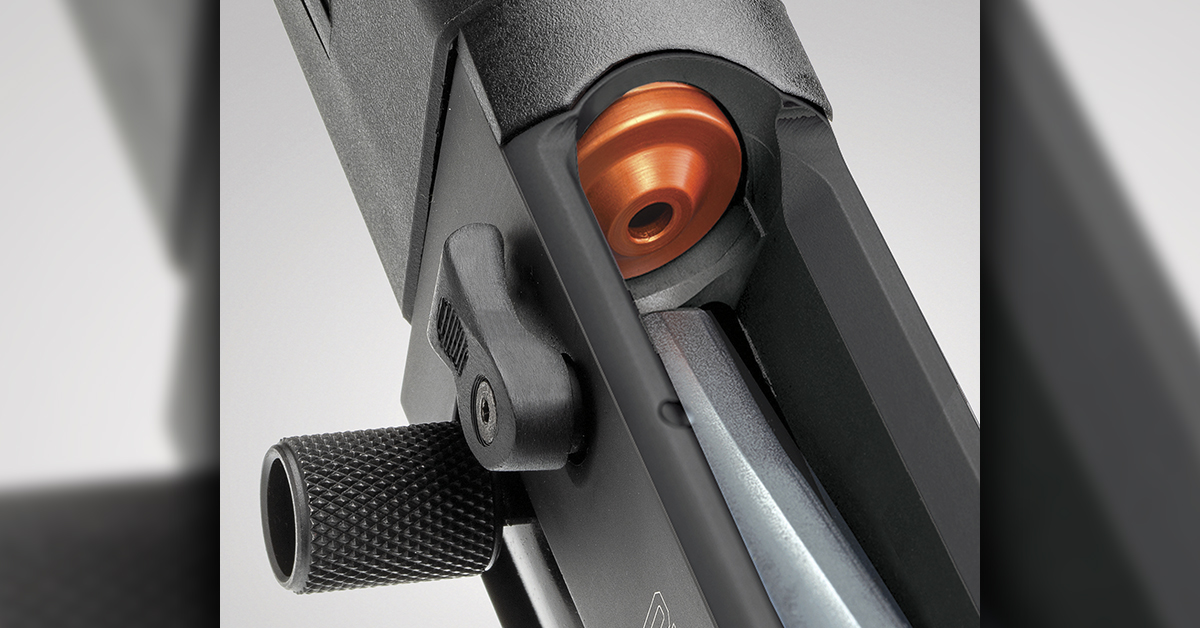 Other key design features include an enlarged and elongated pinch-free elevator and bright orange anodized follower configured for ease of loading. The knurled, extended charging handle and oversized, ergonomic bolt release lever provide for easy manipulation. The extended magazine tube allows for a 7+1 round capacity with 2 ¾-inch shells and the barrel clamp features a sling swivel stud plus dual-sided M-LOK-compatible slots for the addition of accessories. The 18.5-inch barrel comes with a matte finish and is topped with a fiber optic front sight. The barrel is threaded for use with interchangeable Accu-Choke choke tubes (cylinder choke tube included).
The 940 Pro Tactical has a user-adjustable length-of-pull synthetic stock with a range of 12 1/2 to 14 1/4 inches and adjustability for drop at comb and cast with the use of incremental stock shims. (Most shooters will find they want a shorter length of pull for defensive shotgun shooting.) The synthetic forend has a slim profile and both stock and forend feature Mossberg's signature aggressive texturing for a secure grip. A rear sling swivel stud is also installed.
Finally, as we have discussed here before, all shotgun barrels are not created equal. What we are talking about is that the point-of-aim and the point-of-impact are not always the same on some shotguns. This is important, and many shotgun owners never know this because they never take the time to put the shotgun on paper and see where it is actually shooting. Mossberg engineers worked on a new barrel-making process for the 940 that ensures the consistent production of a platform that will allow a user to maintain an accurate point-of-aim/point-of-impact when utilizing quality factory ammunition.
With the optic already mounted, the 940 Pro Tactical/Holosun combo is a slam dunk for home defense. Unless you have been living under the proverbial rock, you know that red dots and other optics are all the rage for sight options on rifles, pistols, and shotguns. There are good reasons for this. A red dot optic makes sighting and shooting any firearm easier and faster to learn than traditional open sights. Being an old traditional shooter, that is hard for me to say, but the fact is it's true. Even more important in the tactical or defensive shotgun realm is the aspect of quick target acquisition. Once the shooter learns to keep both eyes open, mount the shotgun, and place the dot in the optic on the target, you can shoot very quickly. I dare say you can do this even faster than with a plain front bead.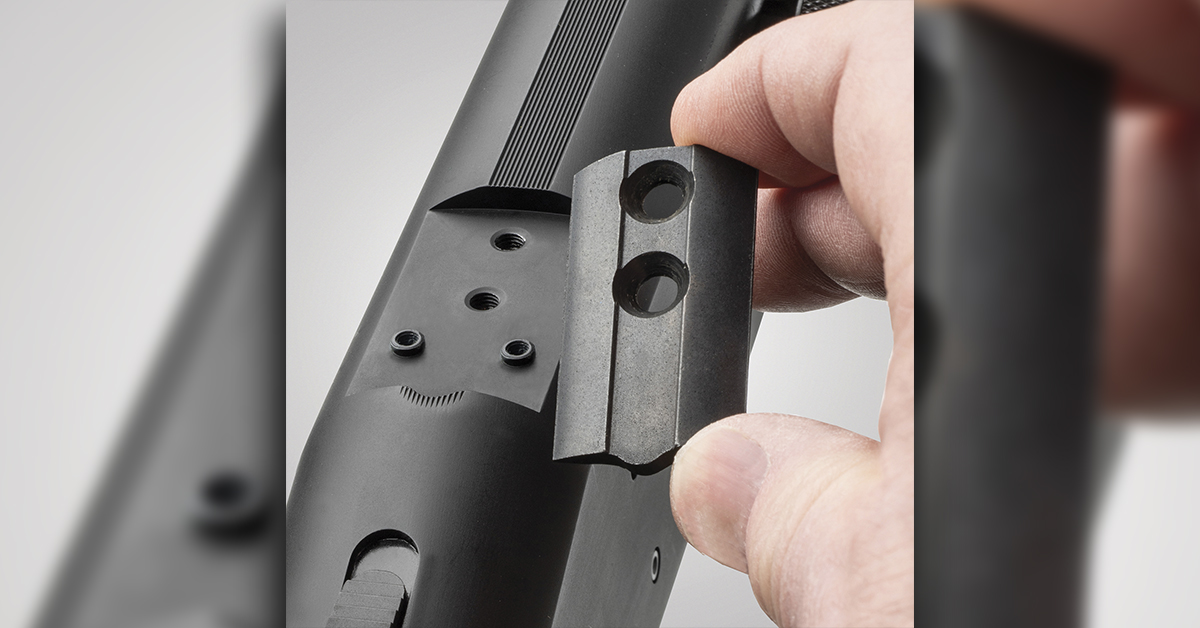 The mounting of optics on various firearms has always been a bit of problem in getting the optic secured to the gun, and sometimes the mount brings the optic higher on the top of the gun than the shooter would like. This can be a problem on shotguns, where the shooter needs to obtain good cheek weld with the stock of the gun.
In a stroke of near genius, Mossberg created an Optic Ready system with a receiver cut to accept the direct mounting of low-profile, micro dot sights (Shield RMSc footprint) and with a cover plate for when an optic is not in use. The receiver is also drilled and tapped for the option of adding rail-mounted optics.
The 940 Pro Tactical Holosun Micro Dot Combo comes ready out-of-the-box equipped with Holosun's HS407K open reflex optic sight. The HS407K specifications include up to 50,000 hours of battery life, a 6 MOA dot, 12 brightness settings, and a Shake Awake feature. This optic is low-profile and allows the shooter to mount the gun with the cheek buried into the comb of the stock, as you should. The Holosun HS407K may have been originally intended as a micro dot for a pistol yet it works well on this shotgun. It may appear small, but when you mount the 940, your eye is much closer to the optic than when shooting a pistol. Overall, it works great.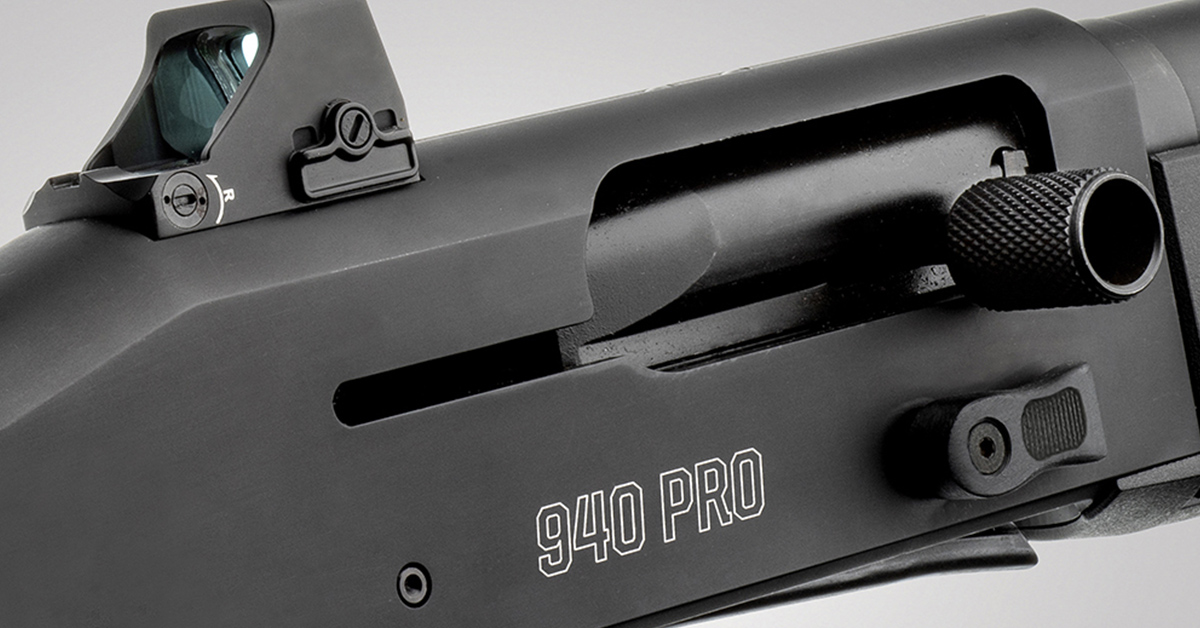 On the Range
More than once I have told you that above all, a firearm must go BANG every time you pull the trigger. Anything else about the gun is academic— how nice it looks, how many bells and whistles are attached to it, how accurate it is (or isn't), or how much ammo can be loaded into it. None of this matters if the gun does not fire and function reliably.
That is especially true in the realm of defensive, or "fighting" type shotguns, and the semi-automatic guns have always had a stigma as to whether they will function all the time in combat situations. The venerable pump shotgun usually gets the nod from those who want reliability in everything from law enforcement and military (the Mossberg 590 has long been a favorite) to the homeowner…even those who choose the shotgun for bear defense. This has begun to change, most notably with the acquisition of the Benelli M4 semi-auto (M1014 in Marine Corps jargon). Slowly, it would seem that more shooters are trusting some semi-autos for defense and tactical work.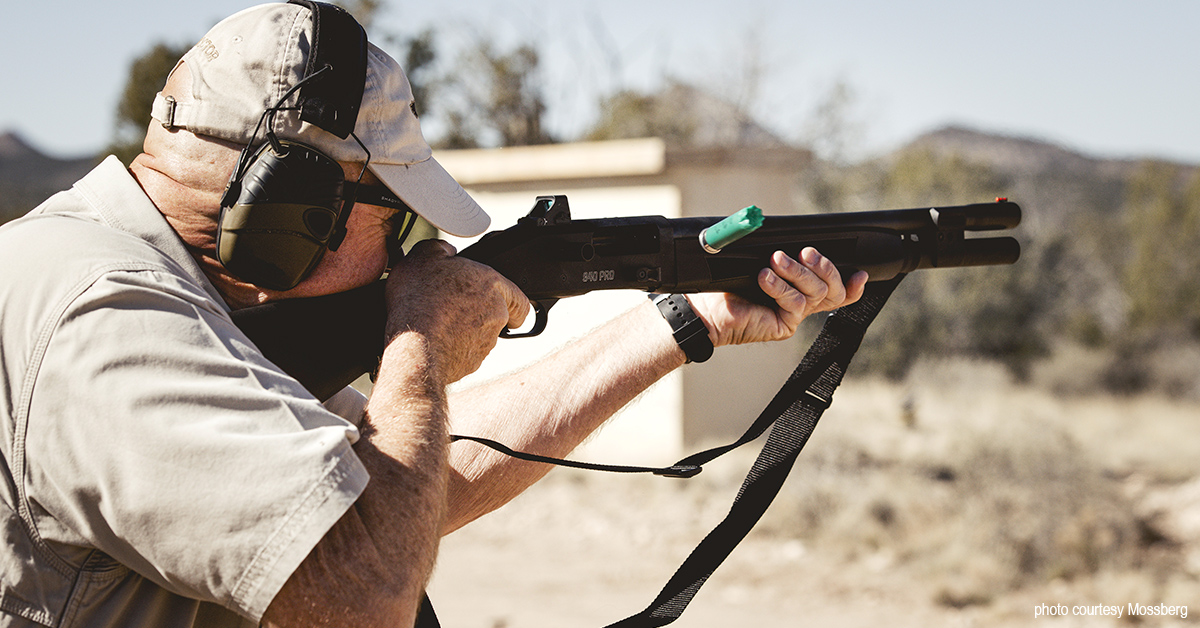 Under full disclosure, it is sometimes daunting for a gun writer to determine what to do when reviewing and commenting on a firearm for public consumption. What does the average shooter really want the gun to do besides go bang every time and to function properly? Well, there are a few things I know of, but I will go back to my statement that firing each and every time you pull the trigger is most important. So, in my not-so-humble opinion, the best thing we can do is burn a lot of powder with the gun and see what happens.
And burn a lot of powder we did with the 940 Pro Tactical Holosun Micro Dot Combo. Starting with the firing of random brands of ammo at targets at shotgun fighting distances, (inside 50 yards, usually much closer) the 940 performed well. My usual routine is to get the barrel hot and make sure the gun is functioning properly, and then get it even hotter to see if any bugs come out of the woodwork from treatment that may border on abuse.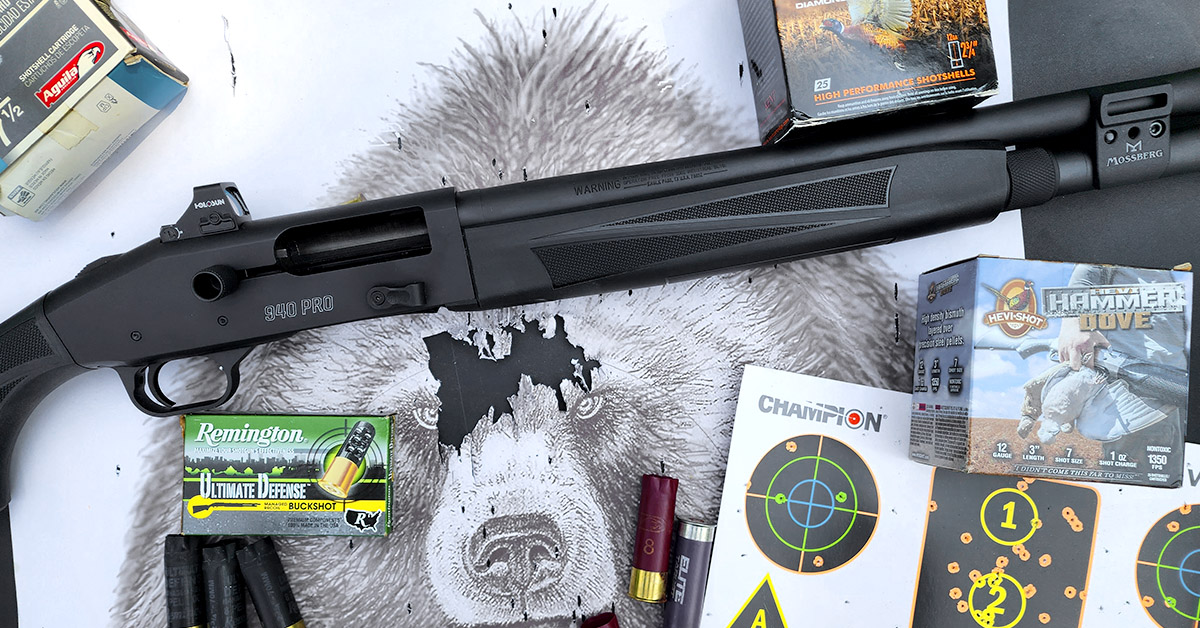 Several different brands and types of ammo were fed into the 940 Pro and the gun ate them all. These included Federal Top Gun target ammo and Upland Steel, Aguila Standard Velocity, Kent Fast Lead and Elite Target, Hevi Shot Hevi Hammer Dove (3-inch), Winchester AA, Remington Gun Club Target, Premier STS, Express Buckshot, and more than a few 3-inch turkey loads like the Winchester Long Beard XR and Fiocchi Golden Turkey. These are some of the loads we put through the 940 and the gun cycled and fired all of them. I shot the 3-inch loads only to test the functioning of the gun. Personally, I wouldn't normally load 3-inch shells in a defensive shotgun because of the increased recoil and reduced magazine. Shooting this much ammo of various loads (over 300 rounds in one afternoon) and not having one failure to feed or other malfunction from a semi-auto shotgun is, I would say, remarkable.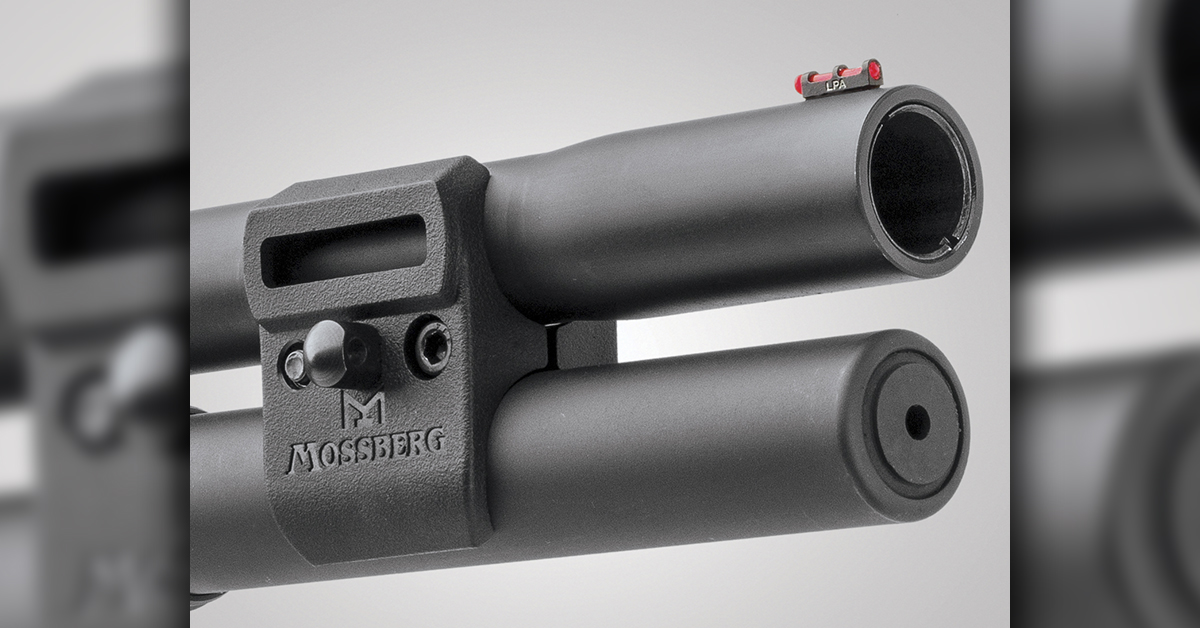 The cylinder choke tube supplied with the gun patterned well even on buckshot loads at 40+ yards. Remington and Federal slugs were accurate with this choke at 50+ yards. The Holosun sight worked like a charm, and it could be dialed in to shoot the slugs with amazing accuracy for a shotgun with a cylinder-bore choke. The Shake Awake feature (pick up the gun and the red dot comes on) plus the 50,000 hours of battery life of the Holosun HS407K makes this a virtually worry-free sight for a fighting shotgun.
Other little things on the 940 are a big benefit on a defensive shotgun. First is the trademark Mossberg safety, under the shooter's thumb, right where it should be for easy access. The enlarged bolt handle and bolt release are an advantage, as is the 8-round capacity and the adjustable length-of-pull. The ability to have a shortened LOP on a fighting shotgun cannot be over emphasized. The 940 Pro has some felt recoil, which is to be expected when shooting full-house slugs and buckshot loads, but this is a gas-powered gun, and the recoil will be less than that of a pump gun. The 940 weighs in at 7 ½ pounds, and this will absorb some of the recoil.
If I were in the market for a ready to go, optic-mounted, out-of-the-box defensive shotgun, I would be looking hard at the 940 Pro Tactical Holosun Micro Dot Combo.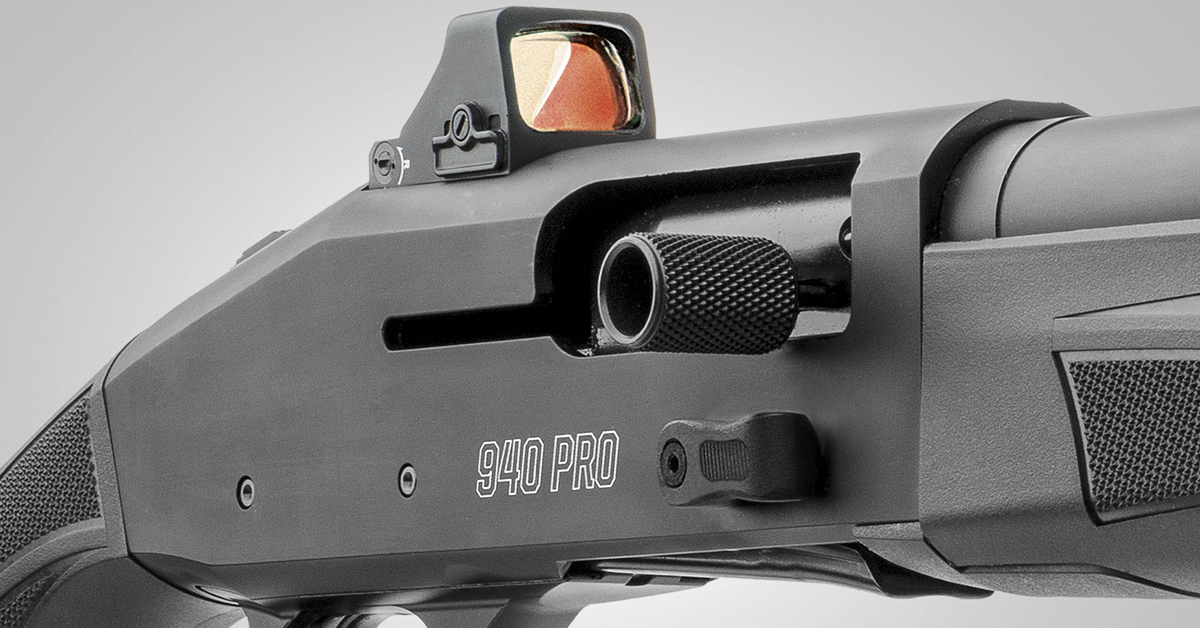 Mossberg 940 Pro Tactical Holosun Micro Dot Combo Specifications
Gauge: 12-gauge
Action Type: semi-auto
Chamber Size: 3-in.
Usage: security
Barrel Length: 18.5 in.
Barrel Finish: matte blue
Choke: Accu-Choke System (cylinder bore choke installed)
Capacity: 7+1
Length: 37 in.
LOP: 12.5-14.25 in.
Sights: fiber-optic front; Holosun Micro Dot
Stock: black synthetic; adjustable LOP, cast, and drop
Weight: 7.5 lbs.
MSRP: $1,333