Taylor's & Company, the world's leading marketers and importers of state-of-the-art historical firearms utilizing the latest innovative designs, is pleased to announce the launch of their new 1875 Outlaw 9mm Revolver to their Lifestyle Series for 2023. Taylor's & Company partnered with Uberti to create this exclusive iconic reproduction.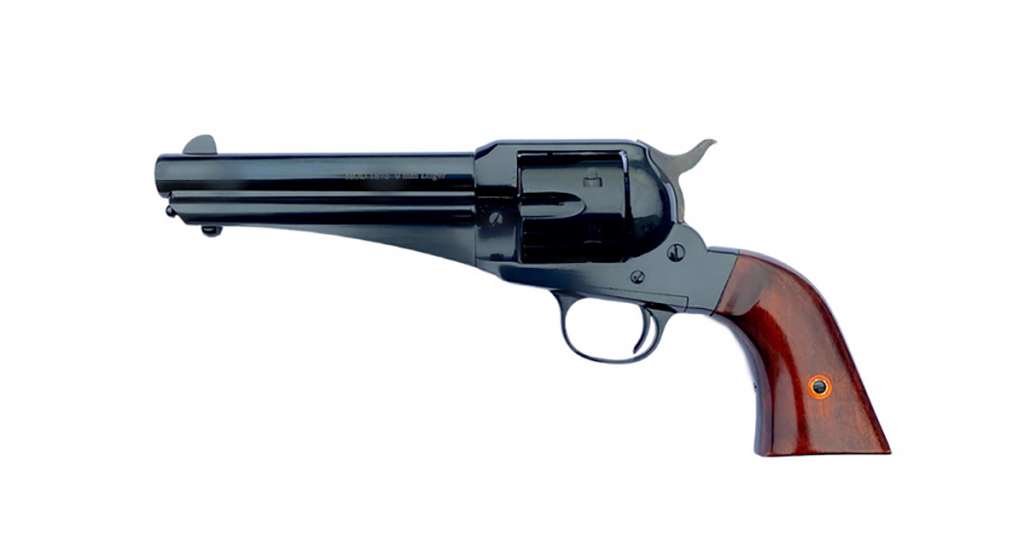 The new 1875 Outlaw 9mm Revolver is a faithful reproduction of the 1875 Remington® single-actions, which kept the solid frame and overall styling of Remington's 1858 percussion models. Ordinary citizens and Old West lawmen alike recognized the sturdy quality of the new Remington revolvers. The infamous Frank James even carried one for most of his outlaw career in .45 caliber.
"We couldn't be more excited to bring this classic firearm reproduction to the modern gun enthusiast," said Tammy Loy, Owner/CEO, Taylor's & Company. "We wanted to offer this versatile caliber to broaden our audience and add a familiar caliber to a six gun.  The 1875 Outlaw is a perfect complement to our very popular Lifestyle Series. This 9mm with a classic revolver look is sure to be very popular with firearm enthusiasts that want the look of a historical pistol with the performance of a modern handgun."
The new 1875 Outlaw 9mm Revolver is offered in two barrel lengths; a 7.5" and a 5.5". Both are in stock and shipping now. The new Outlaw has a smooth walnut finish, standard-size grip that offers an extremely comfortable feel in the hand. It utilizes a side-loading gate and an ejector rod housed within the loading lever assembly for easy loading, unloading and reloading. The new 9mm revolver has an all-blued finish, forged steel frame with a rear frame notch and fixed front blade sight. For increased performance the 1875 Outlaw can be Taylor Tuned. Taylor's gunsmiths custom tune firearms specifically for each order. This means that if a standard firearm is in stock, then they can tune it for your order. This service is available per request when ordering.
Models & Specifications:
                      Barrel Length   Capacity   Overall Length   Finish      Grip       MSRP
#550996:               7.5"                  6                12.8"           Blued     Walnut    $669.75
#550997:               5.5"                 6                10.8"           Blued     Walnut    $669.75
To learn more about the new 1875 Outlaw 9mm Revolver and check out the new and improved website, or to learn more about the complete product offerings from Taylor's & Company, please visit www.taylorsfirearms.com and follow us on Facebook, Instagram and Twitter.

Latest posts by Shoot On Staff
(see all)