Building on the original G3 9mm's success, the Taurus G3 Tactical is suppressor- and optic-ready with a rocking new color scheme and finish
by Jeromy Knepp
In 2019, Taurus kicked off a new generation firearm to their already popular line up of carry pistols, and the full-size G3 series striker-fired 9mm quickly found its way into American gun stores. I was able to evaluate both the G3 and its compact counterpart the G3c a couple years ago, and my appreciation for these high-performance, moderately priced handguns has not waned.
The first generation G3 is the tractor of pistols—meaning, it will do the job you want to get done. Full-size G3s utilize a 17+1 extended magazine and 15+1 for concealment use. Thirty-four rounds provide ample firepower for your target or home safety needs. Now, Taurus takes the G3 model one step farther as it ventures into the custom striker-fired pistol arena with the G3 Tactical.
What's New?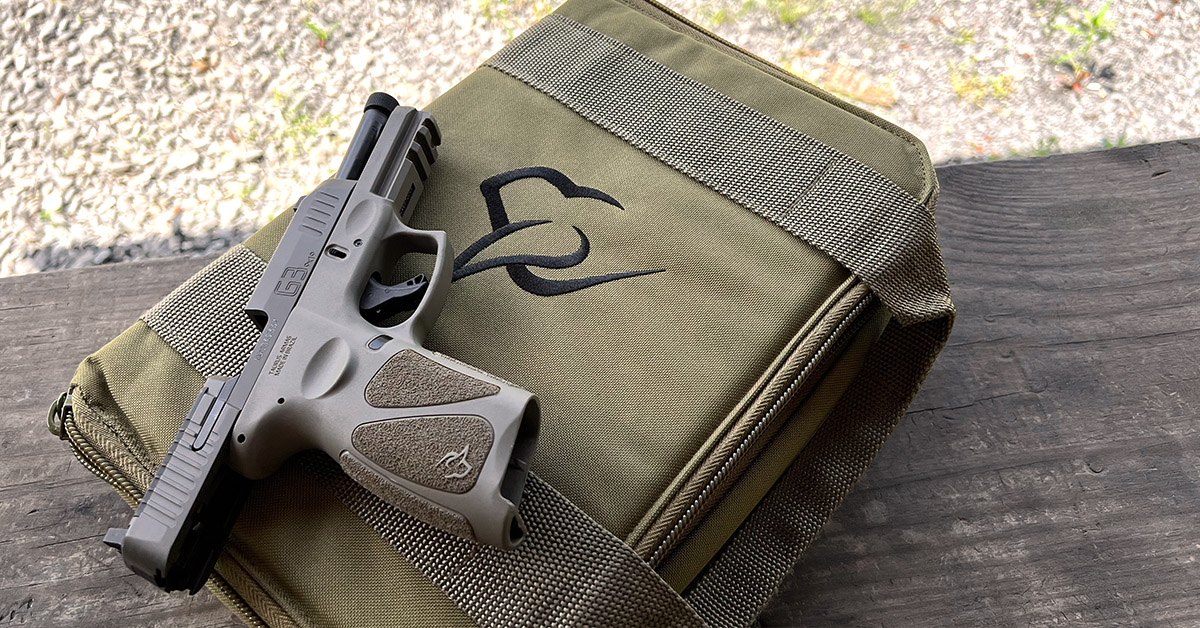 Taurus proves once again the company is not ready to rest on past success, and a simple cardboard box is not good enough for this model. When you purchase the new G3 Tactical, you are handed a sturdy canvas bag with the Taurus bull's head stitched into the lid.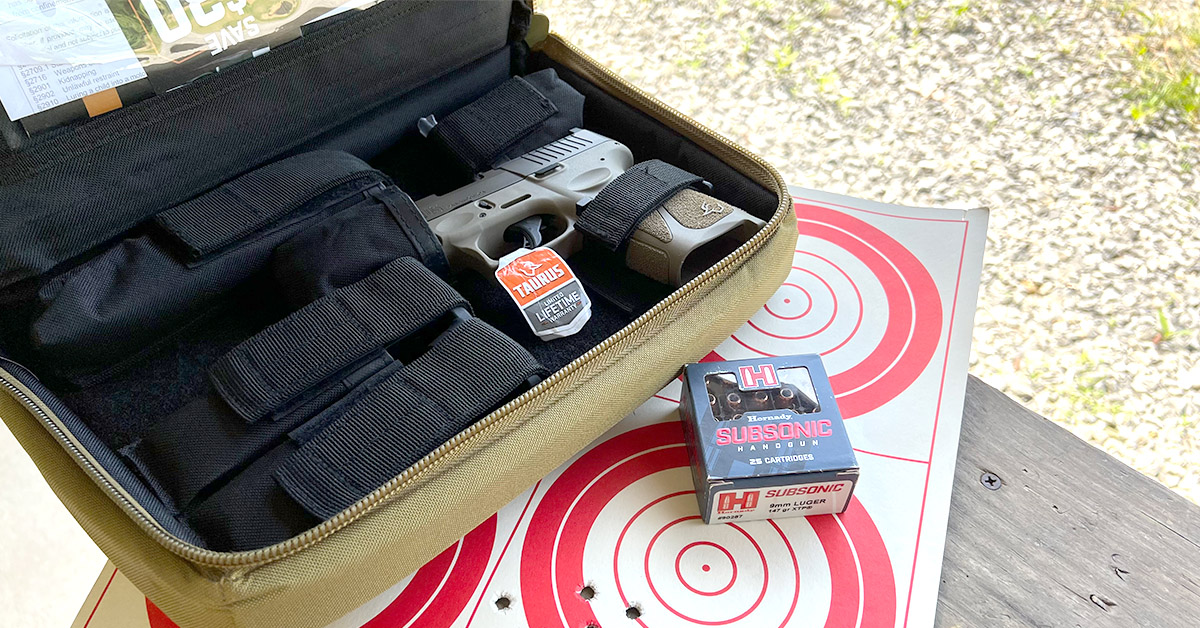 Unzipping the case, you are greeted with many items. Multiple pockets hold two 17-round extended magazines. Safety is provided by a standard wire padlock safety loop to lock up your firearm. Taurus adds an additional spring and guide rod for suppressed firing. Cool!
The G3 Tactical is equipped with some new features. For starters, you are going to see some immediate differences from the original G3. Taurus still uses the standard G3 polymer frame and relief cut alloy steel slide; however, it has a fresh color—Magpul FDE with an element-resistant Patriot Brown Cerakote finish.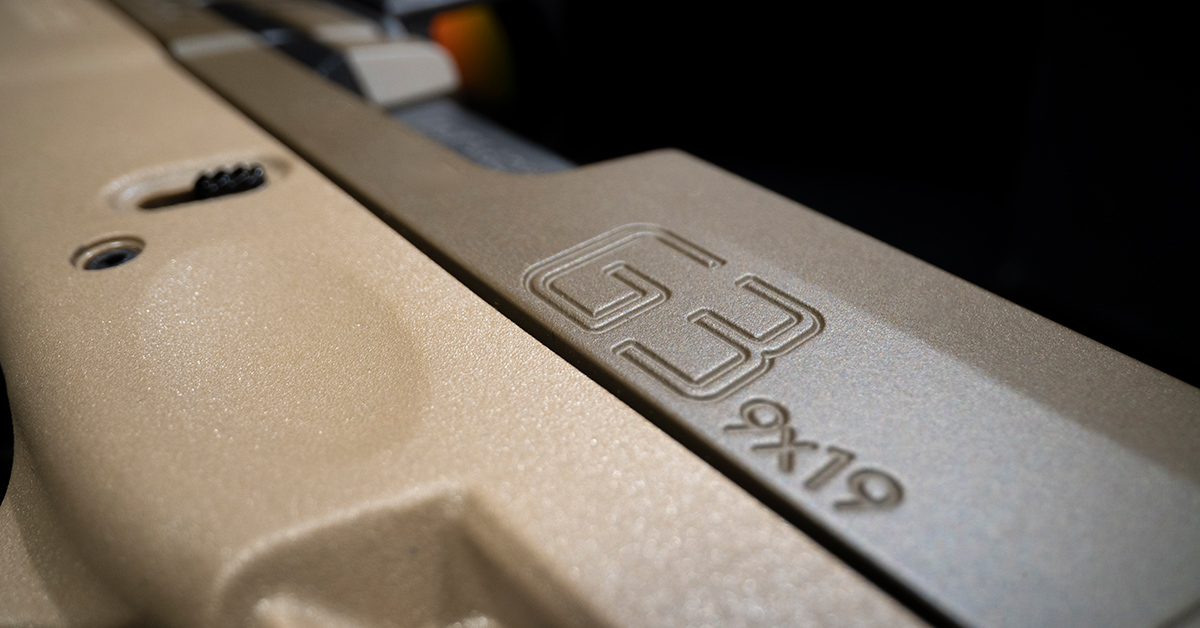 Remember that extra recoil spring and guide rod? This pistol is set up for suppressors. The G3 Tactical comes equipped with a ½-28 threaded DLC-coated barrel. The Diamond-Like Coating helps to reduce friction during fast-paced firing and is a durable, easy-to-clean finish. Factory muzzle threading allows a shooter to personalize their G3 Tactical with a suppressor or a muzzle device to help mitigate recoil.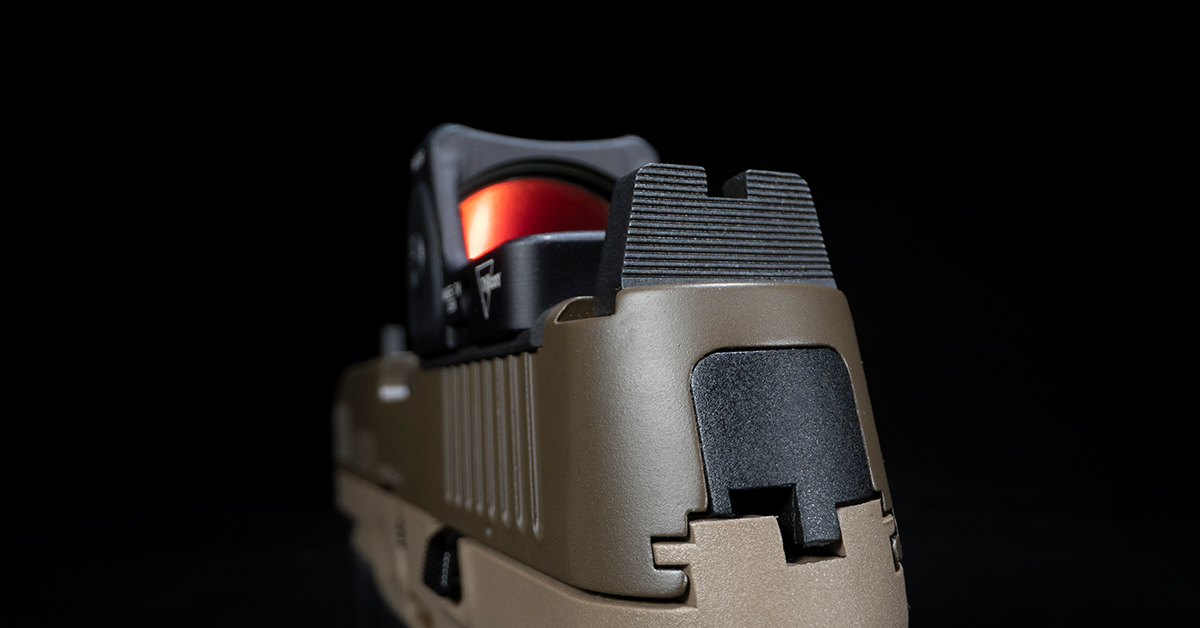 Accompanying this new pistol is a stout set of suppressor height sights. The rear sight is robust and flat, allowing for slide manipulation using your belt, shoe, or any hard surface with an edge. Along with taller sights, the G3 Tactical is equipped with the Taurus T.O.R.O. optics system. Four different adapter plates accommodate mounting of the more popular red dot optics. Suppressor-height sights let the shooter co-witness their red dot should the optic fail.
How about the trigger? This system is much better than the previous model G3. Owning one, I can tell you that it is a little gritty even after a couple thousand rounds. The G3 Tactical is smooth from the first press to the follow through. Although Taurus removed the thumb safety to reduce snag potential and simplify operation, the G3 Tactical retains the familiar blade safety in the trigger.
Trigger Time
So, how did it shoot? Just like any other Taurus G3… but better! Bar none, this is going to be a game changer for Taurus. I am by no means a Gold Cup competitor, but I know my way around a pistol. From 15 yards using a Caldwell Matrix rest, this handgun performed flawlessly. Using multiple ammunition brands, I was able to lay down some pretty decent groups (for a rifle shooter). The new trigger is butter, and the quicker reset allows for faster, more accurate follow-ups.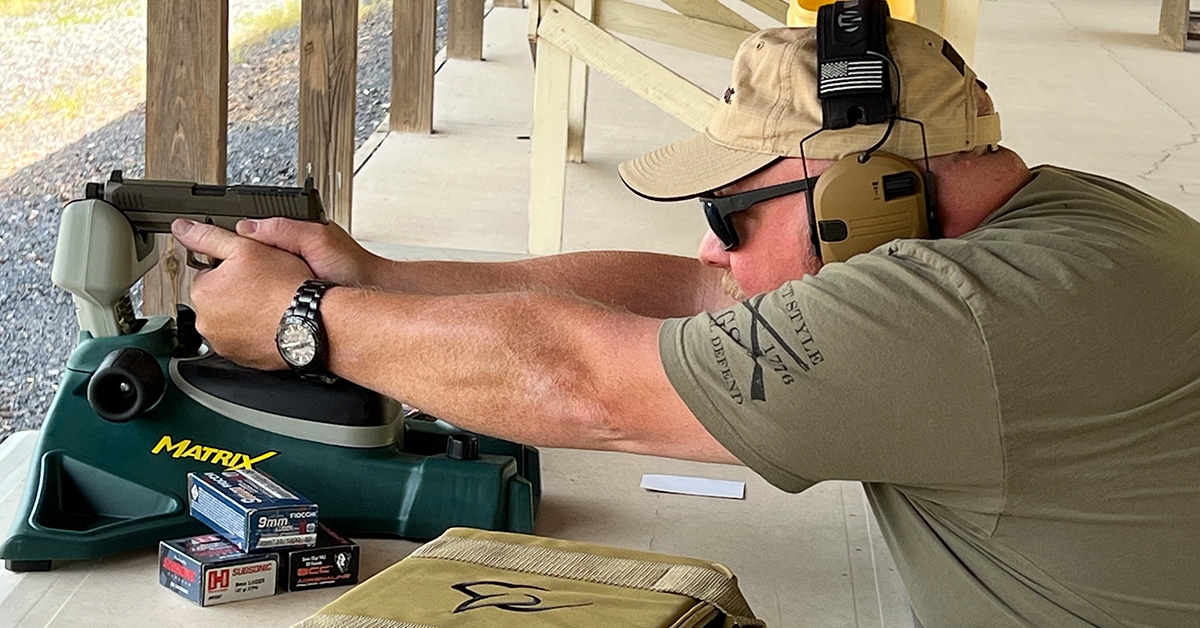 The best group came from the Hornady Subsonic 147-grain XTP. This round produced a tight five-round group of 2.050 inches. In the hands of a much more talented marksman, that could shrink considerably. The second best group came from Fiocchi's 115-grain FMJ at 2.254 inches.
Takeaway
The Taurus G3 Tactical never broke a sweat. Magazine in, take aim, press the trigger, rinse, repeat. The pistol shot accurately and reliably. No concerns for failure here. I can say with confidence that the G3 Tactical is going to send notice to many of its class competitors.
Taurus G3 Tactical Specifications
Caliber: 9mm Luger
Capacity: 17+1
Firing System: striker
Action Type: SA w/re-strike
Front Sight: suppressor-height, fixed
Rear Sight: Suppressor-height, drift adjustable
Safety: striker block, trigger safety, visual loaded chamber indicator
Frame Size: full
Frame: polymer, Magpul FDE
Slide Material: alloy steel
Slide Finish: element-resistant Cerakote Patriot Brown
Barrel Length:5 in.
Overall Length:76 in.
Overall Width:20 in.
Overall Height:38 in.
Included: Custom adjustable gun case, threaded muzzle protector, recoil spring w/ guide rod for suppressor use, 4 red dot adapter plates: Doctor, Venom, FastFire (plate 1), Trijicon RMR, Holosun 407c/507c (plate 2), C-More STS2 (plate 3), and Leupold DeltaPoint Pro (plate 4), two 17-round magazines
MSRP: $582.98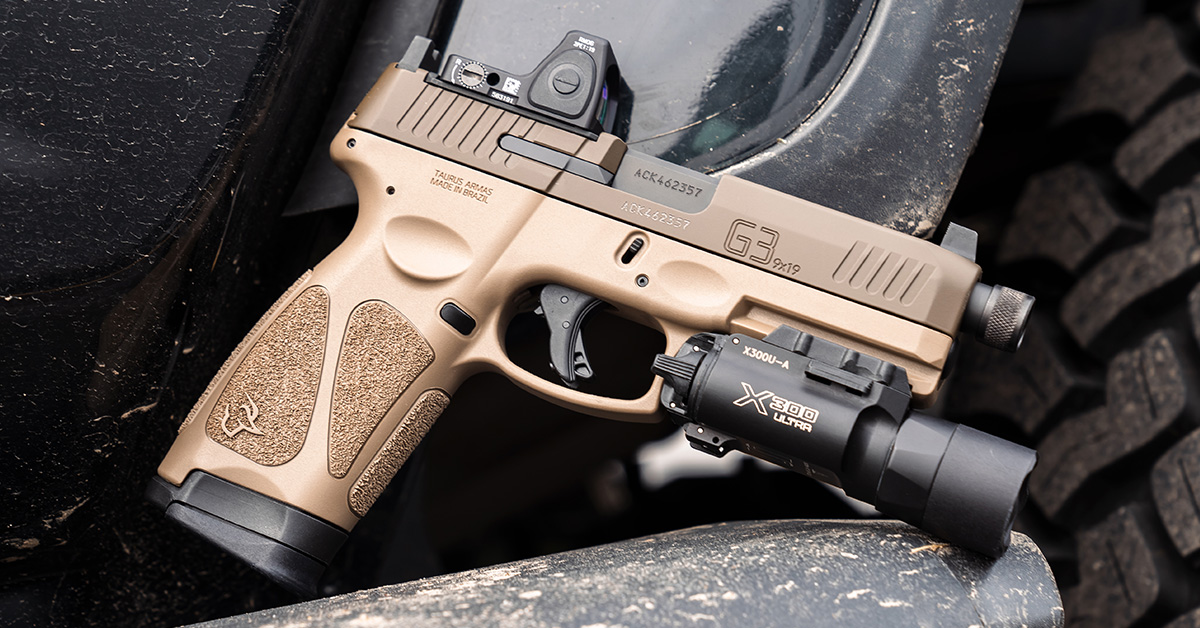 Latest posts by Jeromy Knepp
(see all)