Steiner developed its new Micro Pistol Sight (MPS) for handguns, but with its closed emitter and tank-like construction, we wondered how this would work as a CQB optic
by Rob Reaser
When Steiner introduced its all-new Micro Pistol Sight (MPS) last year, I was intrigued. The sight had "no nonsense" written all over it, and Steiner's presentation drove that notion home with with descriptors like "battle-proven durability," "mil-spec ruggedness," and "toughest pistol sights ever created."
I liked it.
Running the MPS on a Sig P320, the sight did everything I asked of it. While I didn't intentionally beat it up, the red dot held up to the typical knocks, served well for one-handed slide manipulation, and simply worked like a champ. What was especially appreciated was the large 20x16mm lens. Those who are just now adopting a red dot for their pistol will appreciate how well the MPS promotes fast sight picture acquisition.
In short, the MPS proved to be worthy of the Steiner name, and this LE/military grade optic will certainly serve the EDC crowd with reliable, unfailing performance based on my earlier testing.
The MPS, though, is built on a closed emitter design. This means that the emitter is sealed from the elements and protected from environmental impact due to the enclosed housing. This is a good thing in as much as nothing can get on the emitter (like a splash of mud) and prevent it from projecting the aiming dot. The cost of that robust protection, though, is an optic that bucks the current trend of super-micro, low-profile housings that are part-and-parcel of open emitter designs. While I thoroughly enjoyed the MPS's performance on the P320, the significant profile just wasn't my choice for concealed carry duty.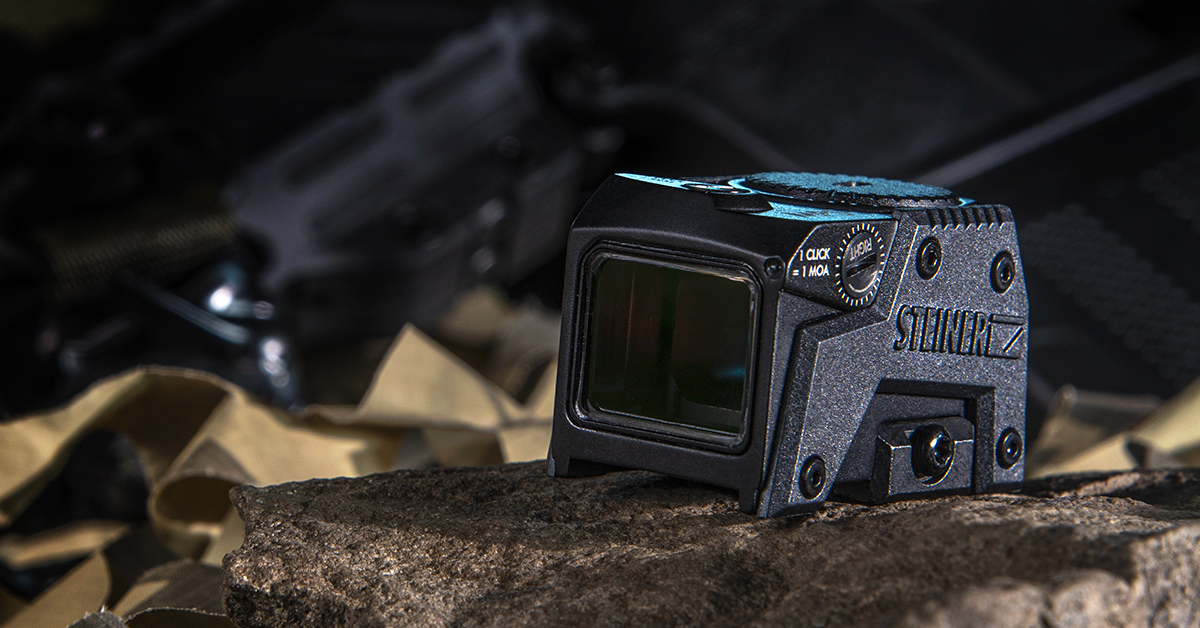 When I first put my hands on the MPS, my thoughts immediately turned from "pistol sight" to "defensive carbine." As a rock-solid, fully housed red dot, the MPS seemed perfectly suited for the AR platform — especially for those like me who prefer a minimalist approach to firearms. So, following its nearly year-long tour on the Sig, I decided to see how that MPS would fare on a .300 BLK carbine I built a few years ago.
I originally intended this rifle to run only with open sights. Since the purpose of this gun was to be my bedside go-to for home defense, I wanted to reduce weight and bulk as much as possible, and given its close-quarters mission, I didn't feel that a red dot was necessary. I still don't; however, my increasing difficulty with open sights demanded a re-think. Furthermore, I felt the rifle deserved a sighting system that could match its accuracy potential. And since I live in the country, it made sense to extend my reach with an optic just in case I had to use the gun outside the home.
If you are unfamiliar with this new Steiner offering, a quick overview of the MPS is in order.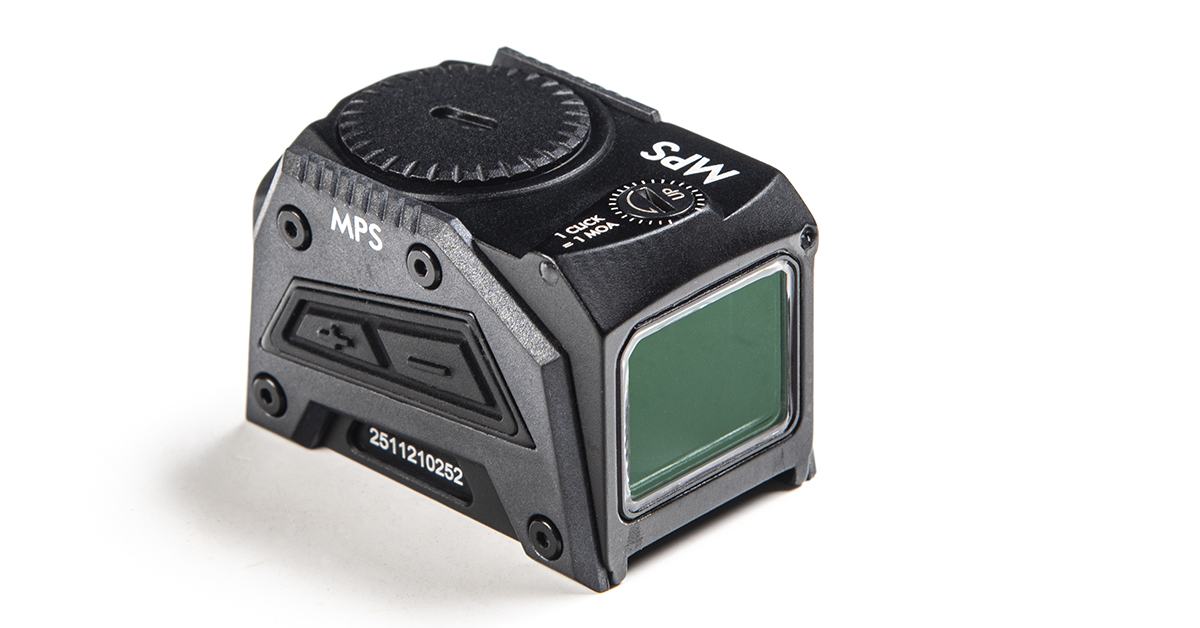 The first thing you notice about the MPS is that it is "built." The housing boasts all-metal construction and includes enhanced side walls to further protect it from accidental impact. It is also water pressure tight down to 10 meters and is shock proof, so it is practically immune to environmental hazards and user mishaps.
Operational controls are as simple as it gets, with rubber-covered light intensity buttons located on the left side of the housing. You can choose between eight illumination levels — six for daytime use and two for night vision applications.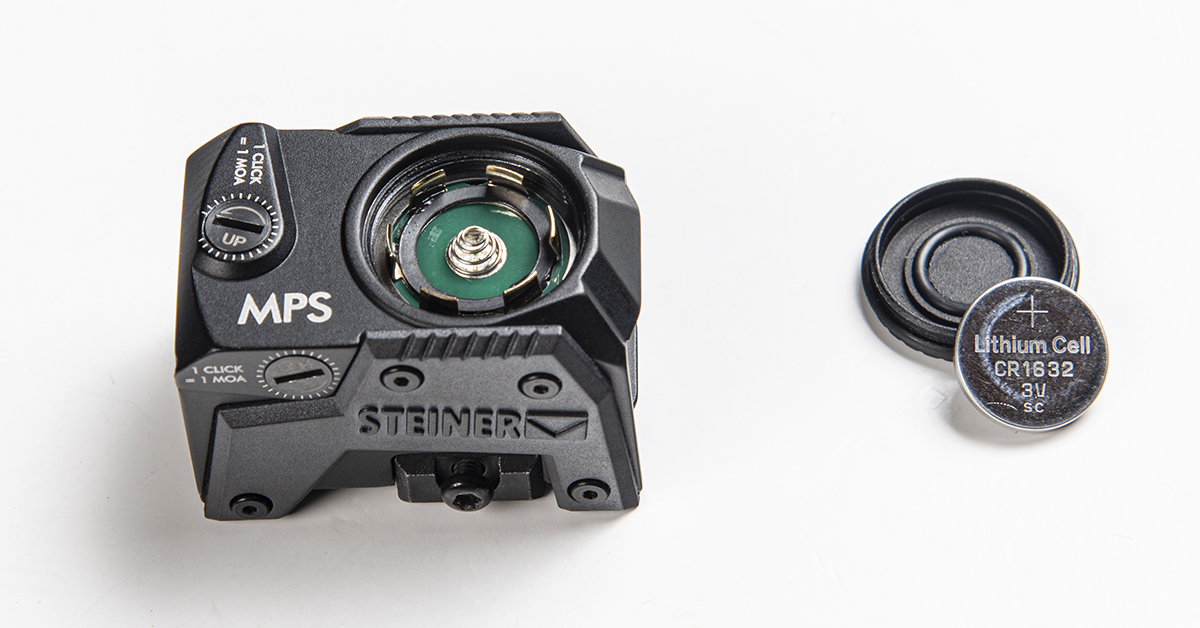 Power usage of the MPS at the average illumination setting is about 13,000 hours for the single CR 1632 battery. Given that the MPS features an auto shut-off that kicks in after 13 hours of non-use, you won't often be changing the battery. When you do need to install a fresh power cell, you don't have to remove the sight and worry about losing your zero because the battery is rightly located on top of the housing for no-fuss maintenance.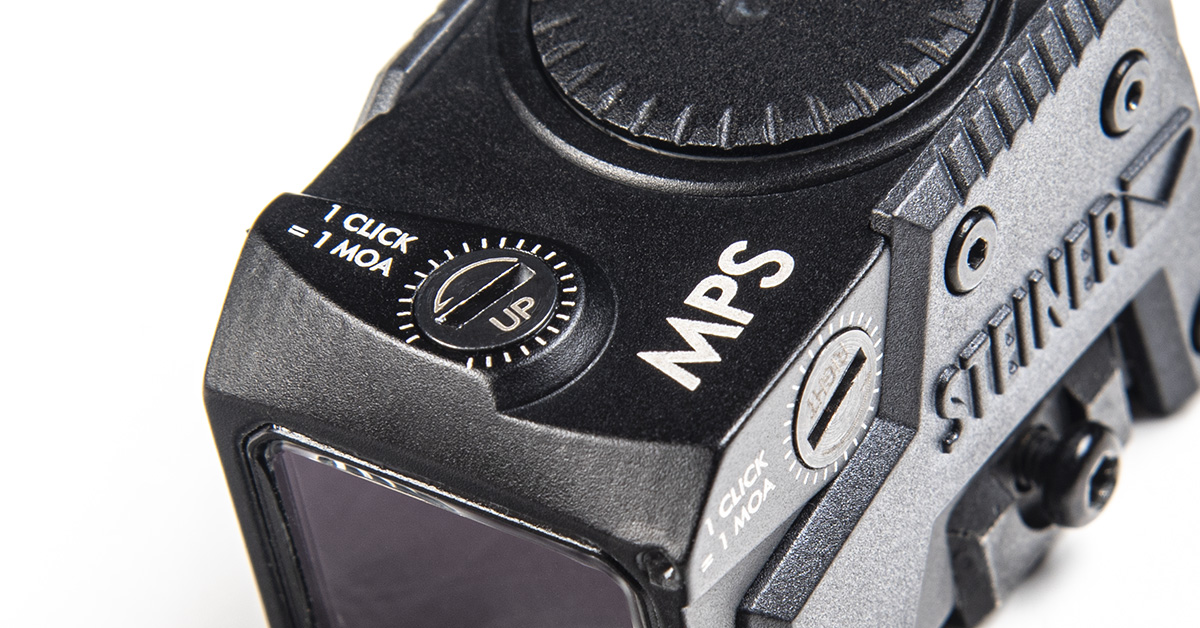 Windage and elevation adjustments are made easy with clickable dials mounted to the top and right side of the housing. A small but important feature is that these dials are slotted so that you can use a variety of tools to make adjustments (unlike many red dots that require a special-sized Torx or Allen driver). The MPS also offers audible and tactile clicks for windage and elevation adjustment, calibrated at 1 MOA per click. This allows you to be quite precise as you move the point-of-impact.
The MPS adopts the Aimpoint ACRO mounting standard (footprint), therefore, adapters designed for the ACRO are compatible with the MPS.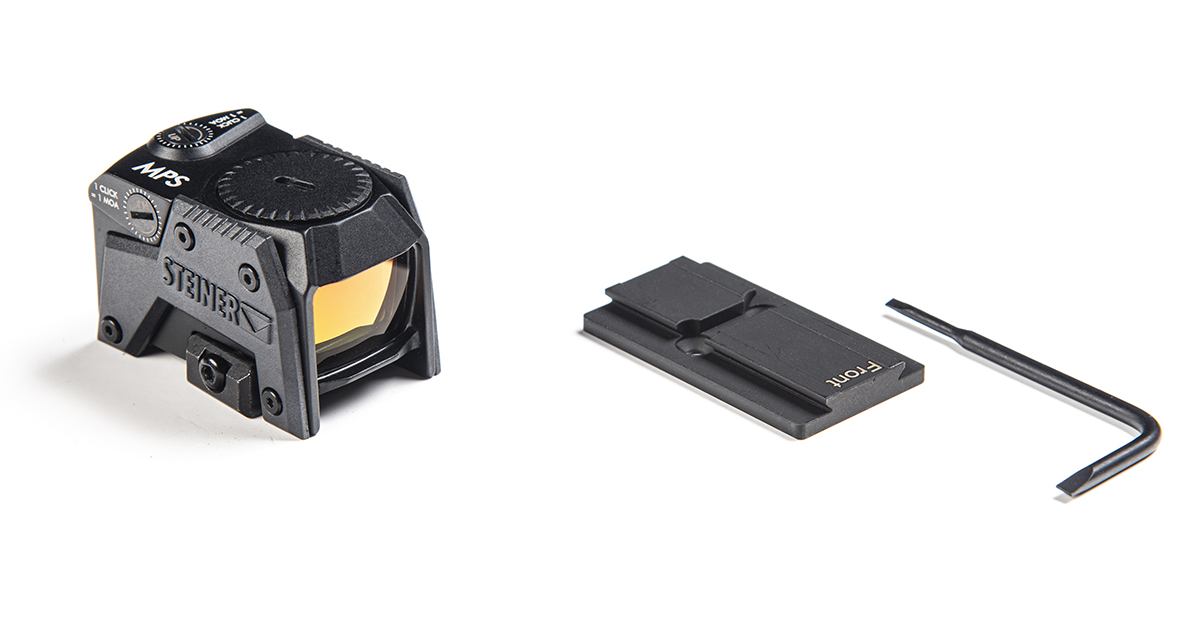 For handgun use, the MPS comes with an adapter plate that interfaces with the Docter system mounting holes. Since my objective was to mount the MPS onto my carbine's Picatinny rail, that dog wasn't going to hunt. After a lot of frustrating online searching, I called up Aimpoint and asked for their thoughts.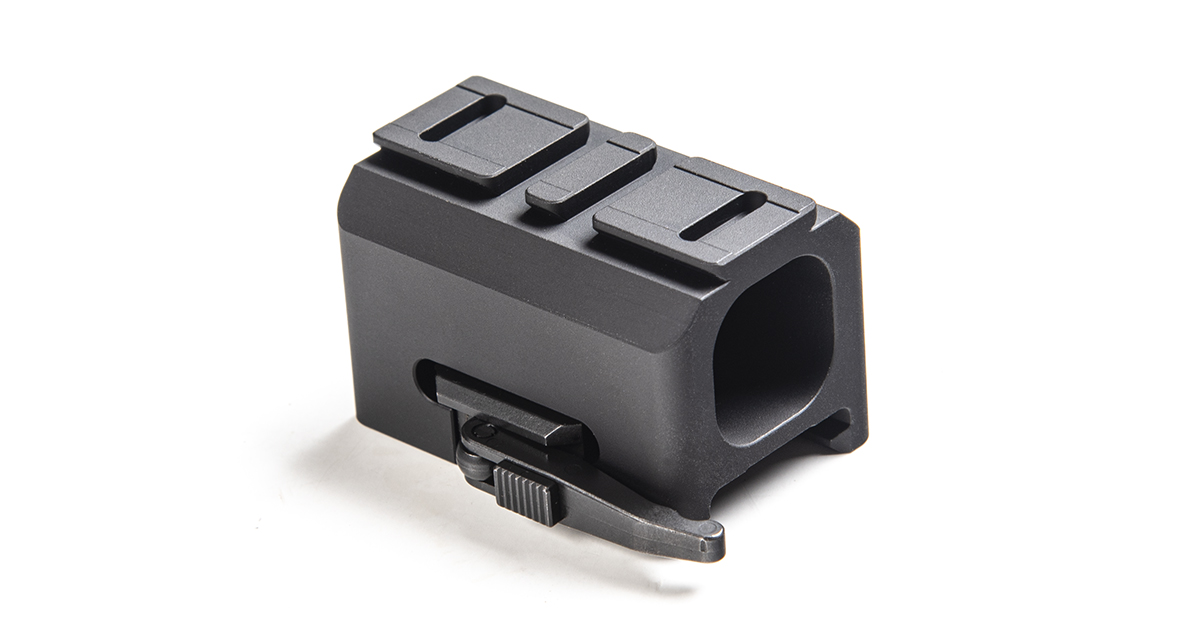 Aimpoint recommended the 39mm QD mount. This mount raises the sight's optical axis to 39mm and includes a locking camming lever that cinches the mount securely to both Weaver and Picatinny rails. I purchased the mount through Aimpoint for $132. Later, I discovered that it is actually made by B&T Parts and Accessories (PN #BT-212327) with a direct-from-factory cost of only $75. If you plan to go this route, save yourself a big chunk of change and order yours from B&T!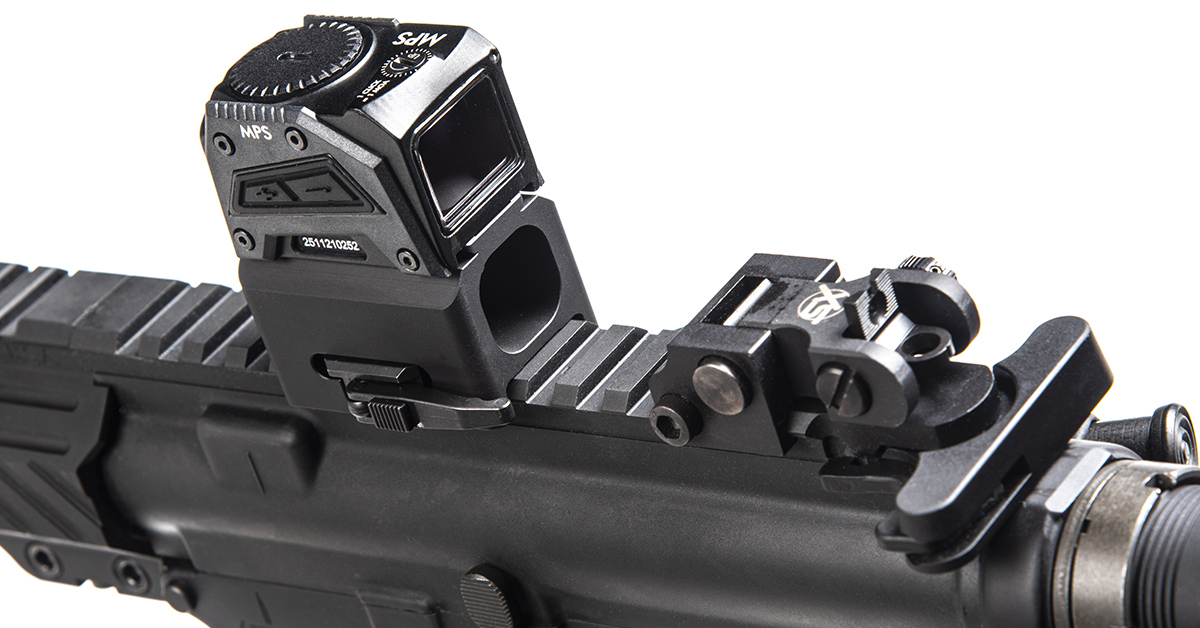 The MPS sight and B&T mount are about as tidy of a setup as you can get. The mount is within a frog's hair of being dimensionally the same as the sight's width and length, so there is no extra metal hanging about or adding unnecessary weight. After tightening the MPS clamp to the mount at 22 in-lbs and adjusting the mount clamp tension to the Picatinny rail, the system was ready to go.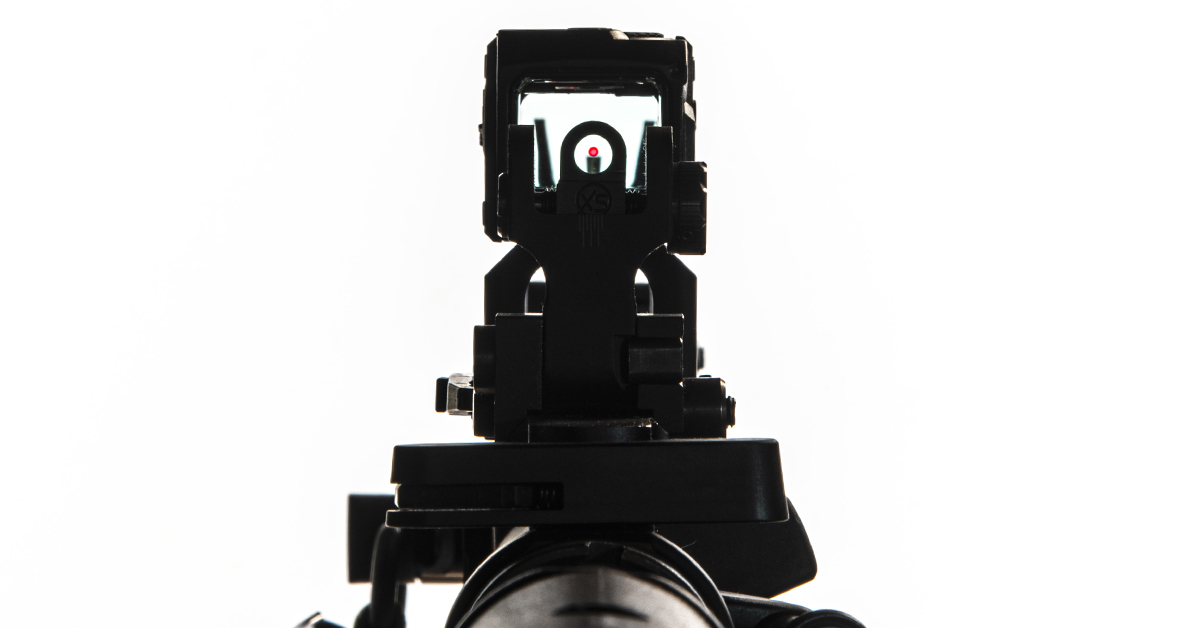 When I built the carbine, I installed XS Sights' AR-15 Tritium Flip-Up Backup Iron Sights as my primary sighting system because of its bombproof construction, rear peep assembly, and tritium front post. With the 39mm B&T mount, the MPS delivered a perfect co-witness to the iron sights…and I couldn't be happier with the results.
On the range, the MPS proved itself to be wholly viable and downright desirable as a shoulder-mounted firearm optic. The sight picture jumps immediately into view with the same cheek weld as when shooting open sights. The 1x magnification (meaning zero magnification) and 25-meter fixed parallax compensation (parallax-free from 10 to 150 meters) combined with Steiner's premium-quality glass delivered a crisp, clean, and distortion-free view across multiple lighting conditions and shooting distances.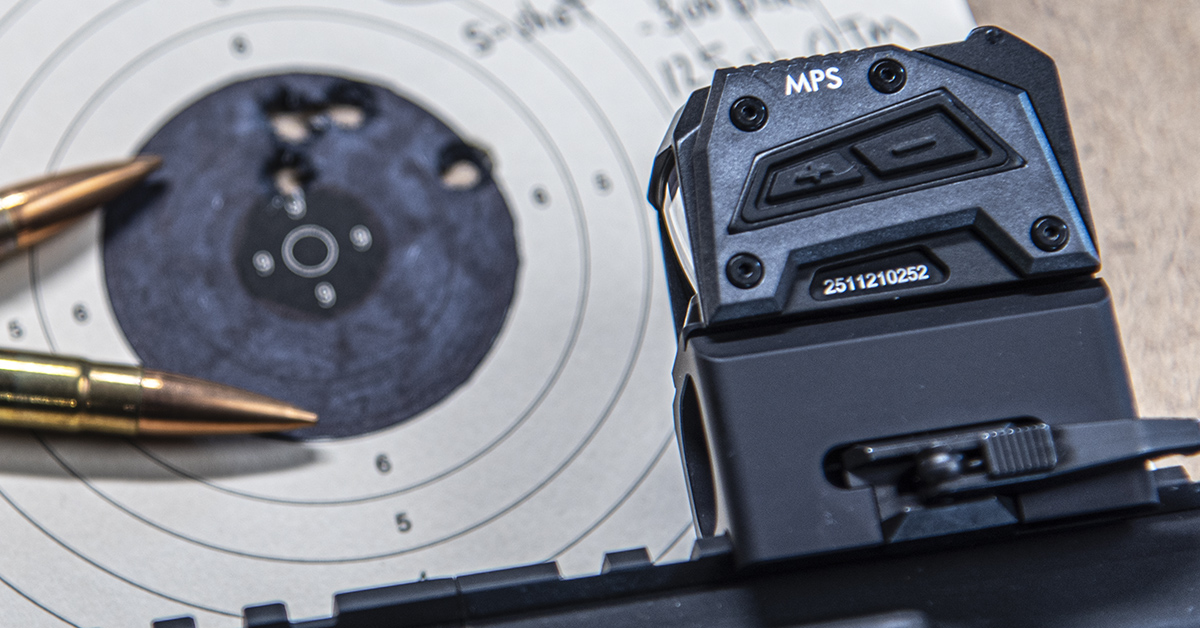 Zeroing the MPS was as easy as it gets. With a roughed-in zero established at 25 yards, we set the target to 50 yards and worked up a 2-inch bullseye. This was necessary given that the MPS's 3.3 MOA red dot would overlap a 1-inch bullseye at that distance.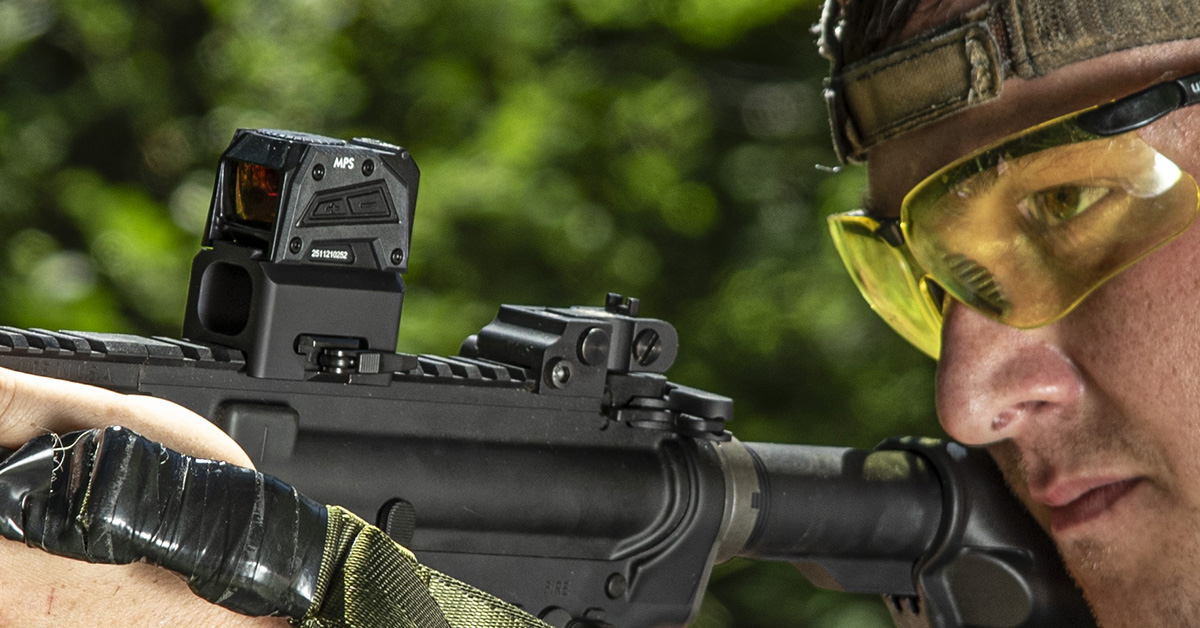 With enough black visible to align the dot at 50 yards, I let my cousin handle the fine-tune zeroing duties (actually, I wanted to see what our tax dollars were getting for his USCG training!). After a few minor windage and elevation adjustments, the Petty Officer First Class sunk five rounds of Black Hills .300 BLK 125-gr. OTM into a .882-inch group. Excellent shooting by the family Coastie and proof that the MPS can hold its own quite dependably on the AR-15 platform.
Thus far, Steiner's MPS has made the grade both as a pistol and as a CQB rifle optic. If I can scrape together enough coin, I may get another one and see how it fares as a defensive shotgun sight. Stay tuned…