Whether you're on the mountain or on the range, the SX-5 Santiam from Leupold finds that perfect balance of premium performance and price
by Rob Reaser
Dedicated rifle shooters and die-hard open country big-game hunters know full well the value of a spotting scope. For the former, a spotting scope on the bench is the fast-track for zeroing rifles and load testing—especially when shooting on public ranges. Ditto for long-range shooting when you have a spotter at the elbow. For the latter, a spotting scope means searching for game on the order of square miles at a time and making the difference between filling an expensive tag or cooking up some tag soup when you get home.
But here's the kicker…there are spotting scopes and then there are spotting scopes. The quality of materials, design, and construction delineate the one from the other.
Most of us have probably spent time behind low- to mid-range spotting scopes and have experienced the absolute frustration of not-quite-there optics.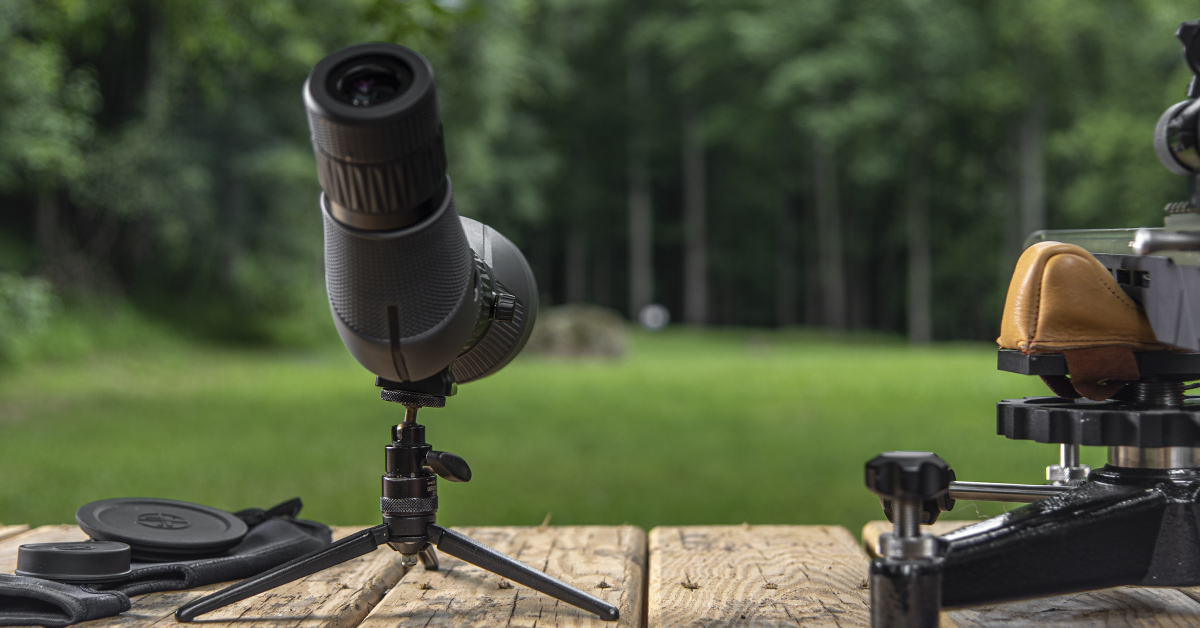 The solution is to abandon these bottom grade scopes and tap more expensive units that, literally, clear up these problems with higher-quality glass and more ergonomic construction. The problem is, it's a real stretch for most of us to drop north of $1,500 on a piece of equipment to see where we hit on a target or that will only be used for the occasional open country hunt. But if you are really serious about improving the quality of your time on the range and the effectiveness of your hunt, it's time to think differently. There are a handful of spotting scopes on the market today that handily bridge that gap between low-priced models and those that cost as much as a custom long-range rifle.
A perfect example is the SX-5 Santiam HD spotting scope from Leupold.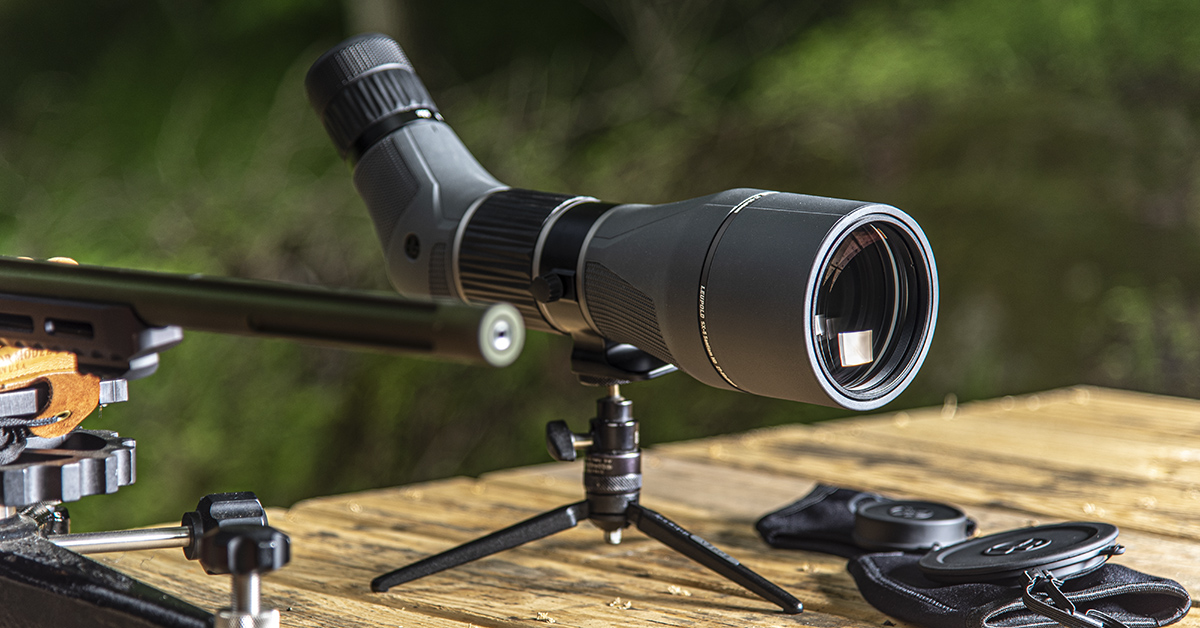 The SX-5 Santiam HD came out in the fall of 2018 with an MSRP of $2,339. Yep, that's premium pricing with performance features to back it up. Today, though, you can get the SX-5 for $1,799.99. Still an investment, to be sure, but at over $500 below its debut price and with Leupold's platinum-grade Lifetime Guarantee backing it up, it's an investment that will amortize effortlessly in just a few years of use.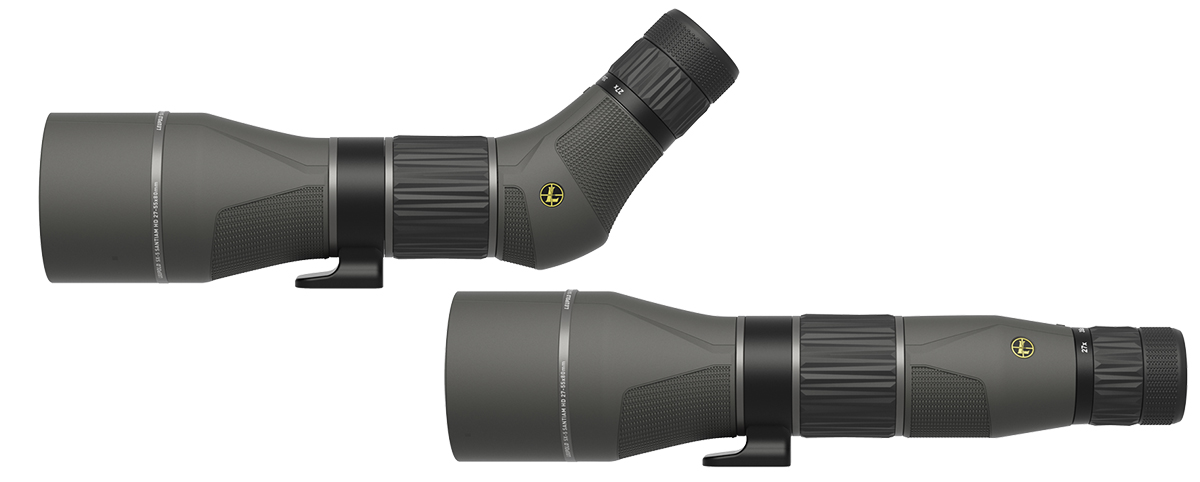 Offered with either an angled or straight eyepiece, the SX-5 delivers a magnification range of 27-55X and an 80mm objective lens diameter, with both models similarly priced. Beginners will be more comfortable with the straight eyepiece configuration, but that shouldn't dissuade them from jumping right to the angled version. If multi-purpose use, such as bench shooting, prone long-distance shooting, and hunting will figure into the spotting scope's deployment through the years, most will find the angled eyepiece to be significantly more comfortable and adaptable.
For the money, you would expect the SX-5 to provide clear and crisp viewing from dawn to dusk light levels, and that's precisely what you get. The glass calls on Leupold's Twilight Max HD Light Management System, which combines several lens coatings to ensure optimal light transmission and color fidelity across the ambient light spectrum. This system does a good job of reducing glare in bright light conditions (something that always annoys us when viewing through lower-grade glass) by combining fully multi-coated lenses with a calcium fluoride treatment to enhance light transmission and to maximize edge-to-edge clarity in low light and across the magnification range. We find the definition and edge clarity of the SX-5 to be what you would expect from a premium-grade spotting scope.
To further minimize the negative effects of harsh light, the SX-5 includes an integrated sunshade. We like this feature because you don't have to carry around a separate lens hood and the pull out/push in design keeps overall size to a minimum. The exterior lens surfaces also give a nod to field durability by including Leupold's Diamondcoat 2 treatment. This increases the abrasion resistance of the lenses while also adding a boost to light transmission and clarity.
Since the SX-5 was developed with field shooting and hunting applications in mind, the scope is housed in a tough, rubber-like armored skin. This not only helps absorb minor impact energy, but it also is quiet and offers good grip to prevent slipping in the hand.
The focus and magnification adjustment rings on the eyepiece are also rubberized and feature exceptionally tactile serrations to provide a solid grip for rotating. This is particularly welcome during cold weather when wearing gloves. The adjustment rings turn smoothly and precisely with just enough tension to keep them from moving out of position yet are easy enough to rotate without disturbing your view. These are the kinds of details and nuances that separate good optics from the also-rans.
The exit pupil on the SX-5 runs from 2.9mm on low power down to 1.5mm at full magnification. The oversized eye piece combined with the three-position twist-up eye cup allows you to achieve a comfortable view with the available 16.6-19.2mm eye relief.
While the SX-5's angled eyepiece does wonders for reducing eye and neck strain, this spotting scope goes one step farther by allowing you to change the left/right angle. The tripod mount has a set screw clamp on the right side that allows the body to rotate left or right while secured to a tripod. Simply rotate the body to the most comfortable position and tighten the clamp. This offers welcome flexibility in your choice of tripods or window clamps because it means you can move the optic into the optimal viewing position without the need for a pivoting tripod head.
On a side note, the SX-5 comes with the neoprene-type cover seen here.
Weighing 2.3 pounds, this scope certainly appreciates a solid bipod to minimize vibration. Find a sturdy one you can use on the bench or easily tote into the backcountry and the Leupold SX-5 Santiam HD will provide you with the kind of performance you would expect in a premium spotting scope but at price point that isn't too difficult to swallow if you take the long-haul investment point of view.
Leupold SX-5 Santiam HD Spotting Scope Specifications
Finish: Shadow Gray
Waterproof: Yes
Eyepiece Style: Angled
Length (in): 15
Weight (oz): 68.7
Magnification Max: 55X
Magnification Min: 27X
Objective Diameter (mm): 80
Linear FOV Low Mag (ft@1000yds): 105
Linear FOV High Mag (ft@1000yds): 73
Angular FOV Low Mag (Degrees): 2
Angular FOV High Mag (Degrees): 1.4
Eye Relief Low Mag (mm): 16.6
Eye Relief High Mag (mm): 19.2
Exit Pupil Low Mag: 2.9
Exit Pupil High Mag: 1.5
Close Focus Distance (ft): 11