If a general purpose yet refined-performance semi-auto is on your list, the Weatherby 18i demands a hard look
by Rob Reaser
The task was a simple one: sneak up on a flock of South Dakota gobblers over a quarter mile away. Two callers and two shooters sliding across mostly open prairie pastureland, intent on getting to within spitting distance of some of the sharpest-eyed game birds on the North American trophy list. A cakewalk, right?
Only if you've never hunted turkey would you think that. But I was in luck this gloomy April morning. Ken and Toby were old hands at strategizing the untimely demise of many a gobbler in these parts, so I had no doubt that we would, indeed, "shoot 'em in the face."
Hoisting packs and grabbing guns out of the truck, we headed off to, as Ken said, "…put some 'spirit freedom' to some turkeys."
I loaded the magazine of my Weatherby 18i Synthetic with advanced samples of Remington's now-released Premier TSS 12-gauge and shucked one into the chamber.
The route to engagement held a diversity of terrain, from rolling grassland, waist-high scrub, and dense cedar patches to a steep climb up an eroded coulee bank and a balance-beam creek crossing whose murky waters I did not want to fall into on this brisk morning. Finally, we were into a touch-and-go stalk comprised of alternating crouching runs and belly crawls before getting into position for the final call-in.
Check out the video above to see how it all went down.
Looking back on that exciting morning, I realized it was a fine test of the 18i Synthetic as an all-around field shotgun. From keeping a solid grip whilst billy goating up a coulee and pushing through the gnarly scrub to knees-and-elbows crawling and finally a prone shot to take down a Rio-Merriam's hybrid, the 18i handled wonderfully.
Nuts and Bolts
The 18i Synthetic, as with all Weatherby's 18i series shotguns, is built around a receiver machined from billet aluminum for optimal strength and dimensional precision. The real star of the show is the bolt and carrier assembly. This is Weatherby's take on the long-lived but infrequently executed inertia action.
For those who are unfamiliar with inertia system semi-auto shotguns, the concept is simple. Rather than utilize propellent gas from the fired shotshell to eject and load the next round (as in conventional gas-operated semi-auto shotguns), the inertia system relies on the gun's recoil action to extract, eject, and reload. Some folks like it, some favor the traditional gas system. I happen to like it because the inertia system offers reliable cycling from light to heavy loads and with all gas exiting the muzzle and not back into the gun, inertia systems run cleaner for much, much longer.
Operational controls on the 18i are familiar enough. There is the essential crossbolt manual safety located behind the trigger, with a red band that is readily visible when the safety is in the off or ready-to-fire mode. Forward of the trigger is the shell release button, and the bolt release button is right where it's supposed to be. Ergonomically, I found nothing challenging about the controls, even while wearing gloves.  I would, though, favor some aggressive texturing on the bolt handle and bolt release button.
Few accuse polymer gun furniture of being sexy. That may be important to some lead slingers, but we'll take function over form any day. That said, the 18i Synthetic's buttstock and forend dress the part well and do their core job quite admirably. The foregrip has an elegant shape and slight contour to give the support hand finger something to latch onto. Robust texturing further enhances grip and promotes good barrel control.
The grip is equally textured. For recoil management, the 18i Synthetic comes with a plush elastomer butt pad that shoulders well and takes the thump with authority. Across the top of the stock is a soft-touch panel that does its part for recoil comfort and helps minimize the "cheek weld chill" on those frosty mornings. To customize the fit, the gun comes with LOP spacers and drop and cast shims.
Leading the 18i Synthetic is a 28-inch barrel with a full-length ventilated rib, ending with a bright LPA fiber optic front sight. A five-choke set comes standard. These chokes are based on the Benelli Crio Plus pattern and include IC, IM, M, I, and F.
Conclusion
The Weatherby 18i Synthetic finds that comfortable and often elusive balance of reliability, manufacturing quality, features, and price in the semi-auto shotgun space. At $1,149 MSRP, it hits a price point that won't cause heart palpitations but is enough of an investment that you can be assured of quality performance.
Primary Mission
The 18i Synthetic is the workhorse of Weatherby's up-level semi-auto line. The polymer stock and matte finish make for a shotgun that isn't timid in the bush and the inertia operating system works cleanly and flawlessly across a broad range of shotshell loads.
What We Like:
Good balance
Contoured forend offers excellent grip
Clean action…no mess!
What We Would Change:
Add serrations to the bolt release button
Enhance the bolt handle for better cold-weather grip
Compare to:
Benelli M2 Field
Stoeger M3500
Franchi Affinity 3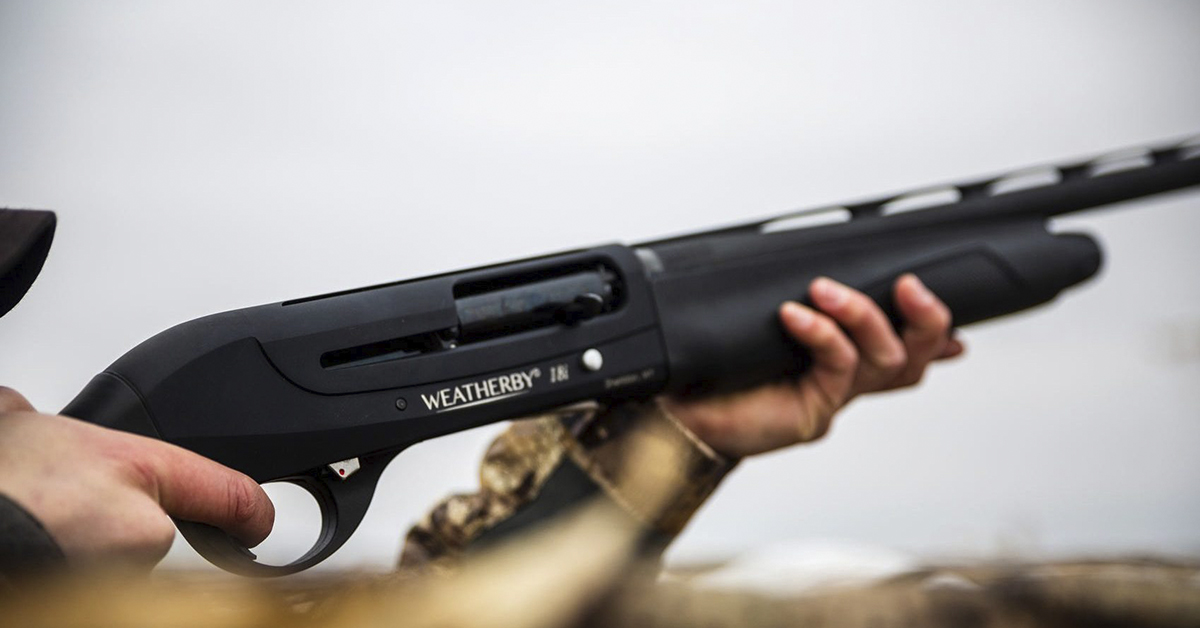 Weatherby 18i Synthetic Specifications
Firearm Type: shotgun
Chamber: 12-gauge/3.5 Super Magnum
Cartridge Capacity: 4+1/2+1
Action: inertia-operated semi-auto
Barrel Length: 28 in.
Chokes: Benelli Crio Plus choke pattern; IC, IM, M, I, F
Sight System: LPA fiber
Overall Length: 49 1/4 in.
LOP: 14 1/3 in.
Drop at Heel: 1 1/2 in.
Drop at Comb:9, 2.1, 2.3, 2.5 in., depending on shim
Overall Weight: 7 lbs.
Additional Features: chrome-lined bore, full-length ventilated rib, elastomer stock
MSRP: $1,149.00