Although you should be able to, you can't take your firearm everywhere. Less-lethal options give you some measure of protection in places where 2A rights are ignored.
by Barb Melloni
Handguns rule the personal protection roost when we are out and about. At home, defense options expand to carbines and shotguns. Wherever we move within our Second Amendment bubble, we have an app for every situation. Unfortunately, 2A coverage is not universally applied, and in those cases, alternative defensive tools are in order. It is also true that there are situations where a traditional firearm may not be the best option. Densely populated interior structures with paper-thin walls are a good example.
For these reasons, we all should consider having a less-lethal defensive option at the ready — in the home, and most definitely when we are in public spaces. Here, we take a broad look at the many less-lethal defensive devices on the market today. Some are more suited for the home while others can be discretely and, in most cases, legally carried wherever you roam in public spaces.
On a side note, just because a defensive device may not result in the terminal elimination of a threat, the use of any defensive tool to protect yourself carries with it legal jeopardy. Such is the sad condition of our judicial system in many parts of the country. Whether you deploy a traditional firearm, a stun device, or a chemical deterrent in your own defense, you may have to defend yourself in a court of law. That is why we recommend every personal defense practitioner subscribe to a legal defense program, such as Firearms Legal Protection. Using FLP as an example, their member plans offer protection for all legal weapons, including less-lethal options. If you don't already have a personal protection plan, we strongly recommend you get one today.
Umarex T4E P2P HDX 68 Pepperball Shotgun
Having a less lethal option that mimics your home defense setup can be difficult, but the folks at Umarex have solved this problem with their T4E P2P HDX 68 Pepperball Shotgun. This less-lethal option functions just like your standard pump action shotgun, making it a familiar platform for those who already own such a firearm. Firing .68-caliber pepper balls powered by CO2 cartridges at a rate of around 425 fps is sure to stop an attacker in their tracks.
SABRE Pepper Spray with Glow in the Dark Case & QD Key Ring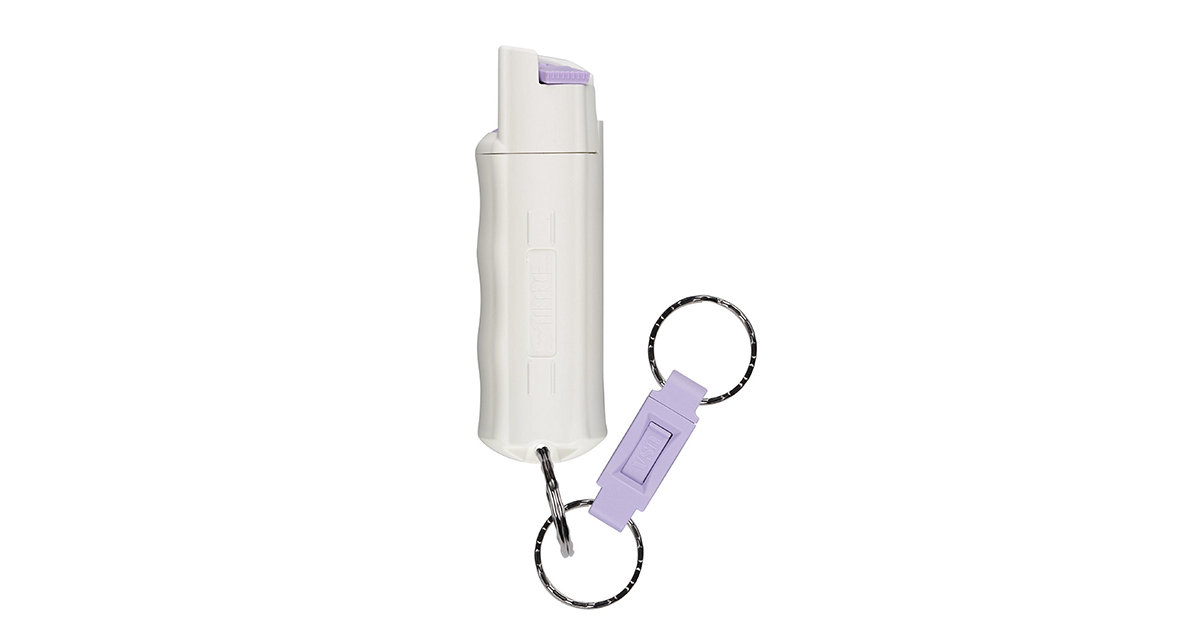 Popular amongst those who may carry pepper spray in their purse or anyone navigating a poorly lit parking lot or parking garage, the glow-in-the-dark case and QD ring featured on this SABRE Pepper Spray are great assists. When adrenaline is pumping and fine motor skills fly out the window, you may find yourself fumbling to find your typical run-of-the-mill spray. With this simple yet ingenious feature, you can now quickly find and deploy your pepper spray.
Guard Dog Security: Titan Stun Gun Baton and Flashlight
Ideal for taking with you on your next camping trip or even while taking your family dog for a walk at night, the Titan Stun Gun Baton and Flashlight from Guard Dog Security provides a few different features to keep you safe. The flashlight incorporated into this baton will keep your path clear and allow for better situational awareness in dark environments. Additionally, this light also has a strobe function which will draw attention to your location in case of an attack. Oncoming threats can be kept at a safe distance away as this baton measures 18.5 inches in length — particularly handy should you need to call upon its stun feature.
PepperBall VKS PRO
Going back to personal protection within the home (although it can be used anywhere you wish), we have the PepperBall VKS PRO. Styled after your traditional AR-15, this less-lethal option fires pepper balls from the included 15-round magazine and is powered by a large CO2 cartridge hidden within the buttstock of the rifle. If you use an AR for defensive purposes, you can mimic your current setup quite nicely as the PepperBall VKS PRO also comes with a Picatinny rail upon which you can mount a variety of optics, lasers, and more. It also comes with a collapsible buttstock and foregrip for optimal control, fit, and maneuverability.
Axon TASER Pulse
The TASER Pulse from Axon provides two less lethal options in one compact package. Should you need to call upon the taser portion of this unit, you will be able to immobilize your attacker for up to 30 seconds from up to 15 feet away. Seconds count, and this would provide you with much needed time to put as much space as possible between you and the threat. Should the threat close in on you, the TASER Pulse also includes a built-in stun gun. If you should ever need to deploy your TASER in a self-defense situation, Axon will replace it for free.
Umarex T4E Pepper Ball Gun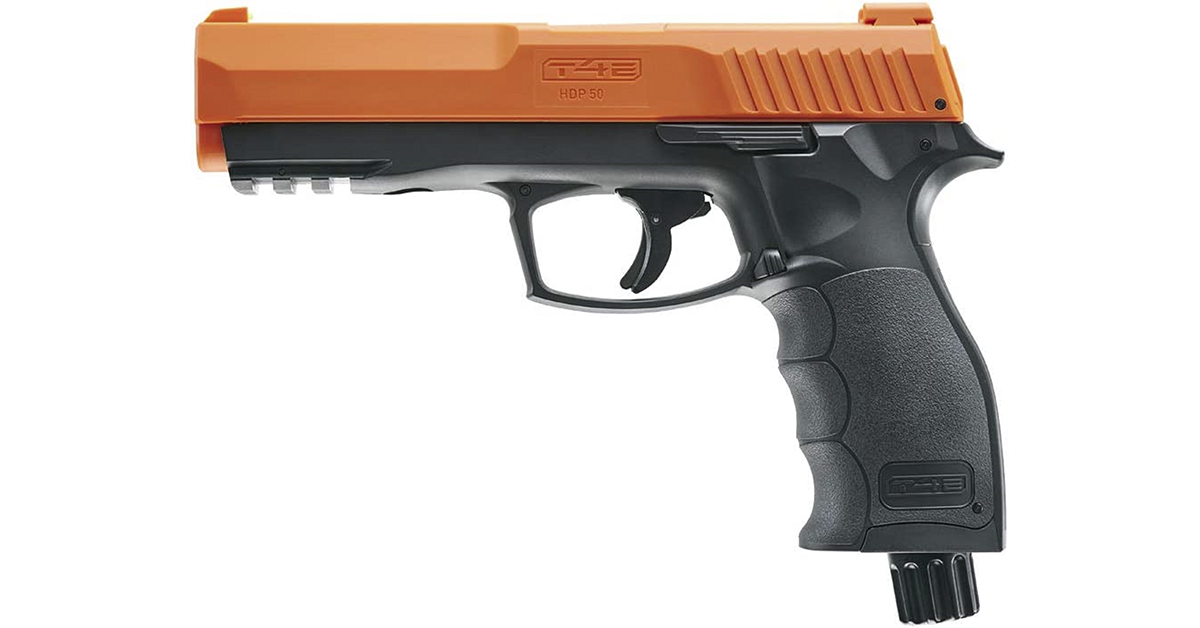 Whether you carry it alongside your current CCW or keep it ready to go in the workplace or your vehicle, the T4E Pepper Ball Gun from Umarex is an excellent option for less-lethal self-defense. Confirmed to fit many holsters on the market, the user can practice drawing just as they would their EDC handgun. Each magazine can hold six .50-caliber pepper balls, with rubber balls available for purchase as well. A unique feature of this pepper ball gun is that the CO2 cartridge used to power it is not pierced until deployed and the trigger is pressed. This as an additional measure of safety, preventing you from needing it in a bad situation only to find out that your CO2 cartridge is empty.
Guard Dog Security: Accufire Pepper Spray With Laser Sight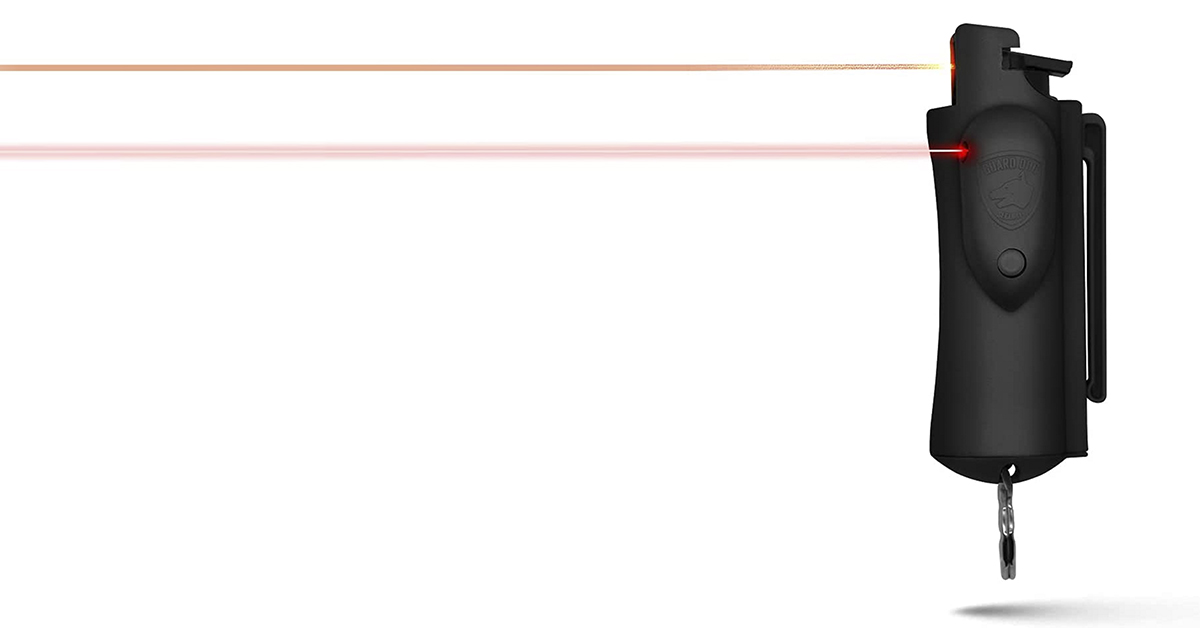 We put lasers on everything else in the gun industry, so why not incorporate that same technology into your pepper spray device? The Accufire Pepper Spray with Laser Sight from Guard Dog Security does just that. Activated once you have your hand around the grip, the laser will provide a clear point of aim with an effective distance of up to 16 feet. Having the visualization of the red laser dot appearing on the intended target provides the user with an extra boost of confidence that their spray will land on the target.
Guard Dog Security Hornet 2 Mini Stun Gun with LED Light and 120 dB Alarm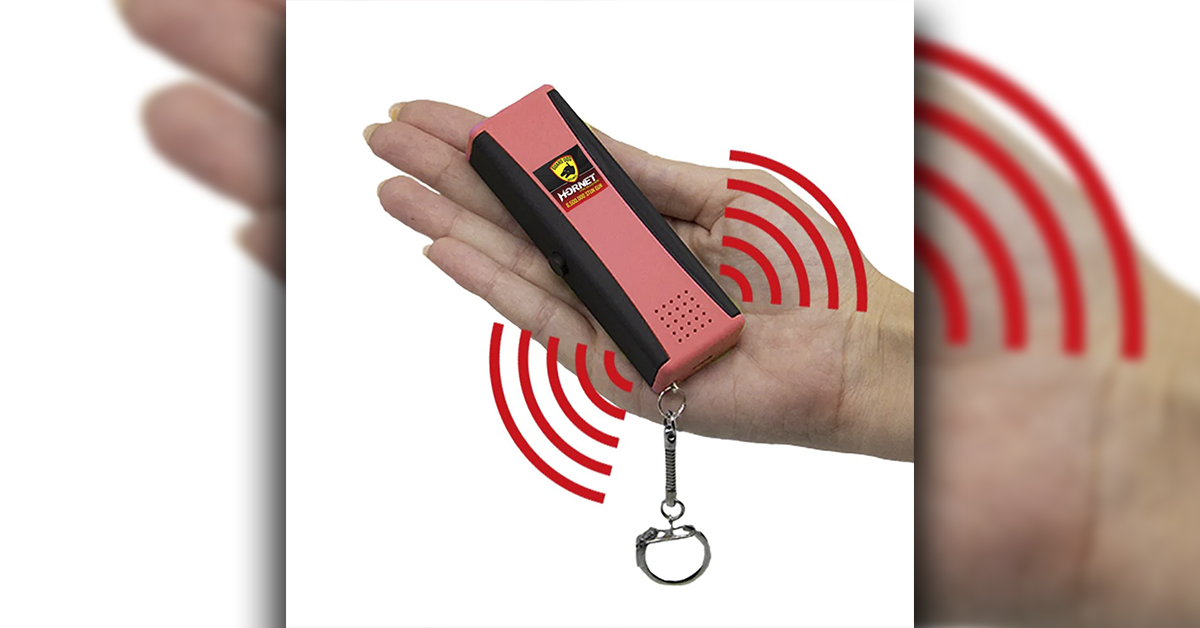 Another option to add to your less-than-lethal toolbox is the Hornet 2 Mini Stun Gun from Guard Dog Security. This option is another feature-packed offering that includes an LED light. Attaching it to your bag or keychain with the enclosed lanyard makes it easy to access in dimly lit areas. The first level of deterrent is an ear-piercing, 120 dB alarm to draw everyone's attention your way. Should your attacker continue to advance, the stun gun may then be deployed.
Axon: TASER Bolt II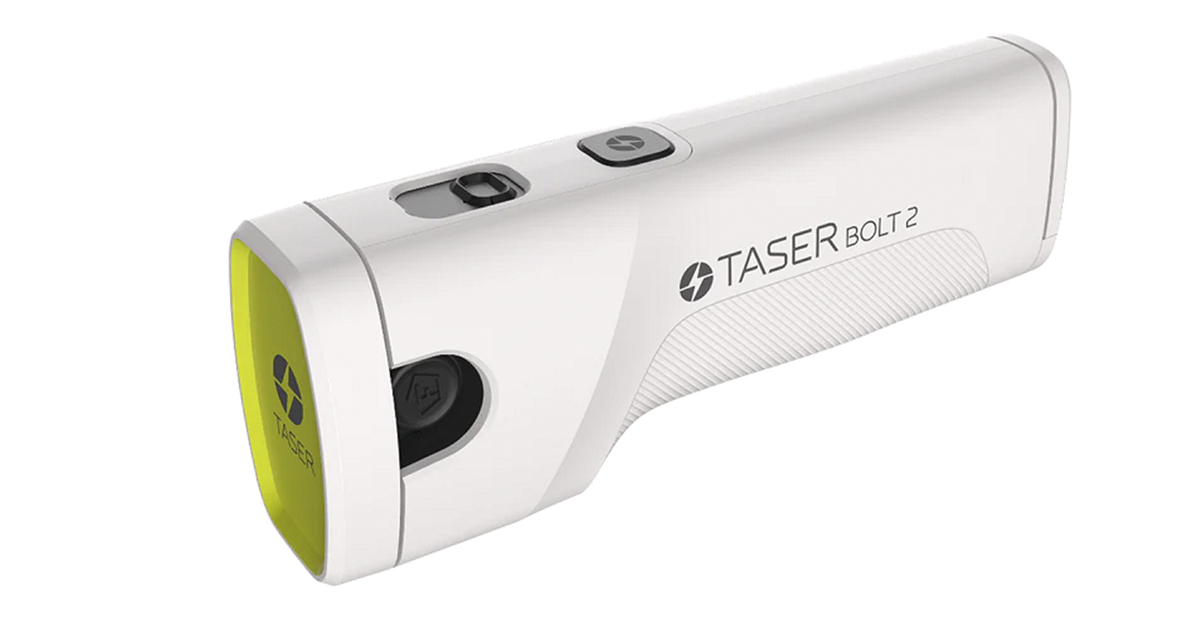 We are all familiar with security systems such as ADT, SimpliSafe, and more that can contact the authorities should their alarms be triggered. That same technology is built into the TASER Bolt II from Axon. When paired with the Axon Protect app, should you need to deploy your taser, the proper authorities will automatically be notified. With an effective range of up to 15 feet, once the taser has made contact with your attacker, they will be rendered impaired for up to 30 seconds.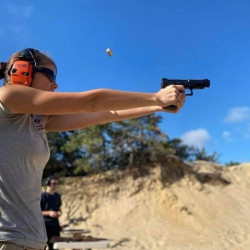 Latest posts by Barb Melloni
(see all)