For the, "Gimme the gun, gimme the ammo, and let's go!" types, the all-new Rock River Arms Ascendant is the AR you've been waiting for
by Rob Reaser
Although the AR is arguably king of the modern rifle platforms, not everyone has the top-fan familiarity with the AR-15 as many of us do. Old-school hunting rifle adherents, for example, may understand the capabilities and applicability of the AR but aren't necessarily tuned into the many nuances of configuring the AR to meet a specific objective. On the other hand, there are many folks who appreciate the AR-15's diverse competencies but would rather skip the process of figuring out what parts to use and not spend time at the bench to bring it all together.
In short, there are many shooters and hunters who prefer to trade cash for keys and drive away with an exceptionally accurate factory screamer.
That's what the new Rock River Arms Ascendant series is all about.
Long known for their premium-grade AR-platform rifles and carbines developed for competition, law enforcement, personal defense, and hunting, RRA decided to launch a new series of rifles that takes all the research, figuring, and wrench-turning out of the equation. These firearms are intended for shooters and hunters who want the best components pre-installed at the factory so all that is required is a box of ammo and to head to the range for zeroing.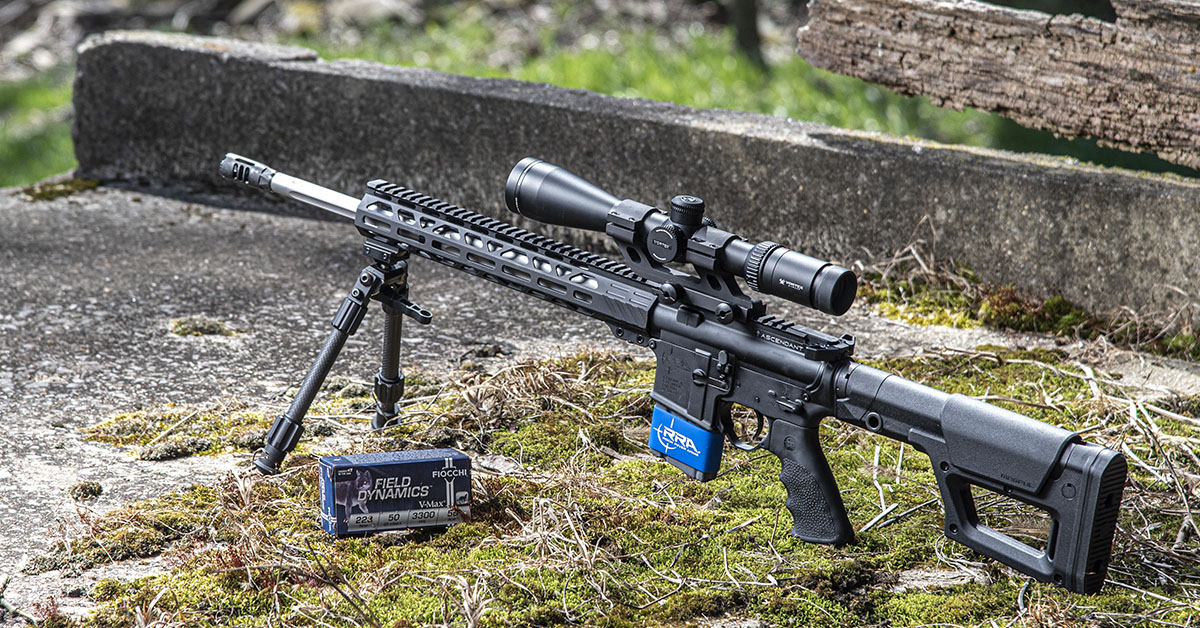 The contenders in the Ascendant series are the Ascendant ATH (All-Terrain Hunter) models. Chambered in .223 Wylde, .350 Legend, and .450 Bushmaster, the Ascendant ATH rifles boast several common parts that distinguish them from other firearms in the RRA stable.
We recently spent some time with Ascendant ATH chambered in .223 Wylde. This is an excellent chamber choice because the .223 Wylde safely accepts both 5.56 NATO and the multitude of .223 Remington cartridges offered today. This is the rifle you want if knocking down coyotes, prairie dogs, and groundhogs at stretched-out distances is your game.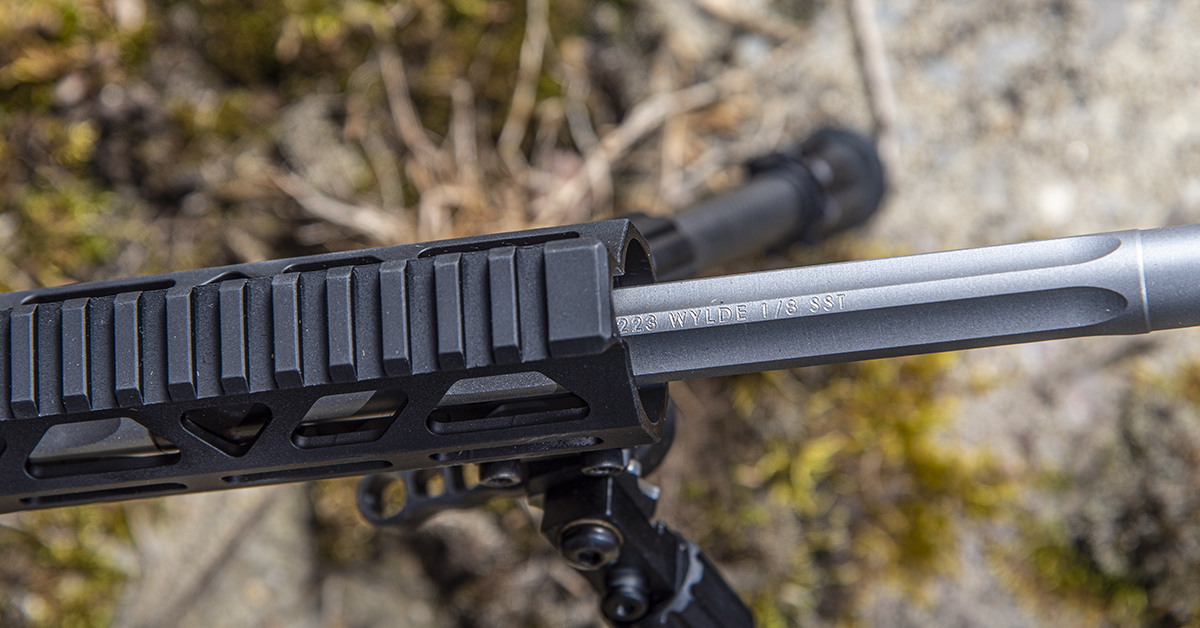 All barrels on the Ascendant ATH rifles are 416R stainless steel media-blasted to an exquisite matte luster. The .223 Wylde version is 18-inches long, cryo-treated for molecular stability, and fluted for weight reduction. Twist is 1:8.
Accuracy is mostly a function of the barrel and consistent ammunition — if the shooter is doing his or her part. In this regard, the Ascendant ATH scored big in our testing. Rock River Arms guarantees the Ascendant ATH in .223 Wylde to shoot 3/4 MOA. To test this claim, we selected Fiocchi's Field Dynamics .223 Remington cartridge hosting Hornady's proven 50-grain V-Max bullet. This cartridge has delivered outstanding results in several of our recent AR rifle tests, so it definitely hits the premium ammo qualifier set for RRA's accuracy guarantee.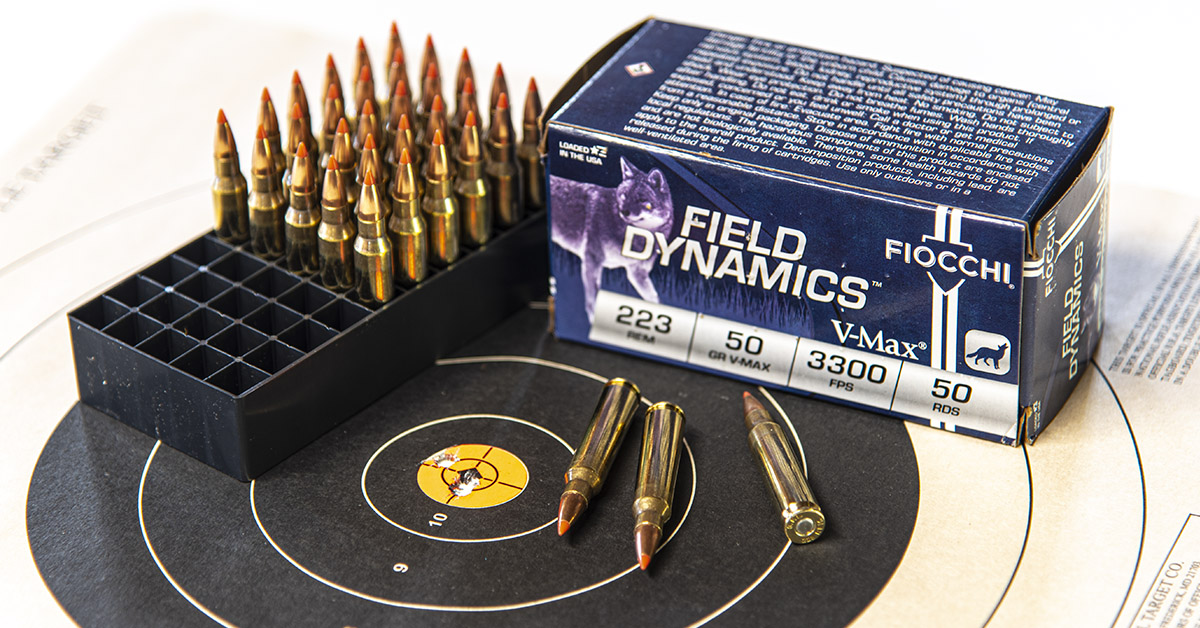 After a quick out-of-the-box zeroing, we placed our target at 100 yards and began shooting three-round groups. The average group size was .602 inches — well within RRA's 3/4 MOA guarantee. Our best group of the lot measured .46 inches. In terms of accuracy potential, the Ascendant ATH most certainly delivers.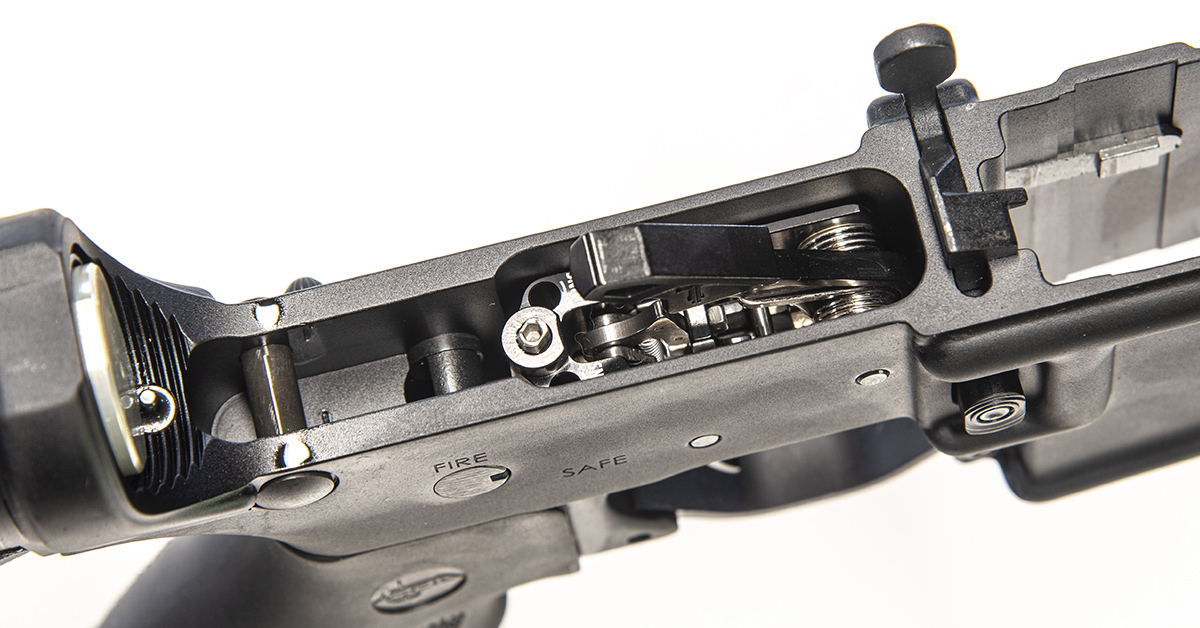 Another factor contributing to the Ascendant ATH's accuracy is a marvelous trigger. Understand, RRA makes some good triggers, such as their two-stage match and National Match two-stage models. But for the Ascendant ATH, the company chose the new Diamond Single-Stage AR15 unit from TriggerTech. This trigger is adjustable from 1.5 to 4 pounds, so you can dial it in just right for your preferred shooting style. TriggerTech touts this as a zero-creep trigger, and they aren't joking. Obviously, with no discernible creep, the sear break is razor-sharp and overtravel is nearly imperceptible. Checking on the Lyman's scale, our test model pulled an average 3 lbs., 4.6 oz. Two pounds would be about right for this gun.
The buttstock chosen for the Ascendant ATH is the new PRS Lite from Magpul. This is a good choice for a rifle destined primarily for hunting applications. It is sturdy, ergonomic, and has just enough adjustability in length of pull (1.4 inches) and comb height (0.8 inches) to set you up securely behind your optic. The rubber buttpad is also adjustable for height and cant. The stock accommodates QD sling swivels and includes an ambidextrous footman's loop, providing you with several sling mounting options.
The grip, naturally, is RRA's own Hogue overmold model. This is, hands-down, our favorite AR grip due to its high ergonomic factor and superior traction when wearing gloves. Speaking of wearing gloves, the gun is fitted with a winter trigger guard, so you can wear your heavy gloves on those cold coyote sets and still manage trigger operation.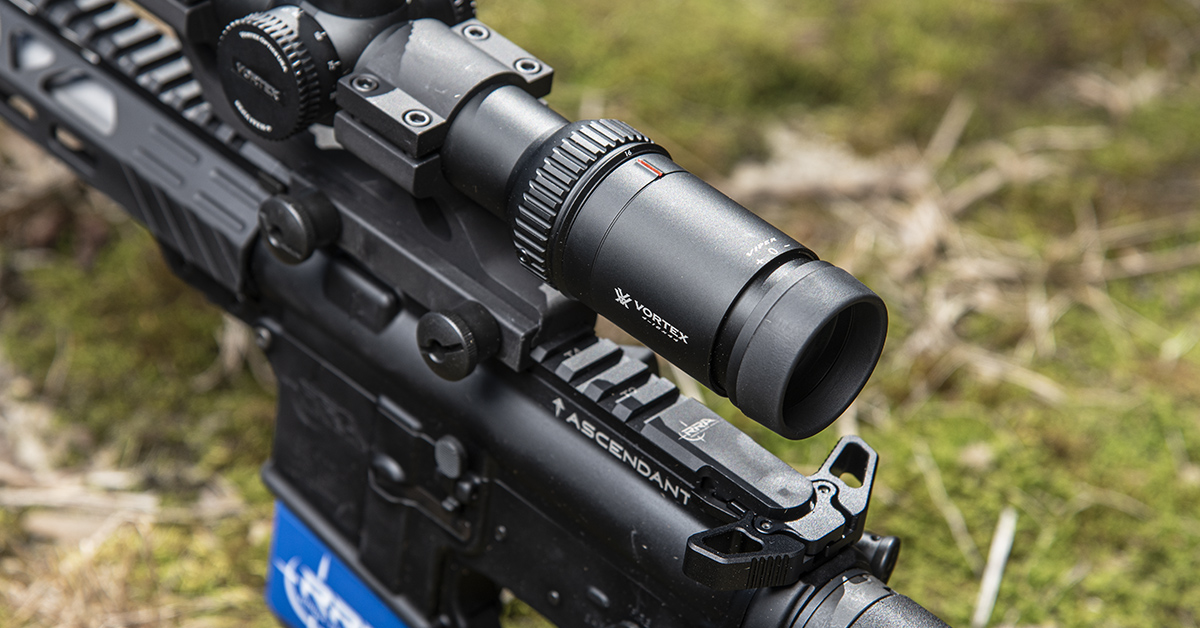 Part of the "ready to go" theme of the Ascendant ATH is the inclusion of an optic and mount. For this, RRA tapped the Vortex Viper HS 4-16x44mm. Given the long-range potential of the Ascendant ATH, this was a smart choice, as the 4X zoom factor will sufficiently cover most varmint hunting needs. This scope comes with a V-Plex reticle that offers a clean sight picture well suited for the 5.56 NATO/.223 Remington's effective range.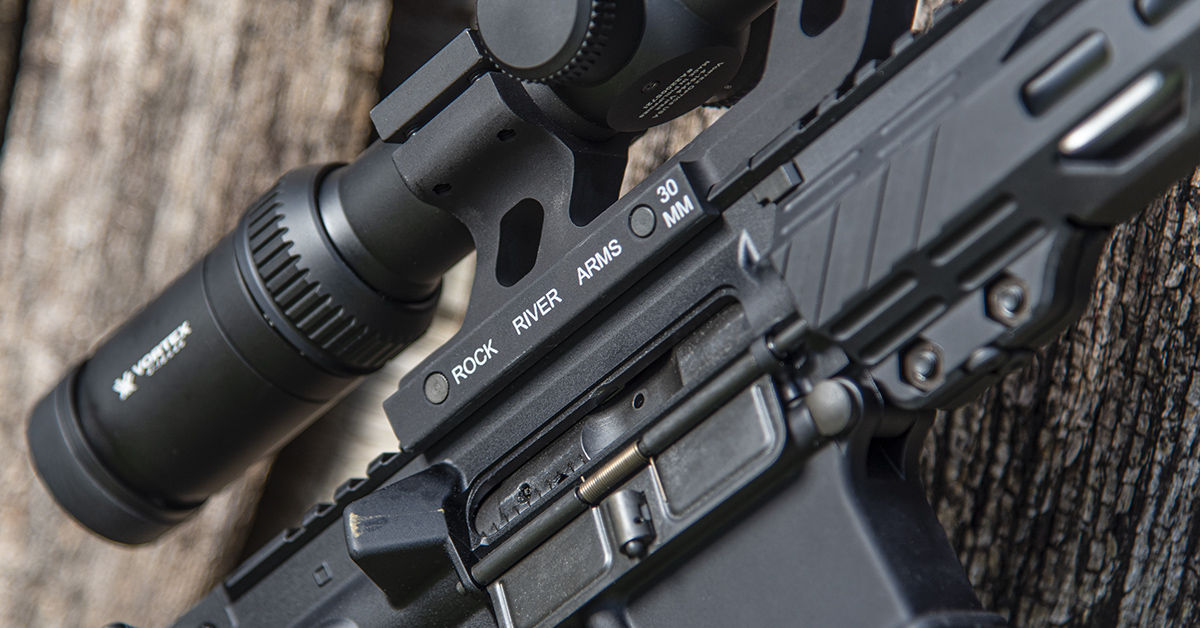 Supporting the scope is a RRA 30mm cantilever scope mount. It is a robust unit that will easily withstand the rigors of the hunting fields.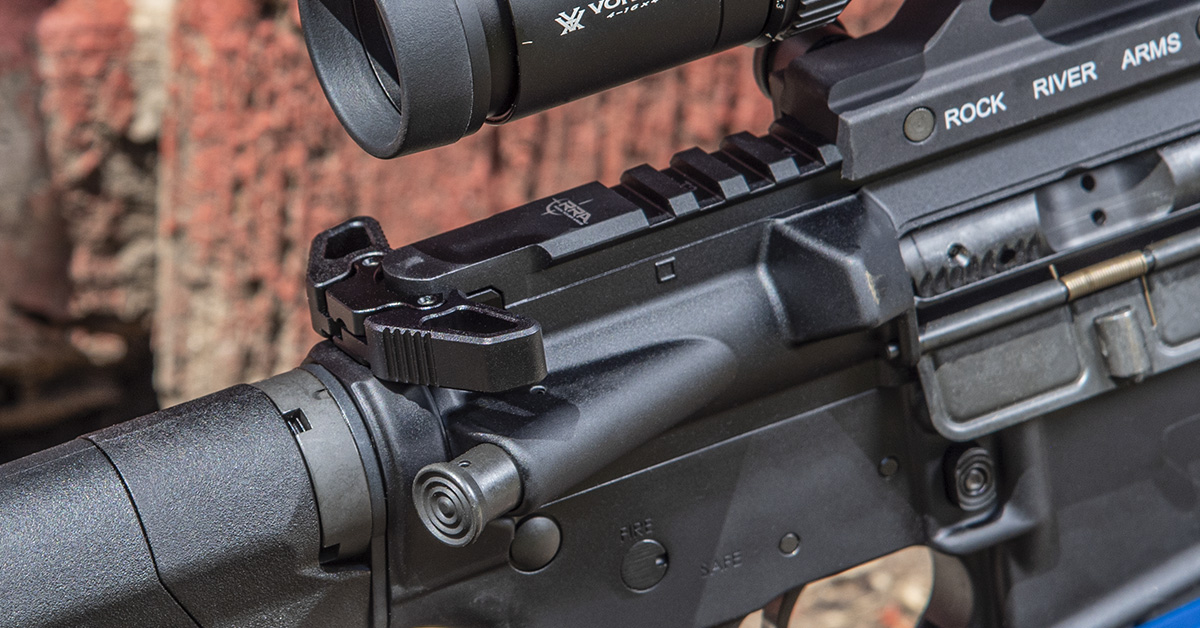 In keeping with the need for gloved hands operation, RRA opted for a Radian Raptor charging handle. The handle is generously proportioned and ambidextrous in operation, so it is easy to manipulate when wearing gloves.
Tipping the stainless-steel barrel is RRA's Operator Muzzle Brake.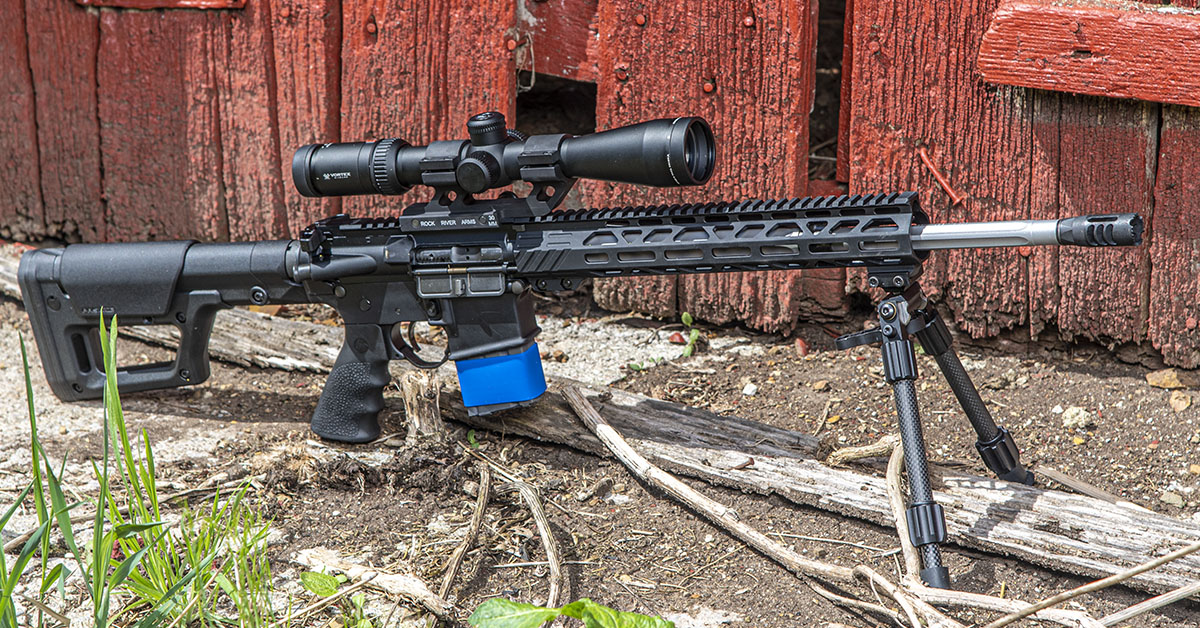 Finally, the Ascendant ATH comes with RRA's 13-inch handguard. This piece sports a full-length top rail and M-LOK slots to accommodate needful accessories like a bipod.
Arguably no rifle platform has seen as many possible configurations as the AR-15. Its adaptability and the immense aftermarket support means pretty much anything you want to do is possible…if you take the time to figure it out and do a bit of experimenting. Should you wish to get right to it and skip all the research and tinkering, look no further than the Rock River Arms Ascendant ATH. A more accurate, ready to go rifle straight out of the box you will likely not find.
Varmints beware.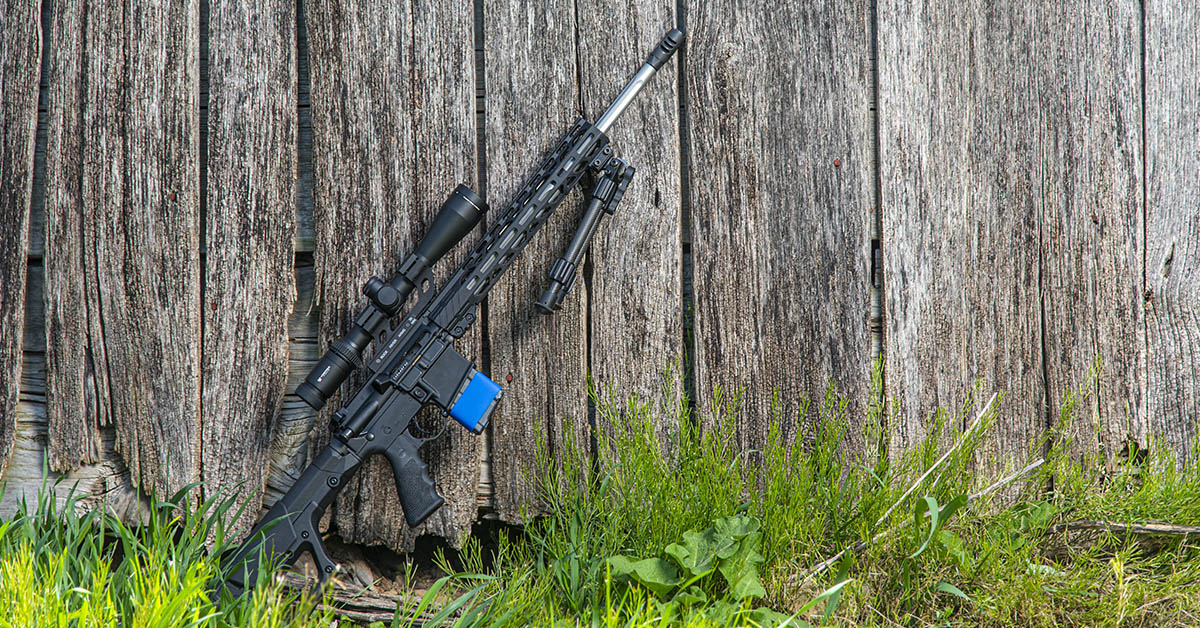 Rock River Arms Ascendant ATH Specifications
Model: #AR1563.A
Caliber: .223 Wylde
Lower Receiver: forged 7075 T6 aluminum
Upper Receiver: forged 7075 T6 aluminum
Barrel: 18-in. 416R stainless steel, fluted, media-blasted, 1:8 twist, cryo-treated
Gas Block: RRA low profile
Muzzle Device: RRA Operator Muzzle Brake
Trigger: Trigger Tech Diamond, single-stage, adjustable 1.5-4 lbs.
Handguard: RRA 13-in. lightweight free-float, M-LOK
Pistol Grip: RRA Hogue Grip
Stock: Magpul PRS Lite
Charging Handle: Radian Raptor ambidextrous
Optic: Vortex Viper HS 4-16x44mm
Optic Mount: RRA 30mm
Length: 38 1/8-in. (collapsed)
Weight: 9.4 lbs.
Accuracy Guarantee: 3/4 MOA (w/premium ammo)
MSRP: $3,235.00