A top-tier sub-gauge designed to dominate the fields and waters, Franchi's Affinity 3 Waterfowl Elite provides accuracy, dependability, reduced recoil, and second-to-none shootability. 
by Jace Bauserman
I cut my shotgunning teeth shooting a 20-gauge. I loved it. You can't beat the lack of recoil, reduced weight, and maneuverability a quality 20-gauge make provides. 
When I entered high school, I graduated to a 12-gauge. Why? The sub-gauge craze wasn't what it is today. Moving to a larger-bore 12-gauge that would put more pellets in the air was the natural progression. 
A waterfowl fanatic, I stuck to the 12-gauge like glue. Then, last fall, I tore up my right shoulder. Years of pitching, pulling back a 70-pound draw-weight bow, and one car accident finally caught up with me. Still, I had no plans to stop hammering ducks and geese pre-surgery. 
The problem was the heavier, stronger recoil 12-gauge was causing me to wince and cringe. I was nervous each time I pulled the trigger. So, I switched to a 20-gauge. I loaded the shotgun with premium bismuth and tungsten loads. Immediately, I discovered reduced recoil and enhanced maneuverability. With a bum shoulder, this made me more accurate.
A New Plan
Going into 2023, I planned to find a semi-auto 20-gauge waterfowl wrecker that would give me confidence and would stand up to the harsh demands a season of waterfowling brings.
I found all I wanted and more in Franchi's Affinity 3 Waterfowl Elite Model #41235.
First Impressions
Slim and sleek, the Model 41235 features a synthetic stock and forend cloaked in sure-to-disappear in any waterfowl environment GORE Optifade Waterfowl Timber. The stock sports Omni Stock Adjustability — stock drop and cast can be adjusted to create an optimized shooting experience. 
For grins, I removed the TSA Recoil Pad and then the stock and inserted various shim spacers. The process is easy and, as noted, allows the user to customize. 
The forend is magic. The slim design mixed with a gridded synthetic bottom enhances user fit and feel. You point a shotgun. You don't aim it, and my initial impression of Franchi's effort to boost overall ergonomics will increase accuracy and shooting comfort. The forend cap features a Cobalt Cerakote finish and showcases recessed grooves that allow for easy on/off. The forend cap and stock butt have sling studs.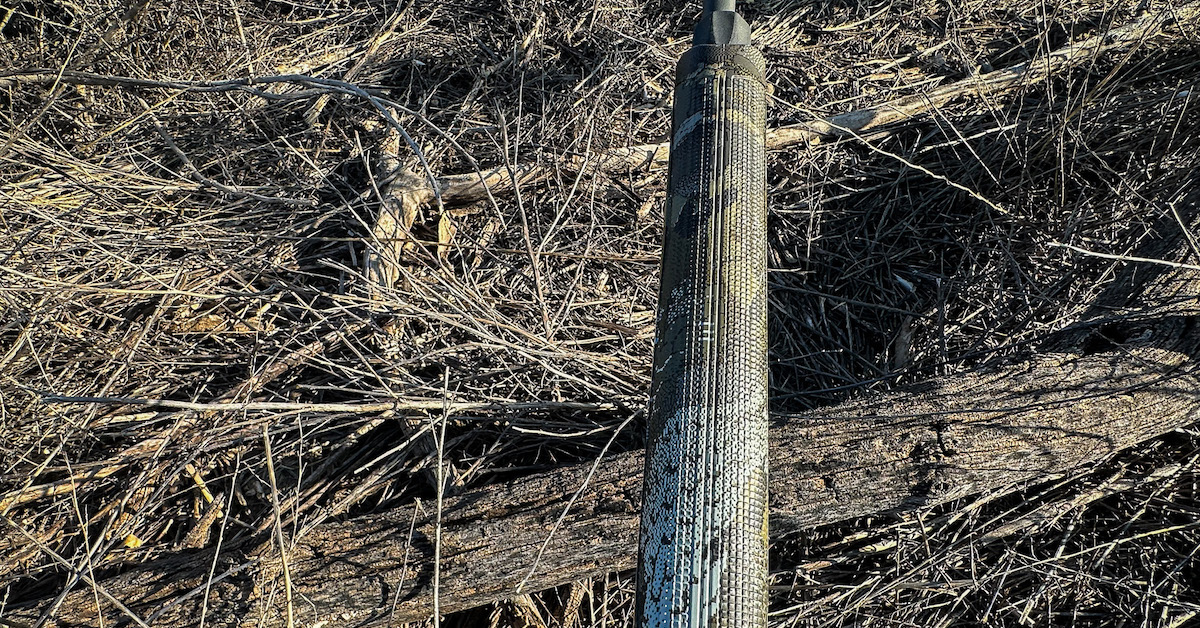 Another immediate notice, and one I appreciate, is the inclusion of a sizable, textured bolt handle that extends off the bolt a reasonable distance. The bolt release, located directly under the bolt handle when the bolt is closed, is large and circular. The oversized bolt controls will be easy to manipulate on frigid days when bulky gloves are required. Combine the big controls with the beveled loading port, and you have a winning combination that promotes loading/unloading functionality. 
At first glance, the trigger guards seemed small, but after testing, it proved functional even with heavy gloves. The trigger group is also a one-piece design, making pulling and cleaning it a breeze. 
Cerakote for the Win
The Cobalt Cerakote finish on the barrel and receiver blends with the shotgun's camo pattern to create a dull yet sexy weatherproof finish. The 26-inch barrel features a raised rib design that tapers seamlessly into the TRUGLO dual-color fiber-optic bar front sight.
The barrel's bore is chrome-lined for added protection against the elements and wear and tear. A few pulls on the bolt confirmed what I expected: a smooth, clean, and airy inertia-driven system known for boosting shot-to-shot consistency and performance. 
Engineers added Franchi Precision Cones to boost shot patterns compliments of a trio of Close-, Mid, and Long-Range extended choke tubes. 
A Waterfowl Warm-Up
Slugged as a waterfowl gun, I couldn't help but take the Affinity 3 Waterfowl Elite out for an early September dove hunt. 
As expected, the shotgun felt light and balanced during transport. It shouldered like a dream. The shotgun's enhanced ergonomics and 6-pound weight rating allowed me to swing with the fast-flying doves, pull the trigger, and follow through.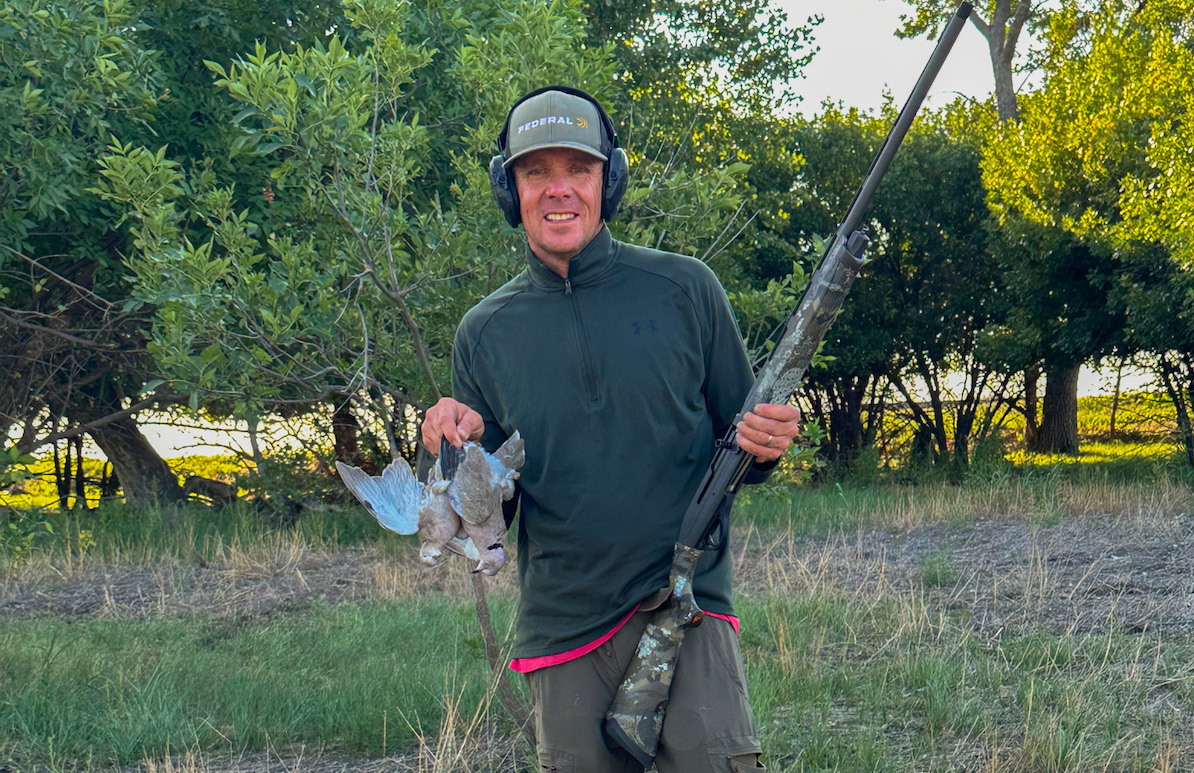 The 3-inch chamber handled 2-3/4-inch Federal dove loads with ease, and the large bolt handle and bolt release, along with the beveled loading port, make the shotgun highly functional from a loading/unloading standpoint.
While I don't aim a shotgun, the dual-color fiber-optic bar front sight improves pointability, and with the Close-Range extended choke inserted, I found the shotgun incredibly accurate.
Reduced Recoil
Reduced recoil is a big deal for many shotgunners, and after shooting a variety of loads, from 2-3/4-inch, 7/8-ounce, #7-1/2 shot size dove loads to 3-inch, 1-ounce, #2 shot size goose killers, I will note the TSA Recoil Pad soaked up felt recoil.  
My 12-year-old son is 75 pounds soaking wet. He shot 50 #7-1/2 shot size rounds over two days of hunting. He noted the shotgun, though a tad long for him, kicked very little. His accuracy was solid, and he had no trouble with loading/unloading.
My oldest son, Hunter (18), wanted to participate in the action and gave the Affinity 3 Waterfowl Elite its first waterfowl test. Dear old Dad had to work, and Hunter went on a solo mission. He harvested a one-person six-bird limit. His choke of choice was the Mid-Range, and with eight shots, he put a mixed bag of blue- and green-winged teal on the water with Fiocchi's Flyway Series 3-inch, 7/8-ounce, #4 shot.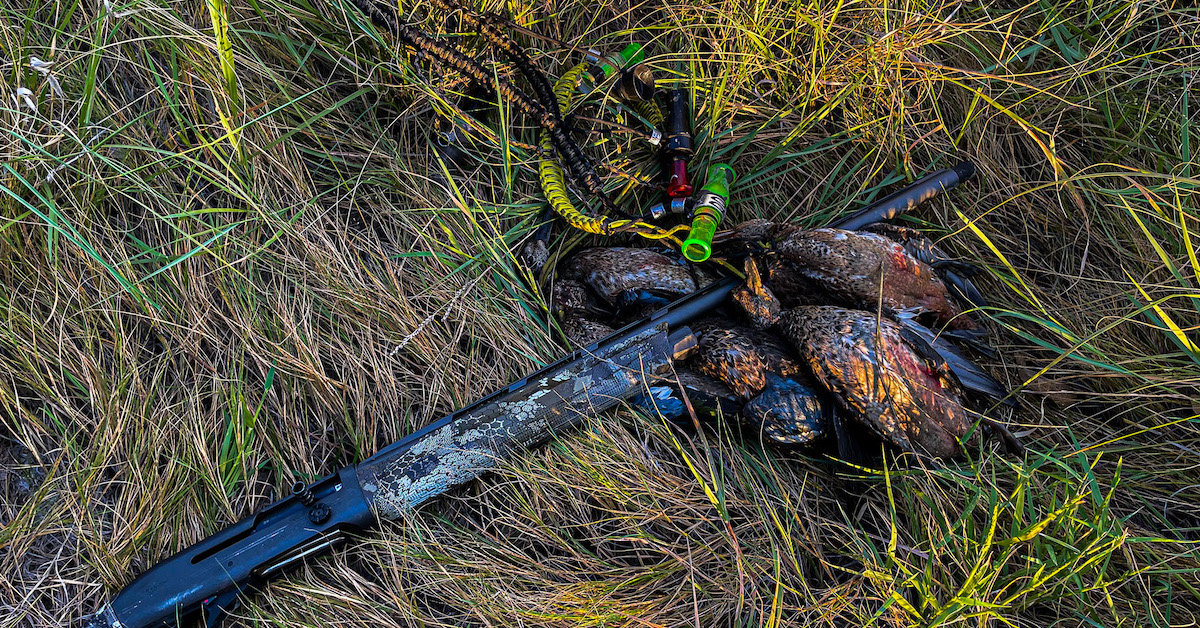 When he got home from hunting, he said, "Dad, I want to buy this gun. I got it wet and dirty and didn't have a single jam. It blew the hulls far from me, which was awesome. I loved how balanced it was and how I could swing it on the teal. There wasn't much cover, and I had to hide flat on my back in short weeds. I was never in a good shooting position. The shotgun didn't beat up my shoulder when fired from awkward angles — twice, it wasn't in the pocket — and I found it very accurate."
Final Thoughts
Franchi makes great firearms, and the Affinity 3 Waterfowl Elite Model #41235 is a shining example of this gun maker's dedication to craftsmanship and excellence. The shotgun promises excellent ergonomics, superior shootability, and the type of durability every serious waterfowler demands. 
Franchi Affinity 3 Waterfowl Elite #41235 Specifications:
Stock Finish: GORE Optifade Waterfowl Timber
Receiver Finish: Cobalt Cerakote
Barrel Finish: Cobalt Cerakote
Gauge: 20
Barrel Length: 26 in.
Grip: Standard
Size: Standard
Extended Choke Tubes: Close- Mid-, and Long-Range
Chambered For: 2-3/4- and 3 in.
Magazine Capacity: 4 + 1
Sight: TRUGLO dual-color fiber-optic bar front sight
Action: Semi-automatic
Drilled & Tapped: Yes
Length of Pull: 14-3/8 in.
Drop at Heel: 2-2 1/2 in. adjustable
Drop at Comb: 1-1/2 in.
Overall Length: 48 in.
Weight: 6 lbs.
MSRP: $1,349