Is a "custom-to-me" rifle possible in a factory production environment? Franchi's exquisite Momentum Elite bolt action sure makes it seem so.
by Rob Reaser
We know shooters come in infinite shapes and sizes. That's why firearm manufacturers must build their guns to fit the common denominator. Gunmakers who lead in response to consumer demand will often provide a user-customizable means to expand that common denominator window — usually in the form of adjustable length-of-pull and cheek weld height. For the most part, we just learn to become comfortable with the firearm we purchase, adapting ourselves to the gun's profile instead of the other way around.
Sometimes, though, we get lucky. That's how I felt when I first shouldered the Franchi Momentum Elite.

You've probably picked up many rifles, hefted them a time or two, threw them up to your shoulder and said, "Yeah, this feels good." A more accurate translation would probably be, "No, this doesn't exactly suck."
The length-of-pull feels about right, but the wrist and grip feel are a bit off.
The cheek weld hits the mark for good eye alignment, but the forend doesn't give you that comfortable, in-control grip.
The trigger is sweet and clean, yet the action is sticky and a tad clunky.
Gun manufacturers make some mean products, but they make them for some mean customers. Yes, we want it all and we want it our way.
Back to the Momentum Elite.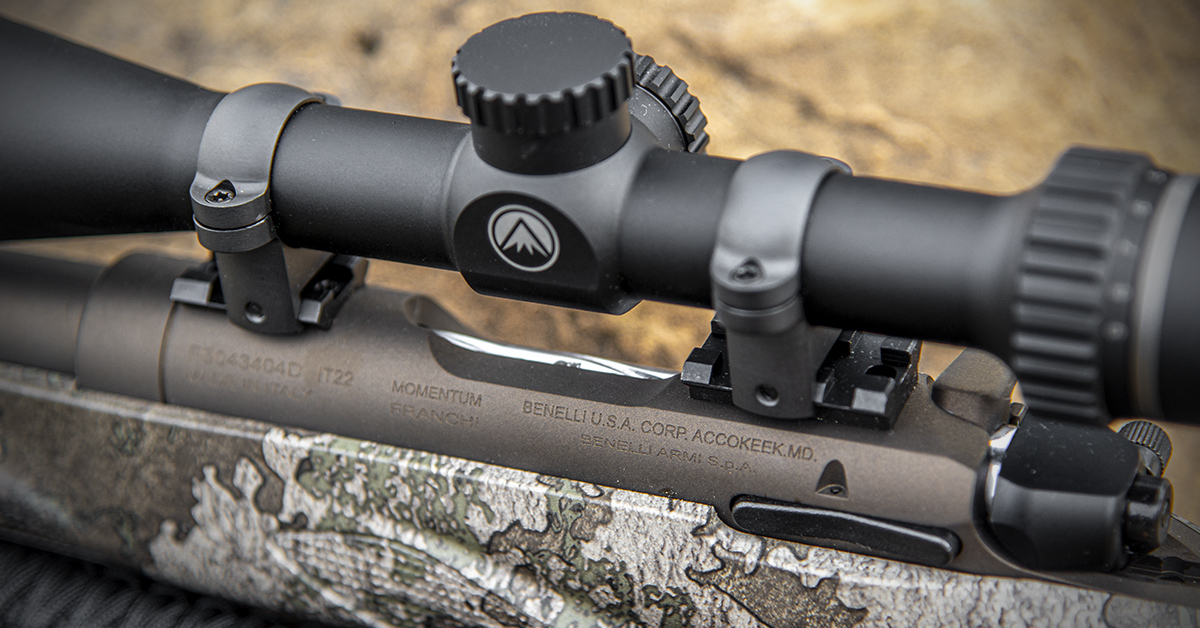 The rifle had "the feel" from the outset, which is something I don't typically experience. The first touch points — the grip and forend — felt ideally proportioned to my medium-size hands. The stock had that trim, light feel about it, allowing the forend to settle confidently into my support hand. Its sleek profile and finger shelf contouring offered a solid grip for optimal muzzle control with either bare or gloved hands.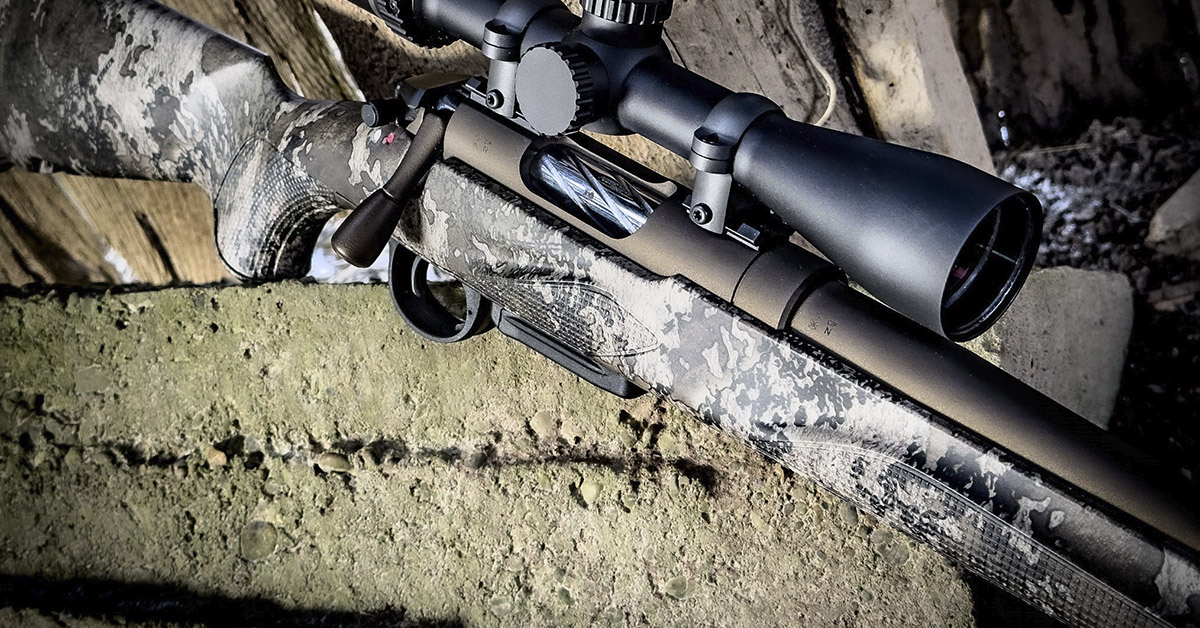 With many stock designs, it is a struggle to achieve a comfortable, sure grip across multiple field positions. I had no such challenges with the Momentum Elite stock. Traditional, tapered rifle stock forends (take the Remington 700, for example) don't provide contours that allow you to lock your support hand solidly in place. Instead, many stock designs rely on texturing to enhance grip. In my experience, most stock texturing has limited effectiveness when applied to a hard surface. Combine that slippery profile with a high-gloss finish and a pair of gloves and you have a rather sloppy support hand grip that requires effort to maintain, which can thus lead to poor form and downrange inaccuracy. The Momentum Elite stock, though, suffers no such ills.
Moving to the grip, I found it to be just right. It is ergonomically shaped with a slim wrist that your fingers wrap securely around and is angled for a comfortable trigger reach. The flute behind the wrist adds to the locked-in feel, keeping your hand in an optimal position for a straight-line tug on the trigger.
Maybe I didn't get lucky after all. Perhaps Franchi simply got it right.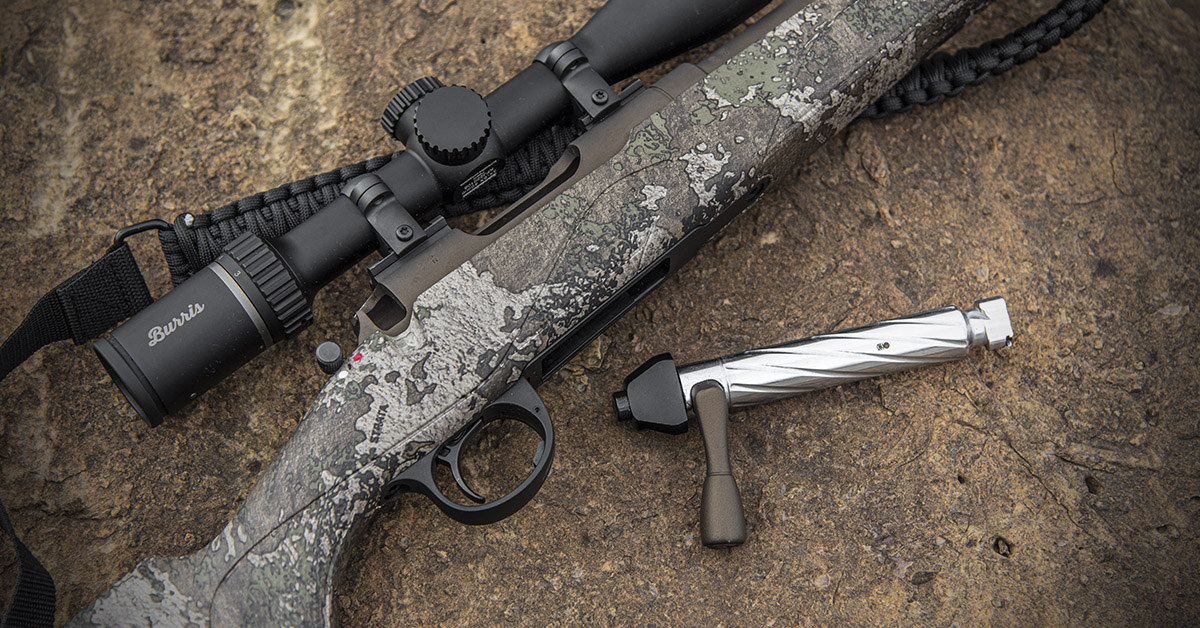 Speaking of the trigger, it is a gem. I took my first pull on the Momentum Elite at the bench with a round in the chamber — no dry fire beforehand. Talk about a surprise break. "This is a factory trigger?" I mused. Yes, and a darn good one: imperceptible travel (it is a single-stage), ultra-crisp, and lighter than you would expect from a regular production gun with adjustability from 2 to 4 lbs. Delicious.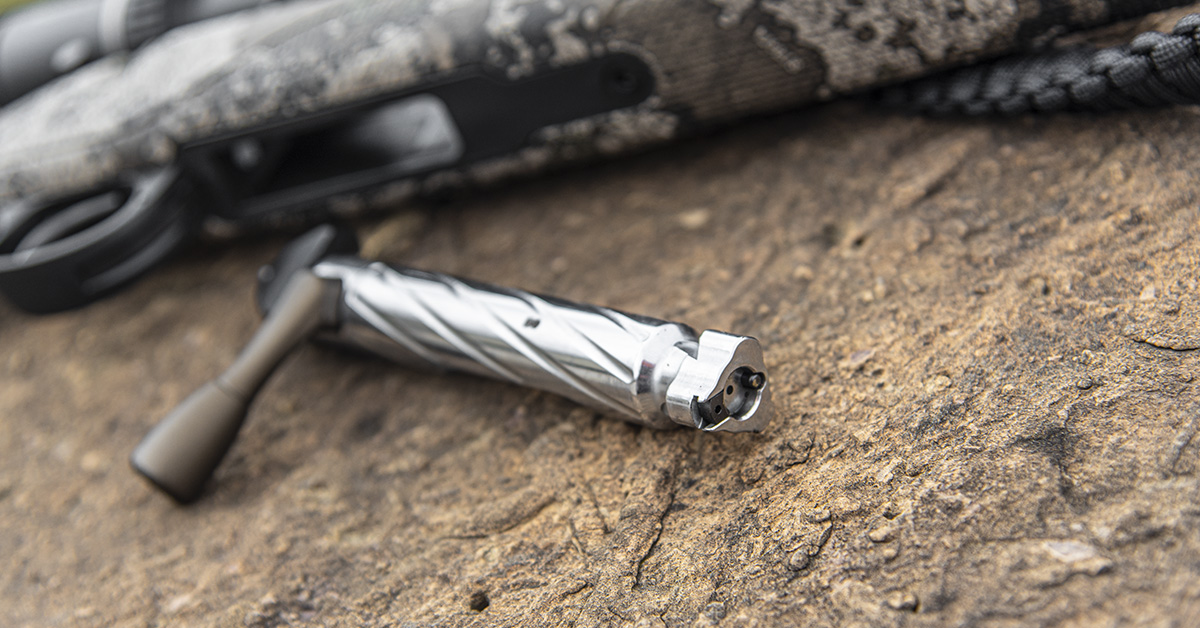 The bolt is also noteworthy. Franchi calls it the Dependa Bolt. This is a precision-machined, one-piece unit that is spiral fluted and hard-chromed. The latter provides an inherent lubricity (and corrosion protection) that makes for a silky glide through the receiver. And since the bolt body is the same diameter as the lugs, the bolt is fully supported as it moves back and forth in the receiver, effectively eliminating potential binding issues when cycling.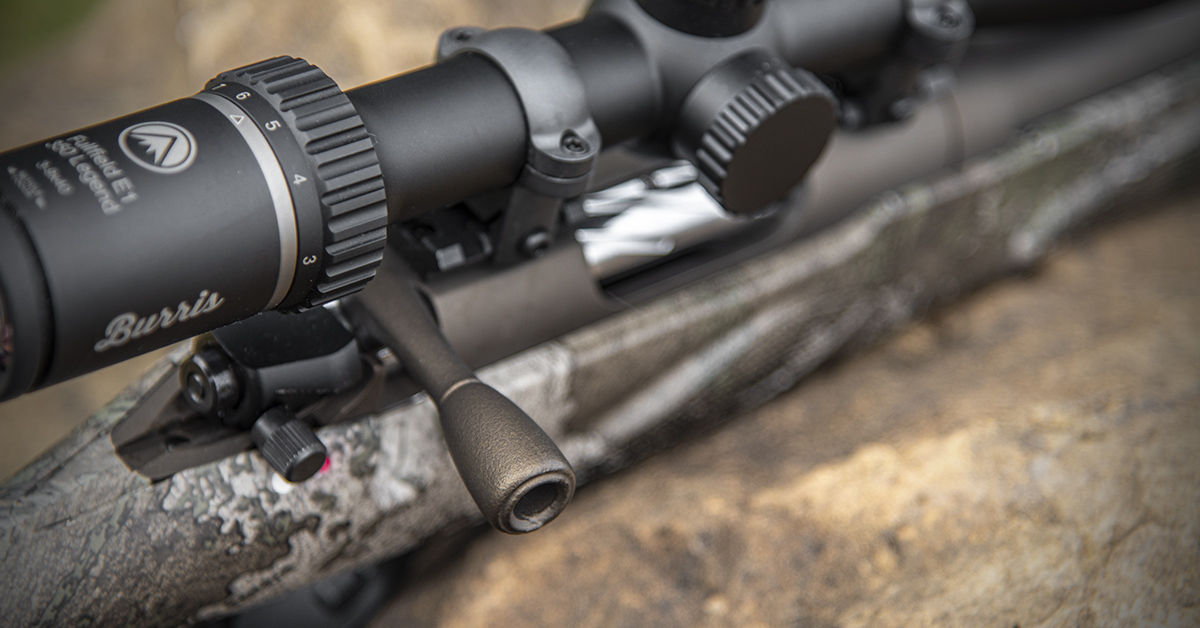 You'll notice that this bolt is of the three-lug variety (versus two-lug). This ensures a solid, no-fail lockup but also comes with another advantage…a shorter throw than a two-lug bolt. With the three-lug system, the bolt throw is a mere 60-degrees between lock and unlock. Such a short throw not only delivers greater cycling efficiency, but it also means the bolt handle doesn't interfere with the larger ocular bells found on today's high-magnification scopes. This lets you mount your scope closer to the bore line (the closer the better for any scoped firearm) and low for optimal eye alignment. Combined with a center-feed box magazine, the Momentum Elite presents one of the smoothest, most reliable, and fastest bolt actions you'll find on the market today.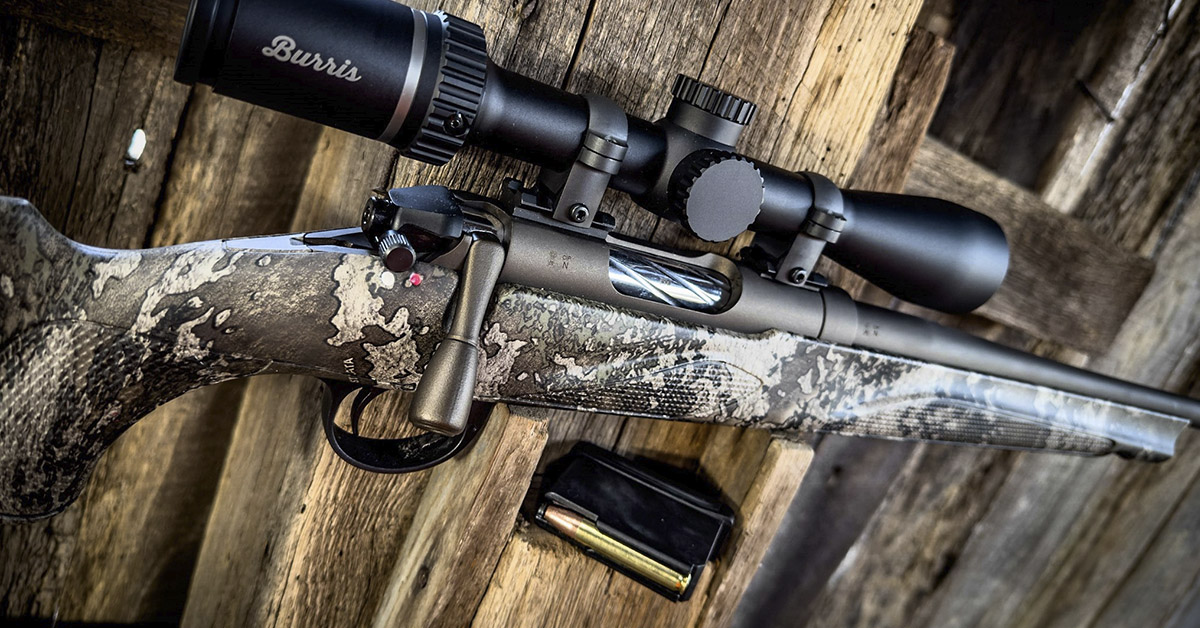 Controls for the Momentum Elite are straightforward. The safety lever is positioned behind the bolt. Back is "safe" and forward is "fire." It's easy to manipulate without losing your hand position on the grip.
The magazine release lever is located forward of the trigger guard, with the lever button protruding through the guard. While you might think such positioning begs for an accidental mag drop, fear not. This lever is STIFF. You won't depress it with your trigger finger by chance, so no worries there.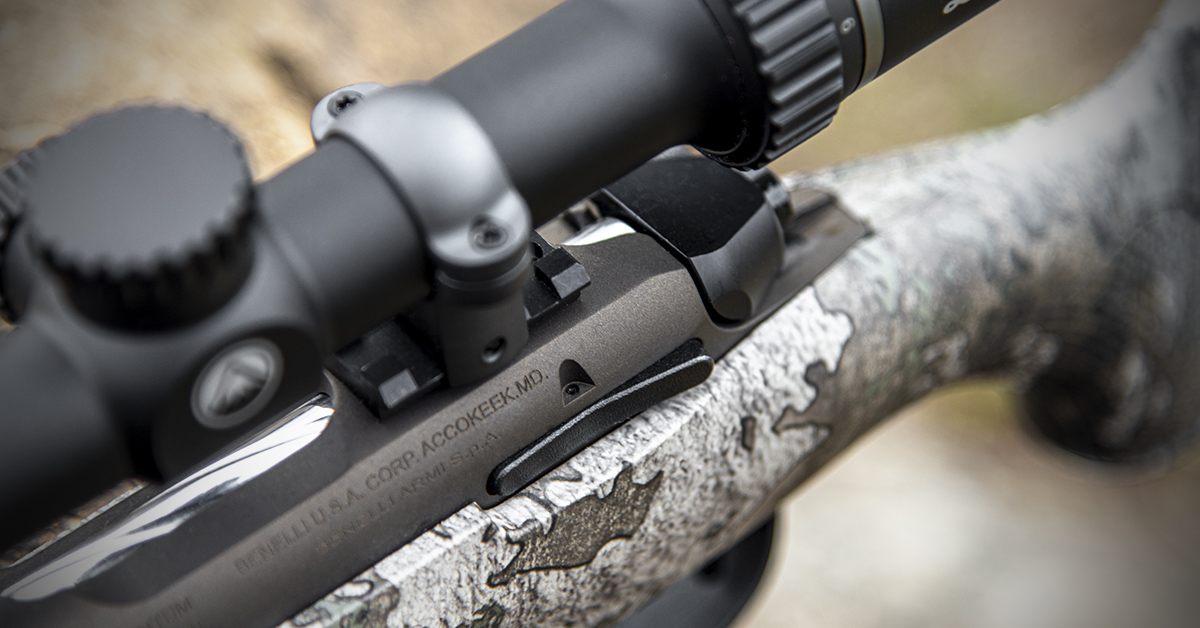 The bolt release is mounted to the left of the receiver. Simply rotate the bolt open, press the release, and slide the bolt out.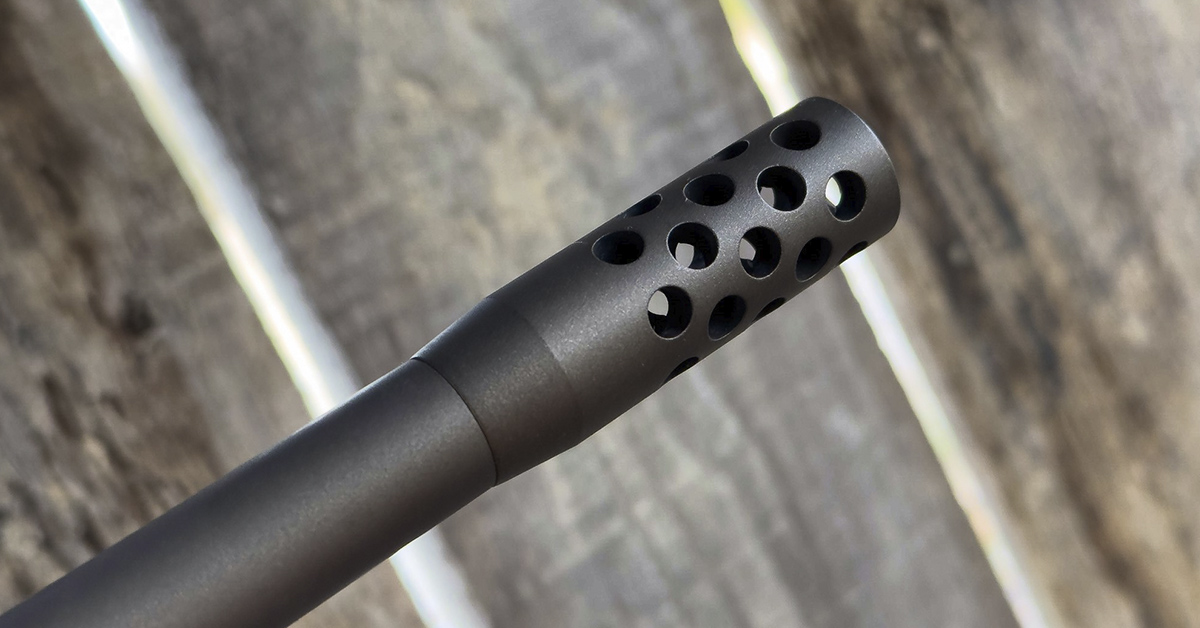 Two barrel lengths are offered in the Momentum Elite — 22- and 24-inch. Which you get depends on the chamber. The.350 Legend and the .308 Win. models deliver the shorter version while the 24-inch barrel is found on rifles chambered for 6.5 Creedmoor, 6.5 PRC, and .300 Win. Mag.
The barrel is cold-hammer-forged chrome-moly and free-floats in the stock. The .350 Legend chamber version receives a Midnight Bronze Cerakote finish that perfectly suits the stock's True Timber Strata camo treatment. All Momentum Elite models come threaded 5/8×24 and include a stylish and functional muzzle brake. Combine that with the stock's TSA recoil pad (which Franchi claims reduces felt recoil by up to 50-percent) and you have a rifle that is a soft shooter when chambered in .350 Legend.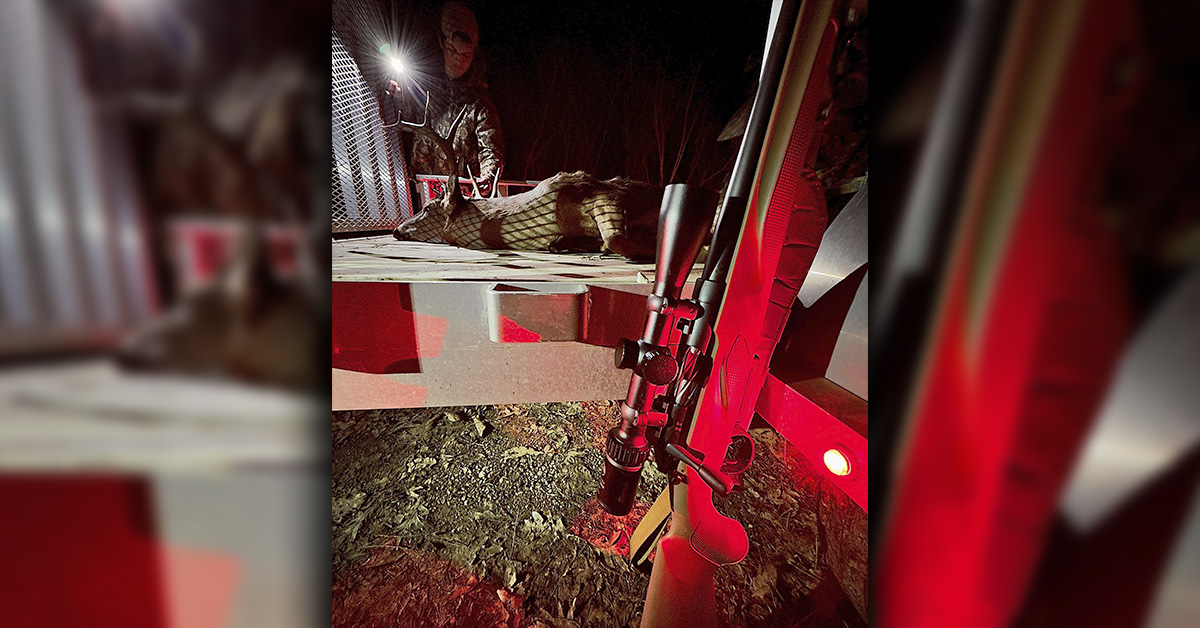 Why .350 Legend? Because we had a chance to test the gun on Ohio's two-day bonus season in December…sort of a last hurrah, get-it-while-you-can opportunity that we couldn't pass up. Since Ohio is among the handful of midwestern states that now permit hunting deer with rifles chambered for straight-wall cartridges, the .350 Legend option was a no-brainer. It is a wonderful cartridge ideally suited for hunting big game in the 200-yards and under range — well within the typical shot distances for eastern and Midwest whitetails.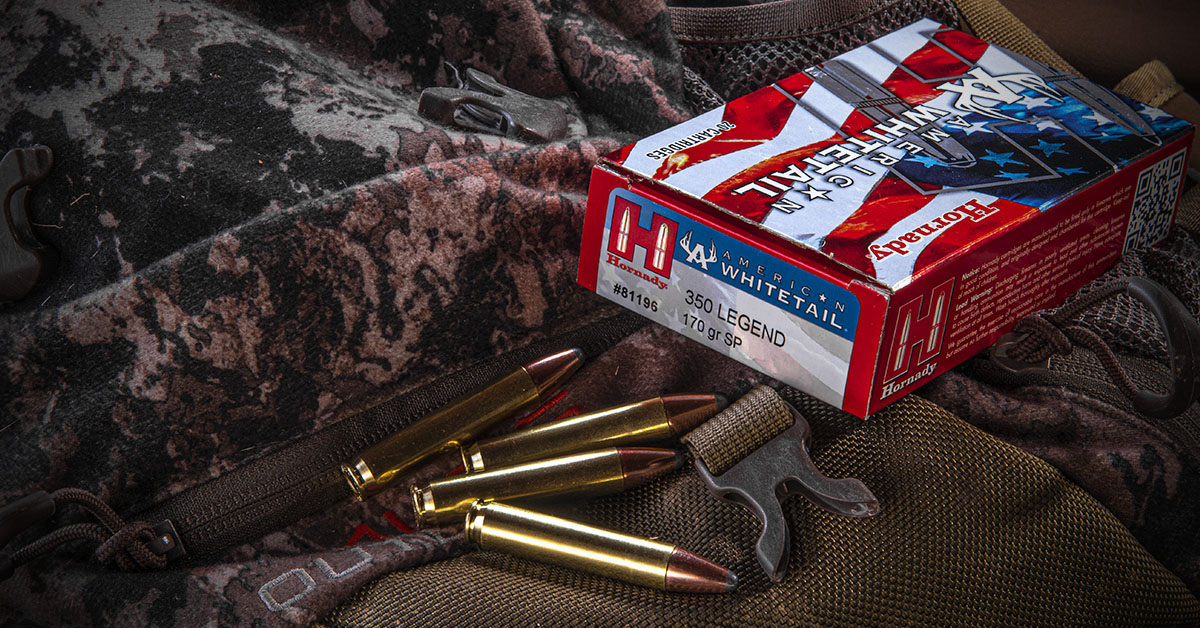 Sight-in verification when we arrived at camp (Real McCoy Outdoors) was a bone-chilling affair, with steady winds and low temps making for unhappy trigger fingers. In defiance of the crosswinds, uncomfortable temperature, and sketchy, make-shift rest, the Momentum Elite topped with a Burris Fullfield E1 3-9x40mm boasting a .350 Legend-calibrated reticle quickly delivered my Hornady American Whitetail 170-grain Interlock bullets on target. Despite the shooting challenges, the rifle and scope combo put three rounds in a two-inch group at 100 yards. (Franchi offers a 1 MOA guarantee with the Momentum Elite and premium factory ammo). Good enough, and back to the warm truck I went.
The rifle carries well in the field. Recessed sling attachment points in the stock help keep sling swivel bulk to a minimum.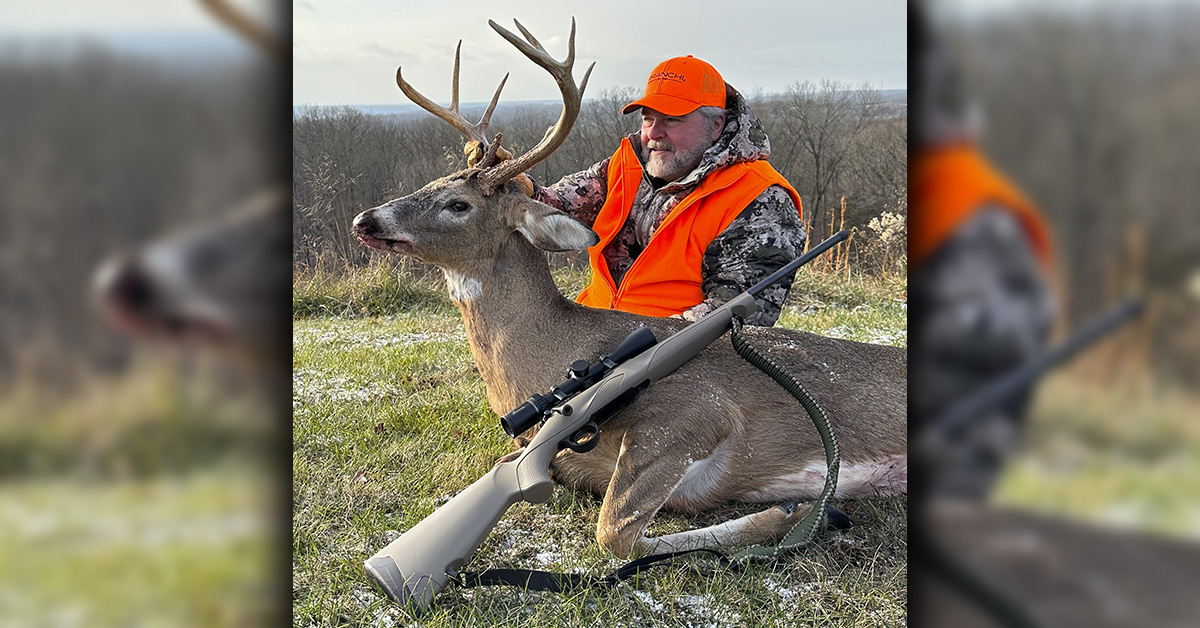 Although I did not get a chance to draw-up on one of those legendary Ohio River bottomland bucks, I was able to scope several "passers" during the two-day hunt. The Momentum Elite proved comfortable on the cheek and shoulder, and its 7.9-pound weight (sans scope) balanced well and exhibited just enough heft to provide a steady aim from the standing position.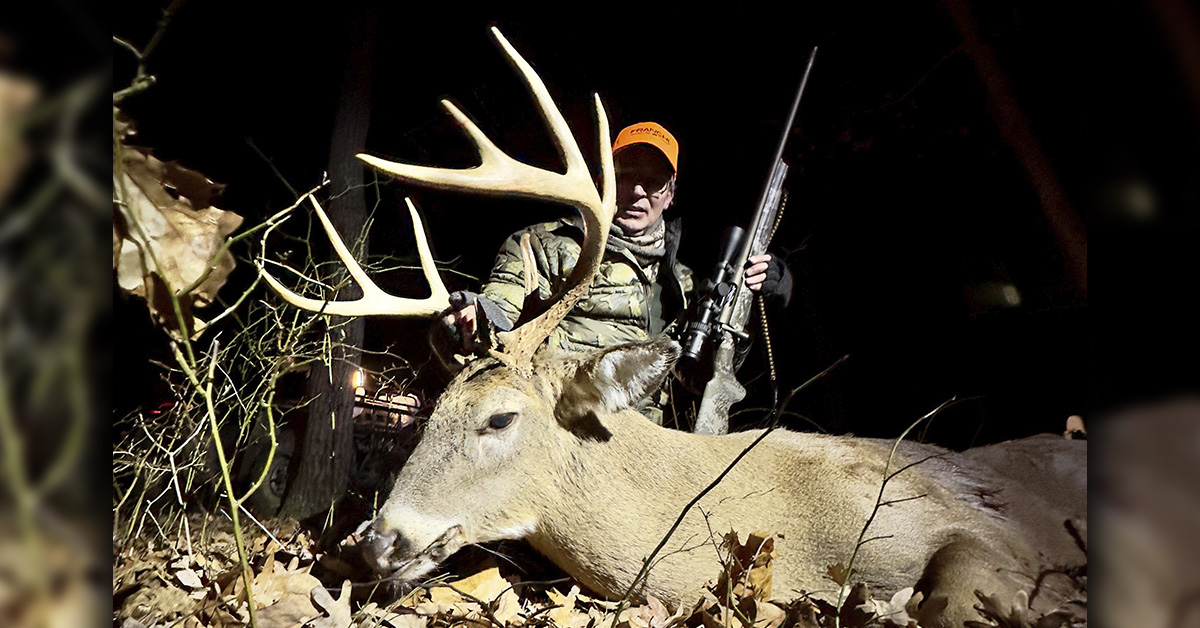 While I was only slightly disappointed in my hunting results (although spending long days in the woods watching deer and other critters without the work-a-day distractions is always a blessing), I was thrilled that two of my companions managed to drop bruisers on our trip — both with the Franchi Momentum Elite in .350 Legend. It is as fine a rifle as you will find on the rack, and certainly ahead of most in terms of ergonomics and overall performance. Although the $999 MSRP is an investment, it is certain to pay dividends for a lifetime.
Franchi Momentum Elite .350 Legend Specifications
Chamber: .350 Legend
Action: bolt
Bolt Type: fluted, 3-lug, 60-degree throw
Capacity: 3+1
Magazine: detachable box
Barrel: cold-hammer forged chrome-moly, free-float
Barrel Length: 22 in.
Twist: 1:16, RH
Barrel Finish: Midnight Bronze Cerakote
Muzzle Device: brake, 5/8×24 thread
Stock: polymer w/integrated swivel mounts
Stock Finish: True Timber Strata
Overall Length: 44.25 in.
Average Weight: 7.9 lbs.
MSRP: $999
Burris Fullfield E1 Riflescope
The optic chosen for our Southern Ohio Whitetail Freezeout Hunt – 2022 Edition was the Fullfield E1 from Burris Optics. Given the .350 Legend's ballistic intent and our mixed woodland/ag land hunting terrain, the Fullfield E1 in 3-9x40mm seemed a perfect fit.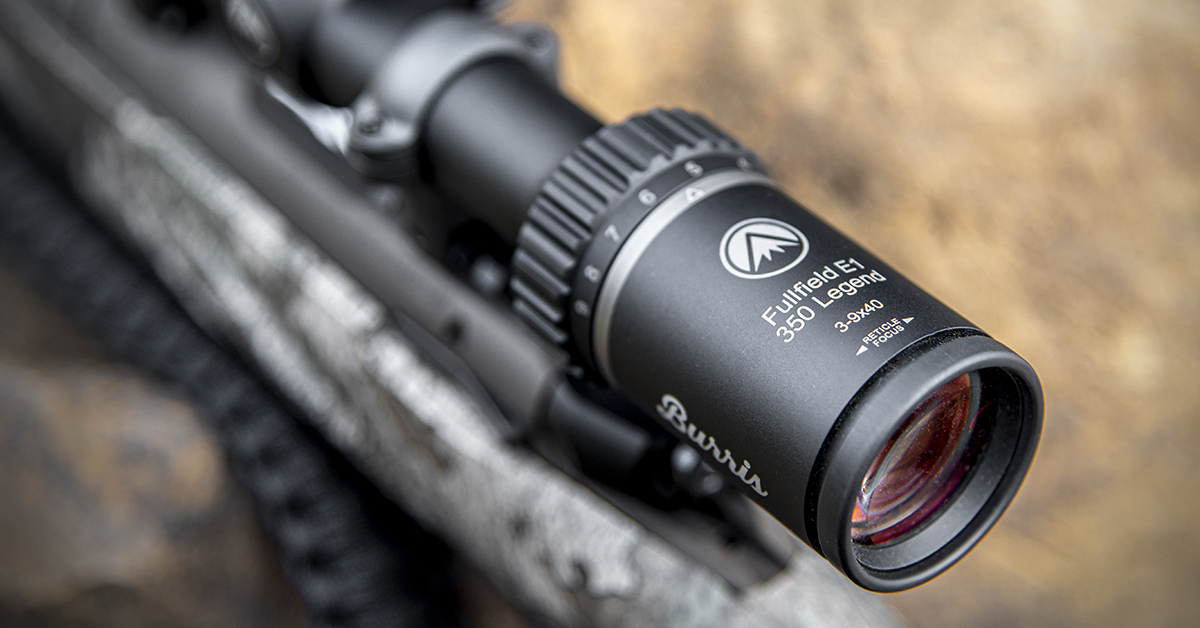 The Fullfield series has been a Burris staple for quite some time and has seen numerous refinements over the years. The Fullfield E1 headlines the series. This model — offered in 3-9x40mm, 4.5-14x42mm, and 6.5-20x50mm — presents a no-nonsense hunting optic that does everything you need it to do without the hefty price tag.
The Fullfield E1 made short work of zeroing the Momentum Elite. Capped turrets adjust point-of-impact at 1/4 MOA per click, and the turret detents offer audible and tactile clicks so you can dial elevation and windage easily and efficiently. Magnification is adjusted by an aggressively serrated power ring. The grip is positive, and it turns relatively easy even with gloved hands (something I appreciated on this chill hunt). The glass is good for the price point, but what stood out to me was its low-light visibility. Brightness and clarity hit the mark, but even well past legal shooting light, the Fullfield E1 delivered a workable sight picture due, in part, to its Hi-Lume multicoating.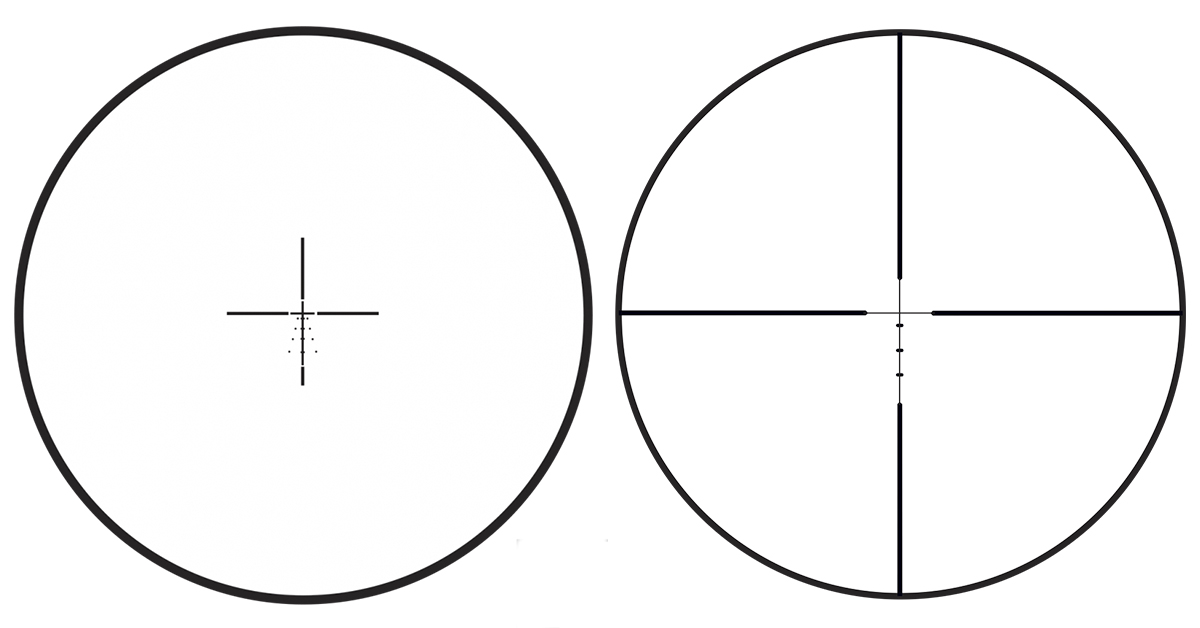 The Fullfield E1 is available with several reticle options. Which you can choose depends on the model. For the 3-9x40mm version, Burris offers its Ballistic Plex E1 and Ballistic Plex reticles. The former has both holdover and holdoff (wind drift) marks and is intended for longer-range use. My scope had the latter — a simpler reticle with holdover marks that can still put you on target out to 500 yards.
What's cool about either reticle type is that Burris offers each with cartridge-specific calibration. This means you can purchase, in our case, a reticle with marks that provide exact holdover points for the mean .350 Legend load. Other load-specific reticles are also available.
With an MSRP of $239, the Fullfield E1 3-9x40mm is priced for any hunter's budget. If that price point concerns you, forget about it! The scope is covered by the Burris Forever Warranty, meaning Burris will repair or replace this or any non-thermal optic if damaged or defective.