You've secured a scattergun for home defense…now it's time for the most practical upgrade
by Barb Melloni
Over the past few years, defensive firearms have been flying off the shelves. While plenty of rifles and pistols have been sold, gun shops across the country can attest to the fact that shotguns — primarily those geared towards home defense — were amongst the most sought-after platforms.
While inventory has become more readily available, there was a point in 2020 where you simply could not find a shotgun for home defense, especially those with shorter barrels, pistol grips, and other desirable features. Now that things have calmed down a bit, many new gun owners have found themselves looking to outfit their purchases with accessories to tip the odds in their favor, heaven forbid, should they find themselves in a precarious situation where their life is being threatened.
One of the top selling accessories for a defensive firearm, regardless of the platform, is a flashlight. A far cry from the traditional handheld lights that first come to mind when you lose electricity, these lights are purpose-built to be mounted to a firearm and come with all sorts of bells and whistles.
There are a couple of benefits to incorporating a tactical light into your defensive setup. Target identification is crucial, especially if you have other people (or pets) living with you. Take a moment to think about how alert and oriented you are when you wake up suddenly or earlier than normal. Now, imagine a rush of adrenaline coupled with fear and panic. It can be a recipe for disaster! A light will help you to identify the threat, so you are not left guessing if that bump in the night is a dangerous intruder or the family dog. Additionally, the brightness level of many of these lights can be a major deterrent itself and buy you precious seconds to get to safety or dial 911. Sudden bursts of intense bright light are not only disorienting but can even leave you with momentary vision loss, once again, potentially giving you the edge in a life-or-death situation.
Below, we dive into a few options for both lights and mounting solutions for you to consider adding to your defensive shotgun kit.
Streamlight TLR-1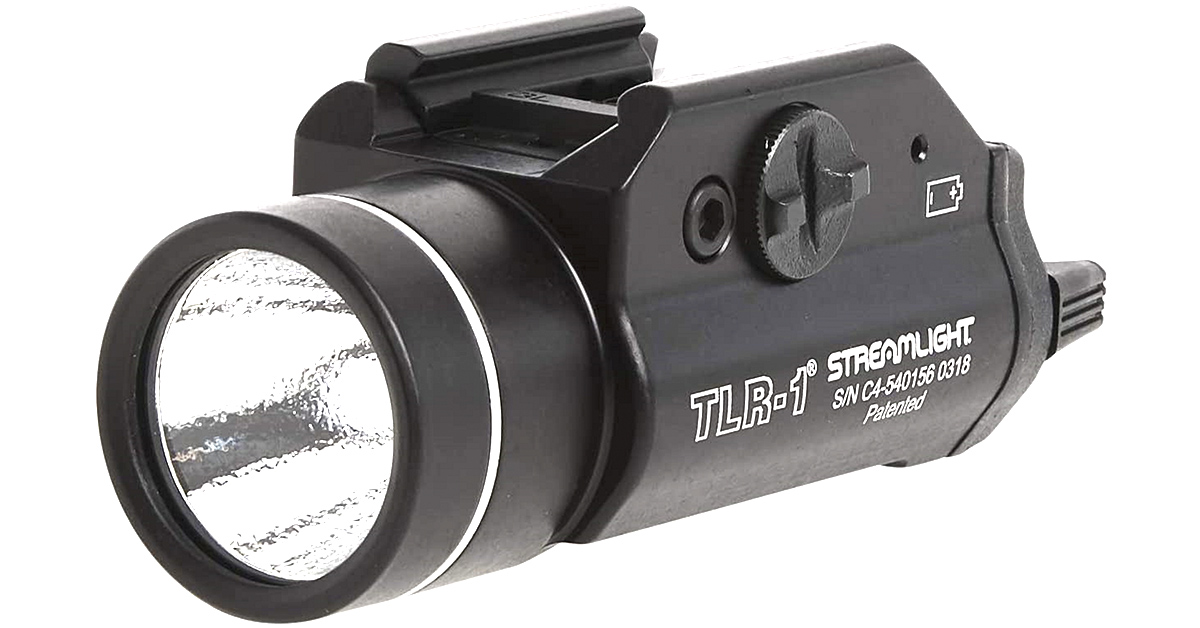 Designed to easily attach to a Picatinny rail, the Streamlight TLR-1 is built to withstand the shock of live fire, as well as being impact resistant should it be banged against a wall or floor. The TLR-1 has an output of 300 lumens, which the user can turn on momentarily for a single pulse of light, enable a steady beam of light, or even activate the handy strobe light feature all via the incorporated ambidextrous on/off switch. Powered by two CR123 batteries, the TLR-1 has a continuous run time of 2.5 hours.
Surefire DSF-500/590 Shotgun Forend Weapon Light
If you are one of the many people who purchased a Mossberg 500 or Mossberg 590, then be sure to check out the DSF-500/590 from Surefire. Constructed of lightweight polymer and aluminum, this forend weighs 18.2 ounces and the incorporated light is powered by CR123 batteries. This option replaces the stock forend of your shotgun, leaving it with a built-in light that is easily manipulated by the hand working the pump action. The brightness of the light can be adjusted anywhere from 200 – 600 lumens via the ambidextrous controls, where you also can deploy either a constant beam of light or a momentary pulse. Remington 870 owners can check out the DSF-870.
Tacticon Firefly V3 Foregrip
The Tacticon Firefly V3 Foregrip is a popular option for semi-automatic shotguns and serves double duty as it incorporates a unique light and laser combo housed within the construction of the grip itself, giving you additional control while maneuvering through any area you may be protecting or defensive drill you may be running. Installation requires zero tools. Simply attach to your gun via a Picatinny rail by means of a wing nut and you're good to go. The included laser, available in either red or green, is adjustable for both windage and elevation and can be used alone or in conjunction with the 220-lumen light in a constant on, momentary pulse, or strobe-light fashion.
Inforce WML Gen 2

The compact nature of the Inforce WML Gen 2 coupled with its price point keeps it a popular option for those on a budget without skimping out on features made popular in pricier models. Mounted to your gun's Picatinny rail, installation is easy and requires zero tools. Radiate 400 lumens of bright white light with the push of a button. Activation points were smartly designed to be accessed without having to take your eyes off the threat. Press the activation buttons in a variety of configurations to either emit the light as a momentary pulse, constant on, or strobe light effect.
Olight PL-Pro Valkyrie Tactical Light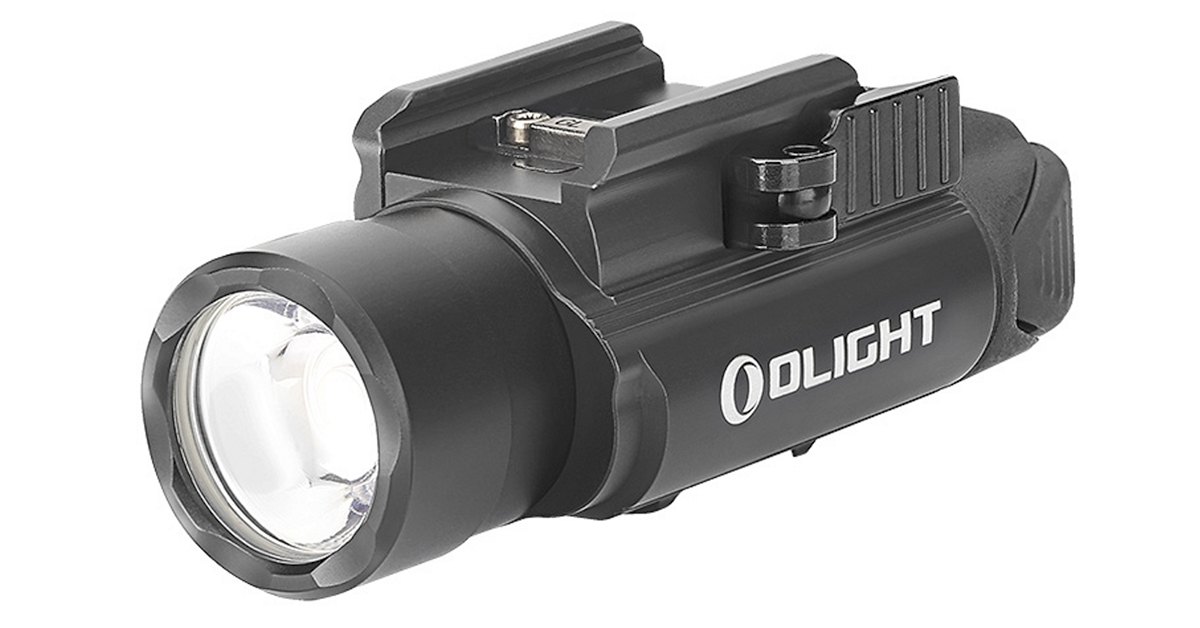 While the Olight PL-Pro Valkyrie Tactical Light contains many of the items previously mentioned in other models, such as ambidextrous controls, attachment via Picatinny rail, et cetera, it does include some unique features. The light does not require removal to access the battery compartment once battery power is depleted. In fact, you don't need to remove the battery at all as it is rechargeable via the included USB magnetic charger, which may look familiar to anyone who owns an Apple watch. In addition, this light also has an optional magnetic remote pressure switch, making it easier to activate all 1500 lumens if you were forced to mount it in a less than desirable position due to other accessories getting in the way or the general build of the gun itself.
F.A.B. Defense PR-870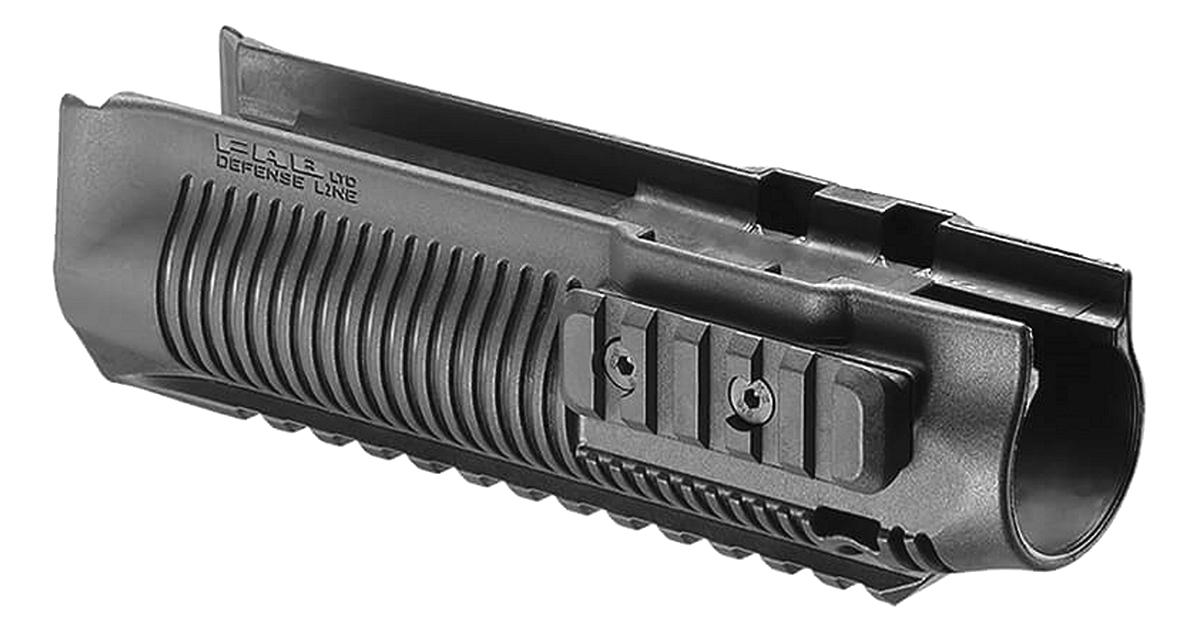 There may come a time where you decide on a light and mount but simply don't have the rail space to accommodate such a setup. The PR-870 solution from F.A.B. Defense solves this issue with a replacement forend — this one designed for the Remington 870, with other models being available, such as those for the Mossberg 500 and Benelli M4. Replacing your stock forend, the PR-870 provides additional rail space to mount lights, lasers, foregrips, and more. As a bonus, this lightweight polymer upgrade is easily installed without a visit to your trusty gunsmith. Of course, it does have its cons…with more rail space, you'll be tempted to buy more gear!
Nitecore GM02MH Magnetic Barrel Gun Mount
Perhaps you already have the perfect light but it does not come with its own mounting system to attach it to your firearm. While there are many options available to attach via various Picatinny rail, M-LOK, or KeyMod solutions, the Nitecore GM02MH takes a different approach in that it attaches your chosen light magnetically. Strong magnetic pads built into this mount allow you to attach just about any light with a 1″ diameter body to the barrel of your gun. This is a useful option for firearms instructors who want the ability to swap lights in between a variety of platforms quickly and easily for training purposes.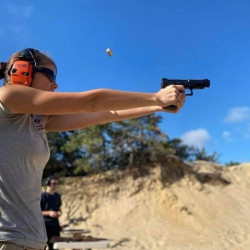 Latest posts by Barb Melloni
(see all)