Here's an innovative solution from Real Avid that every home gun DIY enthusiast can appreciate and use
by Rob Reaser
We've got to hand it to the engineers at Real Avid. Every year they come up with new twists and tools to skin the proverbial cat — tools that many of us would never have thought needed to be made, and once Real Avid brings them to market, we wonder why no one had ever made them before.
Case in point is Real Avid's deep bench of AR-15 tools. I've built ARs with nothing more technical than a mechanic's torque wrench and an armorer's tool. But the many specialty solutions Real Avid has designed for the AR platform makes the job SOOOO much easier (with fewer springs and detents lost to the shop floor!).
This year, Real Avid has turned its attention to the work bench infrastructure, so to speak, with a product called the Master Gun Workstation (we'll use "MGW" for shorthand in this article). I got my first glimpse of this slick gun cradle at the 2023 SHOT Show and was impressed with all the functionality built into it. That is one of the hallmarks of many Real Avid creations…subtle features that make you go, "Oh, that's cool." I think I said as much to the gents that were walking me through the MGW's operation.
That said, I wasn't overly blown away with the idea of adding another large item to my increasingly crowded (some might say "cluttered") shop. I've got bench vises, I've got adjustable stands for supporting forends in those vises, and I've got a few plastic portable cradles that I can grab when needed. Where was I going to put a bigger and more robust cradle and why would I want one when my old-school tools serve me just fine?
Well, because not everyone has the space or means for setting up a dedicated gun cave with all the permanent fixtures, and it's our job at Shoot On to test the stuff that can help the home shop DIYer get the work done. So, I put my name on the early shipment list and received the Master Gun Workstation a few weeks ago and have been using it ever since. Not only has the MGW exceeded my performance expectations, I have been using it more than my permanent tool fixtures.
The MGW is built on a sturdy metal base that offers ample heft to keep the work project stable. The most adaptive feature of the cradle is the front yoke. Press the button at the base of the front yoke and you can slide it fore and aft with up to 18.3 inches of travel along the support rails. The yoke also has an up and down adjustment range of 2.3 inches, so it is easy to find a level, secure support angle for most any long gun. What's more, the yoke incorporates a form-fitting gripper that accommodates stock forends as well as barrels. This is great for keeping the front of the gun from wobbling while you work.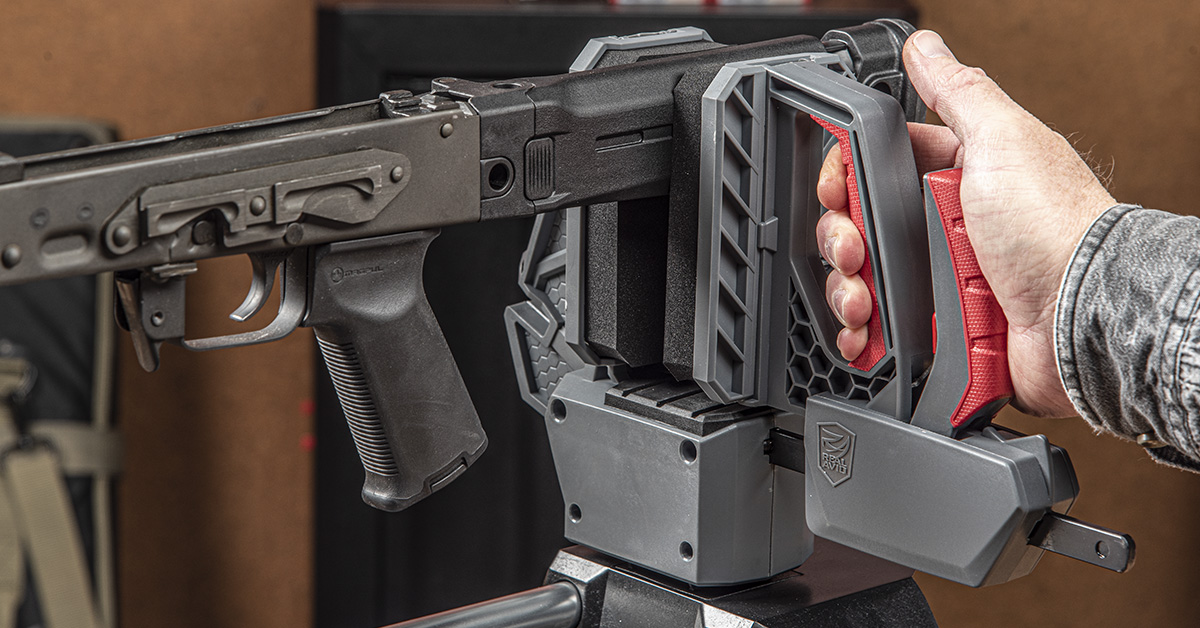 The opposite side of the MGS is the buttstock support. This system combines form-fitting foam pads to protect the stock and its finish with a quick-adjust clamp that firmly secures the stock in place. Depress the release lever located between the clamp grips and pull rearward to release the clamp.
Between the Gun Gripper front yoke, the strong buttstock clamp, and the substantial base, the gun is perfectly positioned and stable while you work. It is a major improvement over the common benchtop gun cradles.
Also integrated into the buttstock clamp is a leveling knob that allows the clamp to rotate +/- 3 degrees. It's a welcome feature for leveling up a gun during scope installation.
I have found the elevation knobs for the height-adjustable, non-slip feet of the MGS to be an even better solution for gun leveling. Located at each corner of the cradle, these knobs, which can raise or lower the four corners by one inch, provide exceptional fine-tuning for pitch and roll adjustment when installing optics.
The MGW comes with a dock for the optional Smart-Assist Accessory System. This dock is removeable and snaps in place across the yoke rails. In its center is a deep pocket with a magnetic base that is perfect for securing small parts.
The main purpose of the dock is to accommodate the Smart-Assist accessories. These include a 180-lumen work light, 5-inch magnifying glass, and a cell phone holder. Positioned on adjustable arms, the Smart-Assist system enhances visibility of the work piece — especially for detailed operations — and the cell phone holder lets you pull up Shoot On's step-by-step how-to articles so you can get the job done with expert results.
While I keep my tools and supplies in rolling Craftsmen tool chests and bring them out only when needed, the MGW does include storage trays to hold needful items for the project at hand. The yoke rails also serve as cleaning rod storage slots.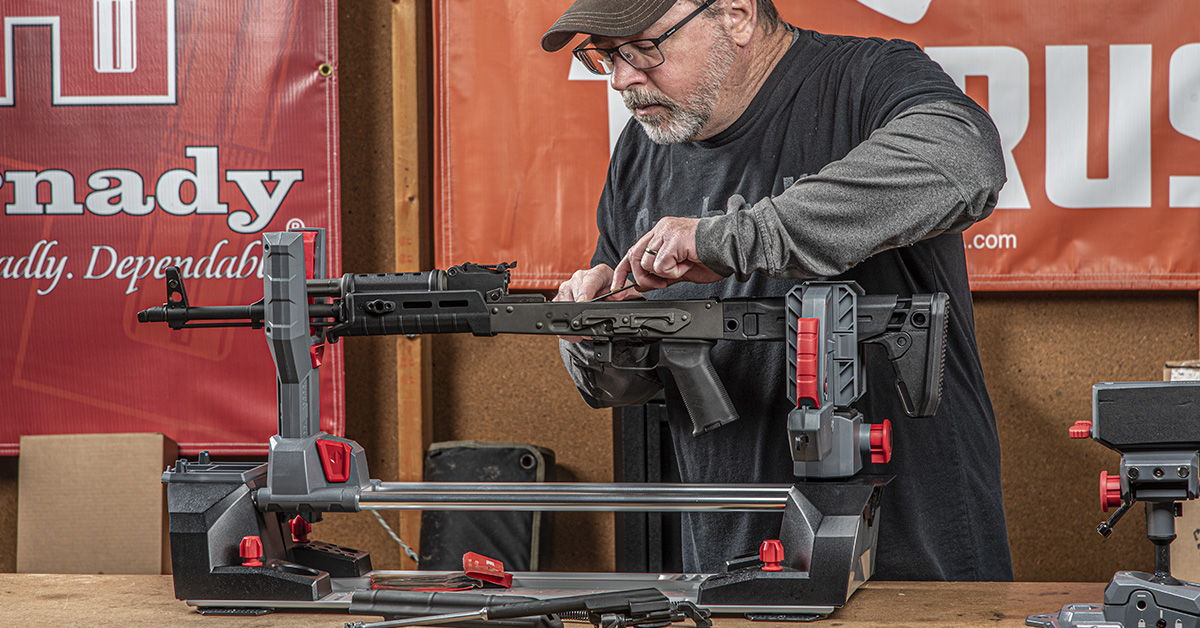 Although I was hesitant to add another bench tool to my shop, the Real Avid Master Gun Workstation has proven itself worth the space. It delivers solid support for working on long guns, is adaptable for a variety of projects, and can remain portable so you can stow it when not in use or clamp or bolt it to your work bench for a more permanent solution.
Real Avid plans to have the Master Gun Workstation in dealer's hands and available for purchase in early July 2023. To receive notification of availability, sign up for Real Avid's newsletter today.