Advanced Armament Company introduces the Ranger Series rifle suppressors
by the Shoot On staff
Huntsville, AL – Advanced Armament Company, known as "The Silent Authority" and the pioneering leader in firearm sound suppression since 1994, expands its premium suppressor lineup with the introduction of the all-new Ranger Series. Developed specifically for AR-15 and AR-10 platform rifles, the Ranger 5 and Ranger 7 suppressors feature a compact design and reduced weight, delivering reliable, on-the-move performance for tactical or sporting applications.
Constructed of Inconel 718 high-strength nickel alloy and 17-4 H900 stainless steel for maximum strength and corrosion resistance, the Ranger series is built to withstand the harshest environmental conditions and high-volume operation. For additional protection, both Ranger suppressors are treated with a high-temperature Cerakote finish.
For AR-15s chambered for 5.56 NATO/.223 Remington, the Ranger 5 is the perfect choice. With an overall length of 5.825 inches (when attached to the included 1/2-28 direct-thread mount) and a modest 15.2 oz. weight, the compact Ranger 5 offers 32dB sound reduction with M193 5.56 NATO ammunition.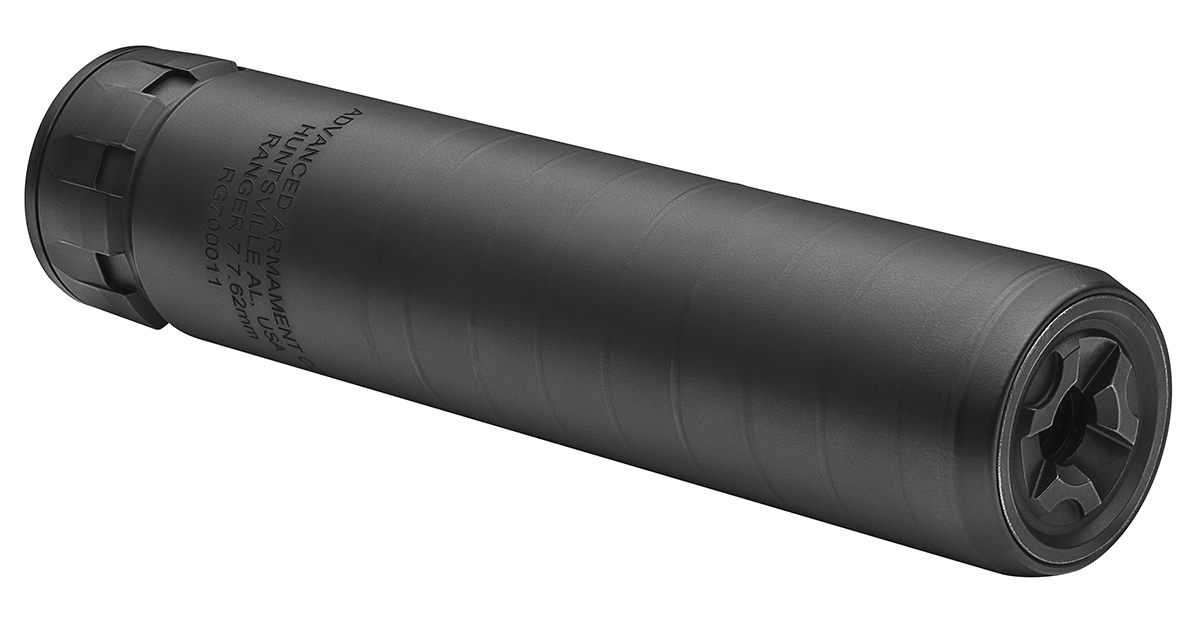 Fans of the AR-10 platform will appreciate the minimal size and weight of the Ranger 7 suppressor for rifles chambered in .300 Win. Mag and .308 Win. Weighing 17.2 ounces and measuring 6.75 inches long with the included 5/8-24 direct-thread mount, the Ranger 7 presents an agile sound suppression platform with 24dB (.300 WM) and 30dB (M80 .308 Win.) reduction performance.
In addition to the shared material construction and finish, the Ranger 5 and Ranger 7 suppressors incorporate a built-in muzzle brake. Both models also include standard 1.375-24 mount capability, making the system compatible with conventional HUB adapters. For ease of maintenance, the end cap and base can be removed for cleaning. Finally, both models are full-auto rated.
MSRP for the Ranger 5 and Ranger 7 is $899.99. For more information, visit Advanced Armament Company.
AAC Ranger 5 Specifications
Caliber: 5.56mm
Weight: 15.2 oz.
Length: 5.825 in. (w/direct-thread mount)
Diameter: 1.5 in.
Materials: Inconel 718 and 17-4 H900 stainless steel
Finish: high-temp Cerakote
Attachment: 1.375-24 universal mount; ships with direct thread mount in 1/2-28 w/built-in muzzle brake
Noise Reduction: 32dB
MSRP: $899.99
AAC Ranger 7 Specifications
Caliber: .300 Win. Mag; .308 Win.
Weight: 17.2 oz.
Length: 6.75 in. (w/direct-thread mount)
Diameter: 1.5 in.
Materials: Inconel 718 and 17-4 H900 stainless steel
Finish: high-temp Cerakote
Attachment: 1.375-24 universal mount; ships with direct thread mount in 5/8-24 w/built-in muzzle brake
Noise Reduction: 24dB (.300 WM w/26-in. bolt-action); 30dB (M80 .308 Win. w/20-in. bolt-action)
MSRP: $899.99

Latest posts by Shoot On Staff
(see all)