With all the features demanded by serious handgunners, reliable performance, and a comfortable price, the new Stoeger STR-9S Combat pistol serves the needs of the personal defender and the competitive shooter alike
by Rob Reaser
Stoeger Industries, best known for its extensive line of price-value shotguns, quietly slipped into the handgun market a few years ago with the introduction of its STR-9 series semi-auto 9mm pistols. I say "quietly" because these handguns rolled onto the scene without a lot of fanfare, and unless your local retailer is a Stoeger dealer, you likely wouldn't have come across them in the display counter.
And that is unfortunate because in our testing of several models in the STR-9 series this year, we have found these snappy 9mms to deliver far more ergonomics and performance than you'll find in same-price polymer striker-fired handguns and offer equal standing with similarly designed guns that cost a good bit more.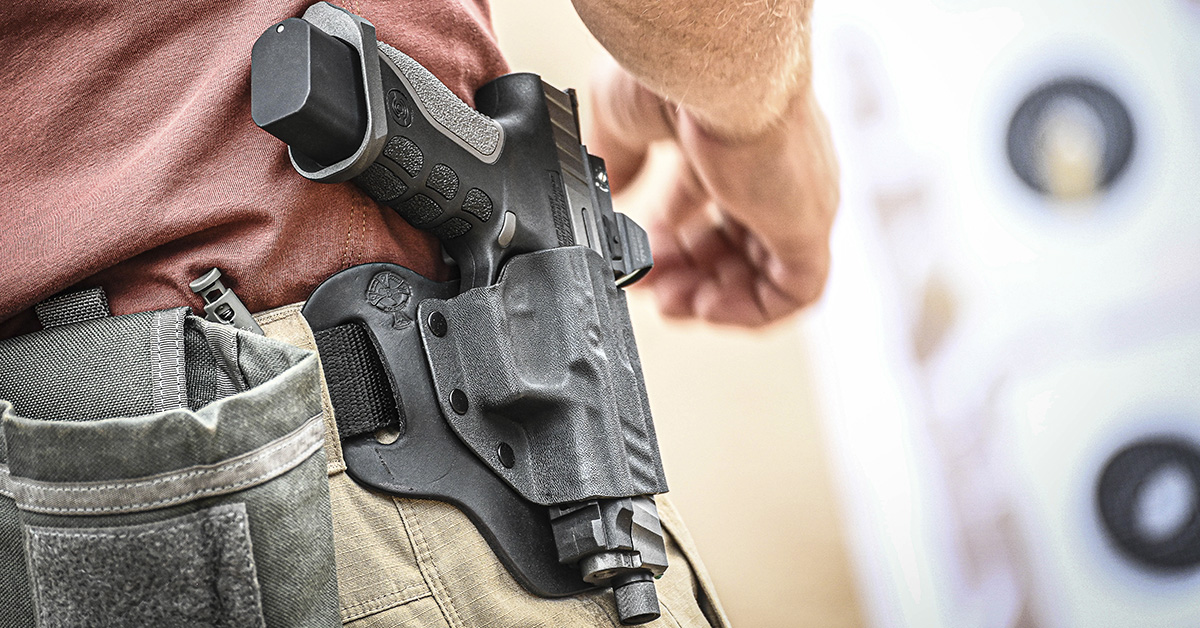 We've previously given you the in-depth on two STR-9s from the series — the STR-9C compact and the STR-9MC micro-compact. This time, we'll take a look at the STR-9S Combat, a standard-size handgun that comes prepped for any mission you wish to assign it.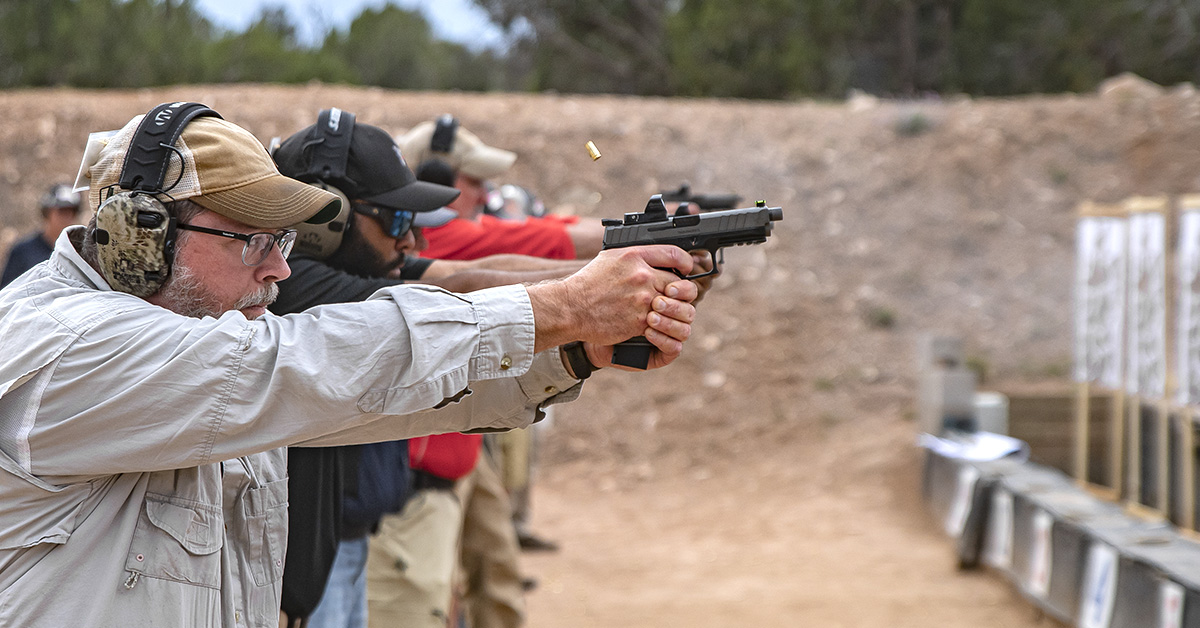 I was fortunate to give the STR-9S Combat a sold run-through at the renowned Gunsite Academy in Paulden, AZ, as well as some slower-paced range time at home. Although I was unable to log the round count, suffice to say that I emptied a lot of brass through the gun without a single hitch. In the "reliable and dependable" column, the STR-9S Combat checks off the most important boxes.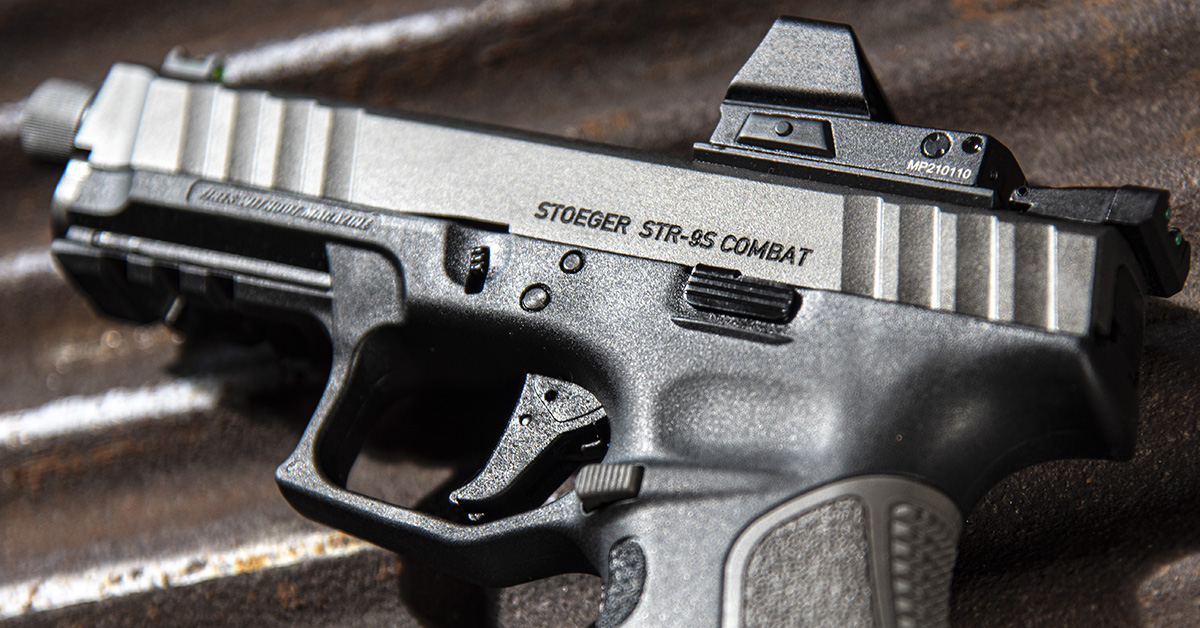 The STR-9S Combat comes in two primary variations: nitride-hardened matte black slide and Tungsten Cerakote slide. Standard for both is a 20-round magazine (three come with each gun), and a 10-round model of each for those living in 2A non-compliance states. The MSRP for the matte black versions is $629. The Tungsten Cerakote option adds $50 to the price.
All versions of the STR-9S Combat are optic-ready. The slide offers direct mounting for pistol-mounted optics with the Shield RMSc footprint. Four mounting plate adapters are also included in the package, making the gun compatible with Trijicon RMR, Leupold Delta Point, C-More, and Eotech / Docter / Insight / Meopta / Burris / Vortex red dots. For our testing, we used the Burris FastFire 4.
Not into optics? No problem. The STR-9S Combat comes fitted with suppressor-height open sights. These are a square front post/square rear notch design that also incorporates fiber-optics for enhanced visibility in low or bright ambient light. With this system, you can use the three-dot alignment for your sight picture or notch-and-post alignment for more precise aiming. I especially appreciate that the rear sight is fully adjustable for windage and elevation — ensuring a solid zero regardless of the load you are shooting.
Accuracy proved to be quite respectable with the STR-9S Combat. For fighting distances, the 4.69-inch barrel is well-suited for precise shot placement. Of course, the grip and frame design go a long way towards optimal shooter control. For my medium-sized hands, this standard-size frame is spot on. The grip is full, but not excessive. The medium-size backstrap settled positively into my palm and allowed for a full finger wrap, which goes a long way in recoil management.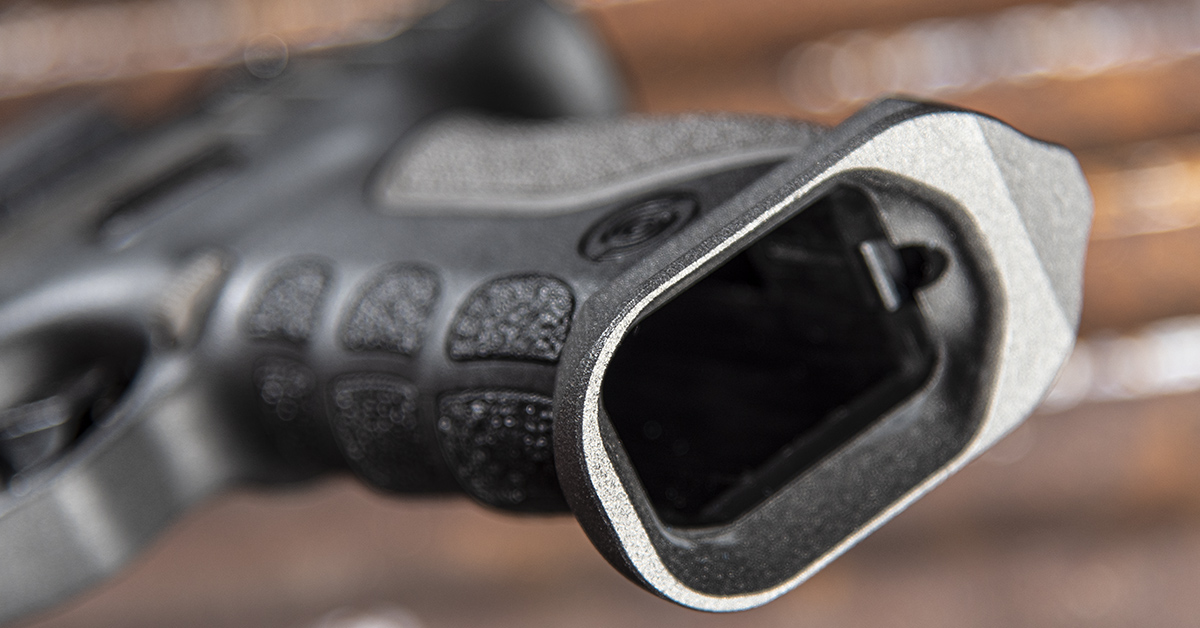 I also appreciated the enhanced mag well that comes with the STR-9S Combat. At first, it felt somewhat awkward (no doubt because I don't often shoot guns so equipped). And while I've never felt mag well enhancements contribute to my reloading speed or efficiency, I did notice that this feature added to my grip stability, as the bottom of my hand engaged the top of the top ledge of the mag well.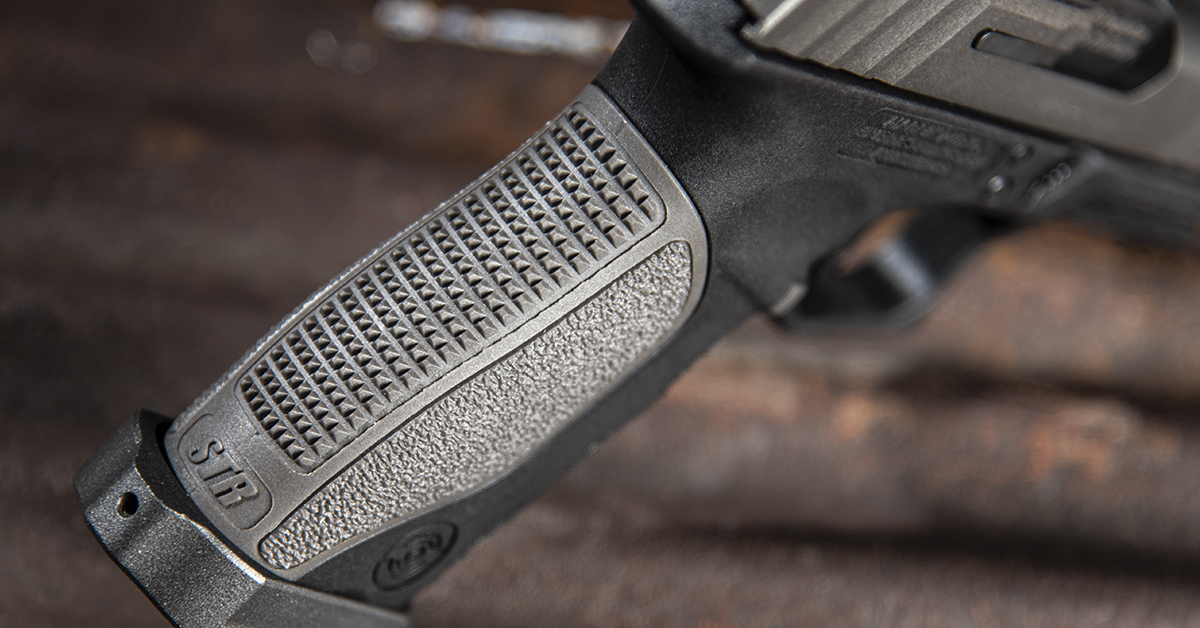 Part of that solid purchase is credited to the "just right" texturing of the grip and the modular backstrap. The square-point texturing along the backstrap is aggressive enough to secure the grip but not so much that it chews your skin during long range sessions. Stippling along the sides of the backstrap and across the grip's finger grooves are less aggressive yet deliver enough traction to keep the pistol in check during fast-fire exercises.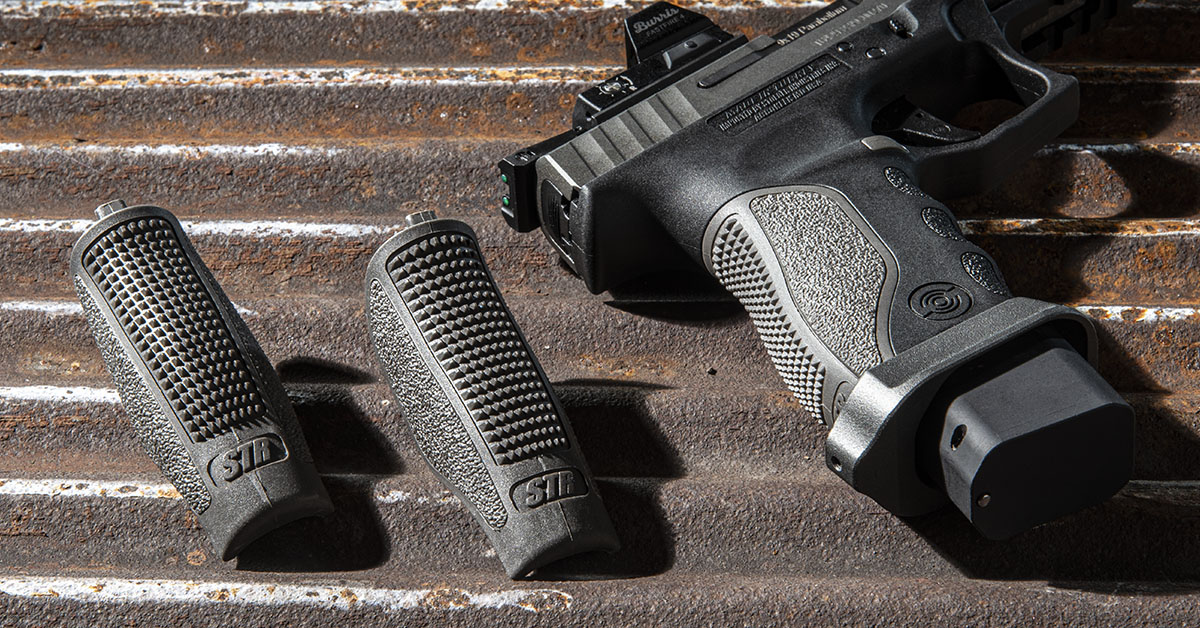 Each STR-9S Combat comes with three interchangeable backstraps — small, medium, and large. Selecting the best grip for you, combined with the high hand placement afforded by the undercut trigger guard and high-and-deep beavertail, delivers a custom-grip feel that makes the STR-9S Combat fast on target with excellent trigger finger placement for a crisp, straight pull.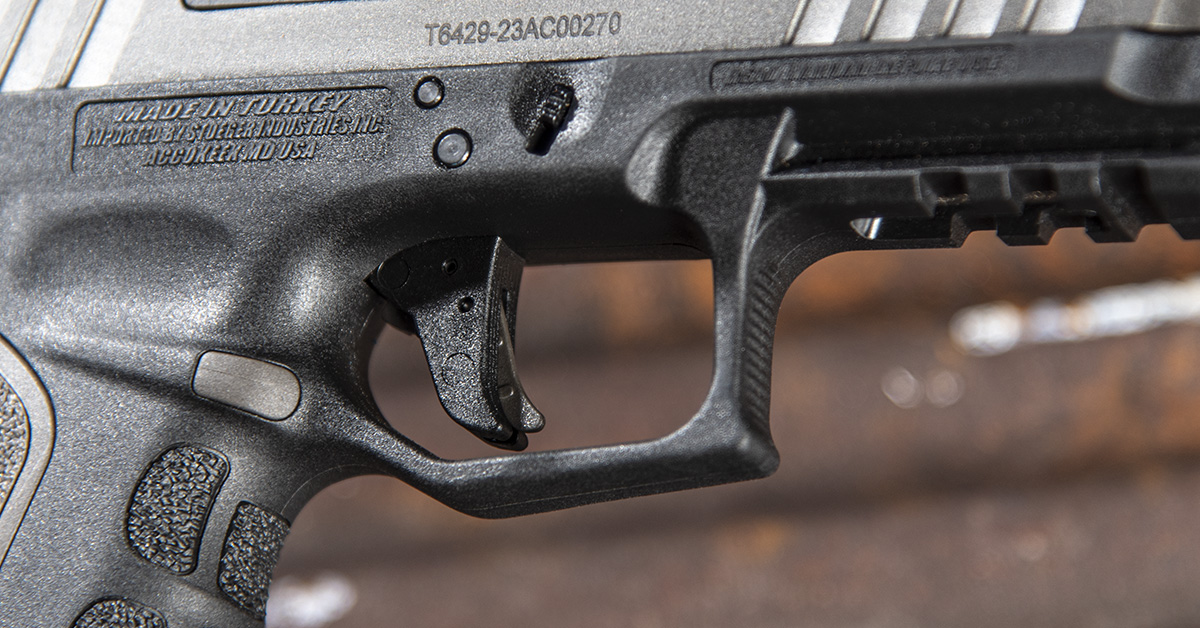 Speaking of the trigger, you'll find two variants depending on which STR-9S Combat model you choose. The Tungsten Cerakote model has a hybrid design, with a mostly flat trigger face that ends in a slight curve at the bottom. The matte black version has a straight trigger face and flat trigger safety to match. For me, I like the subtle hook of the Tungsten Cerakote model because I feel it gives a more positive, confident finger-to-trigger engagement.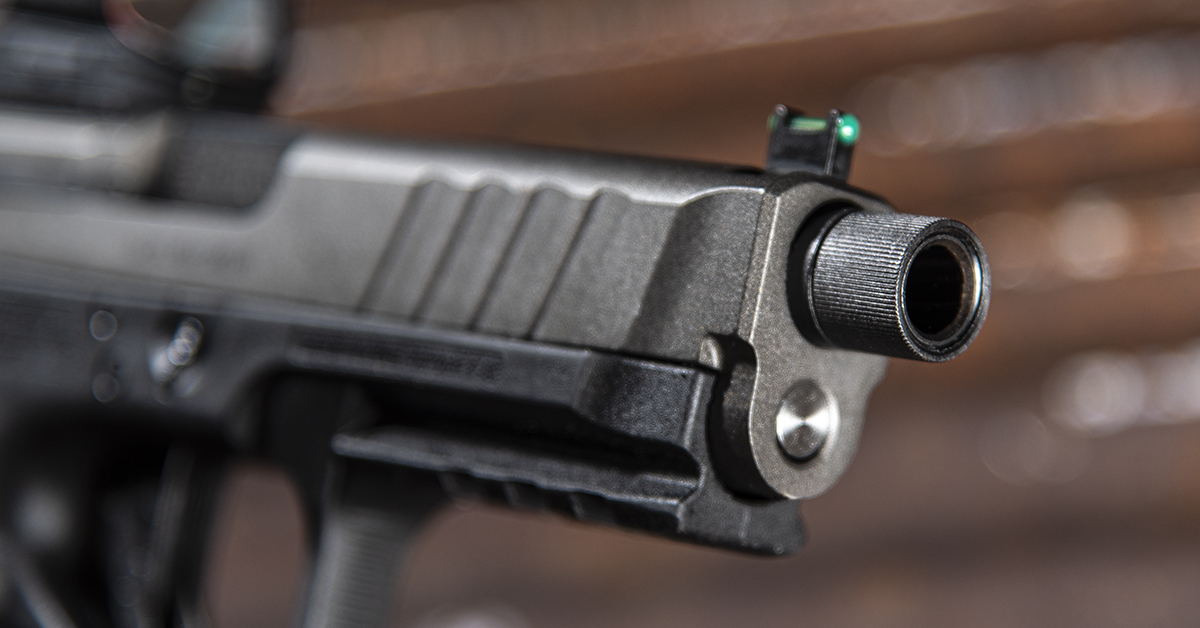 If you want to run a suppressor or other muzzle device, the STR-9S Combat stands ready. The barrel is threaded and comes with a protective thread cap.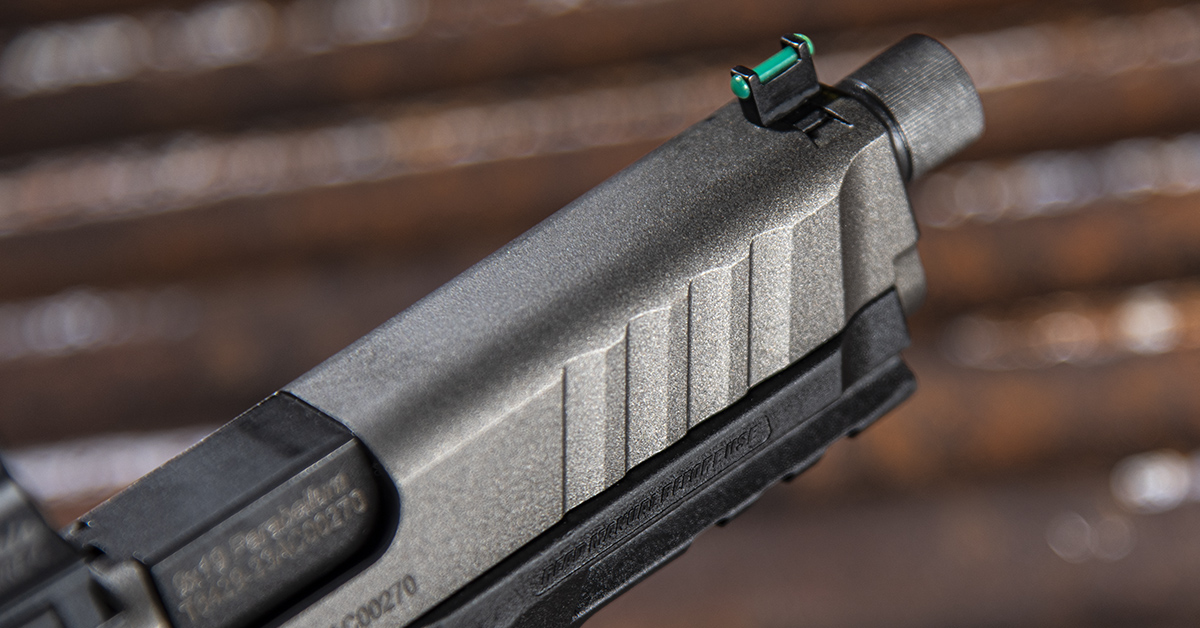 The slide profile is quite clean, with the top edges smoothly rounded. Contouring at the front of the slide and frame promotes good holster ingress compared to boxier slide designs. Front and rear serrations get the job done for slide manipulation, but they don't provide the best purchase when wearing gloves.
As anyone who is familiar with GLOCK pistols has already figured out, the STR-9S Combat is based on the same design. Operational controls are similar, as is the takedown procedure.
Overall, I found the STR-9S Combat a refreshing handgun to run. The pistol is well-balanced, and the ergonomics deliver a solid hold that makes for easy aiming and enviable muzzle control. With 20+1 rounds on board, it makes for a formidable defensive pistol if you don't mind your EDC rig to be north of a compact handgun. As a range pistol, the STR-9S Combat is tough to beat — easily upgraded with a red dot and muzzle device, and with an accuracy potential that exceeds most shooters' skill set. Given a street price of $599 through the larger online retailers, this is a 9mm that not only hits the target, but it also hits the "I can swing that" price point.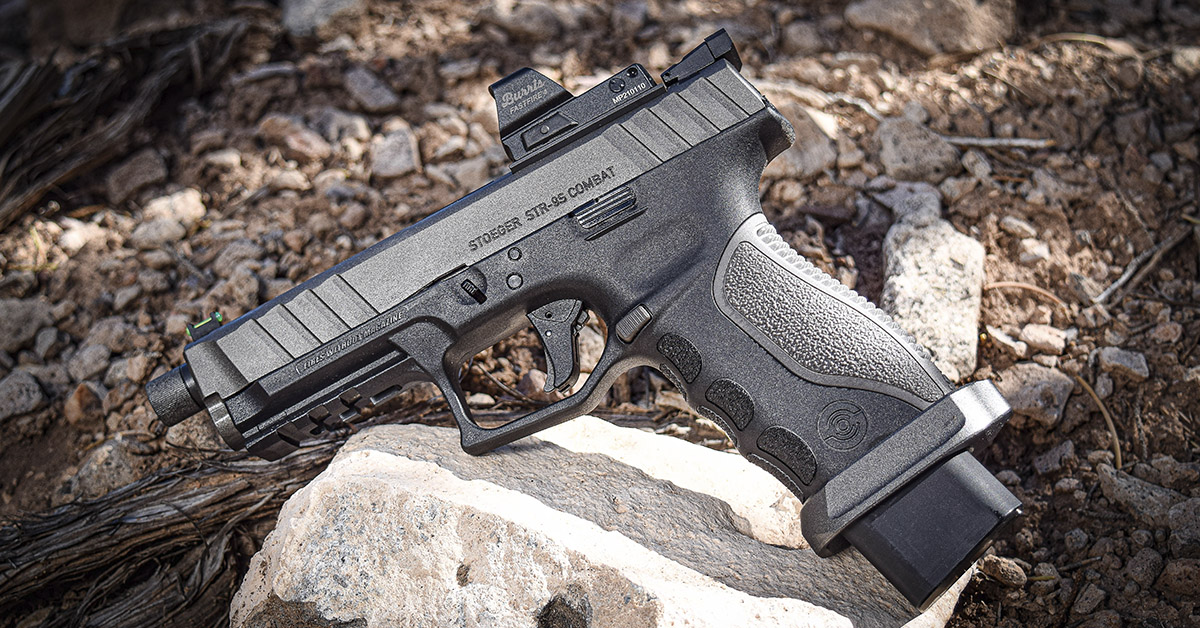 Stoeger SR-9S Combat 9mm Specifications (model #31786)
Chamber: 9×19 Luger
Action: striker-fired, semi-automatic
Frame: polymer
Frame Finish: black
Slide Finish: Tungsten Cerakote
Barrel Length: 4.69 in.
Grip: standard
Frame Size: standard
Hand Dominance: RH
Capacity: 20+1
Included Magazines: 3
Backstrap: S, M, L
Sight: adjustable fiber optic sight system
Optic-Ready: yes
Overall Length: 7.94 in.
Weight (unloaded): 26.45 oz.
MSRP: $679