Already the leader in SWB hunting rigs, Polaris unveils two new models dedicated to the big-game and waterfowl crowds
by Rob Reaser
Interstate travel in my home state of West Virginia prior to the opening salvo of deer archery and rifle seasons—even spring turkey season—reveals something of what goes on along the dirt paths, logging trails, and backroads in this mountainous country. You see it at the off-ramp gas stations, the local diner parking lots, and in front of the big box stores. Heck, you see it literally everywhere…pickup trucks hauling ATVs and side-by-sides to camps throughout the state.
Hunters were early adopters of these short-wheelbase wonders, and for good reason. A stout and reliable ATV gets you and your gear to remote hunting areas quickly and effortlessly, and they're invaluable when it comes time to bring game out of the field. It's no surprise, therefore, that hunters comprise a HUGE percentage of ATV and UTV owners or that traditional outdoor enthusiasts are one of the major demographic blocks for the ATV industry.
Where single-rider ATVs once ruled the hunting realm, that affinity has shifted over the years as a growing number of hunters have taken a shine to the larger side-by-side models once assigned to farming and job site duties. As manufacturers focused UTV development from the utilitarian to consumer comfort and convenience with more power, more amenities, greater off-road capabilities, and higher payloads, hunters across the country began to say, "Sign me up!"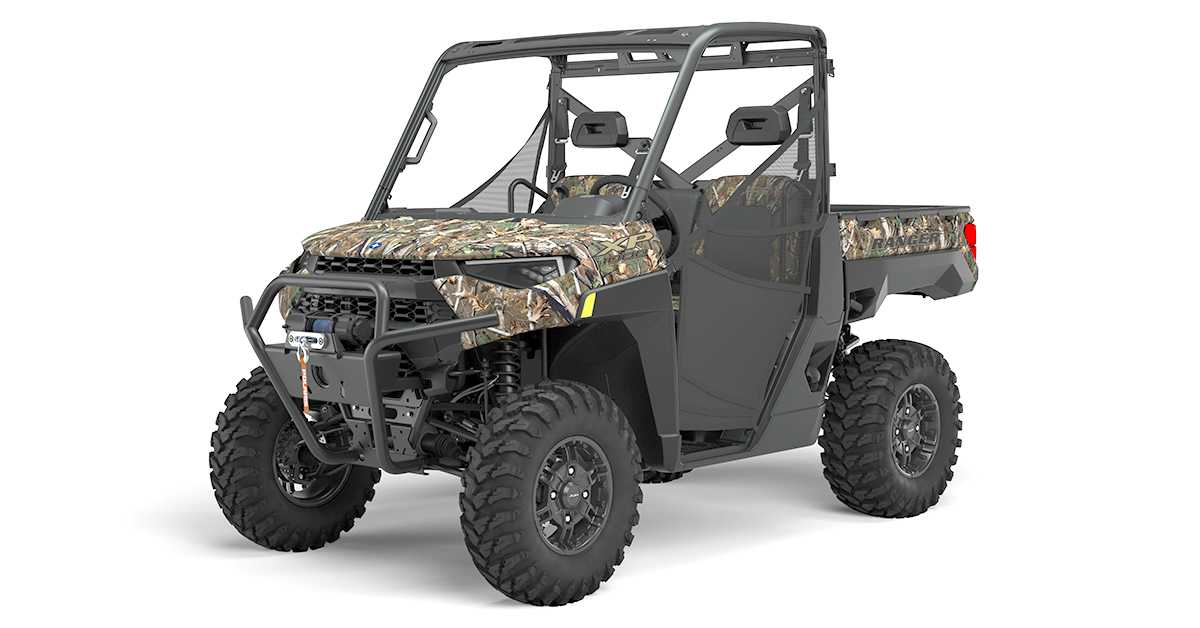 Polaris, long the leader in UTVs for both work and play, maintains a commanding presence in hunting camps throughout the U.S. and enjoys a strong brand loyalty among the hunting segment with their Ranger line of side-by-sides.
"We know from consumer data that over half of Ranger owners are using their vehicle to hunt with," said Chris Hendricks, Ranger Product Planning, "and that makes the hunting use case a key part of the development process at Polaris. Put simply, we don't make a Ranger that isn't a good hunting vehicle."
For 2021, Polaris certifies its dedication to its hunting consumers by introducing two new Rangers in the XP 1000 line specifically configured to meet the needs of hunters—one aimed squarely at big game hunters and the other intended for waterfowl hunters. Actually, there are four new models, as each variant comes in either three-seat or crew cab configurations.
"For decades, we have pushed the industry forward by putting the rider at the center of product innovation, and our new limited-edition models are just the latest example," said Steven Menneto, President of Polaris Off Road. "Many of our riders are avid big game and waterfowl hunters operating in highly-demanding environments, so we built the RANGER XP 1000 Big Game and Waterfowl Editions with added strength and capability to provide the ultimate advantage for their specific hunting needs."
The Common Threads
The Ranger Big Game and Waterfowl Editions are both served up on the XP 1000 platform. This means power (82 hp) and torque (62 lb-ft) come via a common four-stroke 999cc twin-cylinder DOHC powerplant backed by Polaris' shaft-drive automatic variable transmission.
Transferring power to the four corners is a multi-mode drive system. This system allows the operator to choose between all-wheel-drive (on-demand 4WD), two-wheel-drive (rear wheels), or turf mode (only one rear wheel receives power).
Underneath, both Editions utilizes front and rear independent suspensions with arched lower A-arms that provide 10 inches of suspension travel. All models come with 14-inch black aluminum wheels wrapped in 29-inch tires. The Big Game receives 9-inch front and 11-inch-wide rear tires while the Waterfowl model gets 10-inch-wide tires all around.
For the complete specifications, go here and select the model you're interested in.
Ranger XP 1000 Big Game Edition
The XP 1000 Big Game Edition, as the name implies, is built for hunters pursuing large critters in tough terrain—from Florida swamp hogs to high-country elk. Given such a broad mission that covers a wide variance of terrain, the Polaris engineers incorporated several important elements into this model.
One feature that really speaks to big-game hunters is the self-leveling rear suspension. We all know what happens when you drop a big deer or a few hogs in a UTV cargo bed…suspension sag and the inevitable drop in ground clearance. To counter this, the Big Game Edition's rear suspension is designed to automatically maintain the ride height under load. Combined with the 29-inch Maxxis tires and impressive 14-inch ground clearance, the XP 1000 in Big Game Edition trim is tuned to get those large loads back to camp.
Another welcome system included in the Big Game model is Active Descent Control. This system applies engine braking to all four wheels when traversing steep inclines, making it great for maintaining control on high-angle descents—especially when carrying a heavy load.
Beyond the suspension and drivetrain enhancements, the Big Game Edition takes into consideration those nuances hunters can truly appreciate. A good example is the high-mounted factory-installed Polaris Pro HD 4,500-lb winch. When working in deep snow or tall vegetation, accessing the winch cable can be aggravating. By raising the winch mount to near headlight level, the cable is within easy reach and the higher angle can help keep the cable from scrubbing the ground during use.
Speaking of headlights, halogens are ditched in favor of high-output LED units for greater visibility. That's a big help given that game recovery often occurs after the sun sets, and better visibility is always a plus when traveling tight and unruly trails during the dark hours.
Of course, no hunting-specific rig is complete without an appropriate camo finish. The Big Game Edition comes dressed in Polaris' exclusive Pursuit camo—featuring birch, oak, and pine elements—with matte black lower side panels.
Ranger XP 1000 Waterfowl Edition
Maybe cold and sloppy weather bird hunting is your thing. If so, Polaris has an app for that with the new Waterfowl Edition XP 1000. While there are some feature similarities between the Waterfowl and Big Game Editions, like the 14-inch ground clearance, heavy duty bumpers, bright LED headlamps, and high-mounted Pro HD winch with synthetic rope, the Waterfowl Edition does address some specific needs of the wet country wing shooter.
Since water and mud are often constants in the waterfowl hunting equation, Polaris engineers selected grippy Pro Armor Mud XC tires for their aggressive tread pattern and hard durometer lugs in 10-inch width.
Also factored in is the occasional (or perhaps frequent) water incursion that duck and goose hunters inevitably encounter. To keep the engine breathing, the Waterfowl Edition features high-mounted air intake and clutch ducting to minimize the chance of water intrusion when fording creeks or crossing sloppy lowlands. The winch and electrical components are also sealed against water.
As expected, the Waterfowl Edition receives a grass-motif camo scheme to better blend with marsh environments.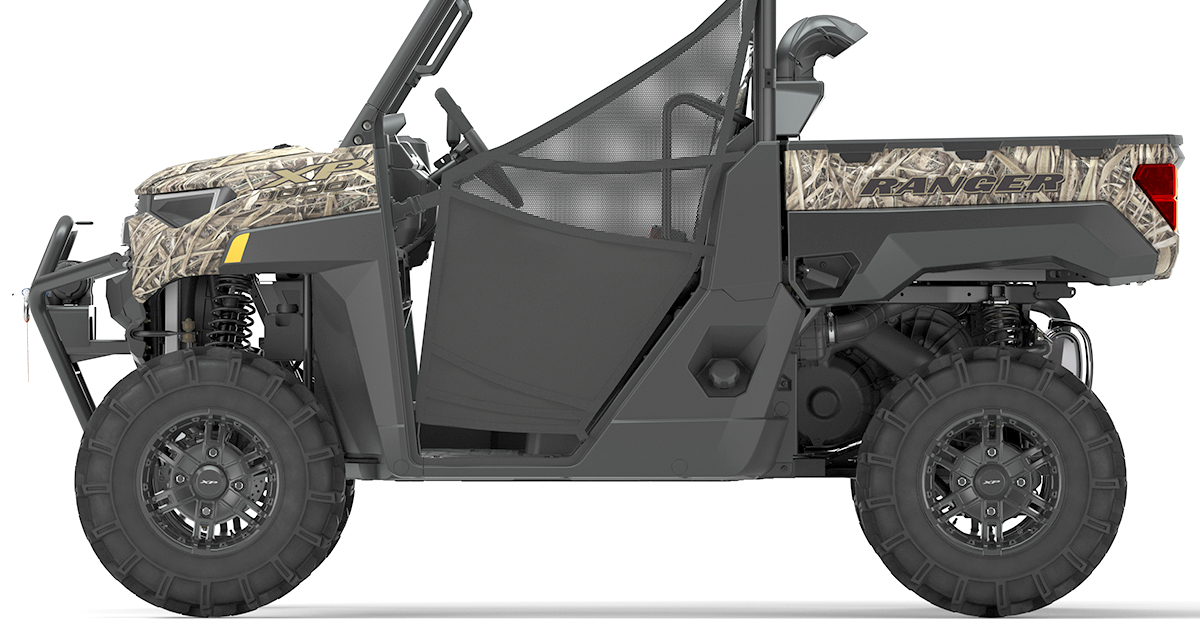 We mentioned earlier that both the XP 1000 Big Game and Waterfowl Editions are available in three-seat or crew configurations. Wheelbase for the three-seat version is 81 inches and 113 inches for the Crew model. Another difference—this one between the Big Game and Waterfowl models in either cab configurations—is that neither the VersaTrac Turf Mode nor the EBS/Active Descent Control are available on the Waterfowl Edition. If these are important drivetrain features for the type of area you hunt, the Big Game Edition may be your best bet.
With MSRPs for the three-seat Big Game and Waterfowl Editions at $20,199 and the Crew versions adding another $1,400 to start, these hunter-focused models represent a serious investment in your hunting game. To learn more or to spec out your own model, visit Polaris Off Road.